1979 Volkswagen Rabbit For Sale Coming Soon!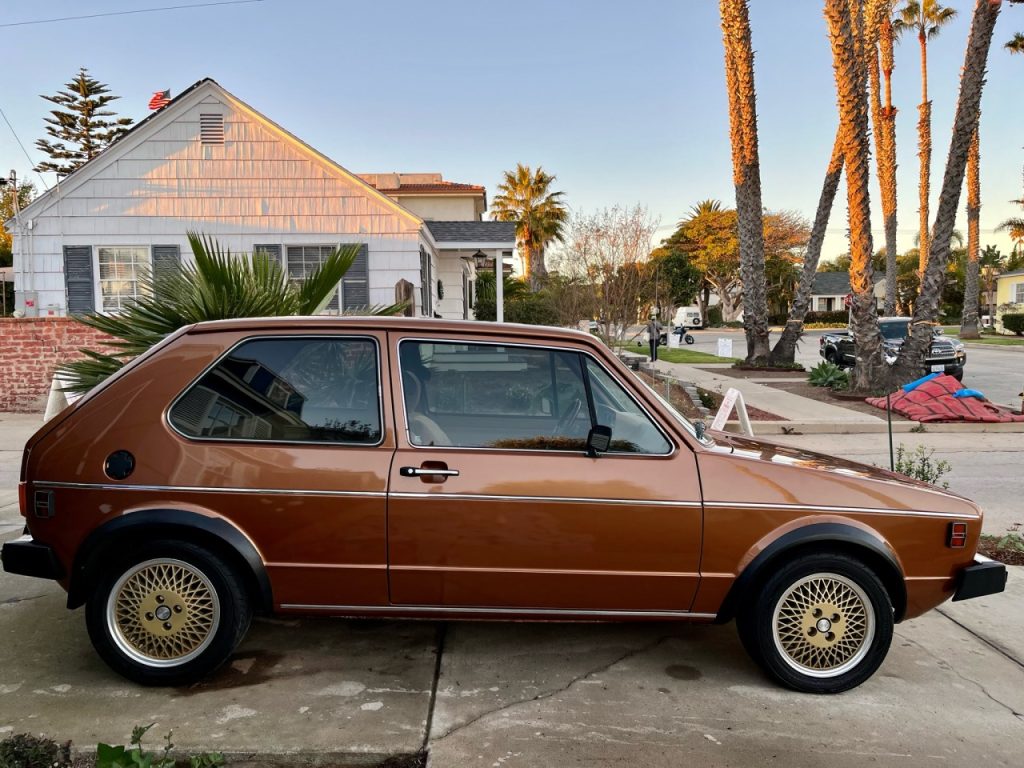 Good Morning! It looks like you have come across a 1979 Volkswagen Rabbit just outside of the La Jolla Concours. I hope you are enjoying the atmosphere and other cars here at the La Jolla Cove. I earned this great parking spot thanks to my early arrival as a morning volunteer for the La Jolla Concours. We all arrived before 5:30 this morning! Big thanks to the Chairman, McFarlane Promotions, and the volunteer coordinators!
Scroll all the way down for more photos! Here's the quick of it:
1979 MK1 Volkswagen Rabbit
Color: Brazil Brown
Engine: 1457 cc | 88.9 cu in. | 1.5 L
5-speed manual transmission
Factory Air Conditioning
Paint correction and respray in March 2022
Engine Rebuild in 2018 (previous owner to me)
USA built in Pennslyvania originally (I have been told US-built golfs have square headlights, Euro built ones have round ones)

This Rabbit is in the final stages of getting titled and plated in California before being listed for sale locally or auctioned off on BringATrailer.com.
Feel free to inquire or make an offer via email to Devin@LaJolla.com
The buzzy 1.5-liter engine with 76 horsepower has passed smog to complete its application for Californa residency, it's just a matter of slow DMV paperwork now! The car weighs around 1,750 pounds, has factory air conditioning, and drives like a go-cart. It's so small and light the lack of power steering probably makes it more fun. Despite such little power, the high revving engine makes it quick, nimble, and a ton of fun under 50 MPH. It will easily do left lane speeds on the highway but I wouldn't consider it a comfortable road trip car if you're counting your journey by the hour. With that being said, mechanically I wouldn't hesitate to drive it this afternoon to LA or further.
It was a longtime Colorado car before being taken out of storage, registered with the past owner's family in Idaho, and relocated to San Diego. The odometer currently reads around 116,500 miles.
Feel free to inquire or make an offer via email to Devin@LaJolla.com
I purchased it off Craigslist out of Mission Hills. Under previous ownership this car received a full engine rebuild along with some other upgrades like new door Pickford Fosgate speakers, a trunk-mounted sound system (amp and sub), suspension upgrades, a Borla exhaust, and the classic sheepskin seat covers. Its aftermarket exhaust and ~8,000 RPM redline make for plenty of crackles and pops as you scurry around town. Ironically the car doesn't even have a tachometer, it's just the speedo and clock for big dials on the dash behind the NRG steering wheel.
In March of 2022, the roof was sanded completely down, the entire car was resprayed with a fresh coat of Brazil Brown (its original color). In addition, the rear louvers were repainted along with fresh "fake chrome" piping down the sides.
This car is one of the funniest of all the vehicles I have owned but I'm looking to get a convertible and I can't keep this and get something else. I'd love to find a new home for it locally but may use BringATrailer.com to find the right owner here or aboard. I have sold 2 cars on that site in the past and shipped one Studebaker to Germany and a 1963 Plymouth to Australia!
Feel free to inquire or make an offer via email to Devin@LaJolla.com
Feel free to inquire or make an offer via email to Devin@LaJolla.com