4th of July Fireworks & Celebrations in San Diego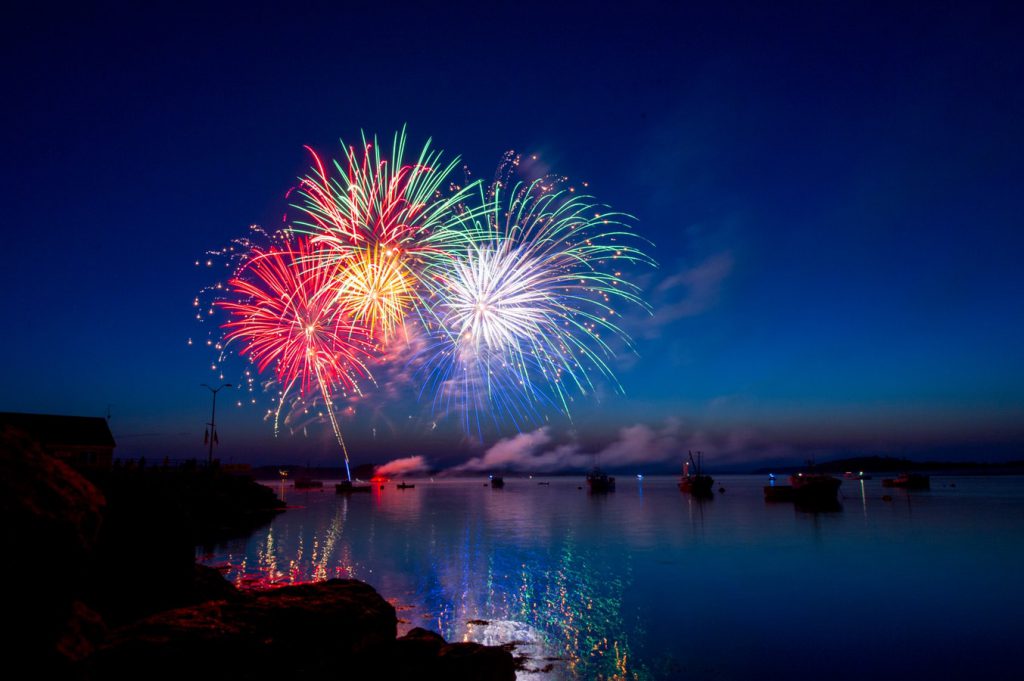 Update: On July 4th, 2023, at 8:45 p.m., the La Jolla Beach & Tennis Club is hosting their first ever Fourth of July drone show! It should be the most visible from the south end of Kellogg Park, but should also be visible from the surrounding park/beach near the La Jolla Shores Hotel and Beach Club.
4th of July in San Diego is just one big celebration! Fireworks displays, parades, street fairs, and festivals are all part of the fun on the big day. Sadly, there will be no 4th of July Fireworks at La Jolla Cove this year due to funding issues; but there are plenty of other places and ways to celebrate 4th of July in San Diego! Here's the roundup, from San Diego Bay to Rancho Santa Fe. Please note, dates and times might change from year to year, so you may want to check the websites provided to confirm when the action starts for your Independence Day celebrations.
1. Annual Big Bay Boom July 4th Fireworks Show
Where: Multiple Locations along San Diego Bay
When: Times may vary from year to year, but historically, the fireworks take place on July 4th at 9:00pm
Website: bigbayboom.com
Take in the largest fireworks display in the county! With fireworks launched from four barges placed around North San Diego Bay, they can be seen from multiple locations along the San Diego coastline.  Just find a place along the bay, set up a blanket and some hot chocolate, and get ready for the display! We recommend arriving early to reserve a spot.
Where to watch:
Shelter Island
Harbor Island
North Embarcadero
Marina District
CoronadoFerry Landing
Boating/On The Water
2. SeaWorld San Diego 4th of July Fireworks & Celebration
Where: SeaWorld San Diego – 500 SeaWorld Dr, San Diego, CA 92109
When: Check the website provided because celebrations take place from 10:00am to 10:00pm on certain days before and after the 4th. Historically, SeaWorld puts on a fireworks show on the night of the 4th of July, but check their site for exact times for the fireworks display.
Website: seaworld.com
SeaWorld San Diego will celebrate Independence Day with a 15-minute display of fireworks set to a musical soundtrack, traditionally starting at 8:50 pm on July 4th. Be sure to check their website for the most up-to-date time. Entrance is required, and there are plenty of spots throughout the park to watch the display. You can reserve seats ahead of time via their website.
3. Ocean Beach July 4th Celebration
Where: Ocean Beach Pier (end of Newport Avenue)
When: In most cases, fireworks start on the 4th at 9:00pm. However, there have been years when the fireworks were postponed, so check the website provided to confirm.
Website: obsandiego.com
Spend a truly So-Cal Independence day picnicking, swimming in the ocean, walking and playing in the sand, and shopping along Newport Ave. Then bundle up as the sun sets and pull up a blanket for a really spectacular fireworks show launched from Ocean Beach Pier! Free parking is typically available at the Main Beach Parking Lot as well as at the Pier Parking Lot, but we do recommend arriving early to reserve a spot — head to their website for more information.
4. Old Town San Diego 4th of July
Where: Old Town State Historic Park
When: In previous years, Old Town Independence Day festivities go from 11:00am to 4:00pm. However, please check the schedule on their website provided below to confirm when the celebration starts.
Website: oldtownsandiegoguide.com/events/
Although Old Town doesn't usually put on a fireworks display, there are parades, crafts, and activities all throughout the day on July 4th. The activities recreate an old-fashioned Independence Day just as it was celebrated on the frontier. There are usually several contests you can compete in, including cherry pit spitting or an egg toss, for handmade ribbons.
5. 4th of July Celebration in Coronado
Where: Various Locations on Coronado
When: In past years, the party gets started with the parade at 10:00am. Celebrations continue throughout the day, and fireworks are typically held at 9:00pm. Check their website below listed to confirm.
Website: coronadotimes.com/4th/
Crown City Classic Website: https://crowncityrun.com/
Celebrate the 4th of July in the Crown City! Independence Day activities usually include a parade down Orange Avenue in the morning, a concert in Spreckels Park in the afternoon, and fireworks over Glorietta Bay at around 9:00pm. The fireworks display can be easily viewed from anywhere along the bay on Coronado Island.
Earlier that day, the Crown City Classic 4th of July Race typically takes place between 7am and 10am. This historic run through Coronado will feature a 12k and a 5k, and kicks off at Coronado Tidelands Park.
6. San Diego County Fair 4th of July Celebrations
Where: Del Mar Fairgrounds (2260 Jimmy Durante Boulevard, Del Mar, CA 92014)
When: As with all seasonal events, the time fireworks start at the SD County Fair is subject to change. However, 4th of July celebrations start when the fair opens, and fireworks usually start around 9pm.
Website: sdfair.com
Independence Day is one of the best days to come to the San Diego County Fair, because they generally pull out all the stops with food, fireworks, entertainment, and more! Fireworks are usually launched from the west end of the racetrack and are choreographed to a soundtrack played through the Corona Grandstand Stage sound system. The fireworks are visible from many areas of the Fairgrounds, with favorite viewing areas including reserved Terrace seating and 2nd and 4th levels of the Grandstand, Family Funville, and the Fun Zone.
7. Red, White, and Boom!
Where: LEGOLAND California (One Legoland Drive, Carlsbad, CA 92008)
When: All sorts of festivities take place throughout the park to celebrate Independence Day. Historically, fireworks on the 4th start around 8:30, but double check the website to confirm.
Website: legoland.com/california/things-to-do/seasonal-events/red-white-boom/
Take the whole family and spend the day enjoying over 60 rides, shows, and attractions at LEGOLAND California along with some all-American picnic games like burlap races and water-balloon tosses. Then cozy up with a blanket and a picnic that evening, and watch the awe-inspiring fireworks display set to patriotic music!
8. Rancho Santa Fe's Annual 4th of July Parade & Picnic
Where: 16948 Avenida de Acacias, Rancho Santa Fe, CA 92091
When: The parade and picnic traditionally takes place in the after noon after noon or 1pm. Please check the website, as times are subject to change.
Website: sandiego.org/explore/events/holidays/rancho-santa-fe-4th-of-july-parade-and-picnic
Pack a few blankets and chairs for Rancho Santa Fe's Annual 4th of July Parade & Picnic! The parade usually kicks off around noon and includes floats, vintage cars, and equestrians. The picnic and concert typically follows.
9. Poway 4th of July Fireworks
Where: Poway High School
When: Celebrations for the 4th throughout the day and fireworks historically start popping off around 9pm. Times may change, so double check the website to confirm gate opening times, schedule for activities and firework launch times.
Website: poway.org/Calendar
The fireworks in Poway usually start at 9 p.m. at Poway High School (15500 Espola Rd.). The gates will open at 6 p.m. and the event will include games and a DJ spinning tunes; it typically costs a nominal fee per person to get in and kids under 11 have historically been free. During the day, the Old-Fashion Fourth of July Celebration usually goes down from Old Poway Park (14134 Midland Rd.), a patriotic party, "turn-of-the-20th-century-style." That event includes western-style reenactments, free crafts, train displays and old-timey games. Free shuttles to the daytime fest usually furn from two locations: the Poway City Hall parking lot on Civic Center Drive, and the Poway Adult School parking lot on Twin Peaks Road.
10. Oceanside Fireworks
Where: Oceanside Blvd & Rancho del Oro Road, Oceanside, CA
When: Starting July 3rd, Oceanside is usually a host of various Independence Day activities through the 4th. Fireworks (if not canceled) typically start around 9pm. Check the website for times and updates.
Website: visitoceanside.org
Spectators are historically encouraged to arrive early, park in the business park nearby, bring a beach chair, and walk to the viewing area on Rancho Del Oro road. There is usually live music as well as food trucks offering a wide variety of foods. The firework show usually begins around 9pm on the 3rd, but check the website to confirm.
Historically, Oceanside holds another round of celebrations on July 4th around 10am, so you can head to Oceanside Beach and Pier for more festivities! Main Street Oceanside usually hosts a variety of booths and activities in the plazas, parks, and parking lots from the Oceanside Pier to Tyson Street Park. A typical 4th of July in Oceanside will include kids' crafts and activities in the Pier Amphitheater, with a wide range of food vendors. There are also usually vendors of all kinds in both the Pier Plaza and in the parking lot south of the Pier Amphitheater.