16 Exciting Things to Do in Northern California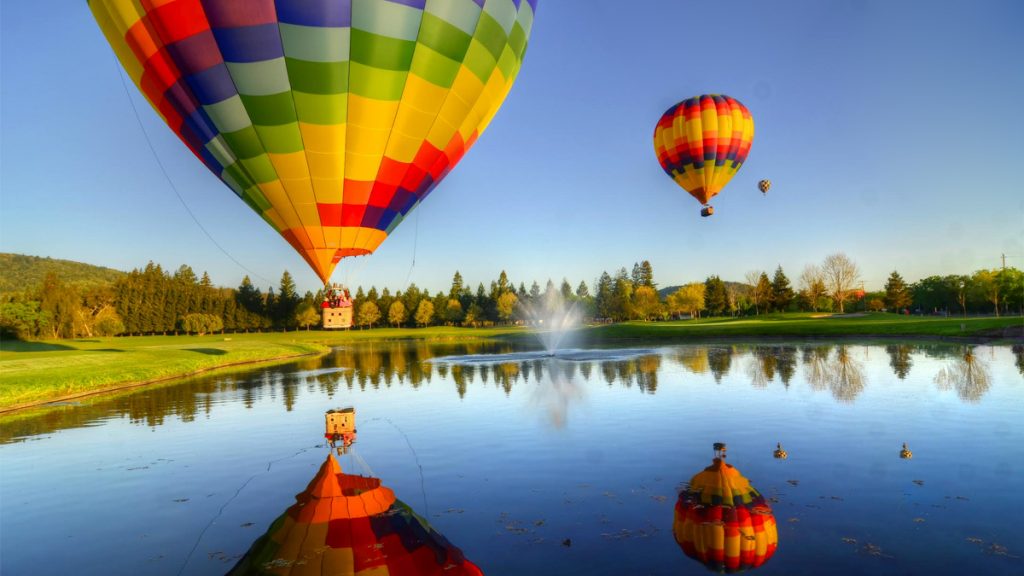 When most people think about California, the first thing that usually comes to mind is the glitz and glam of Hollywood, the laid-back coastal vibe of Long Beach, or the empire of the Mouse over at Disneyland. However, California is so much bigger than that, and you'd be remiss to overlook all of the incredible offerings found in the upper portion of the region. If you're planning a trip to The Golden State, then you definitely want to keep Northern California on your radar.
Best Things to Do in Northern California
Contrary to popular belief, California is so much more than the stereotypical portrayal seen in the media, and Northern California has a veritable bounty of offerings for both locals and vacationers to enjoy. From a day at Gilroy Gardens to an overnight stay at Tahoe, there's no shortage of activities to partake in while here. Whether this is your first foray into the state or you're a return visitor, these sixteen fun and exciting things to do in Northern California are enough to check every box on a west coast travel bucket list.
Have Fun at the Best Arcades in Sacramento
For the longest time, many people believed that arcades are only meant for kids – which couldn't be further from the truth. Arcades are for people of all ages, and adults definitely should certainly take a crack at visiting one every once in a while. With that in mind, why not let your inner child out and spend an afternoon at some of the best arcades in Sacramento while in NorCal? With activities like laser tag, an indoor trampoline arena, and climbing walls – as well as a food court offering up tasty fare like fresh-popped popcorn and fizzy fountain drinks – you'll never want to leave. (Psst… you don't really have to leave if you don't want to, and you can even purchase a monthly or yearly membership so you can come and go as you please!)
Address: 2401 Butano Dr., Sacramento, CA 95825
Phone: (916) 829-8969
Hours: Mon – Thurs 3 p.m. – 8 p.m.
Friday: 3 p.m. – 10 p.m.
Sat – Sun: 10 a.m. – 8 p.m.
Visit Happy Hollow Park & Zoo
Happy Hollow Park & Zoo has been serving up both education and smiles to guests since 1961, and it shows no sign of stopping any time soon. Tucked away in bustling San Jose, Happy Hollow Park & Zoo is proud to be an accredited member of both the International Association of Amusement Parks and Attractions (IAAPA) and the Association of Zoos and Aquariums (AZA). Here, you'll be able to learn about conservation while you explore the 16-acre property and take in the petting zoo, puppet shows, and even an exhilarating roller coaster ride throughout the park.
Address: 748 Story Rd., San Jose, CA 95112
Phone: (408) 794-6400
Hours: Tues – Fri 10 a.m. – 4 p.m.
Sat – Sun: 10 a.m. – 5 p.m.
Closed Mondays
Experience Gilroy Gardens Family Theme Park
If you're looking for the ideal day trip in Northern California, be sure to visit the hidden gem that is Gilroy. The first thing you'll notice when you get to the Gilroy Gardens Family Theme Park is its distinct, trademark smell. As this city is considered the garlic capital of the world, the inviting scent ebbs and flows during the harvesting season. Don't let it allow you to get too hungry to spend your day at this amusement park, though. While here, be sure to explore the famous Circus Trees Botanical Garden, take a ride on a spinning garlic bulb, and splash down the waterslides to cool off during the summer months. And yes, be sure to try out their garlic fries when you start to get peckish, too!
Address: 3050 Hecker Pass Hwy., Gilroy, CA 95020
Phone: (408) 840-7100
Hours: Saturday 11 a.m. – 5 p.m.
Sunday: 1 p.m. – 9 p.m.
Closed Mon – Fri
Have Fun at Walt Disney Family Museum
You don't have to take a drive all the way down to Anaheim to get your fill of everything Disney while in the state. If you're looking for one of the more fun things to do in Northern California with family, then the Walt Disney Family Museum is definitely worth the visit. While not officially affiliated with The Walt Disney Company itself, this non-profit museum is managed by the heirs of the company, which means that you can be confident that it's both fun and historically accurate. Attractions at this sprawling 40,000-square-foot property include a 12-foot diameter model of the theme park, a modern digital theater, and ten permanent galleries spread out across the museum.
Address: 104 Montgomery St., San Francisco, CA 94129
Phone: (415) 345-6800
Hours: Thurs – Sun 10 a.m. – 5:30 p.m.
Sat – Sun: 8 a.m. – 9 p.m.
Closed Mon – Wed
Explore Alcatraz
Once you see Alcatraz for yourself, you'll never want to escape. One of the most prominent and impenetrable prisons in the world, Alcatraz officially shut down its operations and closed its doors to inmates back in 1963. Today, visitors can spend a day exploring the 1.25 square mile island and reflect on its vast and diverse history, which dates all the way back to the middle of the 19th century. While Alcatraz has everything ranging from a lighthouse center to a military fortification, today, it's one of the most popular museums and nature preserves in the country and one of the more iconic things to do in Northern California.
Address: 201 Fort Mason, San Francisco, CA 94123
Phone: (415) 561-4900
Hours: Mon – Sun 10 a.m. – 9 p.m.
Visit Yosemite National Park
With a history that spans millions of years and a spectacular landscape that will leave you in awe, Yosemite National Park is much more than a treasure in the midst of California. Yosemite Valley, as its name suggests, is home to a number of the park's most popular attractions, including Cloud Rest, Tunnel View Outlook, El Capitan, North Dome from Tuolumne, and the park's four most famous waterfalls: Yosemite Falls, Vernal Fall, Nevada Fall, and Bridal Veil Fall. Don't worry if sightseeing is not your thing, either. There are plenty of other ways to spend your time here, including fishing, hiking, camping, boating, and swimming.
Address: 9035 Village Dr., Yosemite Valley, CA 95389
Phone: (209) 372-0200
Hours: Mon – Sun 9 a.m. – 5 p.m.
Go to Lake Tahoe
Is there ever a bad time to go to Tahoe? No, but this is definitely one of the best things to do in Northern California for families and couples. No matter when you decide to pay Lake Tahoe a visit, you'll be swept off your feet by the majestic splendor of this stunning town. During the summer months, you can explore the many meandering hiking trails and take a dip into the waters itself. If you rather schedule a winter escape, you'll have your choice of skiing, snowshoeing, and ice skating. You can also make your way to one of the many cozy lodges for hot cocoa and rest by a stone fireplace to warm up before you head back out for more adventure.
Address: 4114 Lake Tahoe Blvd., South Lake Tahoe, CA 96150
Phone: (530) 542-4637
Hours: Mon – Sun 10 a.m. – 5 p.m.
Immerse Into the Ocean World
Have you ever wanted to immerse yourself in the ocean, but without actually getting wet? You may accomplish just that by going to Ocean World in Crescent City, California. Established in 1964, this aquarium-slash-museum was once located on a small, floating boat. However, this barge was finally beached, and now it's home to literally millions of gallons of water, hosting sea life such as sharks, rays, and even sea lions. Be sure to spend some time interacting with the tide pools while here, getting up close and personal with a shark, and even watching a program about sea lion behaviors! If you're looking for the best things to do in North California, then you and your family will have an amazing maritime adventure while spending time at Ocean World. 
Address: 304 US-101 South, Crescent City, CA 95531
Phone: (707) 464-4900
Hours: Mon – Sun 9 a.m. – 6 p.m.
The Napa Valley Balloons, Inc
It's always amazing to see the world from a new perspective, whether it's from an airplane high above the earth or at the peak of a mountain. Now imagine that you get to soar above the cityscape in a hot-air balloon. Take off on an epic journey over the vineyards of Napa Valley and experience the beautiful scenery like never before. Celebrate your journey with a drink of wine and a photo that will always remind you of this incredible experience. When you're done breathing in the gorgeous views of wine country, why not treat yourself to a refreshing glass of what made this region so popular?
Address: 4086 Byway E, Napa, CA 94558
Phone: (707) 944-0228
Hours: Mon – Sun 9 a.m. – 5 p.m.
Have Fun at Fairytale Town
Since its opening in 1959, Fairytale Town has been a must-see in Northern California. In its sixty-plus-year tenure, this Sacramento-based park has attracted visitors from every age group, and its fan base continues to grow. Boasting twenty-six various playsets all based on fairytales and nursery times, an adorable menagerie of farm animals, multiple gardens, and a total of two stages for the performing arts, there's something for everyone here at this non-profit amusement center. Feel free to spend some time playing in the treehouse and petting the animals while here, and if you get hungry, be sure to swing by The Dish & Spoon Cafe for a bite to eat.
Address: 3901 Land Park Dr., Sacramento, CA 95822
Phone: (916) 808-5233
Hours: Mon – Sun 9 a.m. – 4 p.m.
Visit The Exploratorium
You're in for a real treat when you visit The Exploratorium, San Francisco's world-famous science and technology museum. The word "Exploratorium" comes from the words "explore" and "place," and there's no doubt about it – it's definitely a place where you can let your family enjoy a variety of exciting and entertaining pursuits as they explore the museum's many hands-on displays. Some of the exciting activities you can participate in include examining life under the microscope, optical illusions, recreating an earthquake, and attending the world-famous "After Dark Thursdays," where you can listen to live music while enjoying your favorite beverage. You can't go wrong with a visit to the Exploratorium if you're in search of knowledge and looking to broaden your horizons.
Address: Pier 15 (Embarcadero at Green St.), San Francisco, CA 94111
Phone: (415) 528-4444
Hours: Tues – Wed 10 a.m. – 5 p.m.
Thurs 10 a.m. – 5 p.m. and 6 p.m. – 10 p.m.
Fri – Sat 10 a.m. – 5 p.m.
Closed Mondays
Go to Aqua Adventure Water Park
There's no better way to beat the heat than to visit a water park, and Aqua Adventure Water Park in Fremont, California takes the top prize for being one of the more exhilarating things to do in Northern California. With pools ranging from 3.5 to 4 feet in depth and dedicated areas for children aged three to eight years, the park is suitable for visitors of all ages. The park offers a number of rides like a wading pool, lazy river, and several slides, but its reputation rests mostly on the high standard of its facilities. From changing rooms and concessions to picnic spots and administrative offices, the park has you covered inside and out. Treat yourself to a nice cool day at Aqua Adventure Water Park this summer!
Address: 40500 Paseo Padre Pkwy., Fremont, CA 94538
Phone: (510) 494-4426
Hours: Seasonal
Times Vary, Please Call
Take a Day Trip to Santa Cruz
This idyllic beach town is more than just a coastal retreat hidden away on the California coast. As one of the best places in Northern California for beach lovers, it happens to be home to one of the most famous boardwalks in the nation, the eponymous Santa Cruz Beach Boardwalk. While here, be sure to dip your toes into the brisk waters of the Pacific Ocean, then make a beeline for the various rides dotted along the mile-long stretch of the waterway. If you work up an appetite, check out some of the microbreweries and treat yourself to some fresh seafood with the catch of the day. And when the sun goes down, this quaint city has more than enough events to keep you entertained all night long.
Address: 400 Beach St., Santa Cruz, CA 95060
Phone: (831) 423-5590
Hours: Sat – Sun 12 p.m. – 7 p.m.
City Open 24/7
Check Out the San Francisco Museum of Modern Art
Featuring one of the most impressive collections of contemporary art in the world, the San Francisco Museum of Modern Art (SFMOMA) is pleased to offer an impressive 170,000 square feet of exhibition space to visitors. It opened its doors to the public in 1935 and, while the definition of modern art may have changed over the years, the SFMOMA's commitment to curation hasn't wavered. Some of the more prominent artists featured here include works by Frida Khalo, Andy Warhol, and Edward Hopper. No matter your stance on art, you'll be sure to leave with a sense of wonder and awe when you visit this architectural marvel while on your North California trip!
Address: 151 3rd St., San Francisco, CA 94103
Phone: (415) 357-4000
Hours: Fri – Tues 10 a.m. – 5 p.m.
Thus 1 a.m. – 8 p.m.
Closed Wednesdays
Go to the California State Railroad Museum
Keeping in touch with our past is essential, and the California State Railroad Museum is just the kind of place to allow you to do just that. Everyone, no matter their age, should make it a point to check out this place to experience the history of the railroads in California. Many railcars –some as ancient as 200 years old – have been meticulously restored and are on exhibit for visitors to view are housed at the museum. Learn how hard people worked back then, how far products had to be transported, and how the development of railways impacted the country's economy. Hop on the train for a trip through time that covers everything from culture to business at this time capsule in Sacramento.
Address: 125 I St., Sacramento, CA 95814
Phone: (916) 323-9280
Hours: Mon – Sun 10 a.m. – 5 p.m.
Explore Golden Gate Park
For such a vibrant and culturally diverse city, San Francisco is home to many parks, and this includes none other than Golden Gate Park. Deeded to the general public in 1870, Golden Gate Park is spread out over 1,017 acres of land and is a lot more than just a dedicated green space for picnics. It is an exquisite patchwork of meadows, hills, lakes, and gardens, where people can find tranquility and an escape from bustling San Francisco. From sports such as rugby and football to artistic ventures and other family-friendly activities, there is something for everyone to enjoy.
Address: 501 Stanyan St., San Francisco, CA 94117
Phone: (415) 831-2700
Hours: Open 24/7
Be Sure to Visit NorCal Today!
No doubt, there's something about California that sets it apart from the rest of the world. Not only does it offer beautiful weather and non-stop activity for everyone who ventures into the state, but the friendliness of the locals can't be beat, either. From nifty escape rooms, lively entertainment, phenomenal eating – there's no end to the fun to be had for you and your family. And with so many things to see and do while here, that means only one thing: if you don't get to partake in them all during your first trip here, then you'll just have to simply come back again and again so you can experience for yourself everything that NorCal has to offer!
The banner image of hot air balloon floating over Napa Valley is courtesy of VisitNapaValley.com