Find the Best Beauty Supply Store in San Diego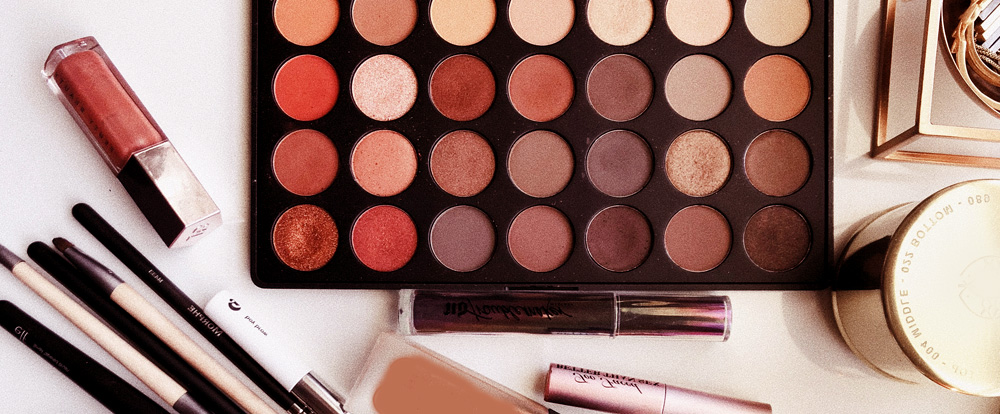 It's about that time of year to re-up on your beauty, skin, and hair care products as many stores are having unbeatable holiday specials. Cosmetics can serve as splendid stocking stuffers or gifts for yourself, so you can look extra glam for holiday celebrations. And who doesn't love a good beauty supply binge now and then? Using cosmetics can be the perfect way to exhibit personal style and express ourselves, amplify our natural beauty, and of course make us look really, really ridiculously good-looking.
The convenience of online shopping for makeup products might seem more appealing than the act of going into a brick and mortar, but I think we can all agree that there is something about stepping into a beauty store that instantly makes you feel like a boss. As you scan the lipstick isle, you imagine yourself in a ruby red tint for a New Year's soirée. Head on over to the perfume isle to spritz yourself with the lovely scent of Rhubarb, Rosewater, and Honeysuckle. Make your way to the moisturizers to rejuvenate your soft cheeks, leaving them with a silky smooth glow. These feelings cannot be emulated when you are scoping the web for products from the comfort of your home.
It doesn't matter where your beauty hunt stems from: the desire to protect your skin and hair, nourish your body, spice up your eyeshadow game or simply stock up on a new blow-dryer. You're in luck regardless, because beauty supply in San Diego can be found in many of the shopping centers and department stores, radiating with unrivaled selections of makeup, skin, haircare, fragrances, and beyond. Whether you're in search of luxury lines or bargain brands, there is a beauty supply store in San Diego fit for every individual's preferences.
Look Your Best With Products from the 13 Best Beauty Supply Stores in San Diego
If you're looking for a beauty supply store in San Diego there are surprisingly numerous brick and mortars suited for different target markets, many of which offer their own product line. Are you a cosmetologist or a licensed beauty professional? There are stores that solely sell products for your profession, and we've added several below. For everyone else in search of beauty goodies like designer perfumes or cruelty-free foundation, we just so happened to design a list of stores for you, too.
Don't know what you want? Not a problem. Stores like Sephora and BareMinerals have beauty specialists on the clock that are able to match you with exactly what you're looking for. You can also book a makeup artist in San Diego, CA for special occasions or just for the hell of it. There are even artists that have expertise in special effects makeup, ideal for a themed event or when Halloween rolls around. Hey, if you want to get your face painted like the Grinch for a home skit on Christmas, there's an idea too.
North County Coastal Beauty Supply Store
Let's kick our list of beauty supply in San Diego off by showcasing places on the coast and working our way around the map.
SalonCentric
Positioned near the Target and Trader Joe's in Fire Mountain in Oceanside, you'll find SalonCentric, a premier wholesale distributor of beauty supply in San Diego. Their products are exclusively for licensed beauty professionals, and they are committed to educating their clients on best practices, tips, and tricks, such as how to lift or tone hair. At SalonCentric, licensed cosmetologists will have access to high quality supplies at low prices so they can provide their clientele with superior treatments using top of the line products.
Address: 2216 El Camino Real Suite 114, Oceanside, CA 92054
Phone: (760) 966-6890
Hours: Mon – Fri, 8 a.m. – 6 p.m.
Sat, 8:30 a.m. – 4 p.m.
Sun, 8 a.m. – 6:30 p.m.
Ulta Beauty
Ulta beauty is a powerful engine in the beauty industry. This location sits kitty corner to SalonCentric in the same shopping center in Oceanside. The eclectic brand has storefronts nationwide and is known for their prestigious cosmetics; their product selection gives budget friendly and big spenders alike the opportunity to get glam. They have insider rewards and deals and, unlike many competitors, also carry products for men's personal care.
Address: 2645 Vista Way Retail, Oceanside, CA 92054
Phone: (760) 439-2704
Hours: Mon – Wed, 10 a.m. – 8 p.m.
Thursday, 10 a.m. – 9 p.m.
Fri-Sat, 9 a.m. – 10 p.m.
Sun, 11 a.m. – 8p.m.
CosmoProf
Much like SalonCentric, Cosmoprof distributes salon products to licensed professionals in the beauty industry. They have over 1,200 storefronts and offer a range of products for hair, skin, and nails. CosmoProf in Carlsbad is located right across from the In-N-Out Burger. Stock up on tools and appliances, salon essentials, hair color and hair care, and skin and beauty supplies to give your clients the finest treatments.
Address: 5825 Avenida Encinas # 103, Carlsbad, CA 92008
Phone: (760) 431-2894
Hours: Mon – Sat, 8 a.m. – 6 p.m.
Closed Sundays
North County Inland Beauty Supply Stores
Beauty supply in San Diego doesn't stop there; making our way inland of North County, there are several fabulous hair and beauty supply stores that you won't want to miss out on for holiday gifts.
Casablanca Hair and Beauty Supply
Casablanca is stocked with a curated range of products, considered a haven for hair supply in San Diego. They have exceptionally beautiful and affordable hair extensions–made from real human hair–in lengths up to 30 inches, as well as personal care products. Their hair products are great for all hair types – coarse, frizzy, fine, straight, curly, color-treated, etc. Alta Vista Botanical Gardens is right around the corner, so you can strut your stuff around the garden and do a post glam photoshoot after picking up some sexy products.
Address: 1001 East Vista Way I-L, Vista, CA 92084
Phone: (760) 630-0820
Hours: Tues – Sat, 10 a.m. – 6 p.m.
Closed Sundays & Mondays
bareMinerals Boutique
BareMinerals is a cruelty-free treasure trove of clean beauty products with natural ingredients. Most of their products are gluten-free and fragrant-free–great for those with sensitive skin. Their clean skincare line is full of nourishing botanical and free of unnecessary and unhealthy additives that you'll find in competitor brands that contain pore clogging ingredients. If you're looking to book a personalized consultation, an appointment with a makeup artist, or simply sift through their exceptional serums, vegan skincare, or powdered mineral products, check their storefront is in Westfield North County, near Kit Carson and Queen Califa's Magical Circle
Address: 272 E Via Rancho Pkwy, Escondido, CA 92025
Phone: (760) 233-9725
Hours: Mon – Sat, 10 a.m. – 9 p.m.
Sun, 11 a.m. – 7 p.m.
People's Hair and Beauty Supply
This Black Owned Family Business and elite beauty supplier in Escondido is known for carrying an assortment of wigs, hair and beauty products, and body products that target skin problems such as eczema or acne. The employees and owners are extremely personable and knowledgeable, full of fantastic advice for all of your beauty and hair care needs. People's Hair and Beauty can be found in Vineyard Square in Midway, along with many other places to do a little shopping.
Address: 1631 East Valley Parkway, Escondido, CA 92026
Phone: (442) 277-4418
Hours: Tues – Sat, 10 a.m. – 6 p.m.
Closed Sundays & Mondays
Central Beauty Supply Stores
In central San Diego, you'll have an assortment of beauty supply stores that are either family owned or chains, so you can't go wrong either way.
Empire Beauty Supply Co
Empire Beauty Supply is an unassuming beauty shop situated next to Trader Joe's right off Garnet, one of the main roads in Pacific Beach, but inside it's an oasis of hair care, nail products, cosmetics, tools, extensions, body butters, and more. They run plenty of promotions for their customers, including deals such as by one get one 50% off in stores. If you want to look extra spicy for an upcoming event, hop in the car and head on over to Empire ASAP.
Address: 1637 Garnet Ave, San Diego, CA 92109
Phone: (858) 274-7424
Hours: Mon – Sun, 10 a.m. – 6 p.m.
Balboa Beauty Supply
Right off Balboa Avenue in Claremont Mesa East, you'll find Balboa Beauty Supply in the Genesee Plaza shopping center. The family owned and operated business specializes in professional hair and skincare lines, and is a beauty supply store in San Diego you will not want to miss. Some of the brands they carry include Olaplex, Pravana, Pureology, Dermalogica, Living Proof, and Brazilian Blowout. 
Address: 4223 Genesee Ave Suite 111, San Diego, CA 92117
Phone: (858) 292-7696
Hours: Mon – Fri, 11 a.m. – 6 p.m.
Sally Beauty Supply
This location is right off the 94 off College Ave in the shopping center between Broadway Heights and Rolando Park, near Target and 24-Hour Fitness. Sally's Beauty Supply offers exclusive deals only available at Sally, along with a variety of cult products. With first class customer service and an amazing selection of fragrances, products, and tools, you'll feel like you're in product heaven.
Address: 6348 College Grove Way, San Diego, CA 92115
Phone: (619) 265-0672
Hours: Mon – Sat, 10 a.m. – 6 p.m.
Fri – Sat, 10 a.m. – 8 p.m.
Sun, 11 a.m. – 5 p.m.
East County Beauty Supply Stores
Need a beauty supply store in San Diego, located more East of the city? We've got you covered.
CDC Beauty Supply
Stop your search for sexy and functional wigs and head on over to CDC Beauty Supply, as they are considered one of the best wig shops in East County. If you need to restock your supply of lashes, hair accessories, and rejuvenating hair care products, CDC Beauty carries many notable product lines at a reasonable cost. This storefront is located off of Main Street in El Cajon.
Address: 1215 E Main St, El Cajon, CA 92021
Phone: (619) 447-0708
Hours: Mon – Sat, 9 a.m. – 8 p.m.
Sun, 10:30 a.m. – 6 p.m.
Sephora
Sephora has made a name for itself across the world, hosting products from trendy lines and their very own unparalleled product line. Sephora takes the cake for exclusive membership and VIP deals, as well as complementary gifts on your birthday. They carry a ton of diverse brands good for all skin and hair types, and exclusive brands that you can't find anywhere else, such as Drunk Elephant, Fenty Skin and Beauty by Rihanna, and Milk Makeup. This location is situated near where the 125 and 52 meet in Santee, relatively close to Big Rock Park.
Address: 9930 Mission Gorge Rd Space #9, Santee, CA 92071
Phone: (619) 449-0786
Hours: Mon – Sat, 10 a.m. – 7 p.m.
Sun, 11 a.m. – 6 p.m.
South Bay Beauty Supply Stores
Do you live closer to the border? Chula Vista possesses a couple of quality beautylicious storefronts that will help you achieve whatever glam look you're going for.
Cosmetics Palace Beauty Supply and Perfumes
Located off the I-5 in Chula Vista across from Harbor side Elementary School in Vista, Cosmetics Palace boasts a charming ambiance that serves as a sanctuary for beauty product lovers. Look and feel your best with essential products for every skin type and one. Cosmetics Palace carries an esteemed selection of perfumes, along with barber shop and salon supplies.
Address: 657 Palomar St H, Chula Vista, CA 91911
Phone: (619) 420-1415
Hours: Mon – Sat, 10 a.m. – 6 p.m.
Sun, 10 a.m. – 4:30 p.m.
Laser Away
If all that beauty shopping is making you tense, head on over to Laser Away for to unwind with a pulsed light facial. Their specialty facials can reverse sun damage and fight early signs of aging, and stimulate collagen to make your skin look exceptionally rejuvenated. Laser Away offers a variety of other treatments targeted at hair removal and tattoo removal, as well as sunspots. Their dermatologist recommended skin care formulas and moisturizers with SPF protection are a dream for all skin types. Botox, Filler, and cool sculpting are other manicured treatments at Laser Away will leave you feeling confident and seductive. Laser Away is nestled in the heart of Otay Ranch at the Otay Ranch Town Center.
Address: 2020 Birch Rd Suite 101, Chula Vista, CA 91915
Phone: (619) 350-8322
Hours: Mon – Sun, 8 a.m. – 8 p.m.
Sat: 9 a.m. – 7 p.m.
Makeup, Botox, and Filler might not be for everyone, and we get that. If you like the all natural look, we support that! However, if you have been considering cosmetic surgery, we support you just the same! If there is a chance you are interested in the latter, you'll want to check out our guide on the best plastic surgeons in San Diego. There are tons of superb board certified plastic surgeons that will be able to assist with you in all of your beauty treatment needs.
It comes as no surprise that cosmetics, beauty products, and treatments have the ability to transform our confidence and improve our mood, contributing to our overall wellbeing and lifestyle. Whether you are looking to protect your skin or hair from pollutants, heat or sun damage, or simply improve the texture and appearance of your skin and hair, there is something out there for everyone. It might take a little digging to find out what products and beauty supply stores are the ultimate match for your needs, but you'll find what you're looking for soon enough. If you want to expedite the process, take advantage of booking a skin or beauty consultation at a number of these stores! You won't regret it.