10 Must-Know Facts About the Hilton La Jolla Torrey Pines Hotel
The hotel is situated atop the rugged three hundred-foot-tall Torrey Sandstone bluffs of La Jolla, with amazing views of the endless Pacific Ocean.
It overlooks the legendary Torrey Pines Golf Course and offers hotel guests exclusive daily tee times.
The hotel is located within walking distance to the breathtaking hiking trails at Torrey Pines Natural State Reserve and Blacks Beach, one of San Diego's best surf spots.
Unique in San Diego, each coastally inspired guest room features a private balcony or patio with garden, golf course, or ocean views.
There's a fantastic outdoor pool, hot tub, and private cabanas with views of the 18th Fairway lined by concrete columns and oversized flower pots.
The Torreyana Grille & Lounge restaurant features relaxing firepits and a terrace for outdoor dining above the pool.
The Horizons Cafe serves Starbucks Coffee and grab-n-go breakfast items.
Amenities include onsite tennis courts, a private outdoor basketball court, a fitness center, and The Spa at Torrey Pines.
The hotel is ideally located between La Jolla and Del Mar. It's minutes from iconic sandy beaches, world-class shopping, adventurous kayaking in La Jolla Cove, and award-winning dining in either direction. It has easy access to Interstate 5 so you can avoid the infamous Southern California traffic no matter where you're headed in the area.
The hotel also has views of the Torrey Pines Gliderport. From your room or the lobby, guests can see local paragliders dancing on the wind high above the Pacific Ocean.
---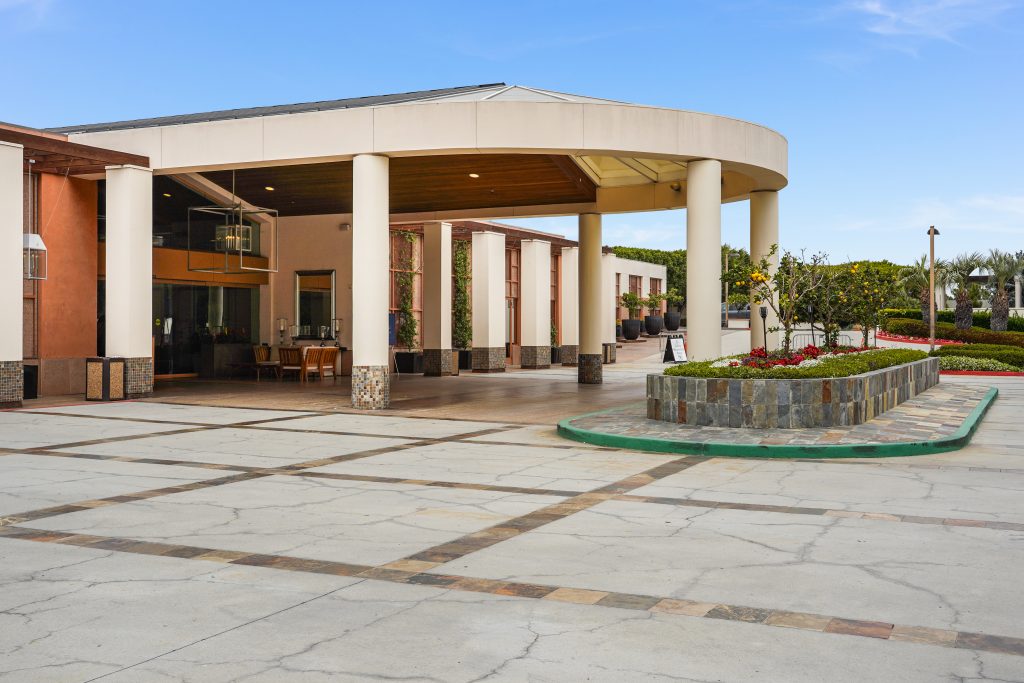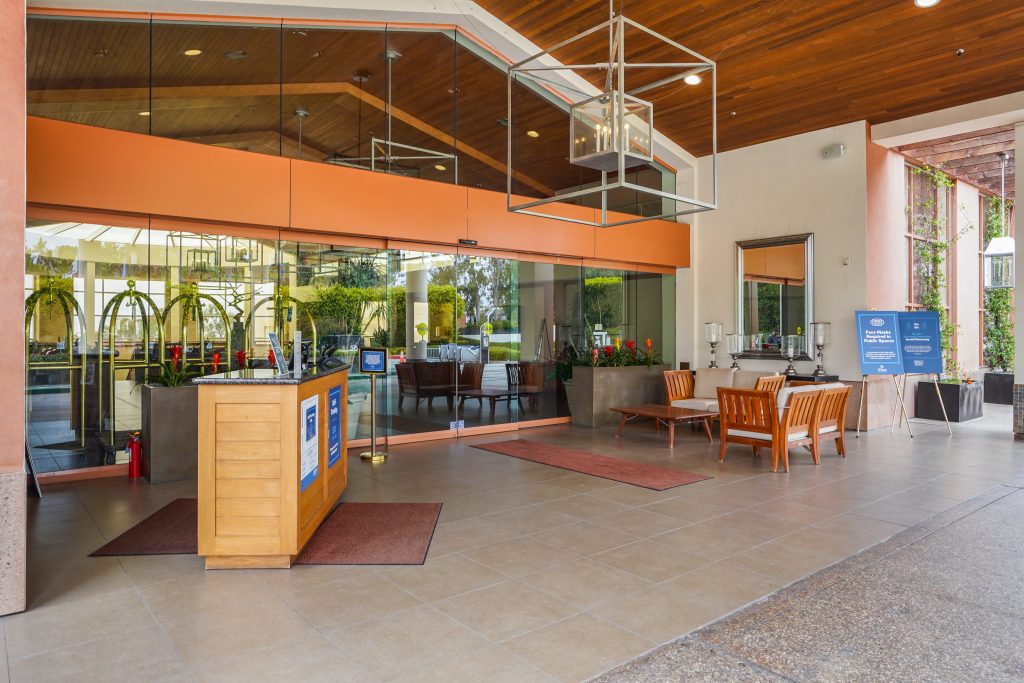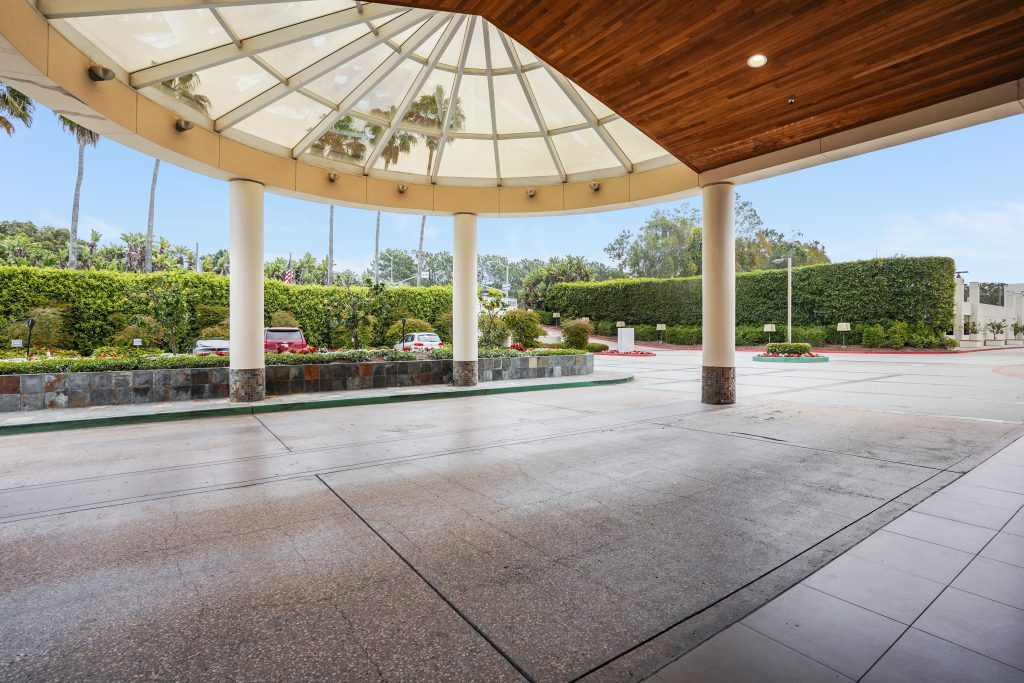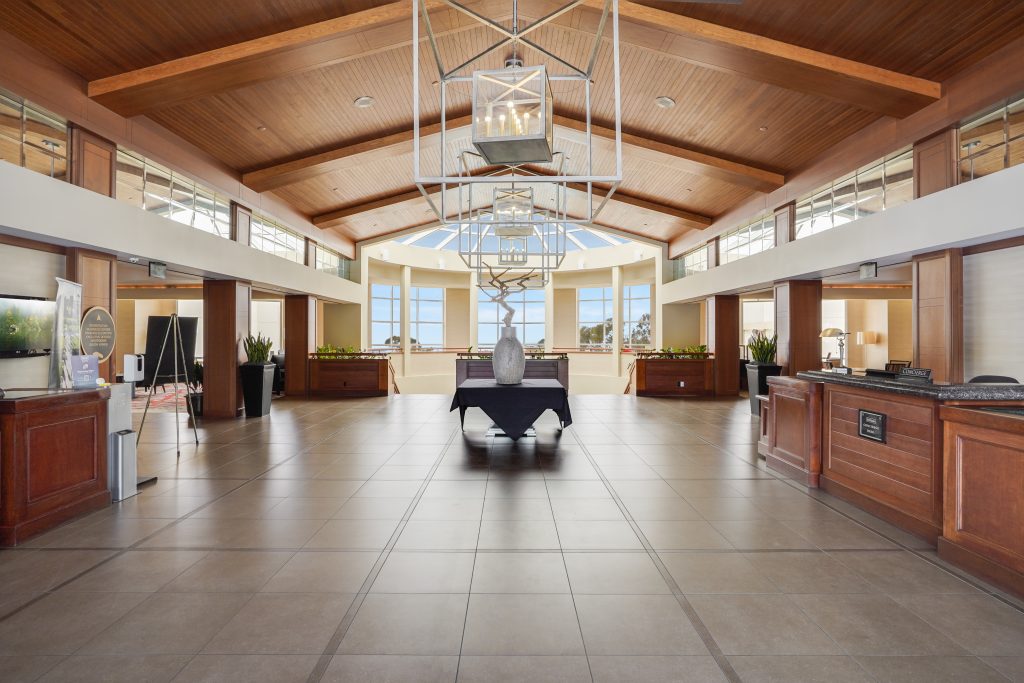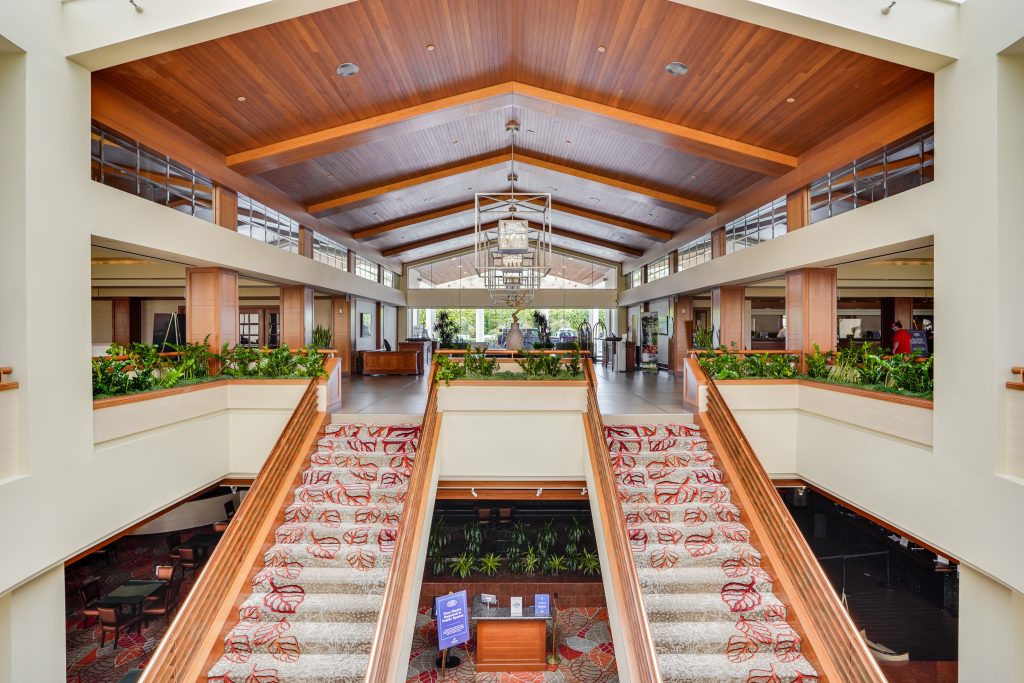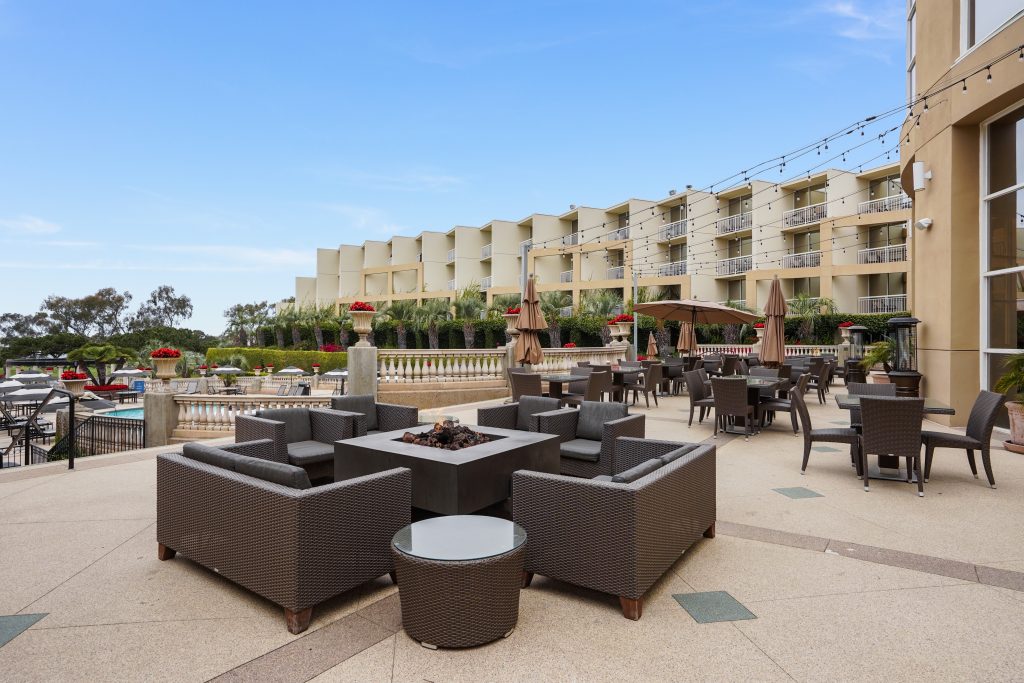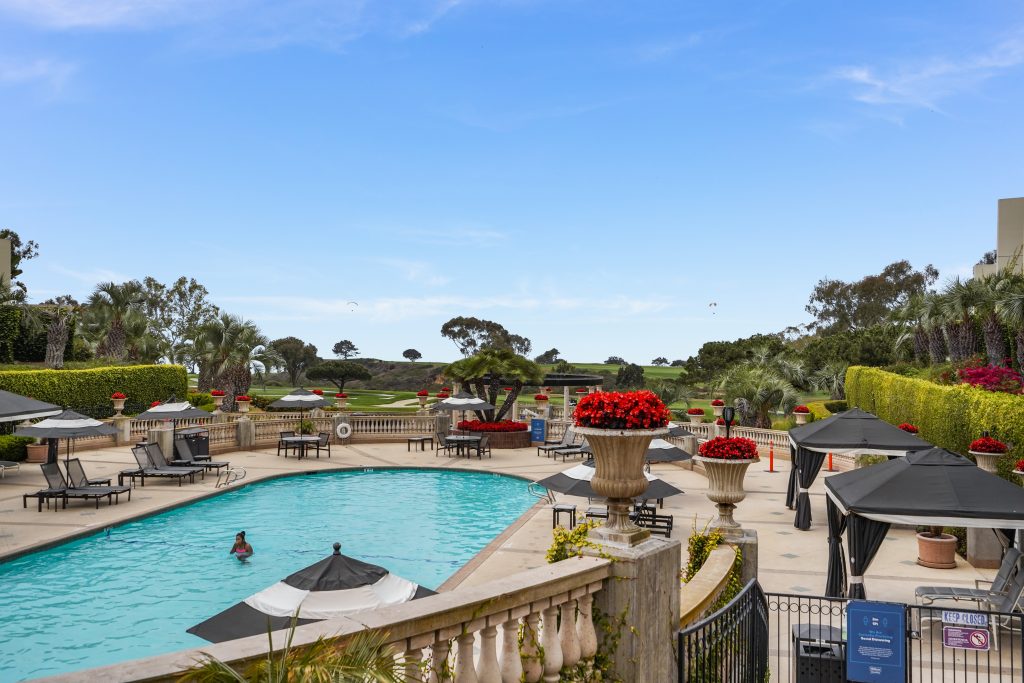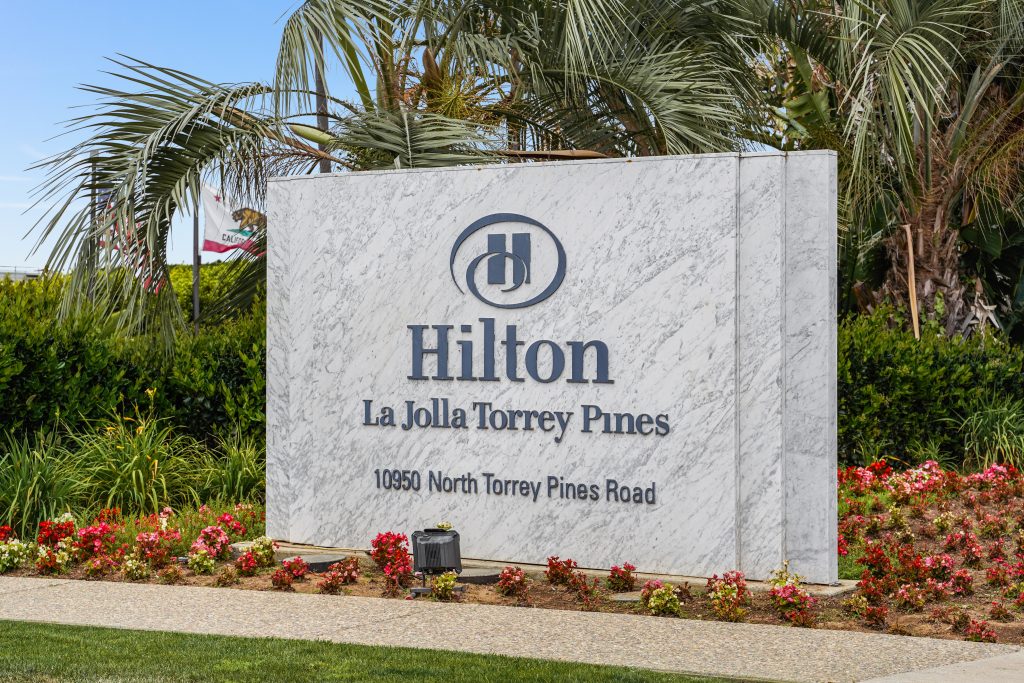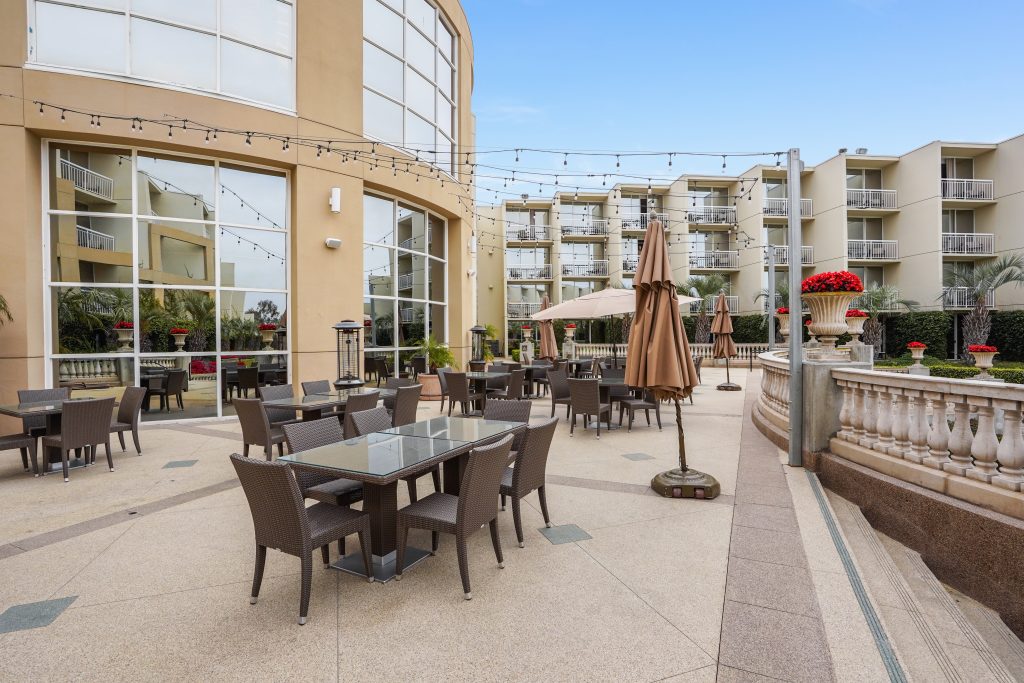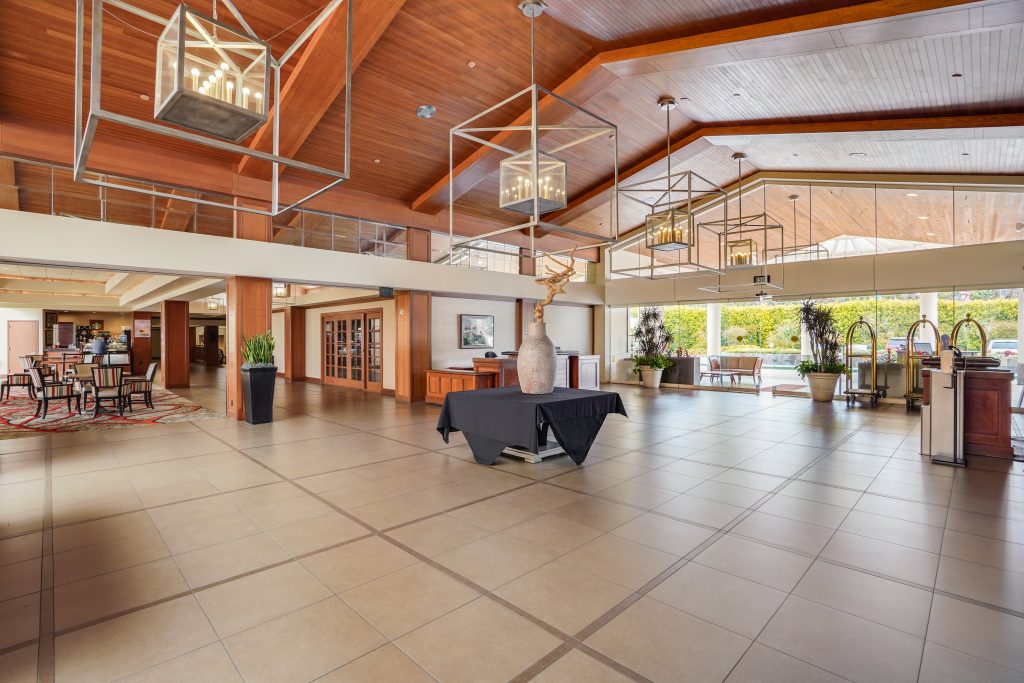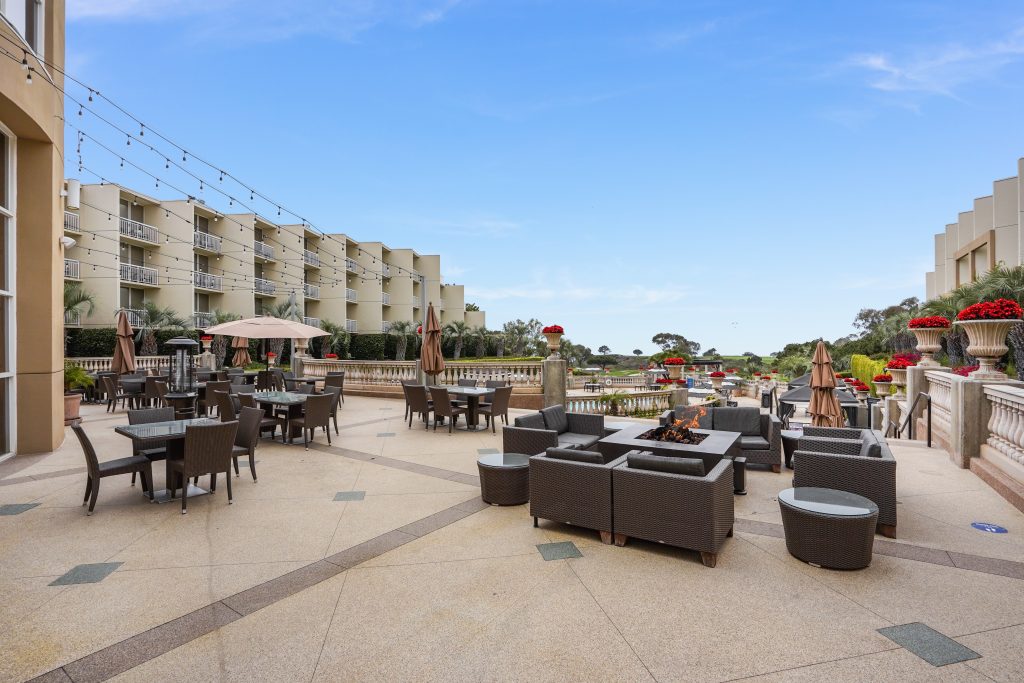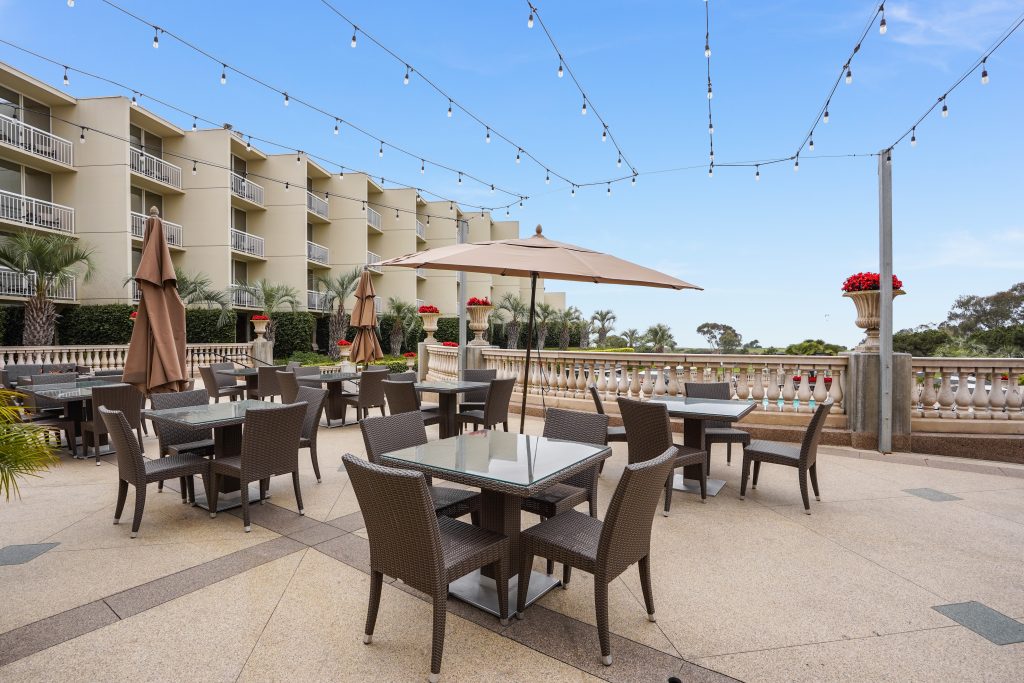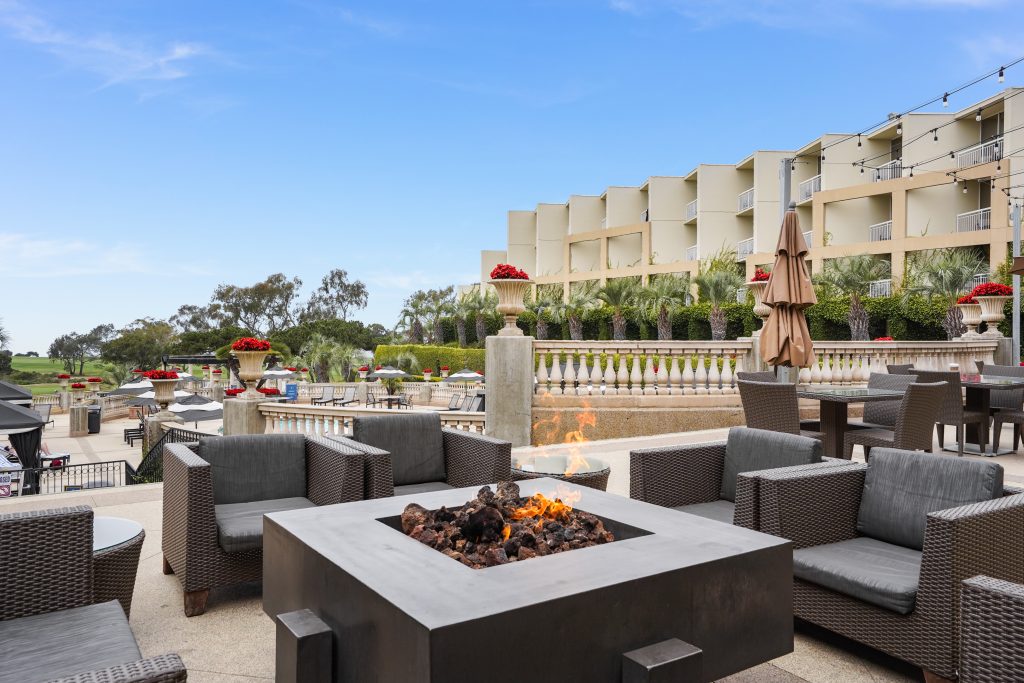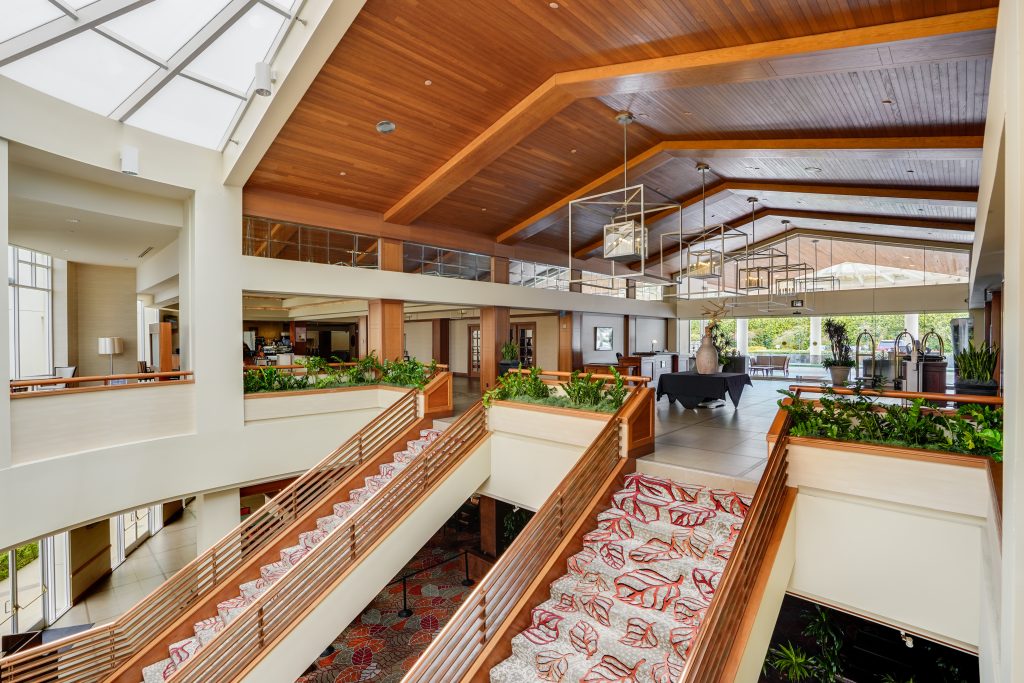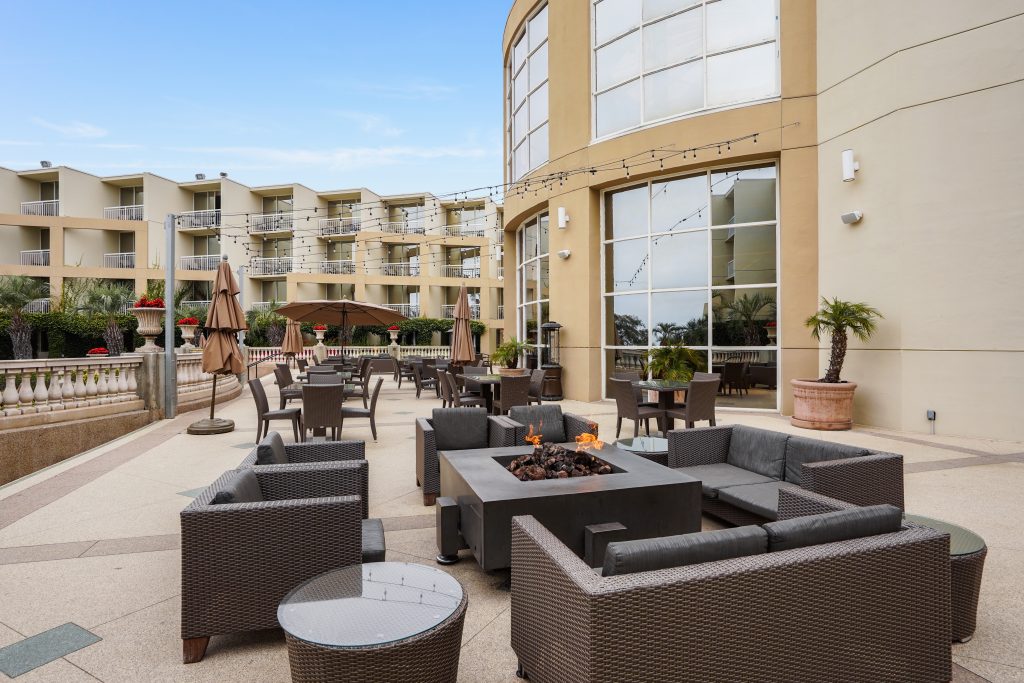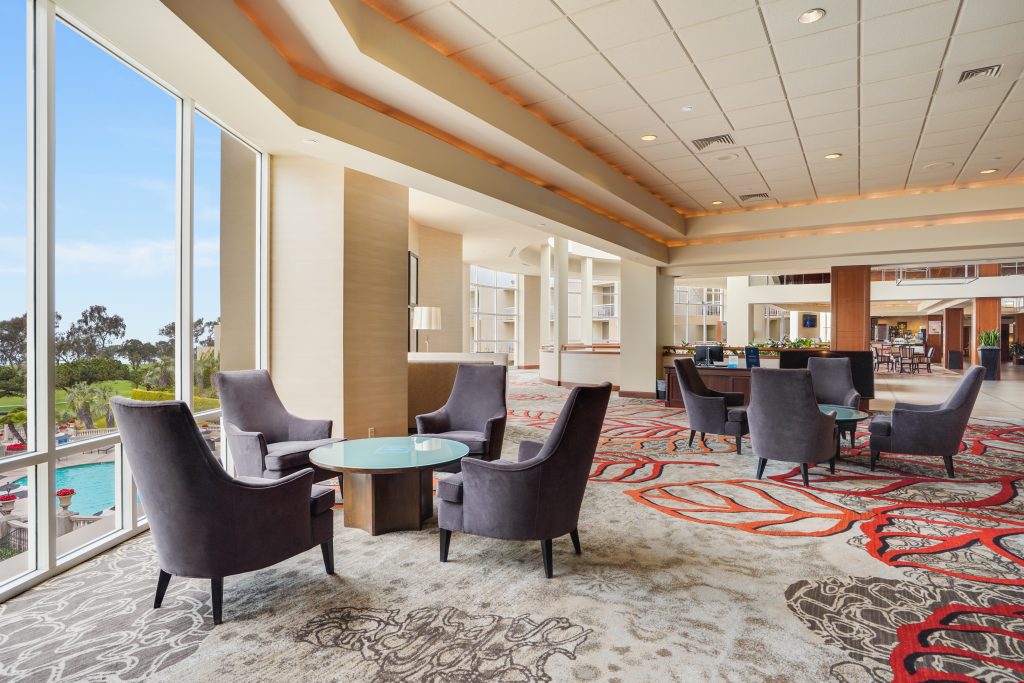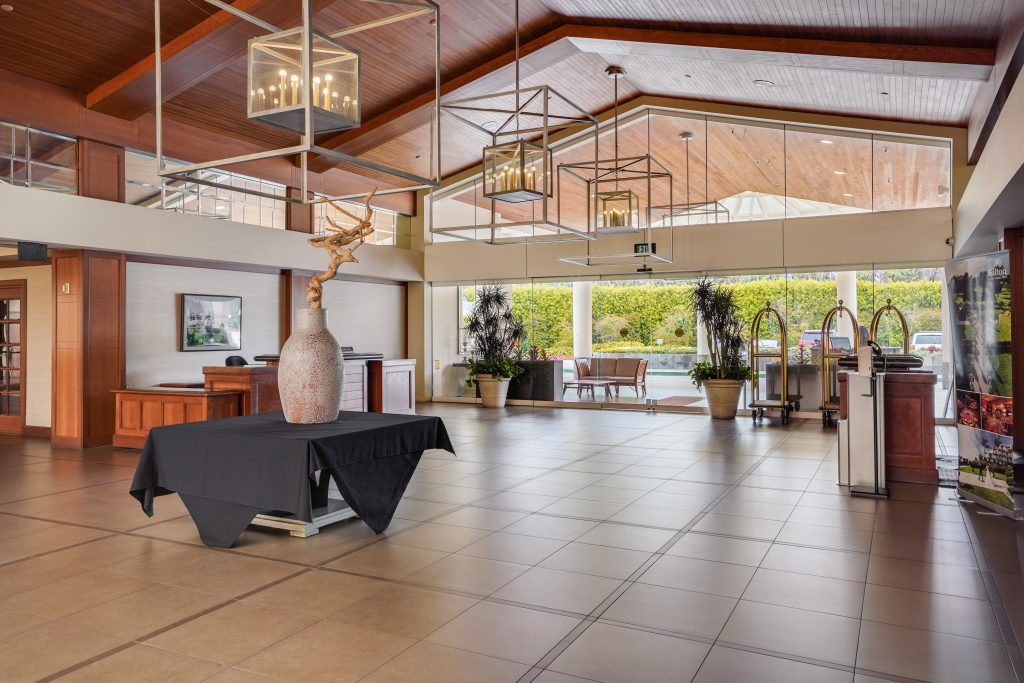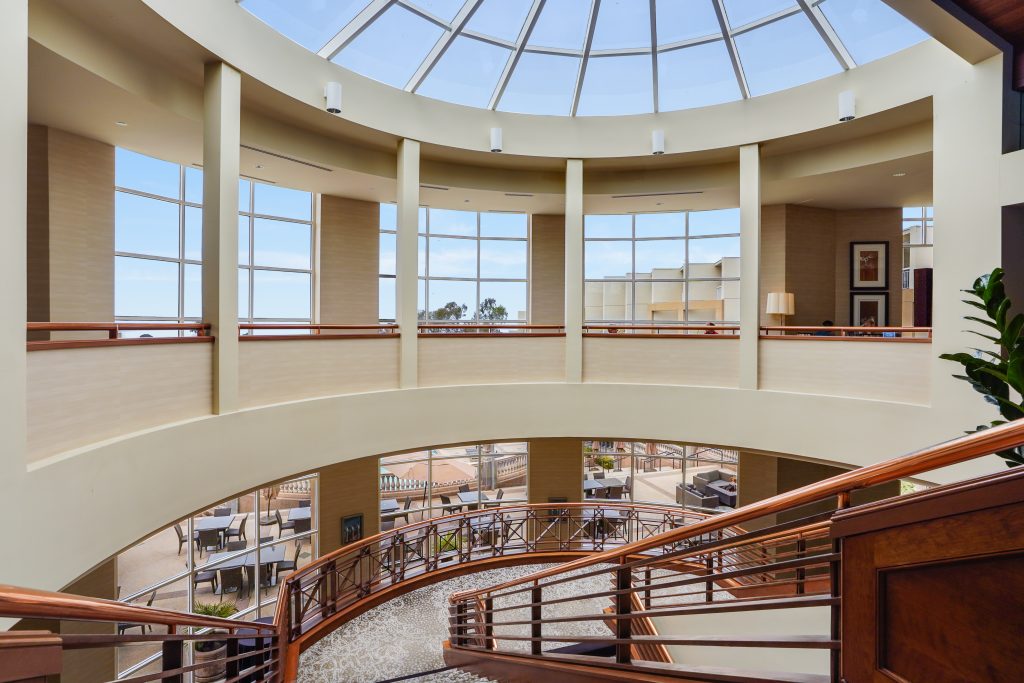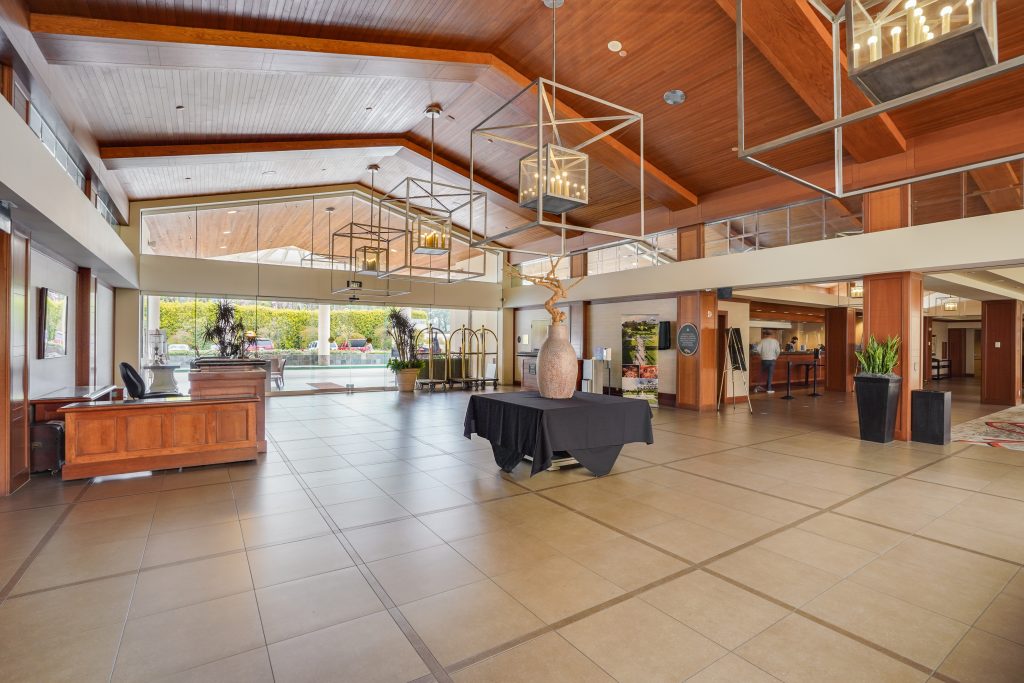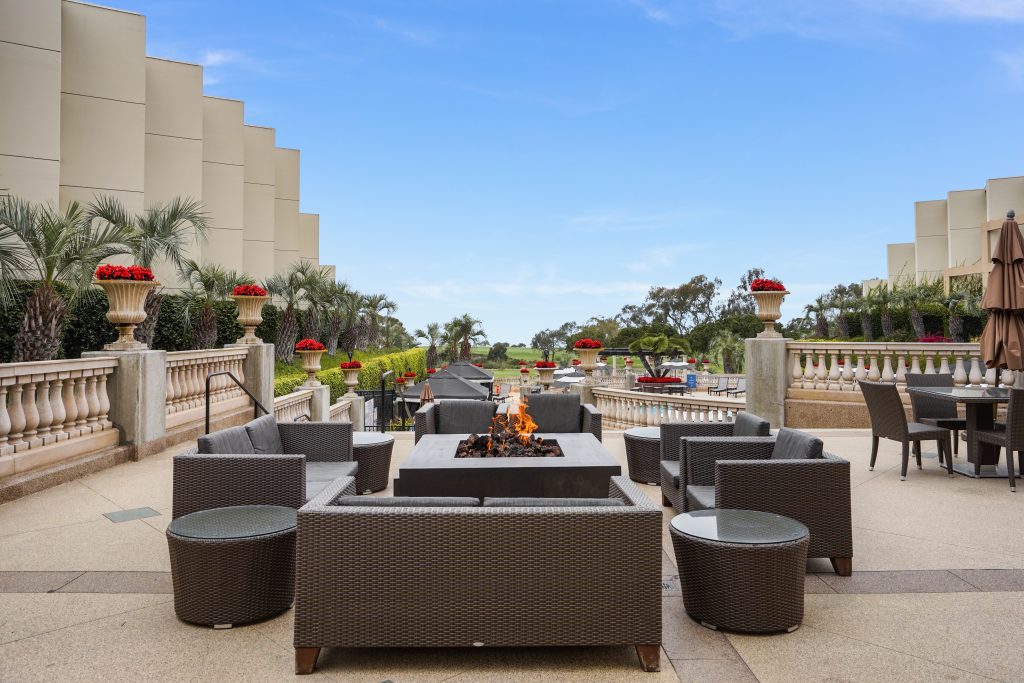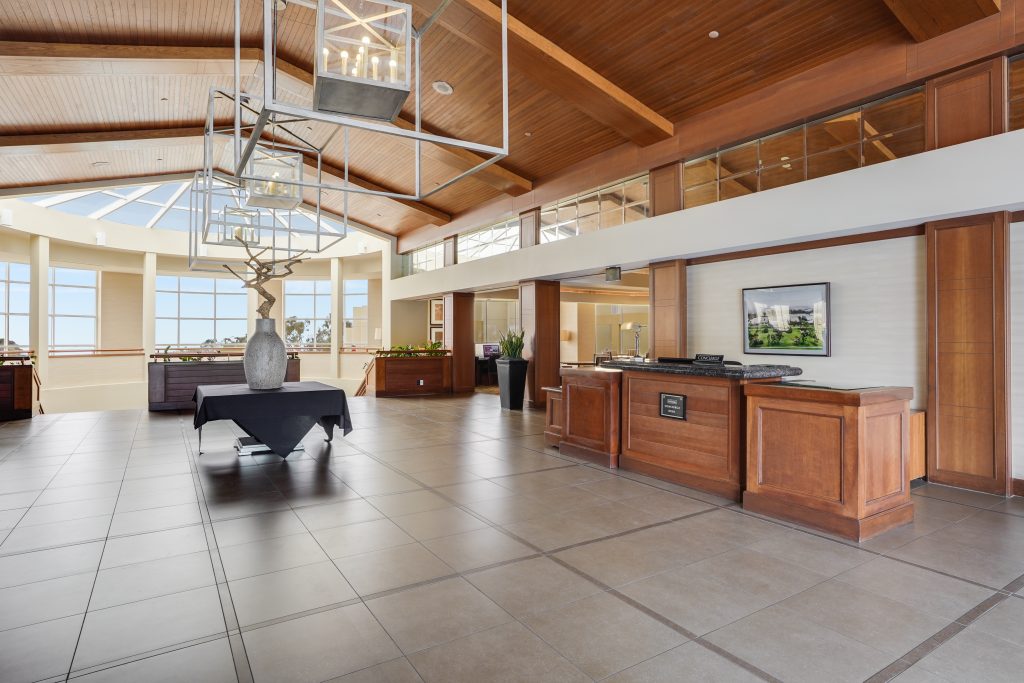 ---
Luxurious Features & Amenities
Envision your own spacious, private balcony overlooking swaying palm trees, your eyes savoring the emerald greens of the acclaimed Torrey Pines Golf Course, beckoning you to come and play. You marvel at the Pacific ocean sparkling beyond like a troupe of sapphires while sunbeams showcase meticulously manicured grounds and gardens at the Hilton La Jolla Torrey Pines.
It's not a dream. You can experience majestic ocean views atop the La Jolla coastal bluffs while enjoying the champion-approved, Torrey Pines Golf Course. Hilton La Jolla at Torrey Pines caters to your every need. Indulge in Pacific Rim-inspired delicacies at the Torreyana Grille, and revel in the gorgeous gardens, all while relishing the five-diamond accommodations for which the Hilton name is renowned.
Golf America's Finest Public Course
The unique design of Hilton La Jolla Torrey Pines affords guests a sweeping overlook of Torrey Pines Golf Course. Graced by the greatest golfers in the world such as Tiger Woods and Jack Nicklaus, this illustrious course is just a golf ball's toss away from your room. The hotel offers exclusive, guaranteed tee times to its guests daily, so you'll never miss a swing. The Hilton at La Jolla Torrey Pines has everything you need to up your game, including an on-site pro golf instructor, and a driving range for warming up. To further enhance your game, you can shop the golf ProShop on the premises, or take the option to rent golf shoes and equipment which are available from the hotel.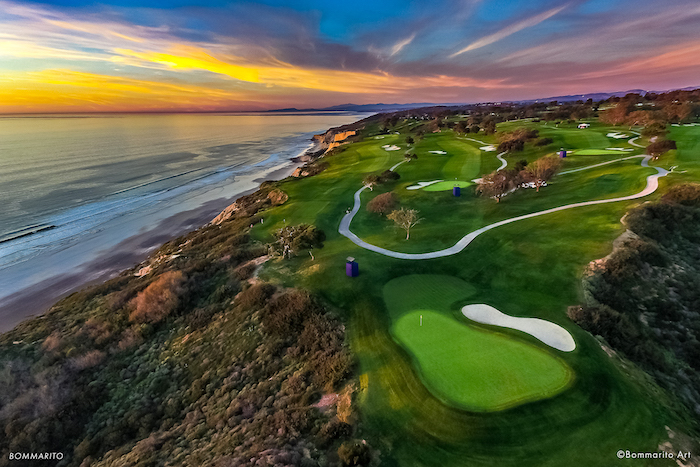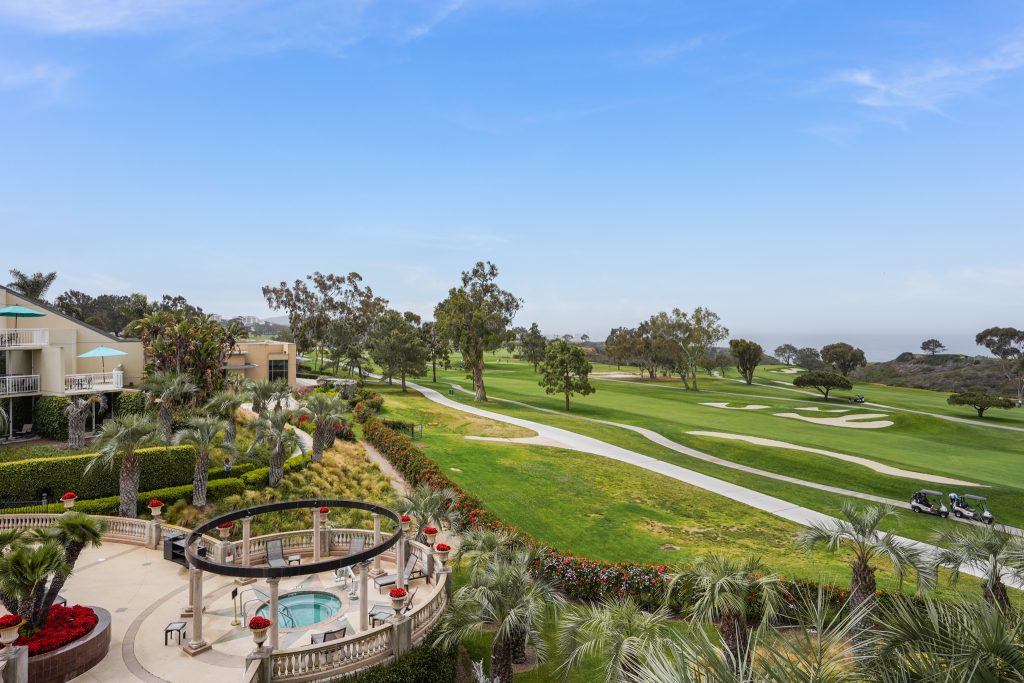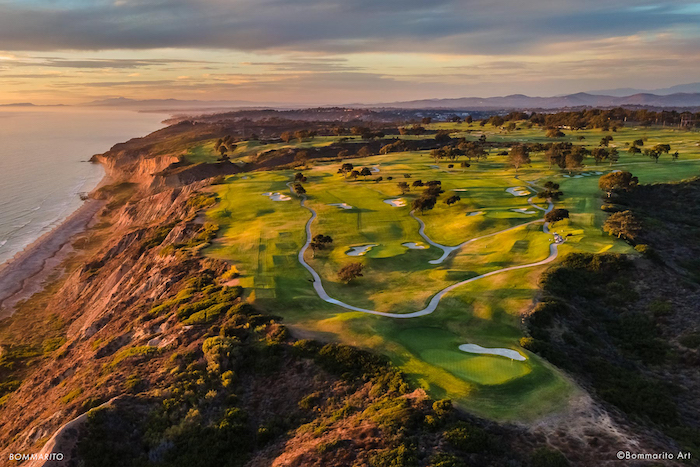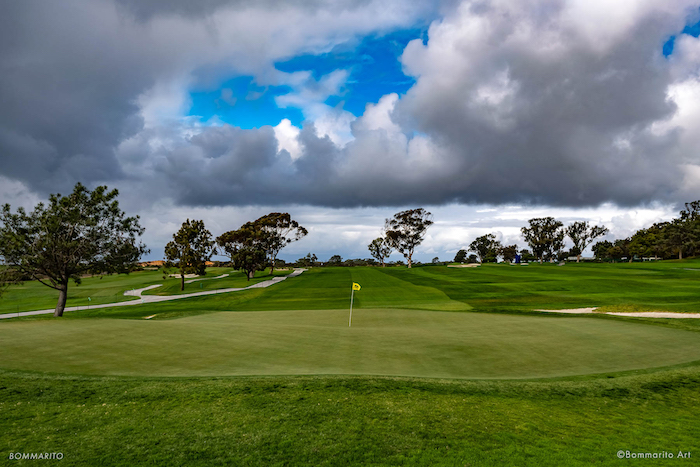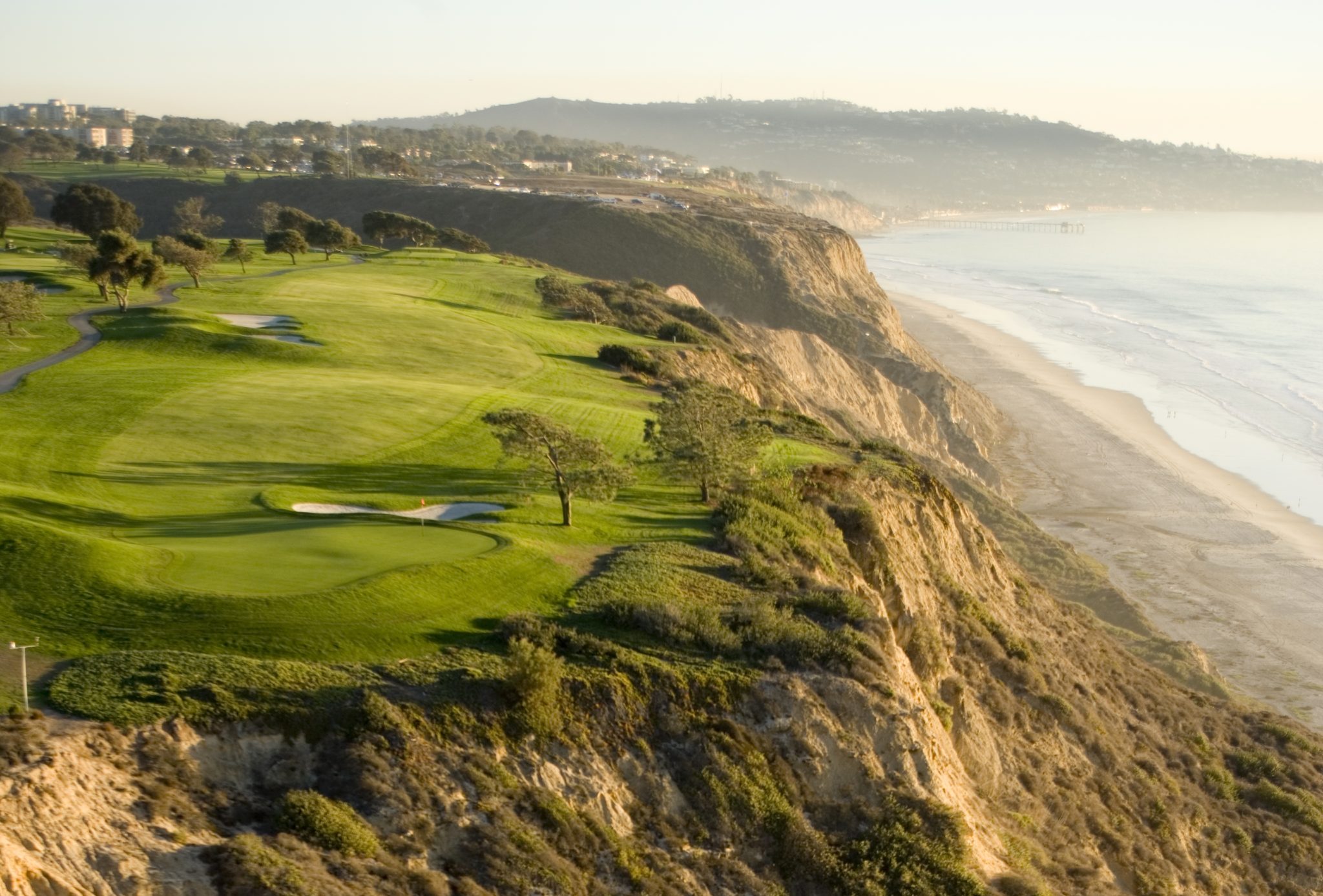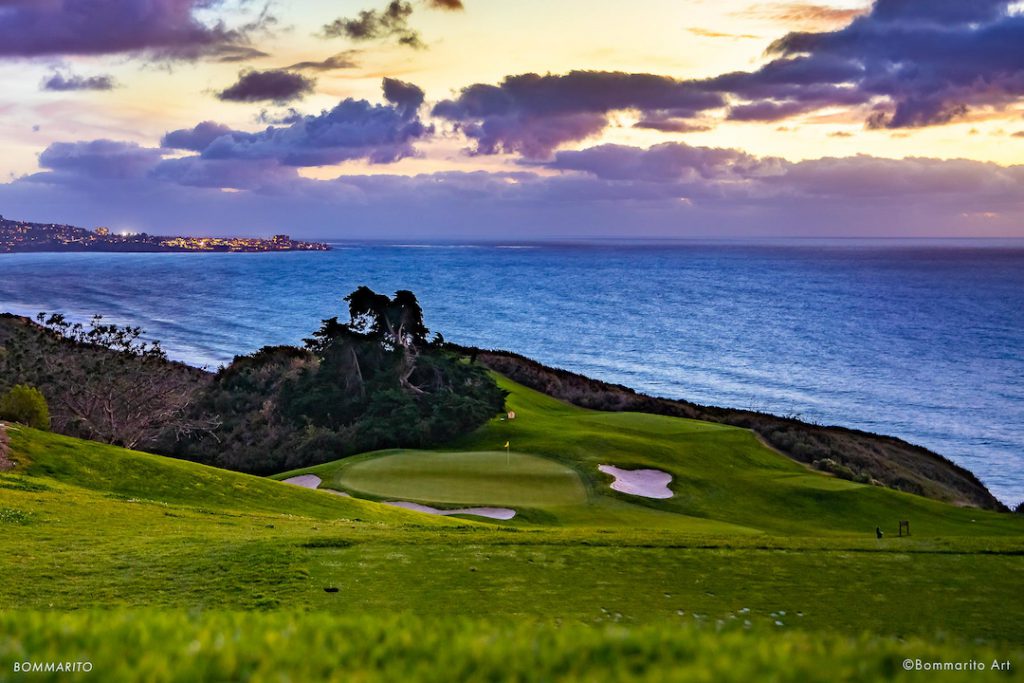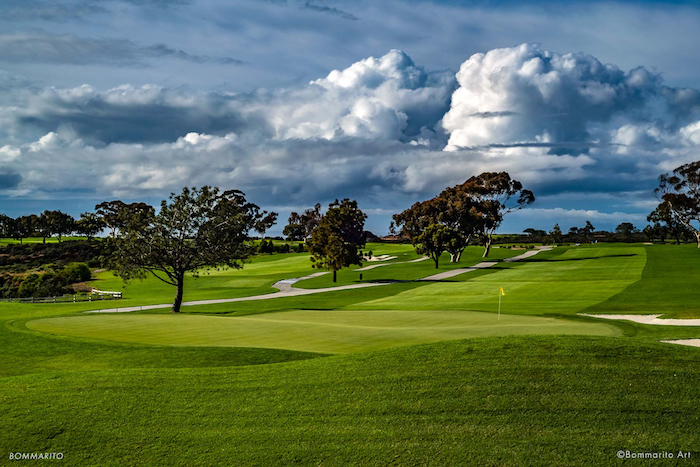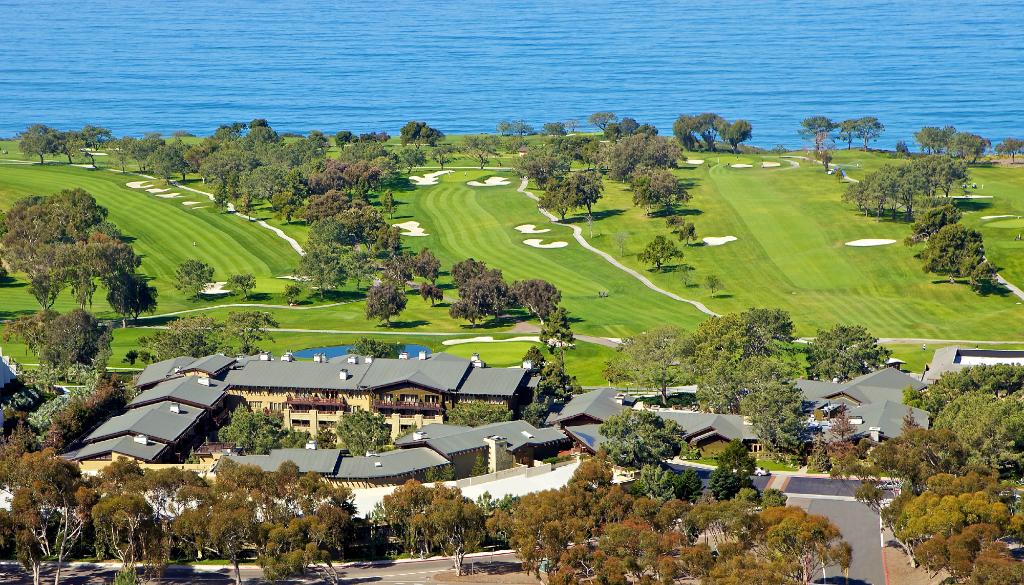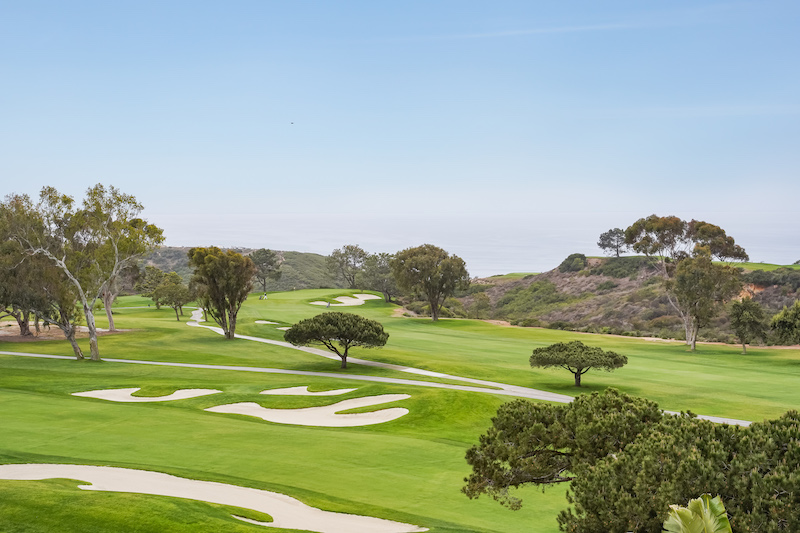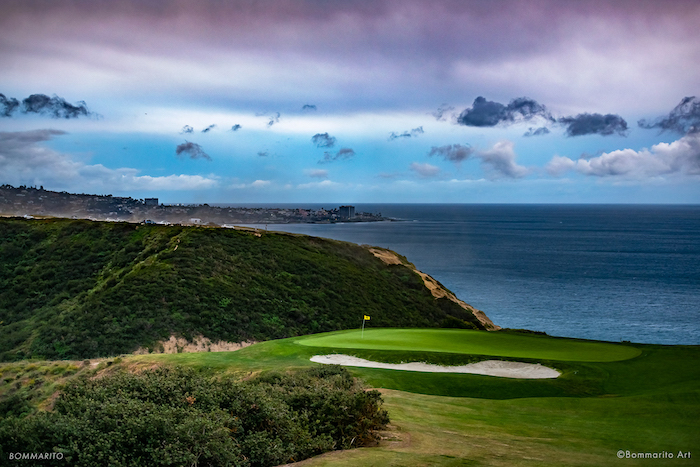 Hot Tub & Pool
The Hilton hotel in La Jolla meets all your rest and relaxation needs with an outdoor saltwater pool. Spanning 70 feet long, the warm waters of the hotel's heated pool welcome you to swim laps or just lounge in the shallow end. Tiptoe to the nearby bar and enjoy a delightful pool-side cocktail that will rival some of the best bars in La Jolla. Or order the chef's choice seared ahi tuna Nicoise bowl while savoring the luscious greenery and floral topiaries surrounding the poolside lounge chairs.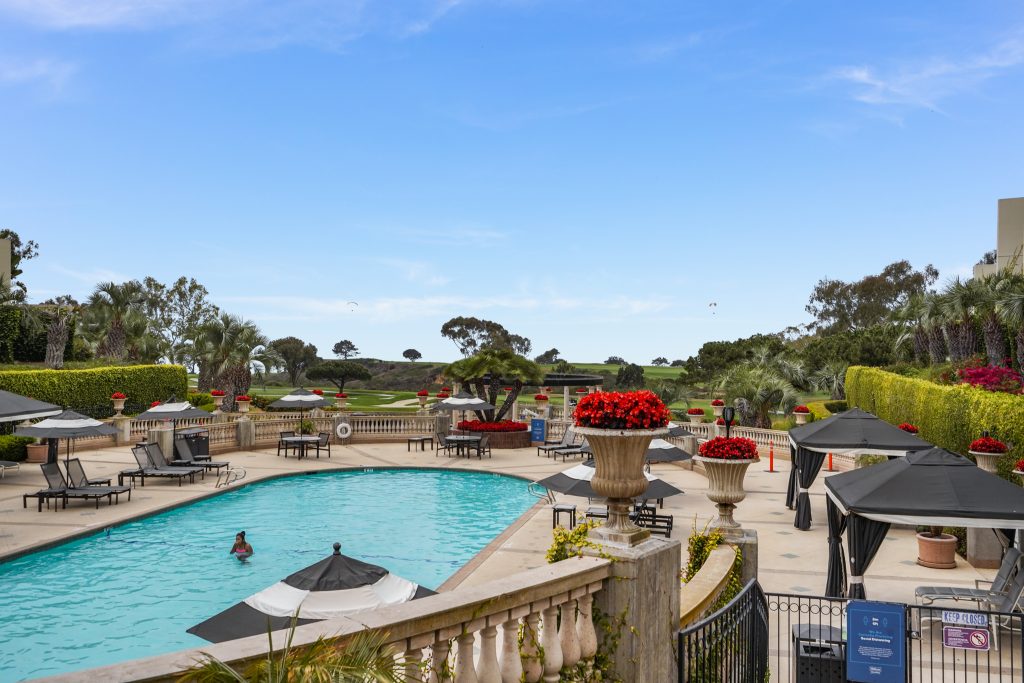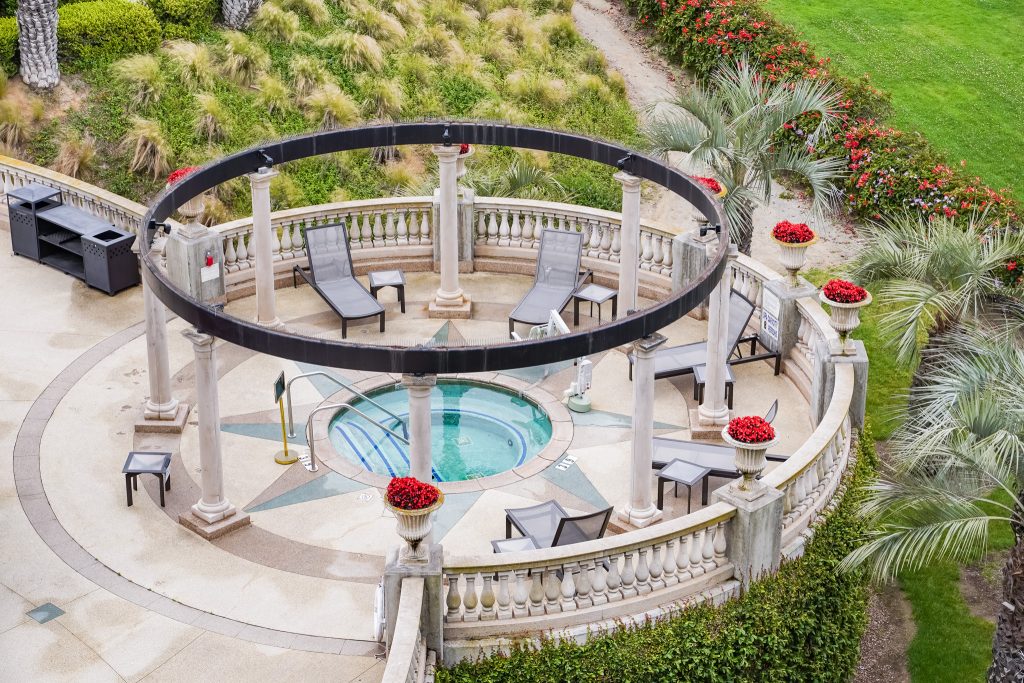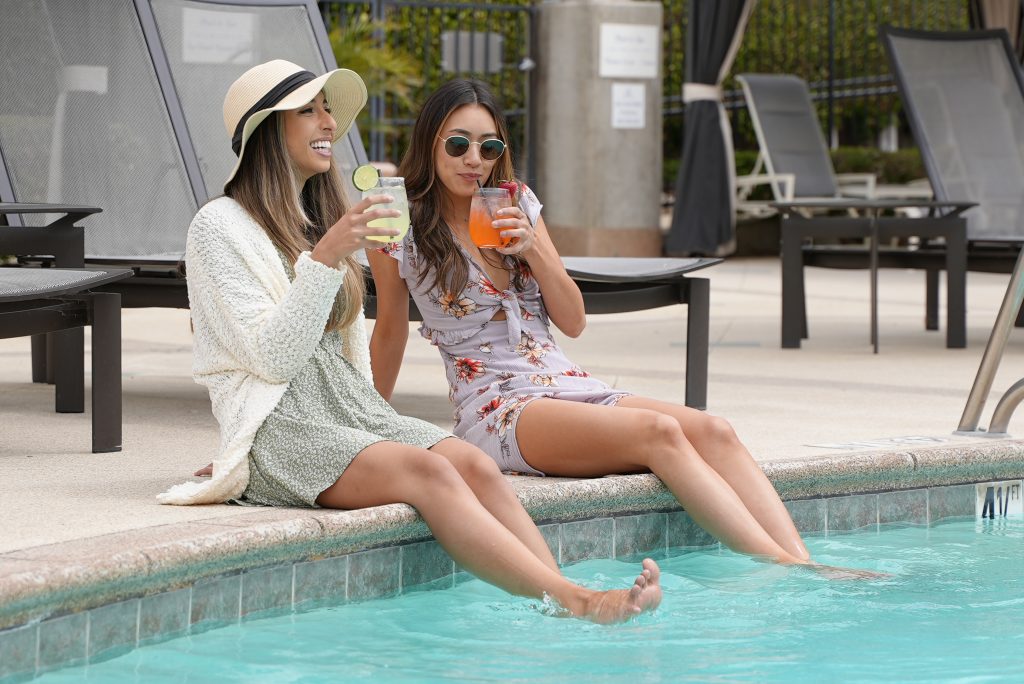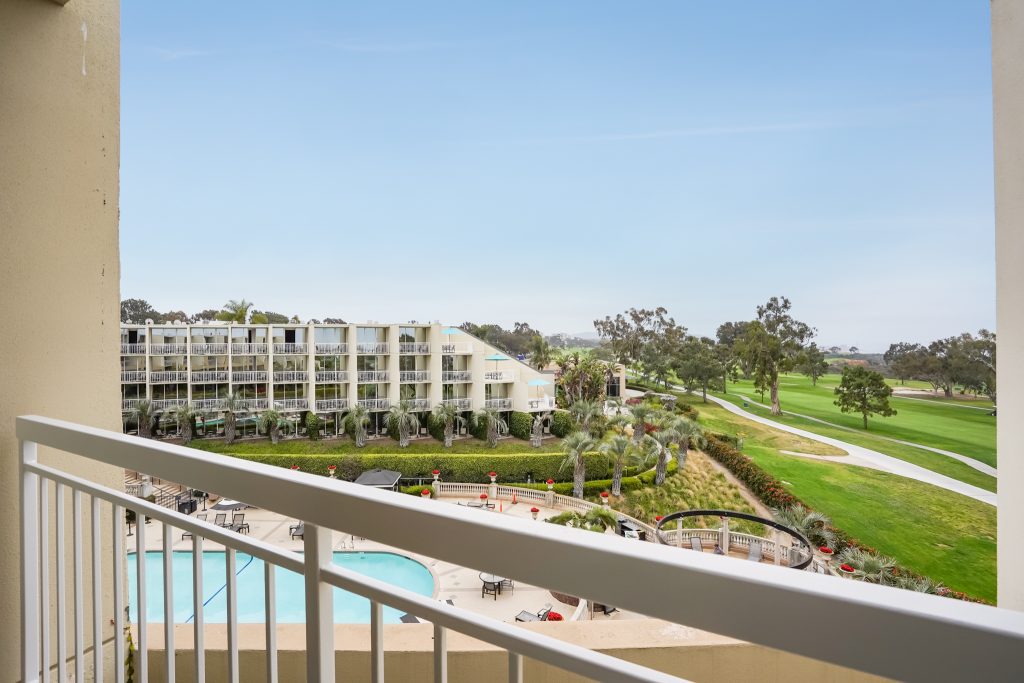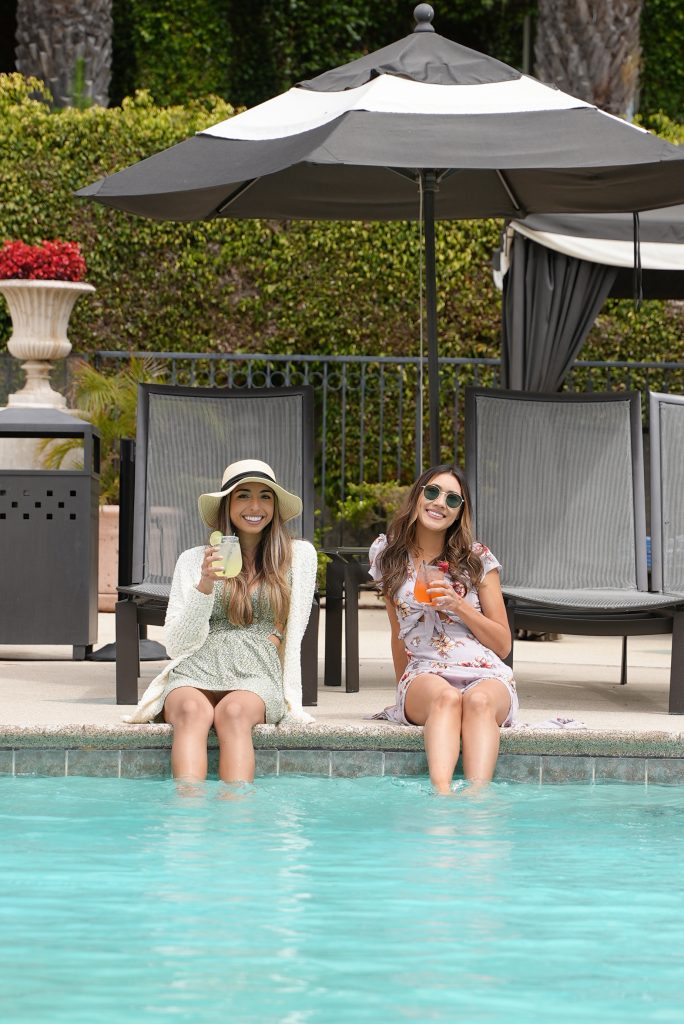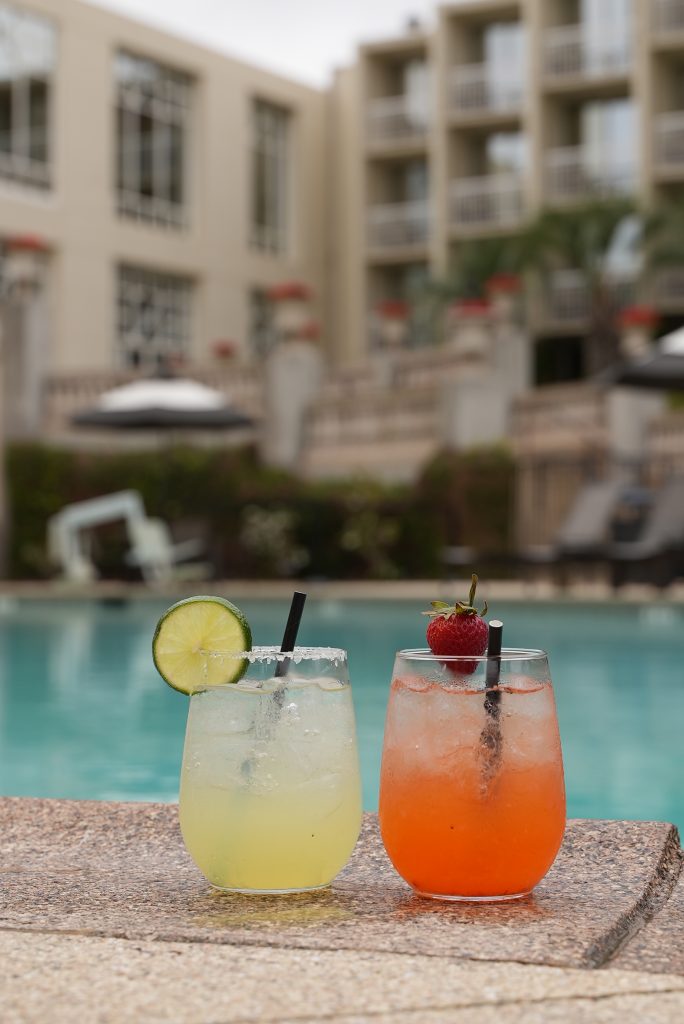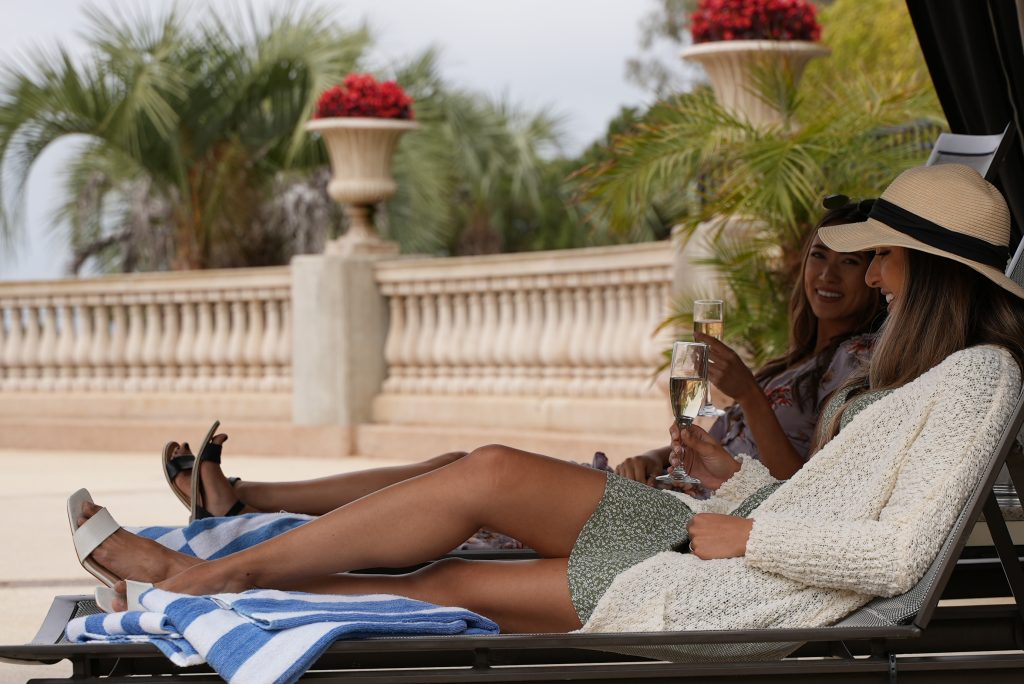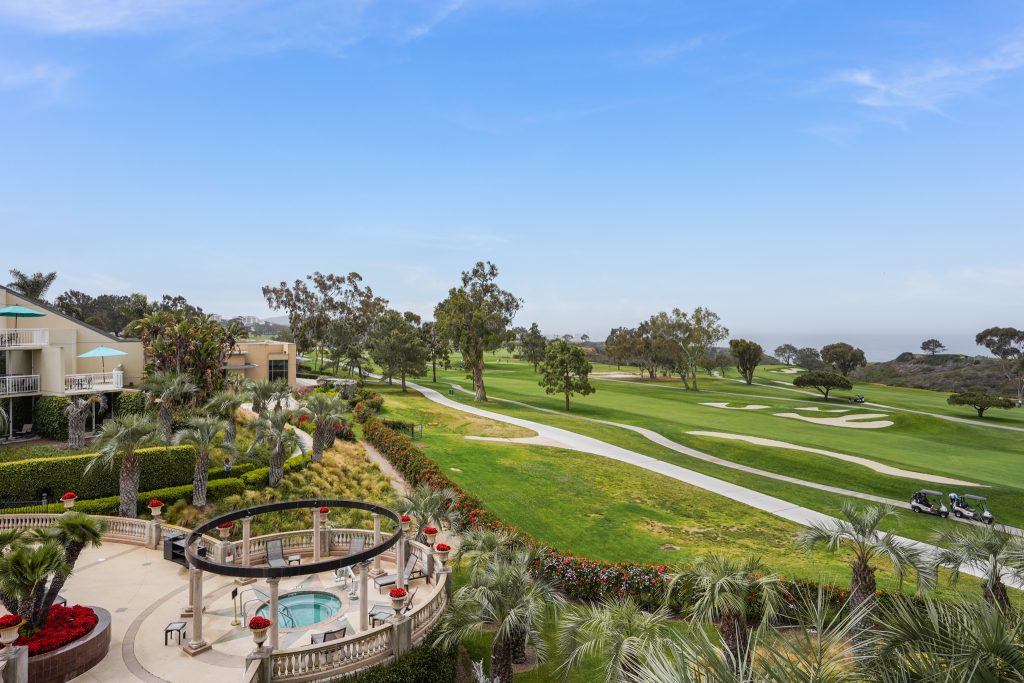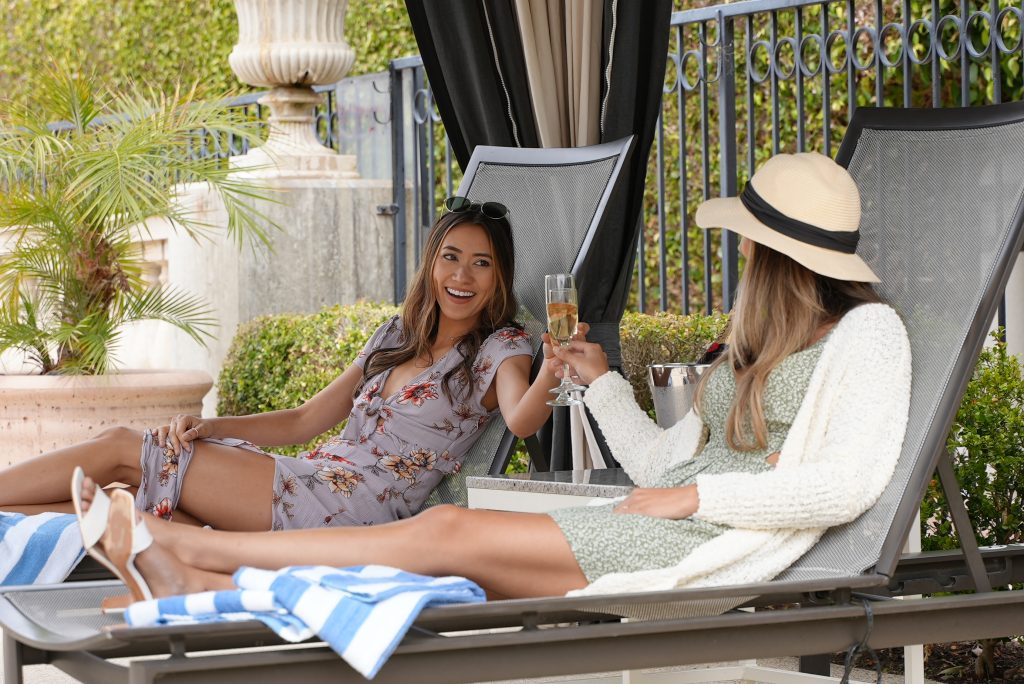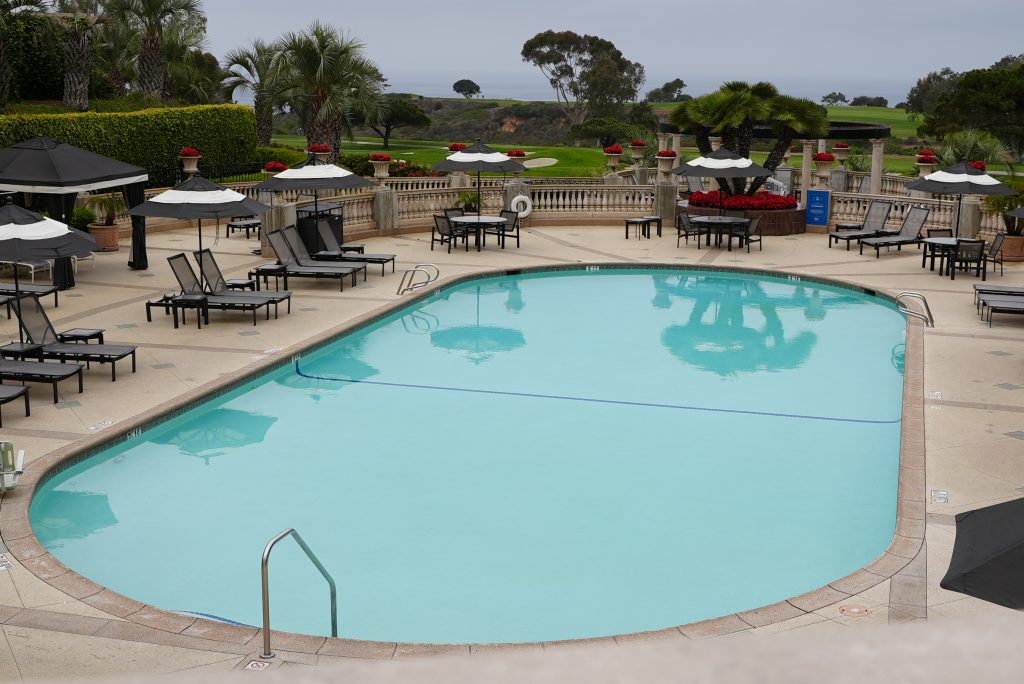 The Spa Next Door
As a distinguished guest of the Hilton La Jolla Torrey Pines, you have full access to the pampering and rejuvenating services at The Spa at Torrey Pines. Spa treatments include organic facials, revitalizing body wraps, nail care treatments, as well as soothing massages, and aromatherapy sessions.
Weddings
Say "I do" to a memorable and magical Hilton La Jolla Torrey Pines wedding. The hotel is the perfect host, accommodating you and your guests at every turn. Whether you prefer a wedding amidst immaculate, lush outdoor gardens, or a day of elegance in one of the hotel's several impressive ballrooms, the Hilton at La Jolla will make your special wedding day remarkable.
Tennis
The Hilton hotel in La Jolla features not one, but two tennis courts on the premises. These ultraclean hard courts are the ideal place to serve up fun in the radiant So Cal sun. Left your racket at home? No problem. Tennis equipment rental is available at the front desk. Rusty on your game? Hilton La Jolla Torrey Pines has you covered and provides private tennis lessons upon request.
Surfing & Beaches
The best La Jolla hotels on the beach are heralded for expansive ocean views and sensational surf-to-shore excursions. The Hilton La Jolla Torrey Pines does not disappoint with its superb location moments away from five different, diverse beach destinations. The Torrey Pines State Reserve is a short walk from the hotel and serves up enchanting, beachside fun including surfing, fishing, and swimming to your heart's content. Hang ten on wild waves at the surfer-approved La Jolla Shores less than four miles away from the hotel. Or take your beloved pup to stroll through the sands at the dog-friendly Del Mar Beach. Ask the front desk for a Hilton La Jolla Torrey Pines map of beach destinations and dive into every opportunity for swimmingly good times.
Hiking
A mere .7 miles walk from the Hilton La Jolla Torrey Pines address awaits exhilarating hiking adventures for enthusiasts and casual hikers alike. The ease of accessibility of the Torrey Pines State Reserve makes it super-convenient to explore the stunning views of the coast and commune with nature. After a few days concurring those trails near your room you'll be itching to check out the rest of San Diego county's world-class hiking, all within 45 minutes of the hotel.
Whether you are looking for the best of amenities like San Diego hotels with private jacuzzi in rooms or spacious rooms to accommodate the whole family, the Hilton La Jolla is at your service. Hilton La Jolla Torrey Pines parking is plentiful, and each room undergoes a rigorous, thorough cleaning to exacting standards. All rooms include a daily resort charge which provides guests with Wi-Fi, Starbucks coffee, access to concierge services and fitness center, discounts at the ProShop, Torreyana restaurant as well as discounts to other resort activities.
Gardens & Landscaping
The Hilton's incredible landscaping team works tirelessly to keep the grounds in tip-top shape. Just a stones throw from the meticulously maintained fairways of the Torrey Pines Golf Course you can bet the Hilton grounds are kept just as nice. It won't be long before you find yourself strolling along pathways by native California plants like sea lavender and La Jolla bougainvillea while peering off into the ocean as golfers pass by.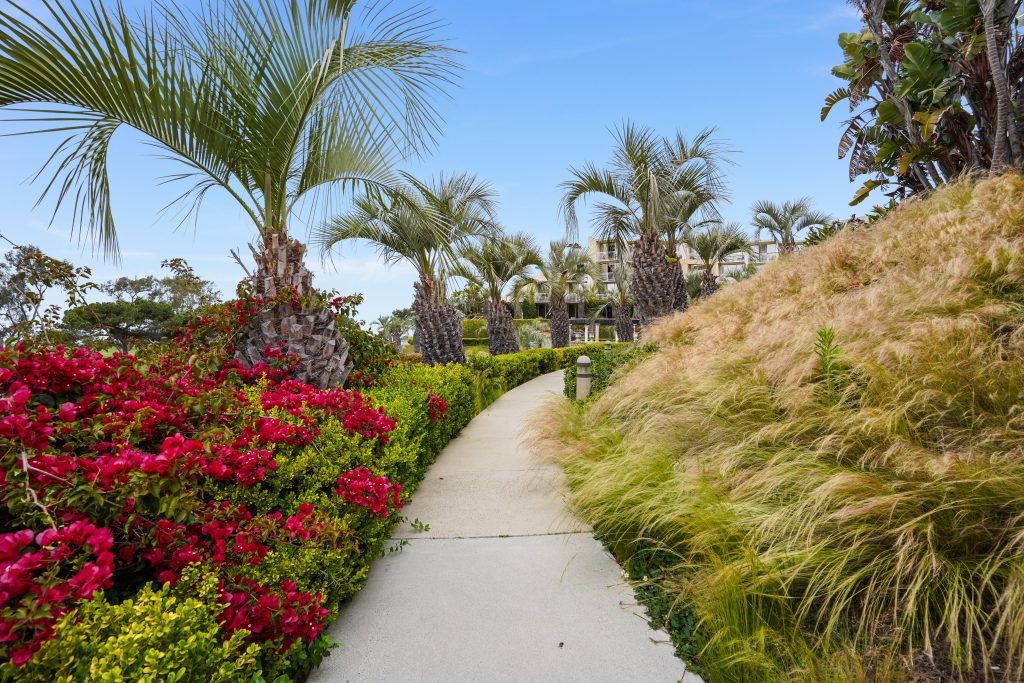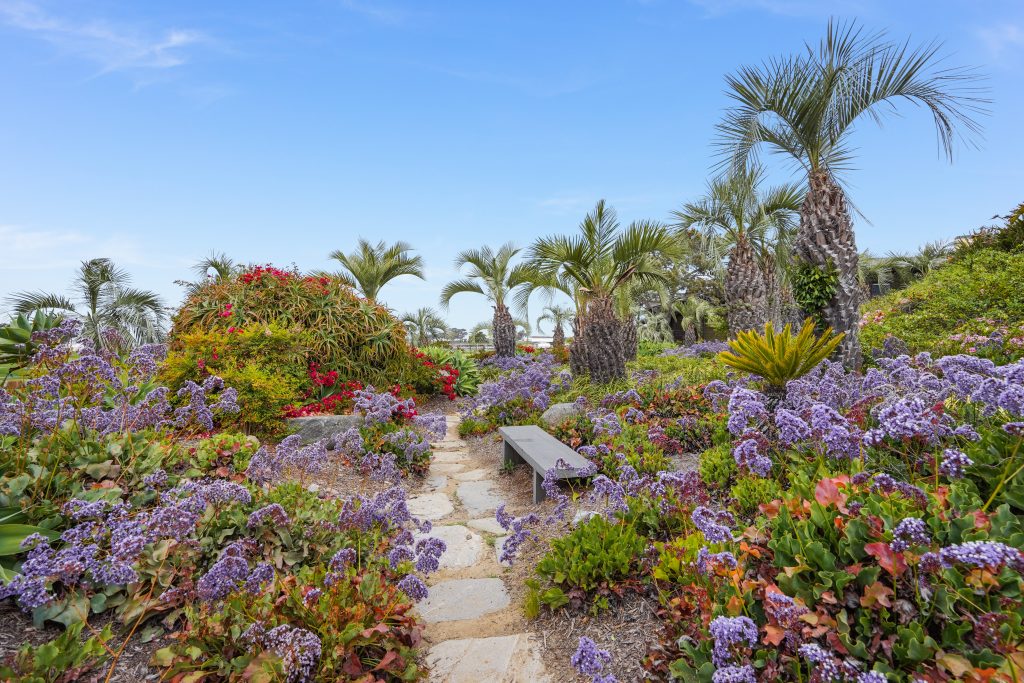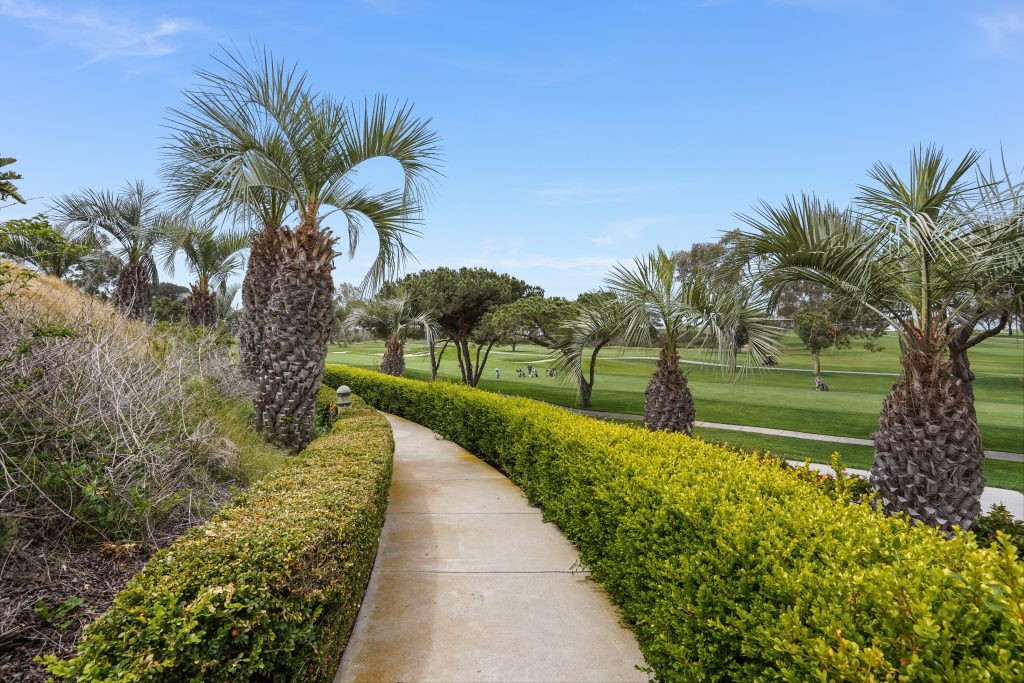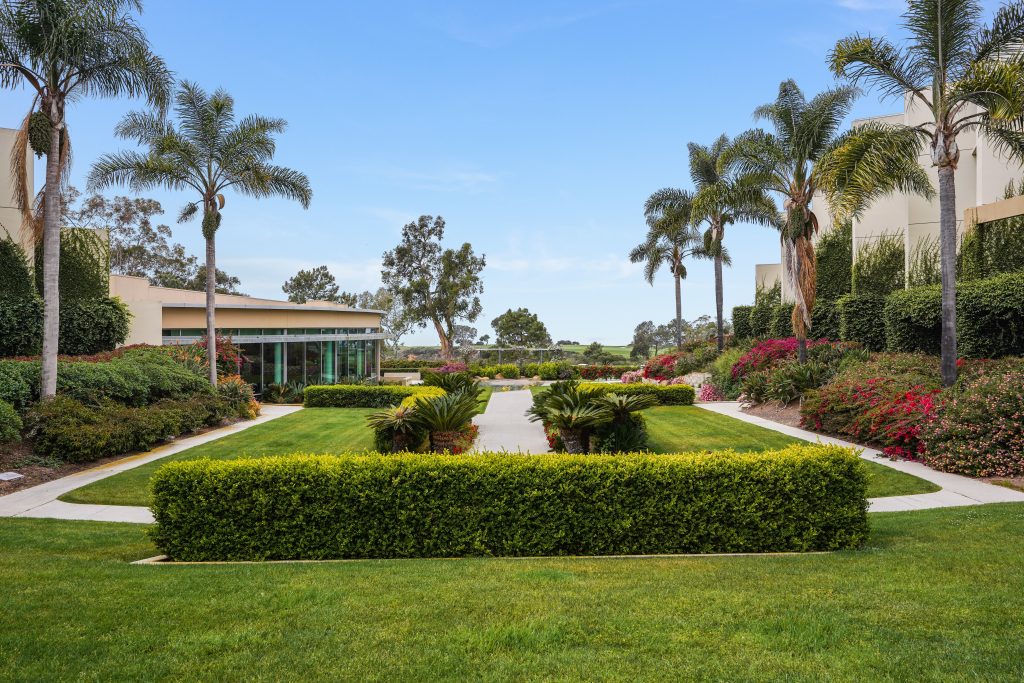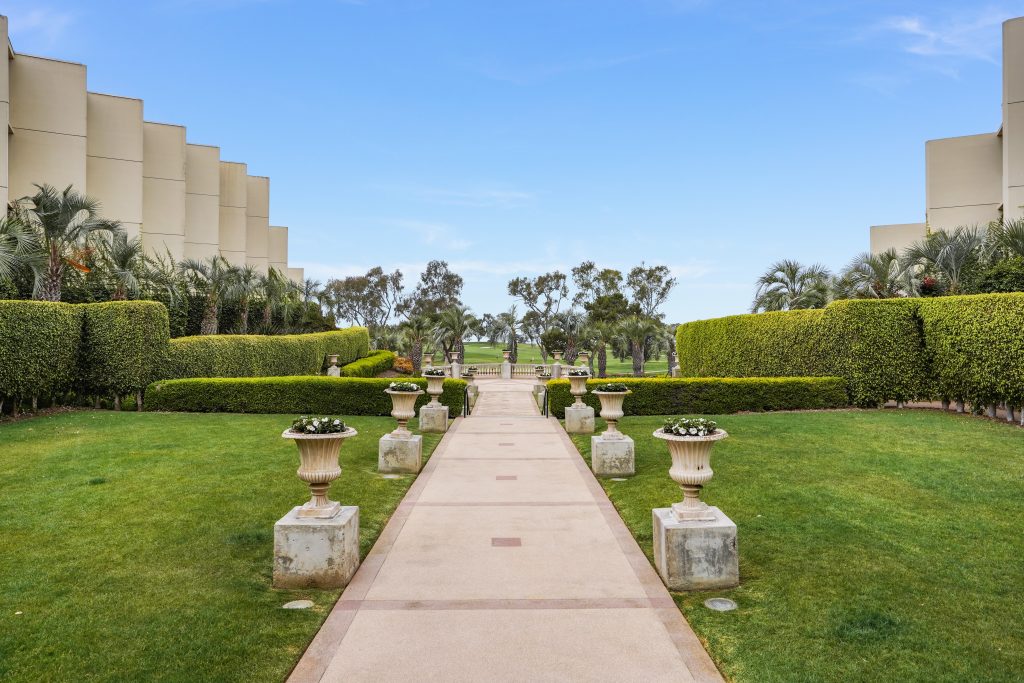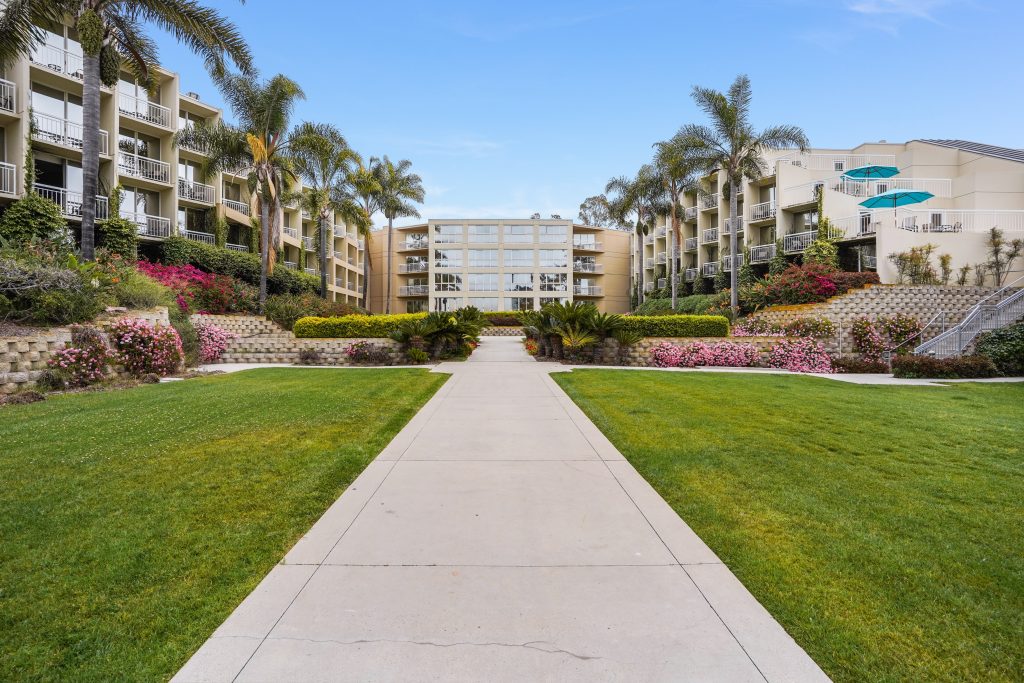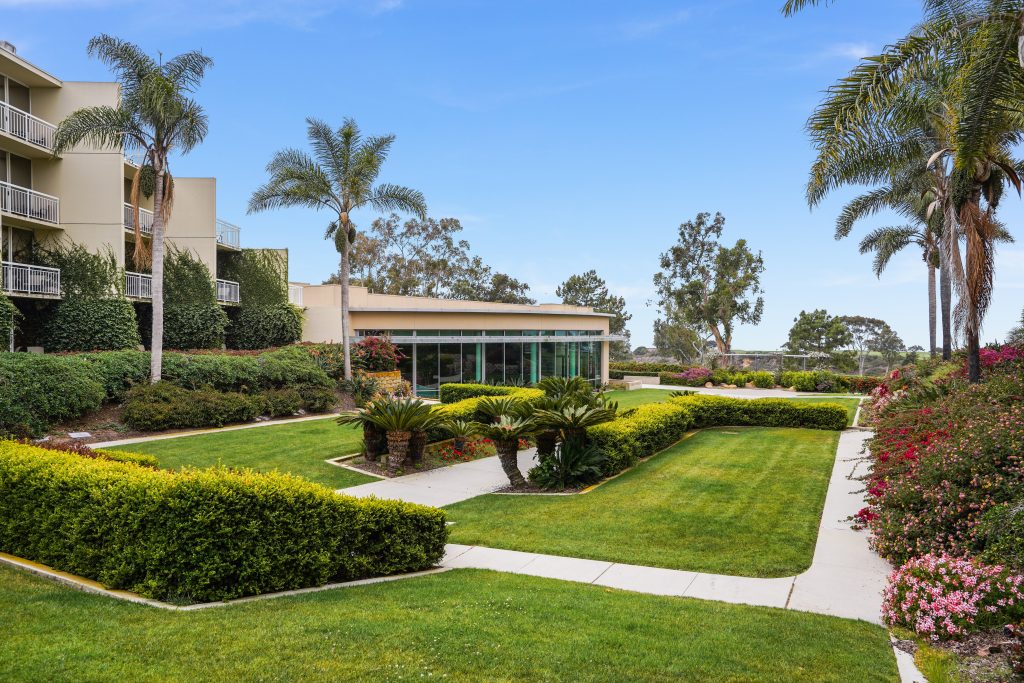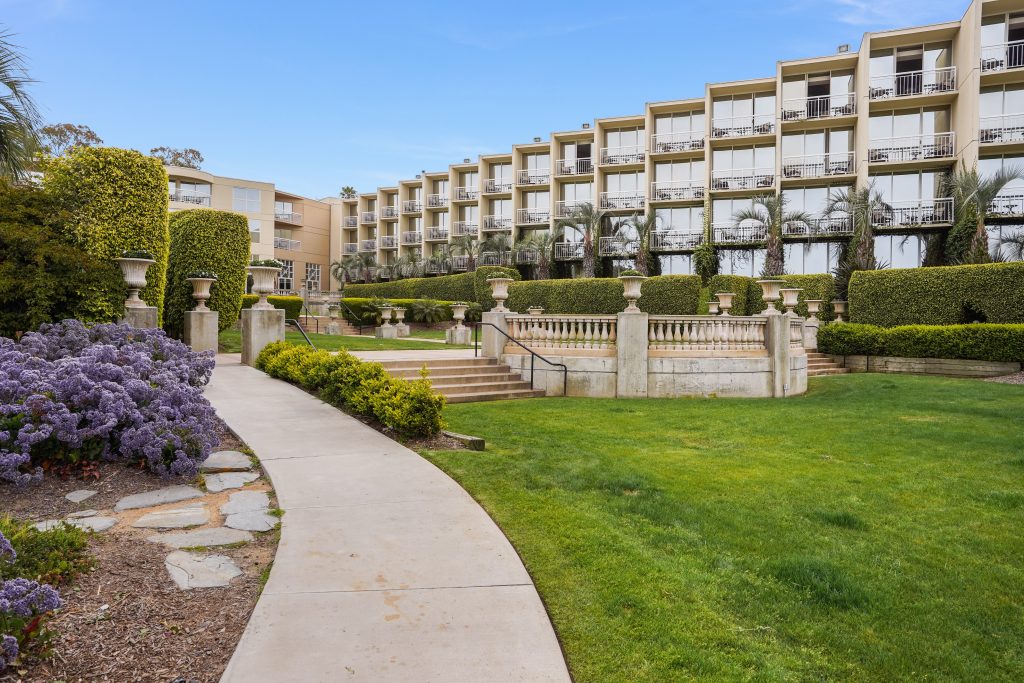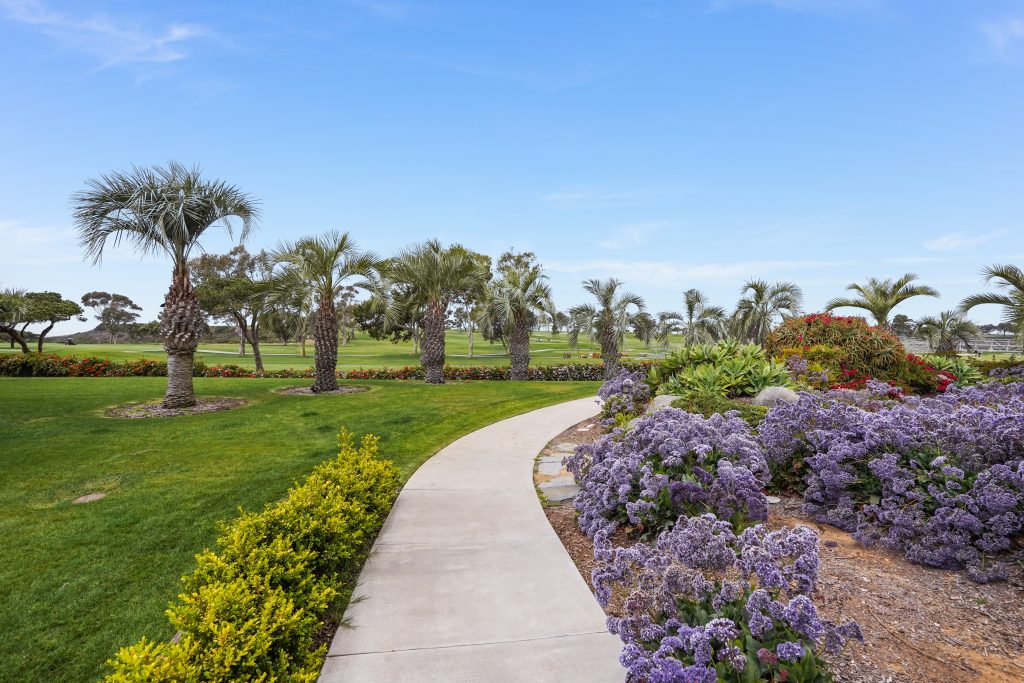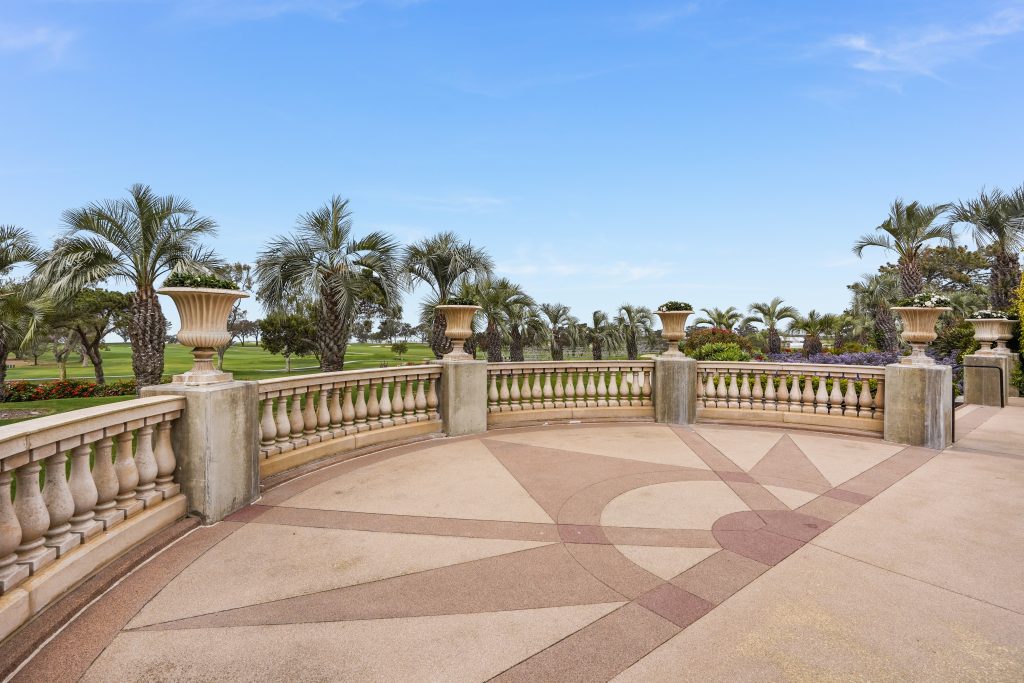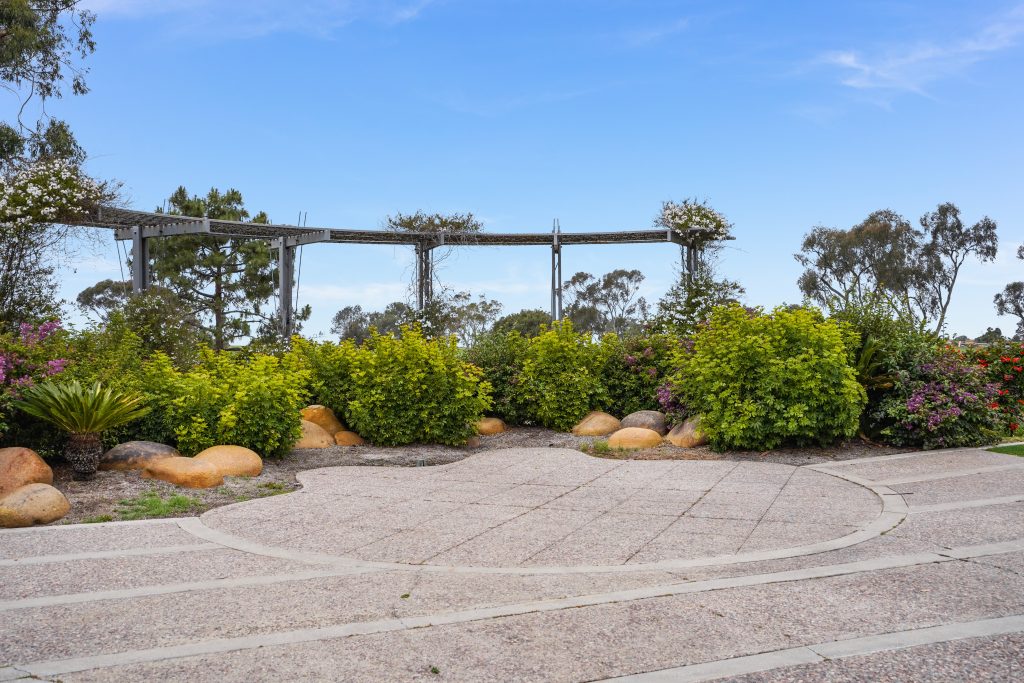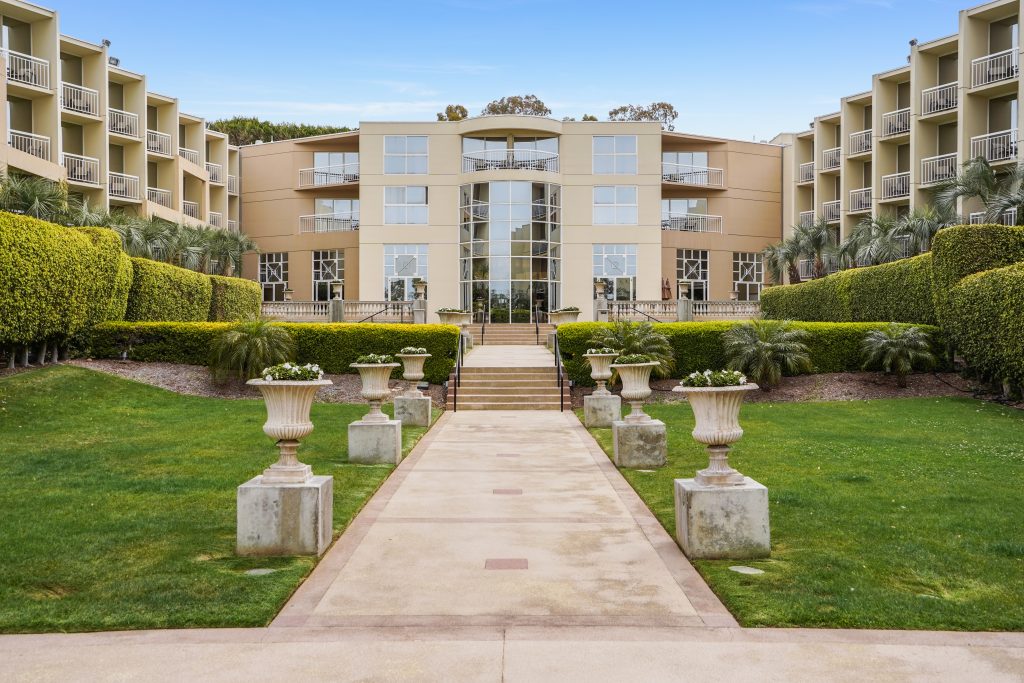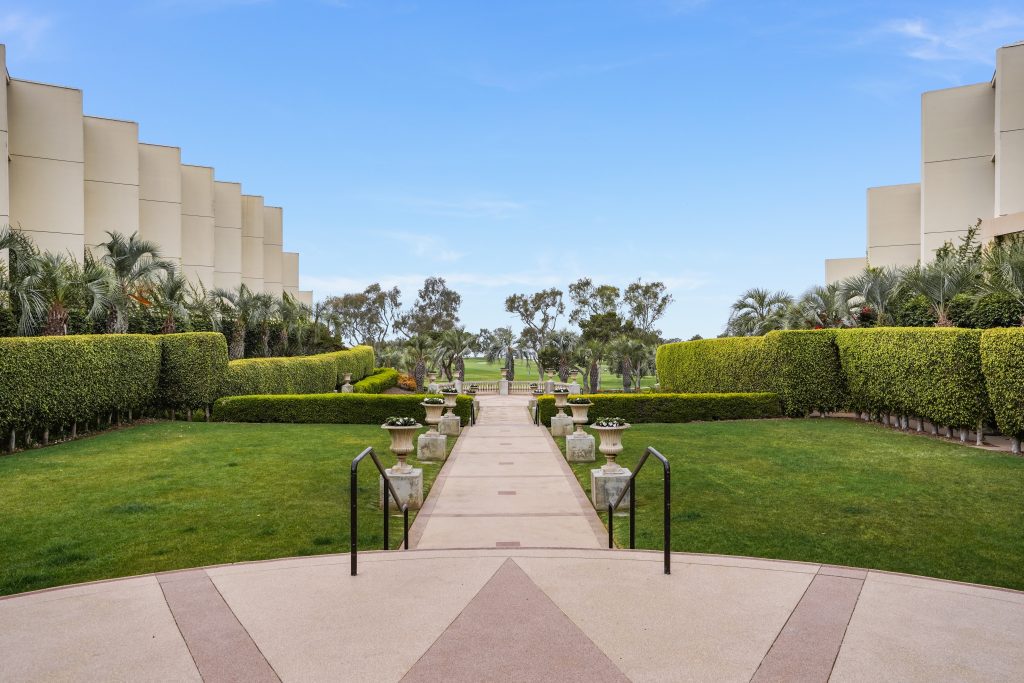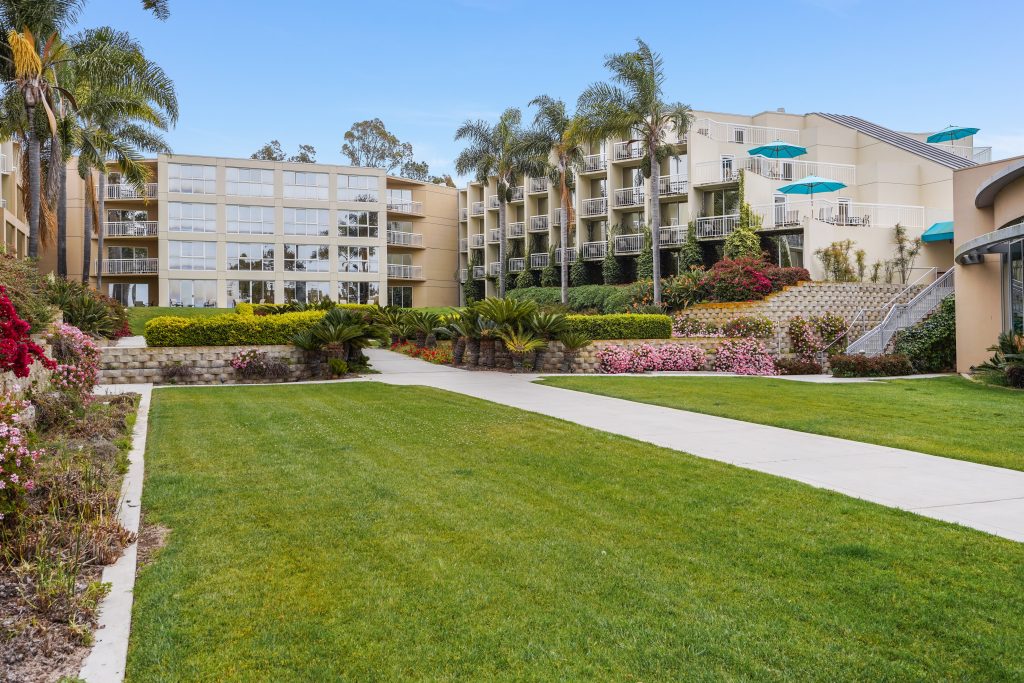 The Hotel Staff's 5 Favorite Features
Endless Views of the Pacific Ocean, Torrey Pines Golf Course, La Jolla Cove, and Gliderport.
Exclusive tee times at the legendary Torrey Pines Golf Course for Hotel Guests.
Guest rooms feature spacious patios or balconies overlooking the golf course, gardens, or ocean.
Tranquil gardens and perfect landscaping make for peaceful morning strolls or enjoying a picturesque sunset.
Fun seasonal programming for families.
Hotel Room Prices
Tier 1-2 Pricing $129-$399
1 King or 2 Queen beds with down pillows and comforters.
450 sq ft rooms accommodating 3-4 people.
Worksurface, 42″ TV, signature bath products
Tier 3-5 Pricing $139 – $549
1 King or 2 Queen beds with an option for PureWellness hypoallergenic bedding.
Up to 1350 sq ft rooms with coastal and golf course views, and private terrace or balcony. Some rooms offer spacious entertainment and dining area.
Large work area, 42-55″ TV, signature bath products, lockbox, mini-fridge.
Tier 6-8 Pricing $219-$1999
Private king suite bedroom en suite bathroom, living room, and entertainment area with additional bathroom.
Up to 2965 sq ft featuring optimal coast and golf course view, with furnished and heated private terrace or balcony.
Walk-in shower, double vanity, and whirlpool tub in a deluxe bathroom.