The Best CoolSculpting in San Diego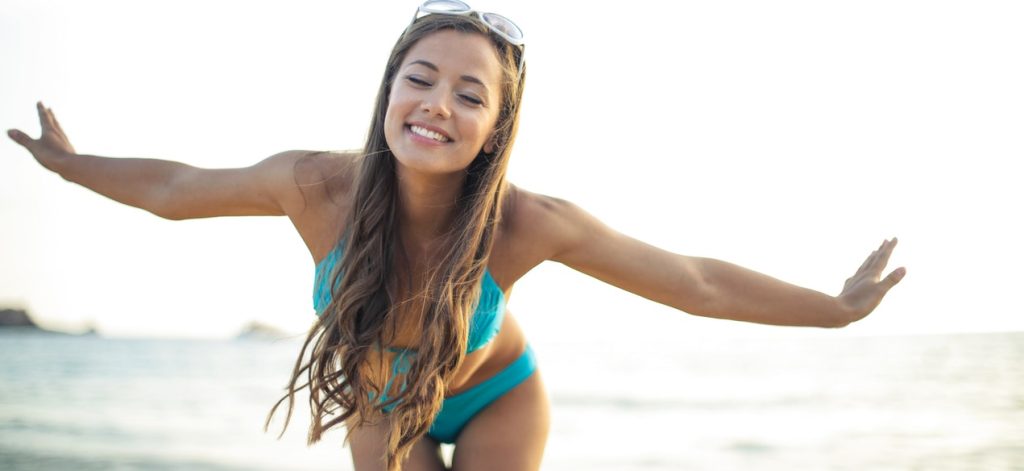 If you've tried everything to burn off excess fat–a balanced diet, regular exercise, healthy lifestyle choices–and still can't seem to shake the extra fluff, it might be time to scope out what other options are out there. And by other options, we mean ones that are noninvasive, effective, and affordable. Cryolipolysis–the scientific term for CoolSculpting–is one such cosmetic procedure that will help you achieve noticeable results.
CoolSculpting has been an emerging health and wellness craze in recent years, appearing on the cosmetic service list in wellness boutiques and med spas all over the nation. As with other cosmetic treatments, CoolSculpting is intended to enhance one's appearance–specifically by means of removing excess fat in stubborn areas of the body. Instead of lasering off or sucking out fat, CoolSculpting freezes fat cells which help them to shrink, break down and eventually vanish–removing up to 25% of fat from said area. The process is non-surgical and has little to no downtime, though it does require multiple sessions for visible effectiveness.
So where can one find a place that does CoolSculpting in San Diego? Read on for answers and more.
Learn More About San Diego CoolSculpting
There are countless places that offer cosmetic treatments such as CoolSculpting in San Diego to help you firm, tone, and eliminate unwanted fat. Some establishments offer proprietary methods with versatile tech to help you tackle target areas like the legs, lower back, lower belly, flanks, and armpit creases. And if you prefer to take matters into your own hands, there are even portable cold therapy compression machines on the market–such as the Breg Polar Care Wave–that you can purchase for in-home sessions.
If you have an interest in knowing where to find reputable San Diego CoolSculpting spas, keep reading. We've compiled an extensive list of places that offer the trendy yet effective cosmetic treatment, so you don't have to worry about spending hours reading ratings and reviews before discovering the perfect match.
La Jolla CoolSculpting
Let's start off the list of CoolSculpting locations with our most-loved area of San Diego–La Jolla! No need to google search "CoolSculpting near me" or "CoolSculpting in La Jolla"–we've got you covered!
Roy David MD Plastic Surgery and Medical Spa – CoolSculpting of San Diego
Roy David MD Plastic Surgery and Medical Spa has performed over 65,000 CoolSculpting treatments to help patients achieve their weight loss dreams. Say goodbye to love handles and bull-headed lower belly fat and say hello to a new contoured you! Specialists at CoolSculpting of San Diego will help you design a custom treatment plan to help you reach your desired body goals.
With 5-star ratings and exceptional reviews from past and current clients, Roy David has a reputation for providing amazing results with long-lasting effects. His office is located right near the Whole Foods in La Jolla Village, and a short drive from Scripps Institution of Oceanography.
Address: 3252 Holiday Ct #209, San Diego, CA 92037
Phone: (858) 658 – 0990
Hours: Mon – Fri, 9 a.m. – 5 p.m.
Closed Saturdays & Sundays
La Jolla Cosmetic Laser Clinic
Ready to target fat reduction with zero dieting and invasive involvement? La Jolla Cosmetic Laser Clinic offers CoolSculpting in La Jolla with qualified professionals and standards that are unrivaled by any other noninvasive procedures. Remove toxins, flush the system, and achieve measurable results in months.
La Jolla Cosmetic Laser Clinic uses vacuum pressure to pull targeted areas of skin tissue between two cooling plates. They offer three treatment plate systems of varying sizes to help accommodate different areas. This cooling process hardens the fat cells, which then crystallize over the hour-long session. After 2-4 months, your frozen fat cells will break down and dissipate, leaving you feeling like a whole new glamorized version of you.
Head on over to Seal Rock or the La Jolla Tide Pools post session, which is just a few blocks west of their office.
Address: 7720 Fay Ave, La Jolla, CA 92037
Phone: (858) 225 – 8380
Hours: Mon – Fri, 9 a.m. – 6 p.m.
Closed Saturdays & Sundays
North County Coastal San Diego CoolSculpting
Residents of North County Coastal have a variety of CoolSculpting options in their neighborhood, too.
Dr. Freeze® Cool Sculpting Center
Unlike other establishments that offer CoolSculpting as just one of many cosmetic treatment services, Dr. Freeze specializes solely in fat freezing technology. To showcase the effectiveness of his signature CoolSculpting treatments, he offers a virtual gallery of past patients with before and after photos. You can see problem areas completely disappear, especially in areas like the double chin, arms, and armpits.
His fat cell sniper is a surefire way to achieve outstanding results without having to spend any time in bed recovering. Book a free consultation to understand his technique, and then sit and read, scroll through your phone, or take a short snooze as this fat freezing in San Diego tech works its magic. Dr. Freeze's med spa is located in between Del Mar and Solana Beach, near the Del Mar Fairgrounds.
Address: 166 S Solana Hills Dr, Solana Beach, CA 92075
Phone: (833) 373 – 7339
Hours: Mon – Sat, 10 a.m. – 5 p.m.
Closed Sundays
Ranch & Coast Plastic Surgery & Medspa
This five-star plastic surgery and medspa is known for their craft, as they perform all their cosmetic procedures with delicacy, attention to detail, and utmost care. Their primary goal is to help their clients feel refreshed, natural, and glamorous through treatments such as CoolSculpting. Ranch & Coast also offers a luxury retail store that features premium skincare products and supplements designed to rejuvenate your skin and overall appearance, providing you with a full body glow like never before.
Post treatment, pop on over to Seagrove Park or Powerhouse Park and Beach for a relaxing reading session or park under the sun.
Address: 1431 Camino Del Mar, Del Mar, CA 92014
Phone: (858) 450 – 1555
Hours: Mon – Sat, 9 a.m. – 5 p.m.
Closed Sundays
Dermatology & Laser of Del Mar
Restore and contour your skin with M.D. Deborah H. Atkin's CoolSculpting treatment, created to address issues surrounding stubborn fat through fat freezing and ultimate fat erasure. Located on the outskirts of Torrey Pines State Reserve, Dermatology and Laser of Del Mar is a great option for those looking to achieve a well-formed and youthful-looking body. Develop the figure you've always dreamed of through their FDA-approved CoolSculpting system, or select from other Cryolipolysis treatments they offer for the purpose of fat reduction, muscle toning, and body shaping.
Address: 12865 Pointe Del Mar Way Ste 160, Del Mar, CA 92014
Phone: (858) 350 – 7546
Hours: Mon – Fri, 8:30 a.m. – 5 p.m.
Closed Saturdays & Sundays
North County Inland San Diego CoolSculpting
Live a bit inland of the coast? North County Inland has plenty of places to try out the trending cosmetic procedure, so you won't have to venture far outside your neighborhood to get your hands on some controlled cooling technology.
Be Youthful Aesthetics San Diego CoolSculpting, Laser & MedSpa
Be Youthful Aesthetics is motivated in helping you engineer a shapely and vivacious appearance via their non-surgical CoolSculpting system. They have countless patient success stories and a team of highly knowledgeable and friendly staff that stand by your side as you move flawlessly through your fat removal journey. At Be Youthful, you'll be able to see optimal results at a reasonable cost.
Address: 11939 Rancho Bernardo Rd UNIT 110, San Diego, CA 92128
Phone: (858) 618 – 1156
Hours: Mon – Thurs, 8:30 a.m. – 4:30 p.m.
Fri, 8:30 a.m. – 1:00 p.m.
Closed Saturdays & Sundays
SDBotox
SDBotox is an established beautifying focused business that offers everything you can think of when it comes to cosmetic treatments and procedures. While they have several storefronts scattered throughout San Diego County, this location is in North County Inland in Sabre Springs, down the street from Sabre Springs Park. Their no scalpel no needle fat freezing treatment requires minimal downtime and jaw dropping results after just a few treatments.
Address: 12650 Sabre Springs Pkwy Suite 201, San Diego, CA 92128
Phone: (844) – SDBOTOX or (858) 679 – 8699
Hours: Mon, 2:00 p.m. – 6:00 p.m.
Tues – Fri, 10:00 a.m. – 6:00 p.m.
Sat, 9:00 a.m. – 2:00 p.m.
Closed Sundays
San Diego Surgical Arts
Located next to Los Peñasquitos Canyon Preserve and in Miramar Ranch North, you'll find San Diego Surgical Arts–a pristine surgical center that offers cosmetic treatments and Oral Maxillofacial. Lose up to a quarter of the percentage of body fat stored in a specific area you want to target, such as the hips, stomach, thighs, or chin. You can choose how many treatments you'd like to do based on your preferences and budget. That too-tight dress you wanted to wear to that wedding this Summer? After a few sessions you'll slip right back into it no problem!
Address: 10672 Wexford St UNIT 270, San Diego, CA 92131
Phone: (858) 263 – 1800
Hours: Mon – Sat, 8:00 a.m. – 5:00 p.m.
CoolSculpting in Central San Diego
Central San Diego residents are in for a treat if fat removal procedures are a topic of interest. Peep our list of preferred centrally located med spas in SD that offer top-notch CoolSculpting treatments.
Beauty And Body MedLounge
Double chins and muffin tops be gone! Beauty and Body MedLounge is a quintessential boutique medical spa in Hillcrest committed to tackling unwanted fat via CoolSculpting technology. You can work with the staff to discuss custom packages that are designed to help you look and feel your best based on your desired goals and budget. They also offer a beauty and body membership program where you can save big on their treatments just by joining!
Address: 1450 Washington St, San Diego, CA 92103
Phone: (619) 692 – 9300
Hours: Tues – Fri, 10:00 a.m. – 6:00 p.m.
Sat, 9:00 a.m. – 3:00 p.m.
Closed Sundays & Mondays
Ideal Image Mission Valley
If you're looking to trim fat off your waist, chin, arms, or other areas of the body in an incognito way, check out CoolSculpting at Ideal Image in Mission Valley. Their CoolSculpting treatment times are unmatched, starting off at just 35-minute sessions for the same desired result. Gain insight from their amicable team about treatment costs, plans, and current specials, so you can get set up with a tailored and affordable treatment plan. While they have locations across the U.S., this brick and mortar is near the In-N-Out in Mission Valley.
Address: 1652 Camino Del Rio North FS21, San Diego, CA 92108
Phone: (619) 821 – 3281
Hours: Mon & Fri, 9:00 a.m. – 6:00 p.m.
Tues – Thurs, 9:00 a.m. – 8:00 p.m.
Sat, 8:00 a.m. – 5:00 p.m.
Closed Sundays
Revive Med Spa – Mission Valley
Compared with other Med Spas that offer CoolSculpting, Revive has a ton of outstanding reviews from clients that state their services and treatment specials are unsurpassably phenomenal. The best part is, they are open every day of the week! Their CoolSculpting Elite technology features uniquely shaped applicators that can cover almost 20% more skin surface than other CoolSculpting technologies on the market. At Revive, you'll see greater results at a reduced cost and waiting period.
Address: 1425 Frazee Rd, San Diego, CA 92108
Phone: (619) 293 – 7233
Hours: Mon, 9:00 a.m. – 8:00 p.m.
Tues – Sat, 8:00 a.m. – 8:00 p.m.
Sun, 9:00 a.m. – 5:00 p.m.
East County San Diego CoolSculpting
Will the East County people please stand up? Freeze and trim fat from areas that just won't go away with regular exercise. If there are areas of the body that seem to be hopeless or unresponsive no matter how much exercise or healthy lifestyle choices you incorporate into your regimen, CoolSculpting is here to help.
E Med Spa
Freeze, destroy, and remove problematic fat cells by way of your innate body functions. E Med Spa offers some incredibly good deals which will allow you to consider more treatments, ultimately helping you achieve noticeable results–and you'll see gradual results just after a few treatments! Book a consultation with their expert staff to get proper guidance on which areas you should tackle and how long it will take. E Med Spa is located by the Ralphs in Rancho San Diego in the heart of El Cajon.
Address: 2650 Jamacha Road #135, El Cajon, CA 92019
Phone: (619) 303 – 2201
Hours: Mon – Fri, 9:00 a.m. – 5:00 p.m.
Sat, 10:00 a.m. – 4:00 p.m.
Closed Sundays
Dr. J's Elegant Reflections Med Spa
Dr. Jerrel Emery is dedicated to helping his clients reveal their inner glow via a plethora of cosmetic treatments–both noninvasive and moderately invasive. He uses CoolSculpting technology to suction target areas and chill the surrounding cells, which will later be flushed out via the body's natural processes. You'll witness the miracles of his work within two to four months. Dr. J's Med Spa is located in La Mesa, just South of La Mesita Park.
Address: 8881 Fletcher Parkway, Suite 241, La Mesa, CA 91941
Phone: (619) 589 – 0028
Hours: Mon, Tues, Thurs & Fri, 9:00 a.m. – 5:00 p.m.
Wed, 9:30 a.m. – 6:00 p.m.
Closed Saturdays & Sundays
Prime Plastic Surgery: James Chao, MD, FACS
Get the special treatment from world-class surgeons and eradicate fat cells with Prime Plastic Surgery's controlled cooling method. After a few weeks of treatment, watch your body start to shift as the cooled fat cells begin to dwindle and disappear naturally. Prime states that they will not only match but beat any other competitive prices out there with their revolutionary CoolSculpting procedure.
Address: 8851 Center Dr #300, La Mesa, CA 91942
Phone: (619) 466 – 8851
Hours: Mon – Fri, 9:00 a.m. – 5:30 p.m.
Closed Saturdays & Sundays
South Bay San Diego CoolSculpting
South Bay family, we haven't forgotten about you! Check the wellness centers below to see where you can go to get CoolSculpting done.
Nowak Aesthetics
Nowak Aesthetics is able to treat up to four areas of stubborn fat at the same time with their revolutionary non-surgical CoolSculpting device. Gain confidence and feel rejuvenated as the work of Nowak Aesthetics comes to life, following just a few treatments and a few months' time. Contour the underneath of your bum–known as the banana roll–or sharpen your under jawline to give it more definition. Whatever area you decide to target, you can't go wrong with Nowak Aesthetics, which is located in Otay Lakes Medical and Dental center in Chula Vista.
Address: 2440 Fenton St #101, Chula Vista, CA 91914
Phone: (619) 420 – 1840
Hours: Mon, Wed & Thurs, 9:00 a.m. – 5:30 p.m.
Tues, 10:00 a.m. – 7:00 p.m.
Fri, 9:00 a.m. – 5:00 p.m.
Closed Saturdays & Sundays
Melinda Silva, MD Anti-Aging & Wellness
MD Melinda Silva's Anti-Aging and Wellness boutique provides proven technology to help you look great from every angle. Look slimmer and leaner by freezing off stubborn fat cells around your abs, arm muscles, and other areas that seem to stay the same no matter how much time and effort you put in. Check her website for limited time CoolSculpting specials, or pop in to her med spa at the Village Arts Medical Building in Chula Vista.
Address: 890 Eastlake Pkwy St 103, Chula Vista, CA 91914
Phone: (619) 761 -1574
Hours: Mon – Thurs, 8:00 a.m. – 5:00 p.m.
Fri, 8:00 a.m. – 3:00 p.m.
Closed Saturdays & Sundays
LaserAway
LaswerAway is a massive cosmetic treatment chain that has everything from Laser contour treatments and injectables to CoolSculpting fat removal technology. Their CoolSculpting is a newer service that they offer, so you might be able to find some 50% off specials that they have been promoting to help educate their clients and boost exposure of their newest addition to their procedures list. LaserAway always boasts a bright and clean storefront with extremely kind employees. This particular LaserAway rests in the Otay Ranch shopping center in Chula Vista.
Address: 2020 Birch Rd Suite #101, Chula Vista, CA 91915
Phone: (619) 350 – 8322
Hours: Mon – Sun, 8:00 a.m. – 8:00 p.m.
More About the CoolSculpting Process
To break it down once more, CoolSculpting uses cold temperatures to reduce fat deposits in certain areas and provides dramatic results. It is designed to reduce localized fat deposits or fat "bumps" in problem areas such as the lower belly, legs, neck, chin, arms, or obliques and muffin top area.
CoolSculpting isn't a one and done deal. Generally, you'll need to do the procedure at a calculated pace within 3-6 weeks of each other, and you'll need to be patient as results aren't visible until a few months in. In order to get the most out of your CoolSculpting experience, you should massage the area daily after the procedure in order to break down the dead and frozen fat cells.
The process of CoolSculpting is somewhat slow, and only after 8-10 weeks will you begin to really see any results. For some, the result of CoolSculpting can continue to appear for 6 months. You will generally need to do 4-8 cycles, and at least 2-3 sessions from 6 weeks to 3 months apart.
Many prefer this option when considering fat reduction procedures because it is reliable, safe, and has limited side effects.
CoolSculpting FAQs
How much is CoolSculpting in San Diego?
Be diligent and do your own research. The cost of CoolSculpting in San Diego varies greatly because it is dependent on several factors.  This is why you won't find pricing listed on many websites, you'll likely need to come in for a consultation in order to receive an accurate quote.

The price of CoolSculpting depends on the treatment area you desire to tackle, on how many sessions you will require in order to see promising results, and whether you plan to keep up with maintenance over longer periods of time. Cost also is partially based on an individual's body type and your current body mass index (BMI), because the more there is to work with, the longer the treatment plan tends to be.

That being said, costs generally range from $600 a session to $1500, and in order to see measurable results you'll have to do multiple–3-5 or more. So you might be paying upwards of $1500 to $6000 for a full CoolSculpting treatment plan.
How long do CoolSculpting results last?
As with many cosmetic treatments, the effects of CoolSculpting wear off over time. Results are technically permanent, however the estimated effects should last around a decade to 15 years, give or take. That is, however, for those who maintain normal weight levels and lead a healthy lifestyle, so keep that in mind as the years pass. 

Done properly, CoolSculpting has the ability to remove about 25% of fat in any given area of stubborn fat. You won't all of a sudden drop 10 pant sizes, but freezing fat will help you lose an inch or two and your body will appear more contoured and supple.
Is CoolSculpting painful?
If you are highly sensitive, you might find CoolSculpting to be a tad uncomfortable, but it is not a painful procedure. The cooling against your skin might come as a bit of a shock at first, but after a few minutes, your outer layer of skin becomes numb to the sensation. The area you are targeting will feel slightly tight, as the machine suctions the skin and pulls it upward against the cooling technology, however there will not be any sort of incision, poking, shocking, or anything of that nature. 

Due to the typical hour or two hour long length of the treatment–you might start to feel a bit of aching or tugging in the targeted area. Once the machinery is removed from your skin, the medical doctor performing the procedure will massage the area to ensure that the frozen fat cells and tissue are properly broken up. If anything, some mention the massage post-sculpting to be more sensational and irritable than the actual treatment, but frankly it is quite mild in comparison with alternative fat loss methods.
What are the dangers of CoolSculpting?
It should be noted that CoolSculpting is not a weight loss replacement and shouldn't be used as a substitute for actual physical fitness. Other than general aches, pains, and swelling from the device and massage, you might notice bruising, cramps, itchiness, muscle spasms, and in rare cases diarrhea. 

Always do your research before deciding where to get a procedure done, no matter how noninvasive it is. Check CoolSculpting reviews on Yelp, Google and other rating services to ensure client satisfaction, as reviews simply listed on company websites are not always reputable. 

The treatment is relatively mild in terms of intensity, but if you have sensitive skin, just be cautious. CoolSculpting suctions your skin and also chills it, so you might want to layer up and bring some a warm zip up jacket and fuzzy socks to keep warm during your session.
Can anyone have a CoolSculpting procedure?
Not necessarily. CoolSculpting is meant to contour the body, but it doesn't work on all body types and shouldn't be used by those with BMI scores that are exceptionally high. 

Patients who are healthy, active, and only have mild to moderate stubborn fat should consider CoolSculpting. Those who exercise properly and eat healthy but have not seen a response to such fat are in the clear and are likely to see results, no matter what their age. 

People with super irritable skin or skin conditions or have a bad reaction to cold temperatures should also avoid CoolSculpting. If you have Cryoglobulinemia, Cold Hemoglobinuria, or Cold Agglutinin disease, please steer clear of CoolSculpting or Cryolipolysis at all costs. It is important to be honest with your doctor during your CoolSculpting consultation to avoid any hiccups during the treatment process.
The Last Word on CoolSculpting in San Diego
CoolSculpting is taking the world by a storm as a popular way to bid farewell to stubborn body fat that just won't budge the good old-fashioned way. Compared with alternatives such as liposuction or laser fat removal, it is a much safer, less costly, and less invasive option for body fat removal. If you're hoping to take on some other procedures, check out our list of plastic surgeons in La Jolla.
Evidently, finding a med spa that offers CoolSculpting in San Diego is easy. It's a matter of deciding where to go, what to get done, and how many sessions you want done. We hope this list helps you on your fat reduction journey!
About the author: Courtney Pester is a San Diego based San Francisco bred millennial with a passion for design and self-expression. She prides herself in her charcuterie board making skills and has a soft spot for animals. When she's not pumping out articles, you can catch her playing tennis and enjoying the diversity of events and restaurants San Diego has to offer.