CBD Oil in San Diego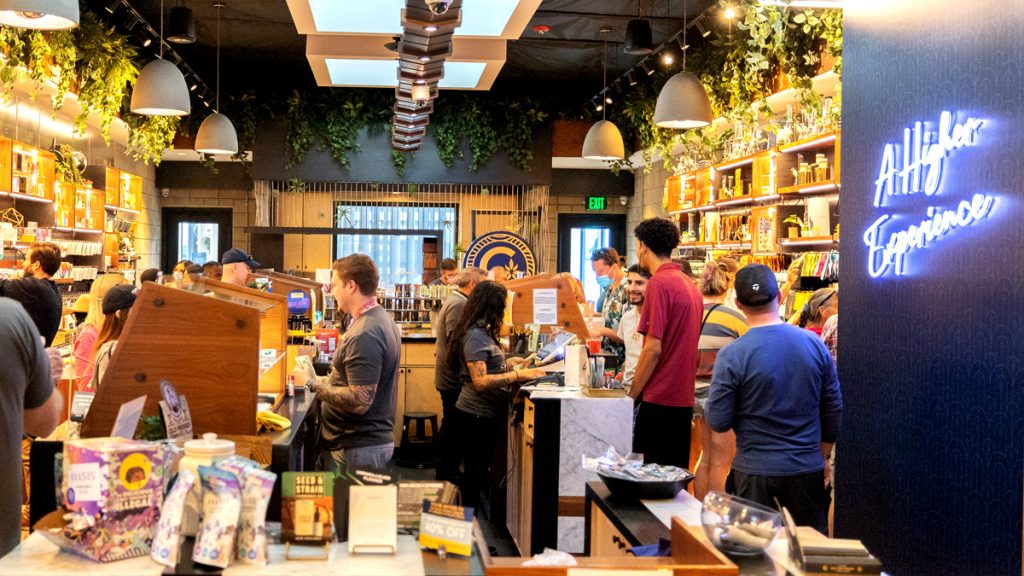 This post is part of our Best Dispensary in San Diego series, sponsored by Cannabist.
For many, CBD oil can be an incredibly helpful treatment for a wide array of conditions and health issues. Derived from the hemp plant, this non-psychoactive compound has cemented its merit with little indication of adverse human health. The conditions treatable by CBD are vast, and includes possible relief for health issues such as chronic pain, insomnia, epilepsy, and anxiety.

Given its efficacy, respected reputation, and merits, it is to little surprise that CBD popularity has increased in demand. Our city is no stranger to hemp and medical marijuana dispensaries, but navigating the options to find the best dispensary in San Diego is easier done with the information sorted neatly before you.
Where to Find CBD Oil in San Diego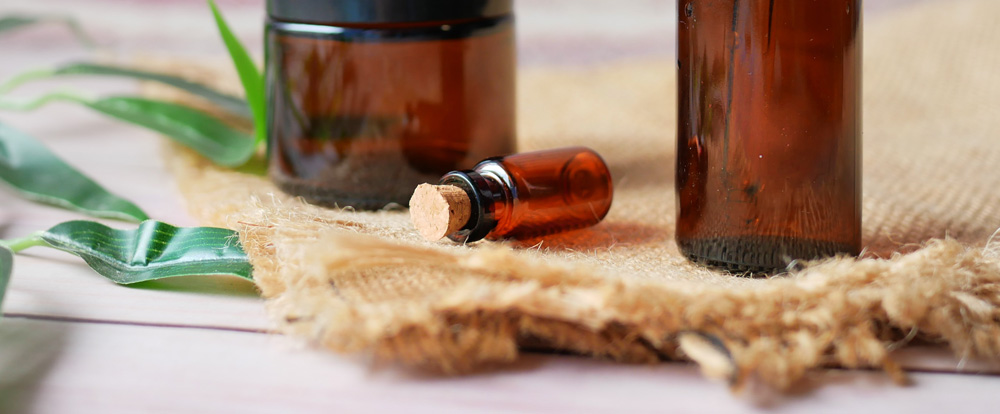 With so many options, it can quickly become difficult to pick and choose a specific store or dispensary to buy CBD oil in San Diego. Add different cities to the mix, and suddenly the search becomes even wider. Fortunately, with the proper information presented altogether for convenience, the search becomes easier.
La Jolla
The rocky beachside region of La Jolla is plentiful with greenery, sights, tourists, and proper full-blown dispensaries. The following shops can be found conveniently within La Jolla.
Cannabist San Diego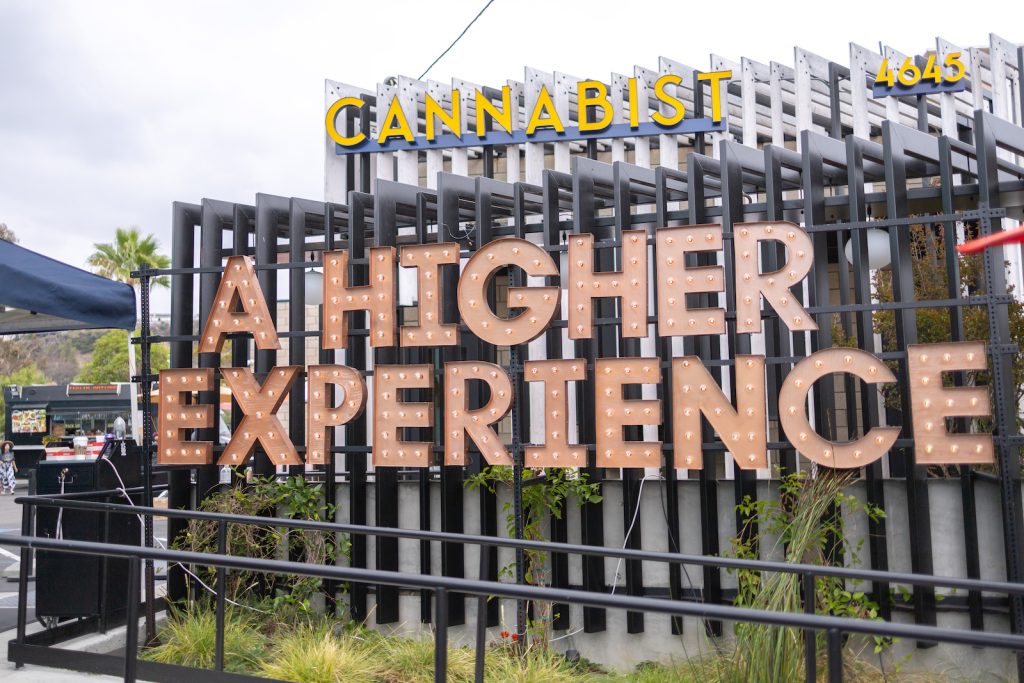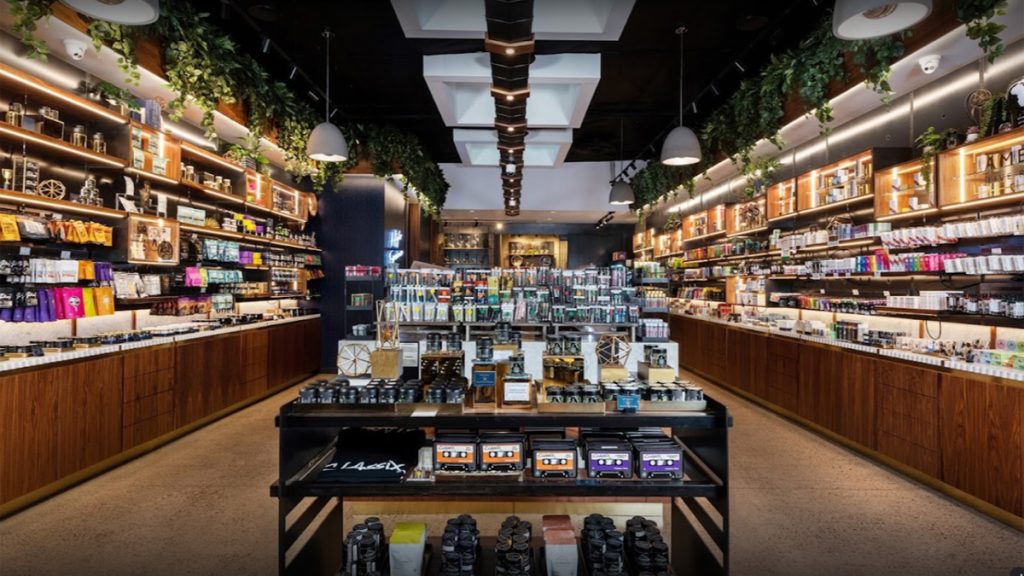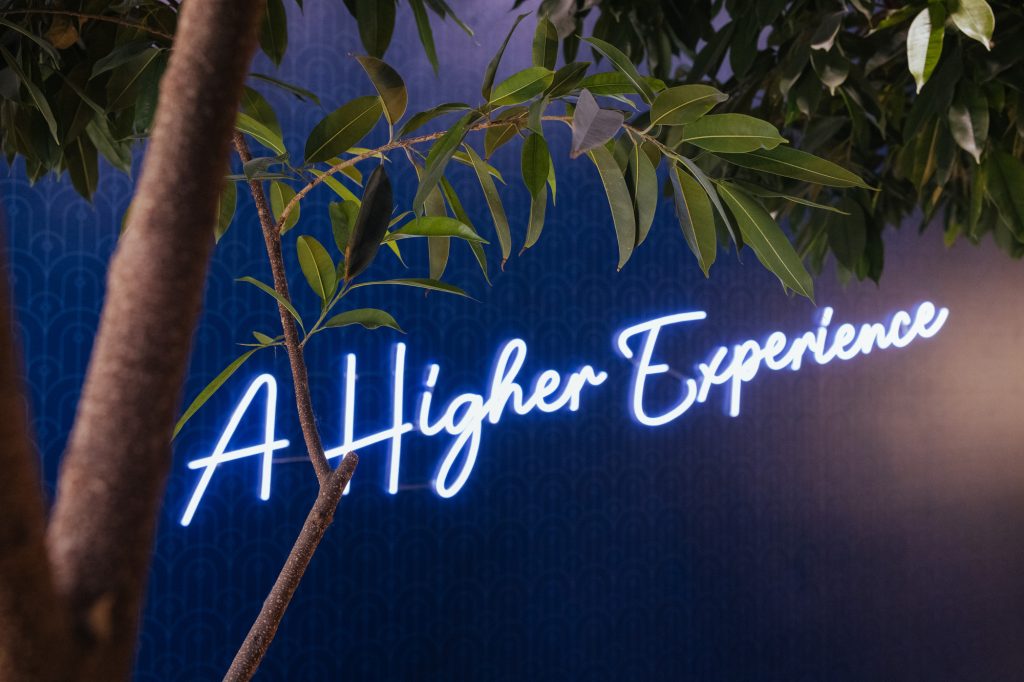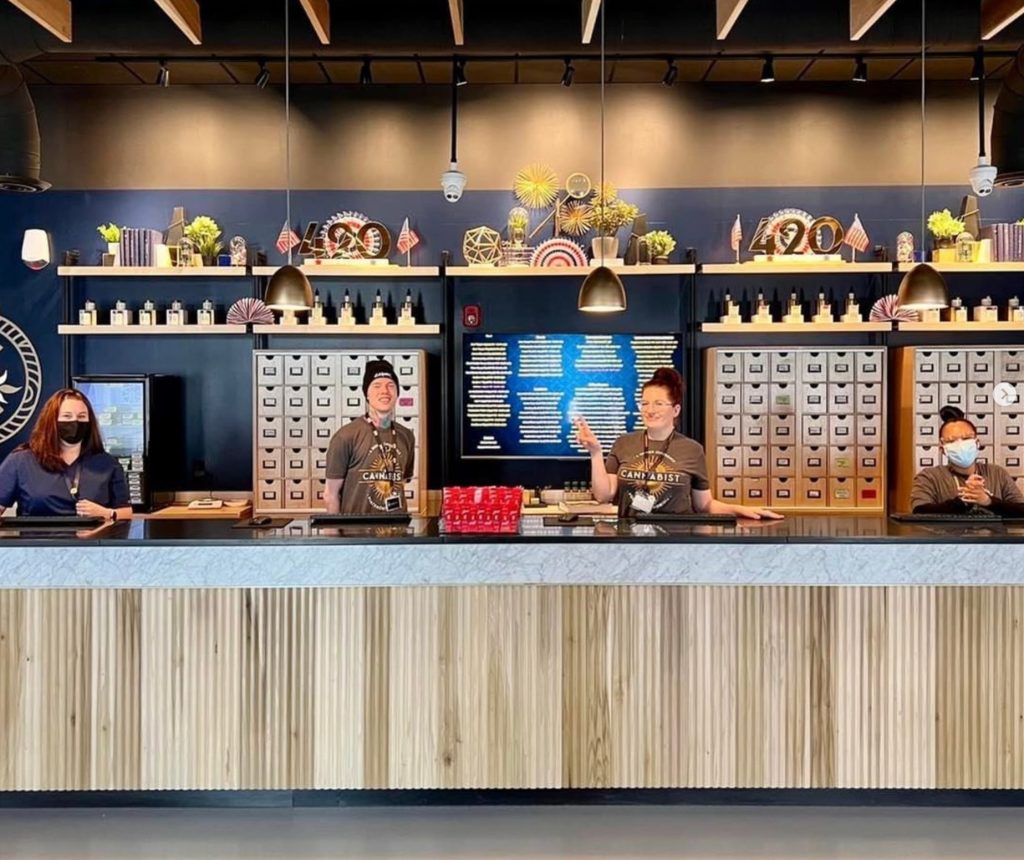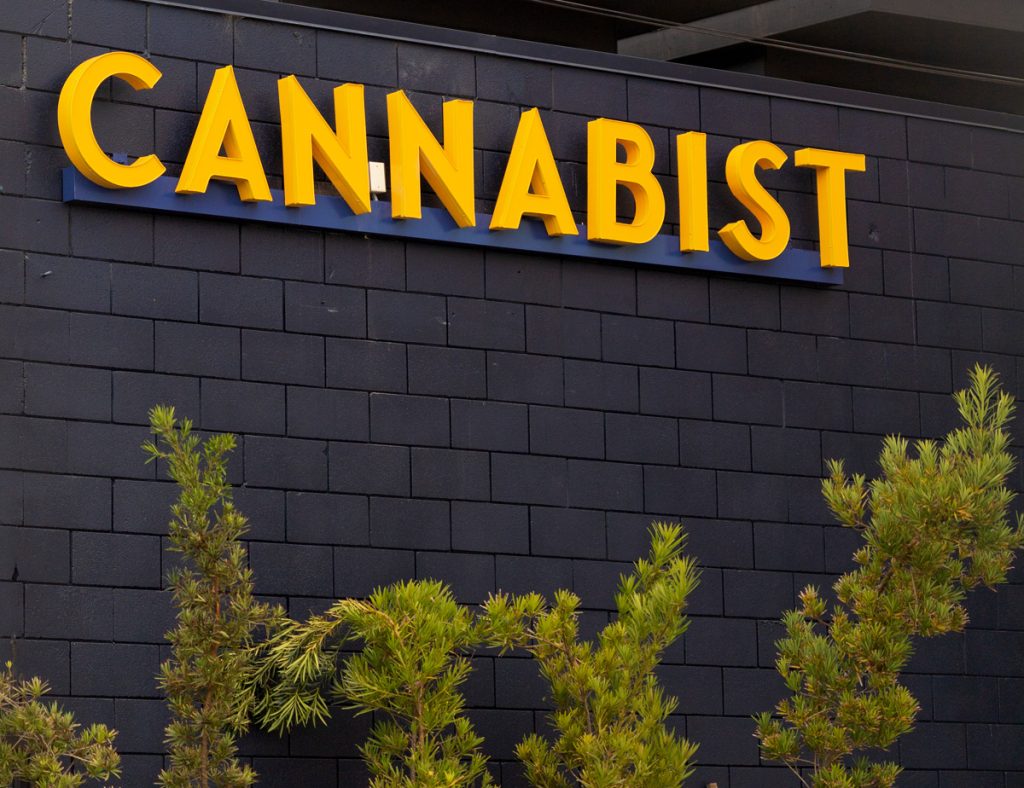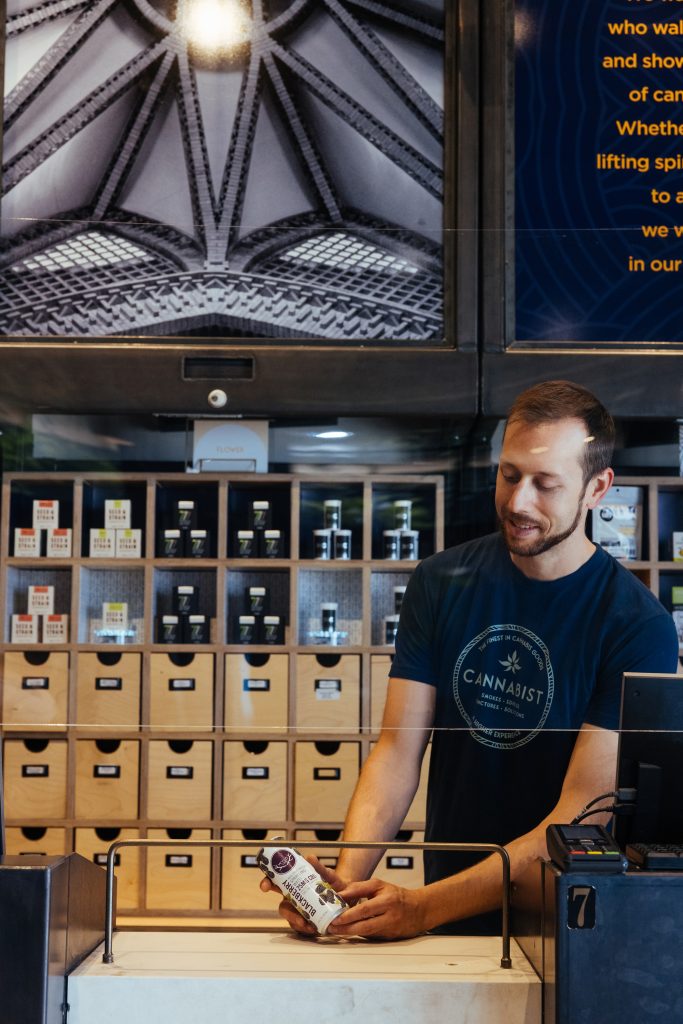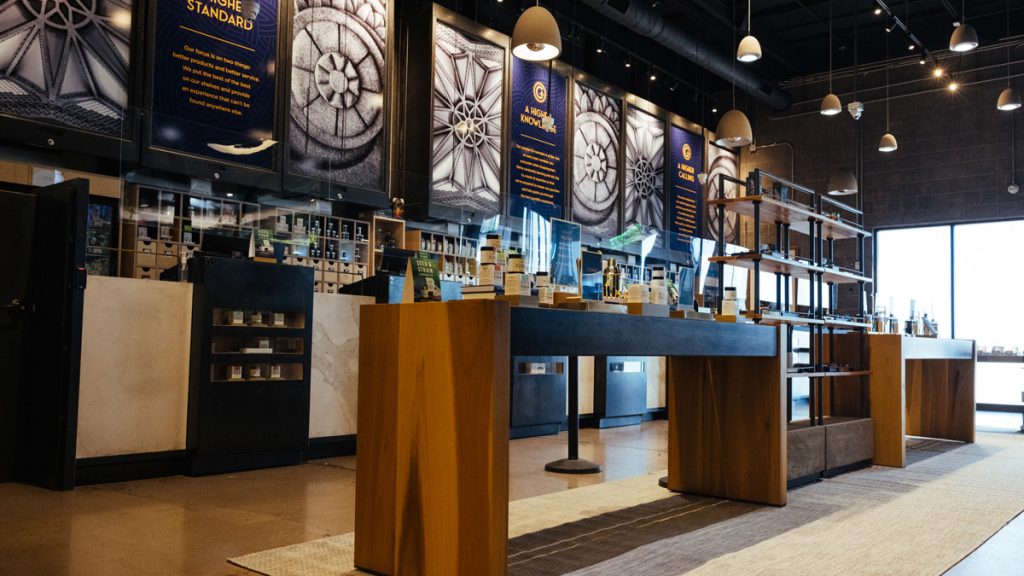 The first thing you'll notice about Cannabist San Diego is that it's incredibly eye-catching, with its flashy Vegas-style signs and lights. The name Cannabist itself can't be missed, either, with the yellow letters proclaiming "A Higher Experience" taking up the greater portion of the front wall to the building.
However, the second thing you'll notice is not only the quality of customer service you'll get here, but also the incredible products they sell. Cannabist prides itself by looking to provide top-quality service and information as a full-fledged dispensary selling both CBD and THC products. They are also distinguished in their customer reviews, with many acclaiming their stellar service from the moment they walk in the door.
Despite being a fairly new establishment, with its doors officially opened to the public in August of 2021, this award-winning dispensary is pleased to offer several specials for its customers, including senior benefits on CBD on Senior Sundays (30% discount for those 55+) and Thrifty Thursdays (25% discount).
Address: 4645 De Soto St., San Diego, CA 92109
Phone: (858) 324-5130
Hours: Mon – Sun 8 a.m. – 9 p.m.
Lifely Wellness
Lifely Wellness is a holistic alternatives collective located in San Diego. Identifying as a women-led company, Lifely Wellness has had 25 years of experience in supplements, and three years specializing in CBD. The goal for Lifely Wellness is to educate the San Diego community on CBD oil and its benefits.
Just a walk away from the La Jolla Cove, the building itself is distinguishable by its size. Despite being smaller, the Spanish arch entrance with a mosaic and glass windows catches the eye. Reviews mention the owners being friendly and going above and beyond.
Address: 1115 Wall St., La Jolla, CA 92037
Phone: (858) 291-8889
Hours: Mon – Fri 11 a.m. – 6 p.m.
Sat – Sun 9 a.m. – 3 p.m.
Seabedee
Seabedee specializes in what they call the "ground up" approach. Seabedee focuses on the growth of hemp from the farming level to the final product. Inspired by those who experience painful or chronic health conditions, the company's mission is to provide information, but ultimately provide quality treatment via CBD hemp oil in San Diego.
Seabedee carries pet CBD oil on top of the CBD products available for the general residents of San Diego. Reviewers have commented on the staff's expertise and knowledge surrounding CBD.
Address: 1416A Garnet Ave., San Diego, CA 92109
Phone: (866) 304-5974
Hours: Mon – Sun 11 a.m. – 7 p.m.
North County Coastal
Standing out as a brilliant surfing spot and one of the defining SoCal staple cities, the North County Coastal region of San Diego is found just north of La Jolla. For the surfers, residents, and tourists of the North County coast, it is nice to know that access to CBD oil is a short drive away.
TRU Leaf Labs
TRU Leaf Labs specializes in the clinical approach to CBD. Expert technicians and clinical pharmacists work with hemp from seed to the very product that ends up on the shelf. The company can be hard to locate at first, as it is tucked away within a medical building.
The nature of the company is that of a very technical near-pharmaceutical application of CBD treatment. Reviews praise TRU Leaf Labs for their expertise and professionalism regarding the clinical approach to treatment.
Address: 6010 Hidden Valley Rd., Ste. 135, Carlsbad, CA 92011
Phone: (760) 893-8331
Hours: Mon – Fri 9 a.m. – 12 p.m. & 1 p.m. – 5:30 p.m.
Closed Sat & Sun
Oceanside Alternative Medicine & CBD Store
Oceanside Alternative Medicine and CBD Store seeks to provide a means to holistic treatment to chronic conditions. The store features its own CBD doctor and looks to provide proper diagnoses to further treat a range of maladies. The building exterior is teal colored and is located within a complex. The sign is easy to miss, so look for the teal building.
The interior is colorful, and is partially noticeable from the exterior through the windows. Reviews are resoundingly positive with compliments to the staff and interior of the building's decorations.
Address: 401 N Coast Hwy., Ste. A, Oceanside, CA 92054
Phone: (760) 722-4202
Hours: Mon – Sat 12 p.m. – 5 p.m.
Closed Sundays

North County Inland
Much like the rocky coast of the La Jolla and North County Coastal regions, North County Inland has many beautiful rugged landscapes. From hiking, biking, golfing, or touring wineries, North County Inland also has its fair share of local and nearby CBD shops.
INJOI CBD Store
The Injoi CBD Store of Escondido is involved with the farming of hemp and its timeline to the therapeutic products purchased. With their farms located in Oregon, the store focuses on its transparency with the customer and patient. The building is located within a strip mall and next to a Goodwill. The building has many windows and a sign with a blue and yellow leaf logo. Reviews report quality service and frequent interaction with the owner.
Address: 1815 S Centre City Pkwy., Ste. 1815-B, Escondido, CA 92025
Phone: (760) 975-3656
Hours: Tues – Fri 10 a.m. – 6 p.m.
Sat: 10 a.m. – 5 p.m.
Closed Sundays
Top Shelf Gift Shop
Top Shelf Gift Shop is a gift shop described as a friendly, professional dispensary for CBD products. The shop also functions as a general gift shop featuring art, souvenirs, and marijuana/hemp related tools. The building is combined in a strip mall orientation, but is typically spotted via a bright red Volkswagen bus parked in front. Nearby is also a large mural with the American flag.
Reviews share that the two owners are found helping customers frequently and regularly. Reviews also praise the general knowledge and professionalism staff have beyond CBD, providing information on various other treatments and recreation.
Address: 1742 E Valley Pkwy., Escondido, CA 92027
Phone: (760) 658-3330
Hours: Sun – Thurs 11 a.m. – 8 p.m.
Fri – Sat 10 a.m. – 8 p.m.
Central San Diego
The heart of downtown San Diego, and the heart of the colleges around it, Central San Diego is incredibly densely populated. Because of this, there are great options for well-established and developed CBD shops nearby.
THCSC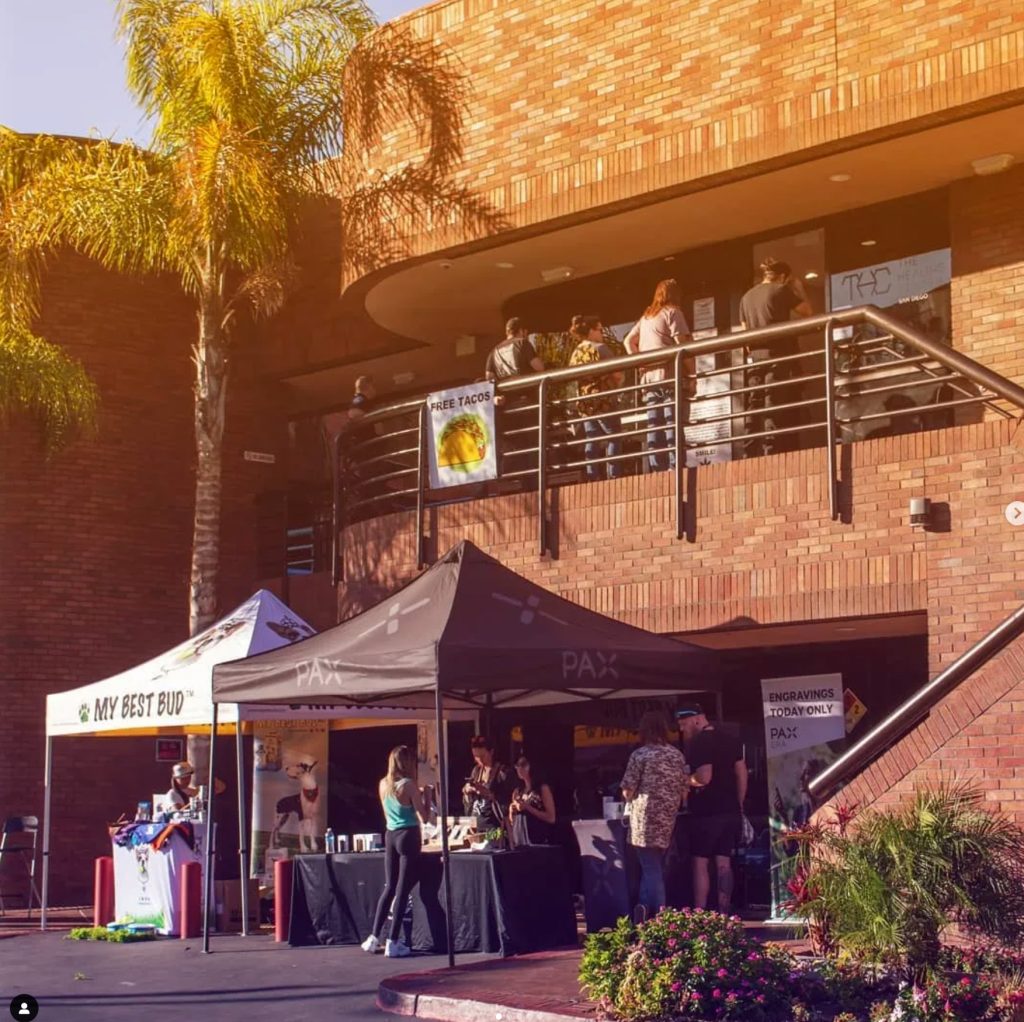 If you're a CBD enthusiast, The Healing Center San Diego is a one-stop shop to gain access to the highest grade CBD and CBD oil on the market. THCSD carries any variety or strain you need, in tons of different forms, including 1:10 Indica Sensation Tincture from Green Revolution, 30:1 CBD:THC Sublinguals Tincture from Papa and Barkley, and specific tinctures, oils, extracts and gummies designed to help you catch some zzz's, relieve stress and anxiety, reduce pain and inflammation, and boost your mood.
Address: 3703 Camino del Rio S #215a, San Diego, CA 92109
Phone: (858) 324-2420
Hours: Mon – Sun 7 a.m. – 9 p.m.
MedMen San Diego – Kearny Mesa
MedMen was founded with the intent to de-stigmatize cannabis and make shopping and obtaining information easier for consumers and patients. The building is easy to spot due to its size and coloring. The building is three stories tall, and the entire second floor's exterior is red.
The "MedMen" signage is found in a large font around the building, and a wooden corner of the building is tough to miss. Customers laud the service, ease of navigation, and knowledgeable staff at MedMen, though several reviews have vocalized that certain products can tend to be a little more costly when compared to competitors.
Address: 5125 Convoy St., Ste. 211, San Diego, CA 92111
Phone: (619) 450-8909
Hours: Mon – Sun 8 a.m. – 9 p.m.
Torrey Holistics
With over 300 CBD products and a resident molecular biologist and biochemist Torrey Holistics simply refers to as "Dr. Beth," this shop prides itself on expertise. Torrey Holistics wishes to educate on and pioneer CBD in San Diego through its products and staff. The building is a large navy building with many windows, and a very bright orange band surrounding the building.
It's difficult to miss, and is surrounded by trees and lush greenery. Reviews come from many repeat customers who have experienced excellent service, with some having initially had the occasionally bad experiences, but later redeemed into a loyalty for the company.
Address: 10671 Roselle St., Ste. 100, San Diego, CA 92121
Phone: (858) 558-1420
Hours: Mon – Sat 7 a.m. – 9 p.m.
Sun: 9 a.m. – 9 p.m.
East County
Beautiful and secluded from the more populated regions of San Diego. East County is home to El Cajon, Lemon Grove, La Mesa, and Santee. Despite being a rural region of San Diego, the region has several options for quality CBD stores.
Urbn Leaf
Urbn Leaf was founded with the belief that cannabis treatment is effective, and that the stigma surrounding it is subject to change via proper education and approachability. Urbn Leaf is located within a plaza, but is not hard to spot. The plaza has a very clear sign readable from the road, and the store itself is sleek gray and modern looking. Reviews applaud the service of staff, with many reviewers praising their favorite employee from the store.
Address: 7339 El Cajon Blvd., La Mesa, California 91942
Phone: (619) 784-2525
Hours: Mon – Sun 7 a.m. – 9 p.m.
The Grove
Variety and quantity is what The Gove specializes in. The Grove is a dispensary that sells hemp CBD, as well as marijuana for medical and recreational use. The locale is surrounded by similar-looking buildings, with each building resembling a beach house or hut.
The building is small and brown, but very novel in appearance with a grassy patch in front and the highway in the back. Customer reviews frequently mention that the deals are what keeps them coming back, on top of the quality service provided.
Address: 8155 Center St., La Mesa, CA 91942
Phone: (619) 420-4420
Hours: Mon – Sun 7 a.m. – 9 p.m.
Cookies
Founders Jai and Berner founded Cookies and developed the iconic "Girl Scout Cookie" cannabis strain, having originated as growers in a garage. Since then, the two operate Cookies and continue to develop strain varieties. The building for cookies is easy to find and resembles a confectionery from the outside.
It is a gray building with many windows, a contemporary design, a ramp for accessibility, and baby blue touches throughout. Customer reviews repeat the experience that Cookies provides a relaxing environment with lots of product knowledge and catering to individual preferences.
Address: 7935 El Cajon Blvd., La Mesa, CA 91942
Phone: (619) 737-1920
Hours: Mon – Sun 7 a.m. – 9 p.m.
South Bay
The gorgeous coast of the South Bay region in San Diego has its sources for buying CBD products while enjoying the scenery.
Mr. Tin Man's Oil Company
Focusing on "treating you, not your condition," Mr. Tin Man's Oil Company specializes in CBD oil in San Diego, providing products for chronic condition symptom management. The company proudly states that samples are a staple to education, and encourages customers to experience CBD for themselves.
The company is situated within a complex of white buildings and may be hard to spot from the outside. Reviews are few, but all state positive experiences with the staff and the quality of the products.
Address: 744 Design Ct., Ste. 207, Chula Vista, CA 91911
Phone: (619) 565-5953
Hours: 10 a.m. – 8 p.m.
MESO Healthy
MESO Healthy was created with the inspiration of helping those with chronic conditions who have found little relief in pharmaceuticals. If you're looking for pet CBD oil in San Diego, the company also offers quality hemp CBD for your four-legged companions, on top of the general selection of CBD products.
The store is located within a complex of white buildings, so navigating may be rather tough. There are few reviews, but they are generally positive reflecting on the quality of the product. Some customers were dissatisfied with the company's hours of operation and availability, however.
Address: 861 Harold Pl., Ste. 107 Chula Vista, CA 91914
Phone: (877) 241-6376
Hours: 10 a.m. – 12 p.m.
Closed Sat & Sun
Dual Enrollment Dispensaries
San Diego also has a few dual enrollment dispensaries, and these shops sell medical and recreational marijuana. They also, however, sell a wide range of CBD products. Oftentimes one will find that many marijuana dispensaries also carry CBD products, and have staff well-versed in their fields of profession. In short, there are dispensaries that have it all — and that also have what you might need — should you go looking for it.
Cannabist: Boasting a "higher standard," Cannabist has been serving San Diego since 2021. Featuring a full menu of both CBD and THC products, they take pride in educating their customers about the benefits of cannabis. With daily deals and a holistic approach, they're pleased to offer everything from edibles to tinctures at their San Diego location.
Urbn Leaf: As the self-proclaimed premier cannabis company in California, Urbn Leaf has several locations in the San Diego area for your convenience. Not only do they offer unique discounts, like bundles and daily deals, this CBD and THC shop also happens to deliver bud straight to your door.
Golden State Greens: What makes Golden State Greens stand apart isn't just the wide selection of THC and CBD products they offer, but the fact that they're conveniently located near central San Diego and the airport. You also don't want to miss their fun events, which they host regularly on-site.
Wrap-Up
There are many options for those seeking the best CBD oil in San Diego. CBD can help provide relief for a variety of conditions, and navigating the plethora of stores makes getting prompt relief slower. Hopefully, this comprehensive list is helpful in aiding your navigation of the best CBD providers in San Diego.
It's also helpful to recall that many of the dispensaries in this list are also multi-purposed, selling THC and cannabis-related products on top of hemp-based CBD, meaning you're sure to find whatever you need, right here in San Diego!
About the author: Alexis Estrada is a freelance writer with several years of experience in writing on a wide range of topics, from healthcare to pop culture and everything in between. When he's not writing, he can be found doing complex mathematical formulas for fun and practicing his acrylic painting skills. If you want help practicing reciting pi to the hundredth digit, why not drop him a line?

The hero image in this article is courtesy of Cannabist San Diego