Haunted Places in San Diego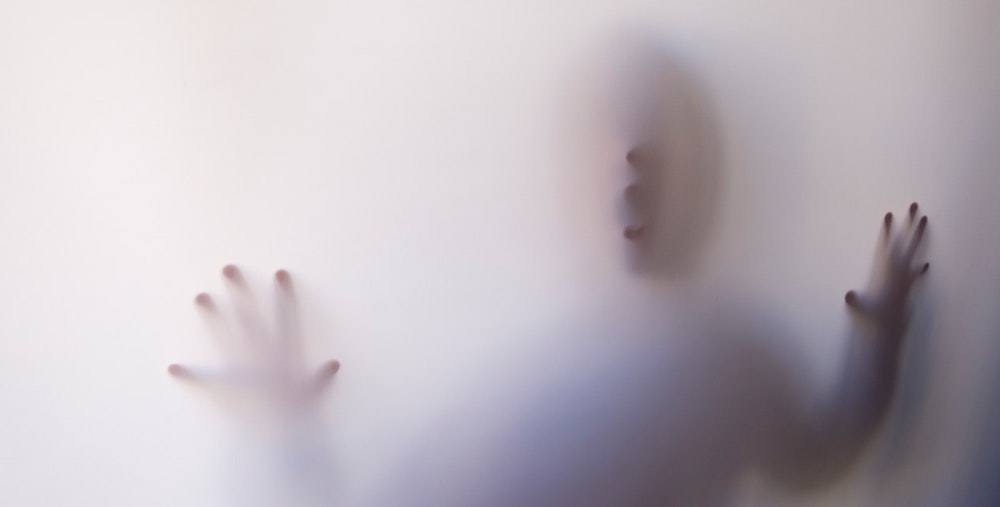 From our beautiful white-sand beaches to our friendly and welcoming community, there are so many wonderful things about our little corner of the world here in sunny San Diego, California. However, our turquoise waters and close-knit atmosphere only begin to touch on what it has to offer to both guests and locals alike. Many people don't realize that we're also the home to some of the most historical — and dare we even say, spooky — sites in the entire state, as well. In fact, we'd even argue that we're one of the most haunted places in California.
While not everyone knows about the many haunted attractions in San Diego that we have hidden here, we're more than happy to share them with you. If you're a fan of old Victorian mansions, we've got 'em. More into World War II history and the eerie lore that surrounds it? You can find it right here. The bottom line is, there is no shortage of haunted places in San Diego, and they're just begging for you to explore them further.
The Top Most Haunted Attractions in San Diego
We are proud to be the go-to spot for thrill-seekers and history buffs alike, and there's plenty of that to be found here. If you're looking for the best haunted places in San Diego, then look no further. We've rounded up ten of the most spooky places to go in San Diego just for you, which means only one thing: you better grab onto your britches, because there's seriously nothing holding you back from tapping into your own spirit of adventure by checking out these ten hair-raising haunted places in San Diego!
Morena Lake
Just southwest of the Laguna Mountains and almost an hour from rural East County lies Lake Morena County Park (2550 Lake Morena Dr., Campo, CA 91906). One of the most remote reservoirs in SD County, the park is home to 8 miles of hiking trails, prime fishing areas, and loads of mountainous sights – it's also a spooky spot for campers and locals alike. 
Back in 1983, the San Diego Union-Tribune ran a story about hair-raising events cropping up around Morena Lake. The author of the article, Helen Shaffer, interviewed a park volunteer by the name of Walter Stucker who encountered several specters hovering around the lake.  One such vision was a tall, ghostly man looming eerily near Stucker's motor home.  Clearly unhinged by the sightings, the volunteer quit his position at the park. When giving his final notice to the park ranger, Stucker described his encounters with ghostly figures walking around the lake. 
The ranger wasn't surprised by Stucker's findings and confessed that he also experienced similar phenomena. The ranger admitted to hearing otherworldly noises, the sound of footfalls, and even unexplained missing items at the ranger station. Other park volunteers, employees and residents have reported seeing gossamer figures floating above the lake shrouded in flowing gowns.
The haunting reputation of Morena Lake continues to grow. In fact, as recently 2021, campers are still reporting levitating figures, blood-curdling screams, a disturbing old man lurking around the lake and even an ephemeral woman in white standing along the shoreline.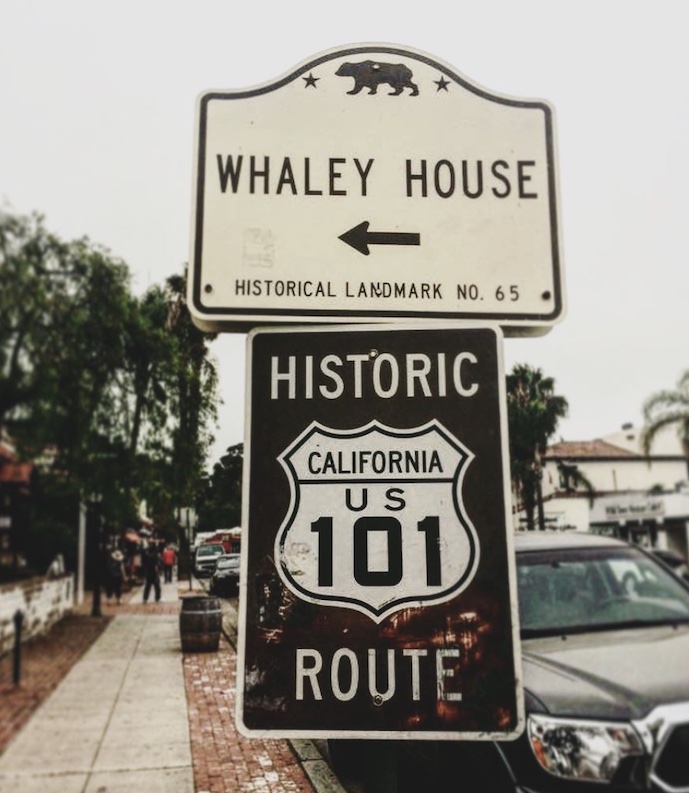 The Whaley House
The Whaley House (2476 San Diego Ave. in Old Town) has been many things throughout the years (including a courthouse, general store, and public theater), but even its humble origins are admittedly disturbing. Thomas Whaley, one of San Diego's earliest settlers, built the famed Whaley House on top of an old execution site. Little did he know it would become a bonafide San Diego haunted house after tragedy repeatedly struck the poor family. Not long after they moved in, Thomas Junior succumbed to scarlet fever. Then Violet, one of their daughters, took her own life after being betrayed by her husband.
With its dark past, there's little doubt that the Whaley House is one of the most haunted places in San Diego. Many other members of the Whaley family also perished within its walls, lending to its spooky aura. If you listen carefully while there, you might be able to hear baby Thomas's little footsteps pattering around, or catch a glimpse of Violet's heartbroken spirit lingering upstairs.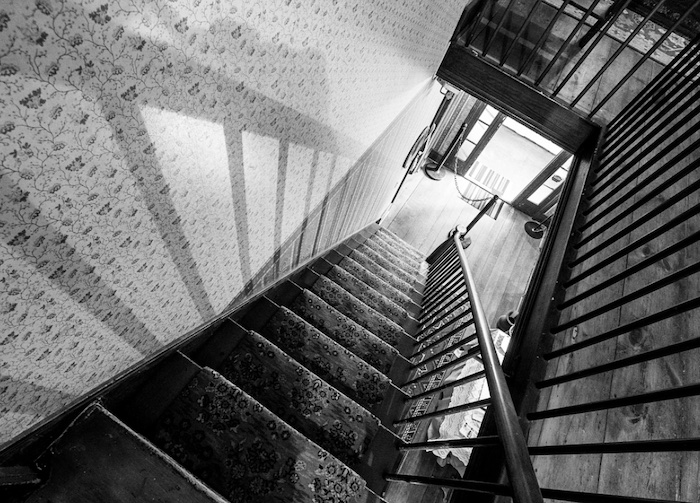 William Heath Davis House
As the oldest surviving structure in San Diego, the William Heath Davis House (410 Island Ave. in the Gaslamp) has its own share of paranormal history. Since San Diego didn't have enough lumber to build a house, a "salt-box" house was shipped in from Maine. Davis's home is unquestionably one of the more haunted places in San Diego thanks to the sheer number of people who once lived — and died — there.
There was significant pushback from locals about the salt-box houses, and it took the work of one Anna Scheper to get the community to come around. She determined that San Diego was long overdue for a hospital, and the William Heath Davis House was the prime location for it. She was paid a dollar per patient she saw per day, no small sum for the era. These days, you can possibly see the ghost of a German WWII spy roaming around the property, or the apparition of one of the many patients who died there.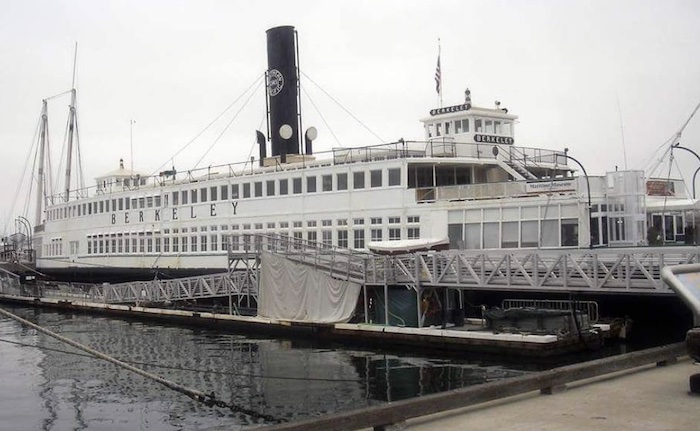 Berkeley Steam Ferry Boat
When many people think of famous haunted ships, they often tend to think of the Titanic. However, don't let the Steam Ferry Berkeley slip under your radar; this ferryboat saw some incredible things during its tenure… but it also has its own supernatural backstory, too. Launched in 1898, it was the largest passenger ferryboat at the time, capable of carrying up to 1,700 passengers.
It came in handy after the 1906 San Francisco earthquake, where the Berkeley was responsible for shuttling the survivors of the devastating earthquake to safety. While it never actually sank during its active years, it did see its own shares of death aboard. In turn, you'd be wise to be on the lookout for the Fedora Man, an ominous being who loiters aboard the vessel. It's rumored to be the ghost of John O. Norbom, who died aboard the Berkley when he dropped a bottle of nitroglycerin, blowing himself up and injuring five others. The ferryboat is now an exhibit at the Maritime Museum of San Diego.
Horton Grand Hotel
Usually when you think of haunted places in San Diego, what probably comes to mind are abandoned places in San Diego. The Horton Grand Hotel (311 Island Ave.) is anything but. A flourishing and gorgeous historic building in the Gaslamp District, it still sees plenty of activity. However, it also has its own sordid past, too. And if you decide to stay there? While this is definitely one of the places to see in San Diego if you're a fan of haunted locales, you just may want to avoid room #309.
According to legends, a debt-stricken gambler by the name of Roger Whitaker spent his last fateful night in that room back in the 1800s. After cheating at a card game, he retreated to his room, but his pursuers still found him and shot him to death as he hid inside his wardrobe. To this day, he still continues to raise a ruckus at guests who are brave enough to stay in #309.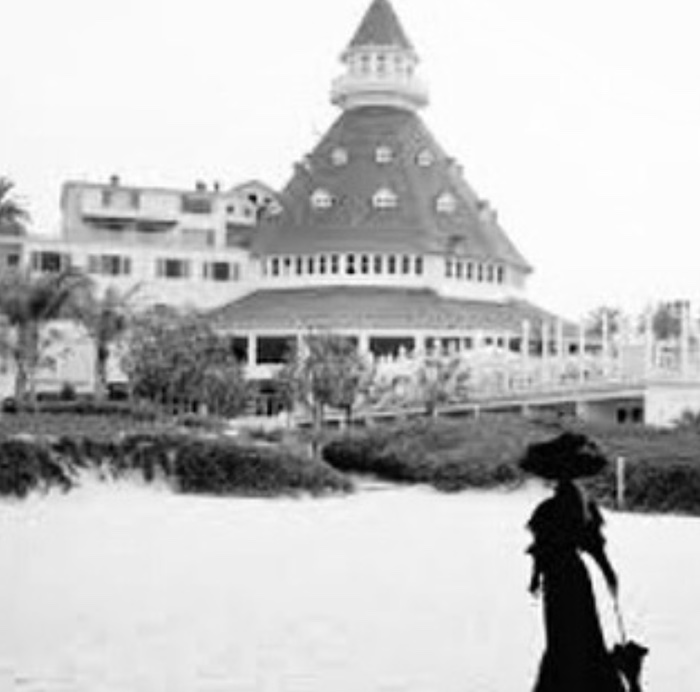 Hotel del Coronado
Unlike the rambunctious Roger Whitaker who lodged at the Horton Grand Hotel, the spirit who resides at the Hotel del Coronado (1500 Orange Ave. in Coronado) is said to be a kind and gentle ghost by the name of Kate Morgan. Her tragic tale begins back in 1892, when the young woman checked into her room on Thanksgiving Day. According to other guests, she waited five whole days for a gentleman to join her. When he never showed, she took her own life.
Since she never checked back out, her ghost still remains at the Hotel del Coronado. According to paranormal experts, there's ample evidence of her presence. Guests have reported seeing lights flicker, felt a cool breeze rush past them, and saw televisions turn off and on. Others have been fortunate (or unfortunate) enough to see her transparent shape with their own eyes. There's just something about San Diego haunted hotels that keep us on edge, and the Hotel del Coronado is no different.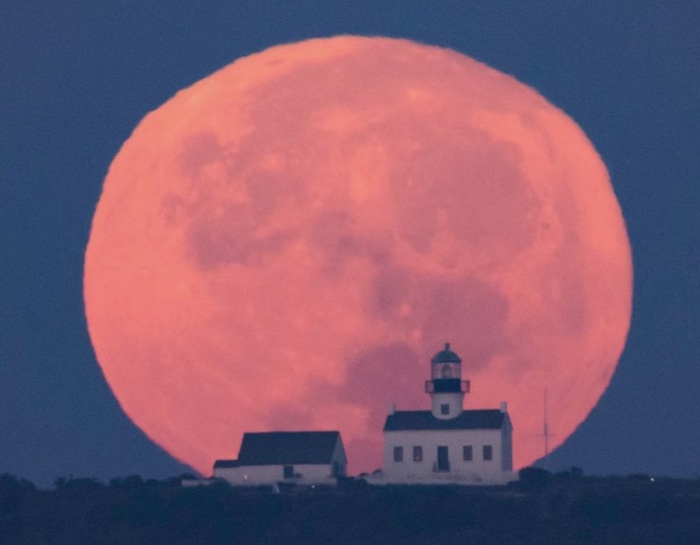 Old Point Loma Lighthouse
When it was first built, the Old Point Loma Lighthouse had the distinct honor of being the highest elevated lighthouse in the country, towering over the world at an impressive 462 feet above sea level. Unfortunately, this was actually a disadvantage, and fog made it hard for passing ships to make it out in inclement weather. Because of this, the presiding lighthouse keeper oftentimes had to fire off a shotgun to warn vessels to stay away.
The numerous keepers of the Old Point Loma Lighthouse took their duties very seriously, and these days, it's reported that they've returned back to their outpost. Visitors have noted that they can hear heavy footsteps in the spiral staircase, securing its position as one of the more haunted places in San Diego. Without a doubt, this spot is one of the top places to see in San Diego for a chance at a ghost sighting. To visit the lighthouse, you'll have to go to the Cabrillo National Monument.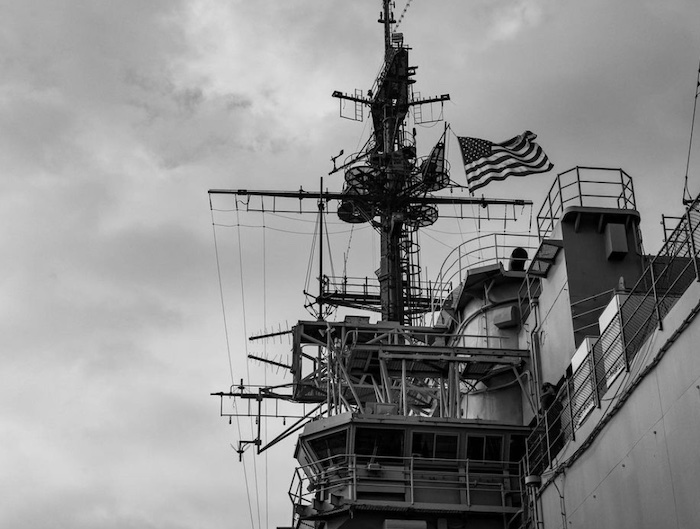 USS Midway
The USS Midway (910 N. Harbor Dr. downown), a decommissioned United States Navy aircraft carrier, has never been a stranger to supernatural activity. Even when it was still in service, crewmembers would discuss in hushed tones the existing resident ghosts aboard the vessel. One such entity allegedly made the ship's cold storage his home, and many people stated that they could smell the stale, copper odor of blood from time to time.
Paranormal experts have been quick to point out that the ghosts that haunt the USS Midway are not to be feared, though. The haunted crew aboard the Midway aren't those who perished on the boat and roam the vessel like lost souls, but instead, they came back to serve on it after they left the mortal realm. Their sense of camaraderie and love for the ship, as well as their crewmates, makes them a welcome guest aboard it.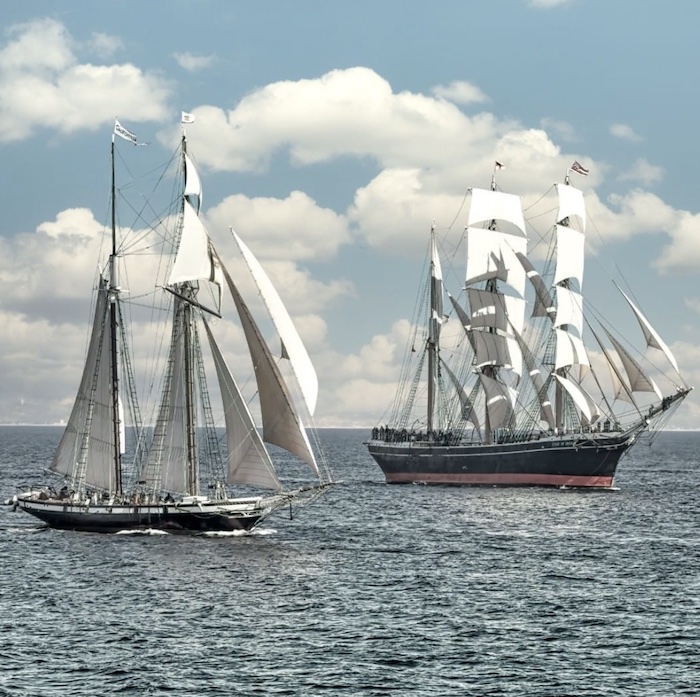 Star of India
The oldest working sailing ship, the Star of India (formerly known as the Euterpe) is no stranger to its share of supernatural phenomena. Named after the Greek goddess of singing and dancing, the Euterpe was seemingly doomed from the start. Its first voyage to India was met with a collision and a mutiny. Its second? It was so stressful, the captain perished not long after it limped into its port of call.
Sadly, many sailors who worked aboard the Euterpe passed away, as being a deckhand was no easy job. Drownings were quite commonplace, as were serious illnesses and diseases. One of the ship's youngest ghosts was a stowaway by the name of John Campbell. Not long after he was discovered, he fell from one of the masts and died three days later from his injuries. It's purported that if you stand close to the mast from which he fell, you can sometimes feel his cold hand grasping your arm. The Star of India, like the Steam Ferry Berkeley, is part of the Maritime Museum of San Diego.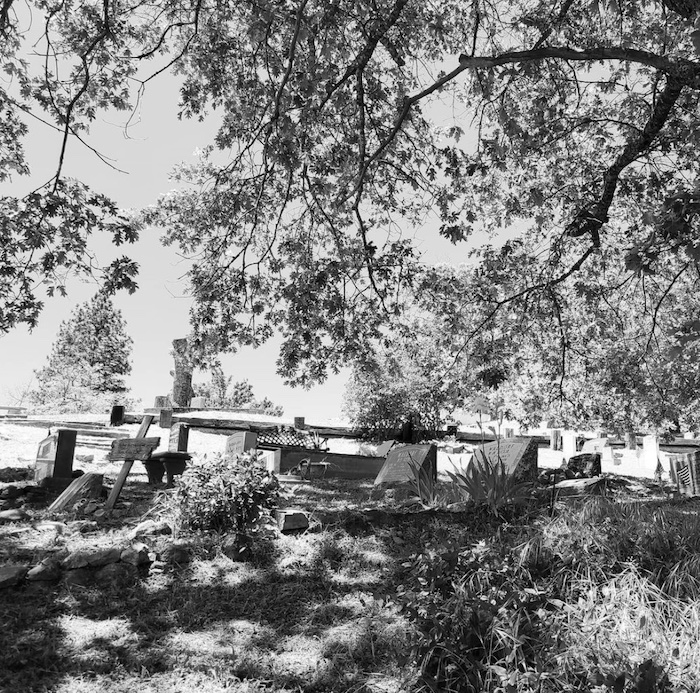 Julian Pioneer Cemetery
The story of the Julian Pioneer Cemetery (Julian, CA) is a heartbreaking one, but it's also one that lends to quite a few supernatural sightings on its grounds. Back when the gold rush was in full swing, pioneers came from across the country to see if they could stake their claim of the treasure. Sadly, the reality of the situation was far worse than the fantasy lives they dreamed of, and many of them perished from disease, alcoholism, and even during childbirth.
These days, the old mining cemetery is very old and somber, and it carries the weight of all of the lives lost during the gold rush period. Visitors to it often report that they have spied a ghostly apparition weaving through the tombstones, further reinforcing the notion that this is one of the most haunted places in San Diego. And according to first-hand accounts, one of these entities is none other than the town's founder, Drury Bailey.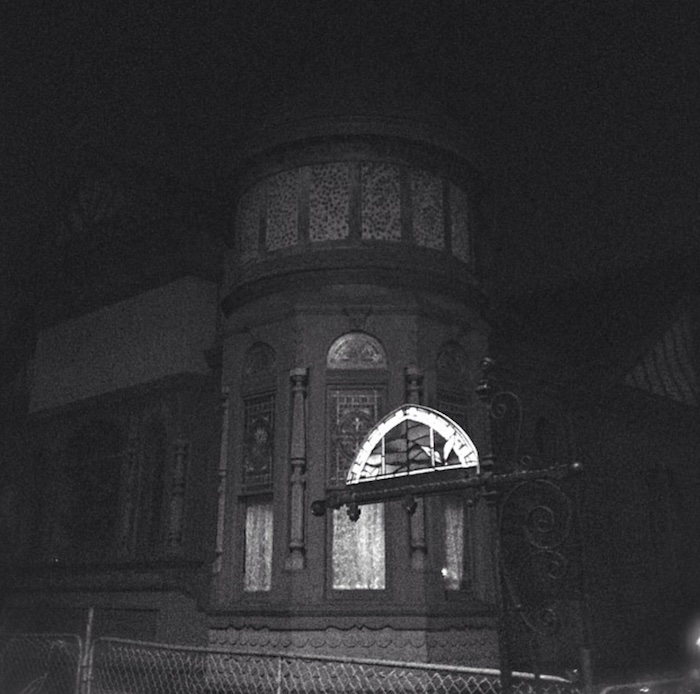 Villa Montezuma Museum
The Villa Montezuma Museum (1925 K St. in Sherman Heights) is arguably the most haunted location in the entire city, making it one of the best places to go in San Diego for a ghost sighting. Crafted in the distinct style of Queen Anne architecture, it was built in 1887 for an English Renaissance man by the name of Jesse Shepard. Surprisingly, he abandoned the mansion only one year later. Evidently, after finding himself living in a haunted house, San Diego was no longer his preferred city.
As it turned out, he was responsible for the events that drove him away from his home. One of his hobbies included holding séances, and passersby noted that they could hear full orchestras playing in his house — even when he was all alone! One of the ghosts that loiter at the Villa Montezuma Museum today is allegedly a man who had bought the house after Shepard moved out. Soon after, he hanged himself from the second-floor observatory.
A Haunting and Enchanted City
There's no shortage of mysterious happenings here in San Diego, and its vast and rich history only contributes to its intrigue. The sheer amount of spooky evidence makes it difficult for even staunchest cynics to refute the presence of specters, ghosts, and supernatural beings within our city limits. However, despite all of the eerie phenomena found here, we can all agree that there's no place in the world like San Diego — and the true spirit of the city can easily be found in the heart of each and every one of the wonderful people who call it home.
To go with your eerie ghosts and supernatural sightings, there are also a wide variety of attractions and things to do throughout the city. From theme parks, tours, museums and more, there's something for everyone to enjoy in San Diego! Learn more about what attractions and activities are waiting for you!
About the author: When Karyl Trejo isn't writing articles about health and fitness, you can find her hanging out with her husband and two cats on the beautiful Central Coast of California, chipping away at her next science fiction novel. If you want to hit her up for her favorite chocolate chip cookie recipe or swap running tips with her, you can find her LinkedIn here.