Kayaking in La Jolla: Everything You Need to Know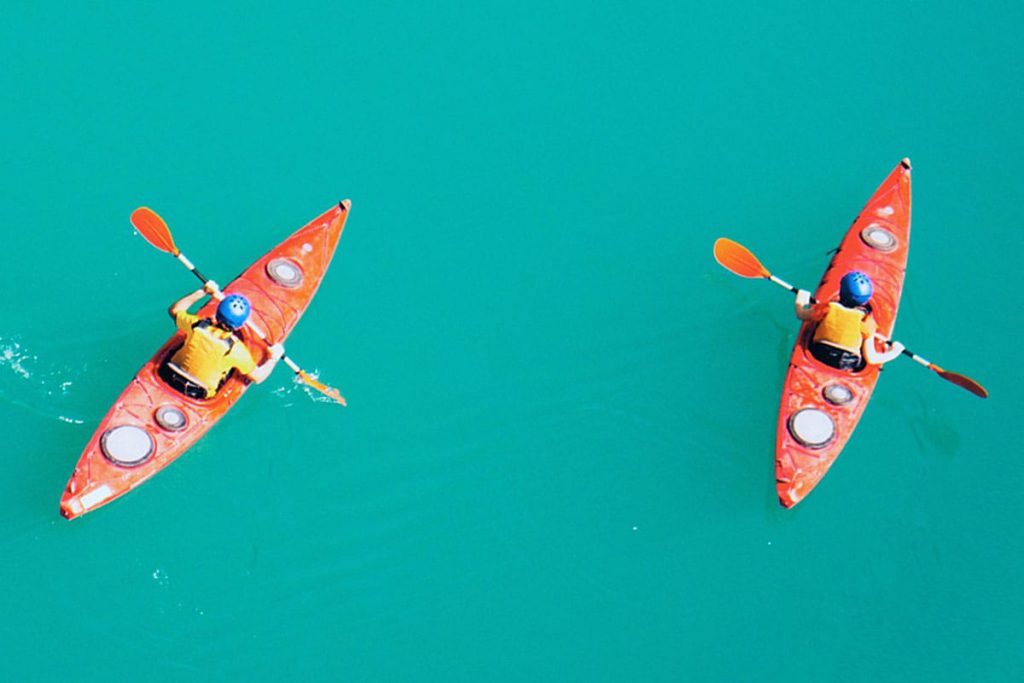 La Jolla Kayaking
If you love the ocean and revel in exploring it, kayaking in La Jolla will be a magical experience for you. This activity is incredibly popular and is definitely one of the top things to do in La Jolla when you're visiting. The local tour companies are experts, and know exactly where to take you and how to get you there so you get the most out of your experience. There are all kinds of things to explore; from venturing inside Clam Cave to the chance to see some wildlife, there is nothing quite like kayaking in La Jolla!
Whether it's your first time out on the water or your fiftieth, here are some ways to get the most out of your kayaking adventure.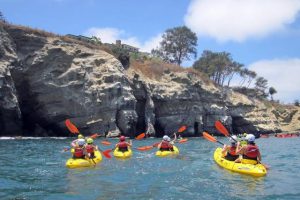 The La Jolla Underwater Park
This vast area of sea goes all along the La Jolla Coast and includes the ocean bottom and canyons that extend from it. 90% of this is protected as an Underwater Park and Ecological Reserve, meaning there is no fishing or scavenging of any kind and all wildlife and plant life is being preserved. This is part of their mission to protect the local, aquatic wildlife. In total, the park encompass approximately 6,000 acres. It's particularly interesting because of its wide variety of landscapes; deep submarine canyons, rocky reef shallows, kelp bed, sand flats are all visible to snorkelers and on clear days, kayakers!
At times, the water will be crystal clear and provide you incredible views below the water's surface; this is your chance to see all kinds of fish (especially the state fish, Garibaldi), leopard sharks, shovelnose guitarfish, and more.
Learn more about which areas you want to explore by kayak below:
The Seven La Jolla Caves
The timeworn cliffs of this coast have, over their 75 million years, had caves carved into the sandstone. Weather permitting, coast into these caves for a breathtaking experience. These seven caves are, from east to west:
White Lady
Little Sister
Shopping Cart
Sea Surprize
Arch Cave
Clam's Cave
Sunny Jim Cave
All of the caves can only be explored by kayak, except for Sunny Jim, which you can hike down into. There is a small tunnel leading down from the Cave Store that you can go through by foot. During the 1920s Prohibition, it is said that illegal smugglings happened through here! Clam Cave is the only cave you can actually kayak into, but you can pass by the other caves quite closely and really see their beauty up close.
7 Things You May Not Know about the La Jolla Caves
The Ecological Reserve
Tours run by companies like La Jolla Kayak often leave from this area, which can be accessed from La Jolla Shores. You can see buoys near the shoreside of Scripps Park, at the northeast point of La Jolla Shores and more again out into the canyons. Try to make out the invisible path between each of the buoys, and you have the perimeter of the reserve.
What plants and creatures can you look forward to seeing? There are often leopard sharks, dolphins, whales and, of course, sea lions hanging out here. Spot them swimming amongst the kelp and the reefs of the ocean arena.
The Marine Life Refuge
Head north of the reserve, and you'll find yourself in the Marine Life Refuge. This space was set up in 1929 by the Scripps Institution of Oceanography for research purposes. Though academic work is conducted here, you are also allowed to fish and play in its perimeters.
As with the Ecological Reserve, get ready to coast on the water and look down to sites of leopard sharks, garibaldi, sea lions and, depending on the day, dolphins!
Kayak Tours & Rentals
To learn the area and valuable kayaking techniques, there are certified guides ready to take you on your La Jolla kayaking adventure. We recommend booking as far in advance as possible, especially during the summer months. There are several companies that provide kayaking tours, and some are even combo tours (bike and kayak, snorkel and kayak, etc.). Some of our favorites are La Jolla Kayak, Everyday California, and Bike & Kayak Tours of La Jolla.
If you've already kayaked before, you may only the equipment and not a full tour. These companies, and local shops, also rent out kayaks and other equipment. For more information, check out our complete La Jolla Shores guide!