Where to Go for Happy Hour in La Jolla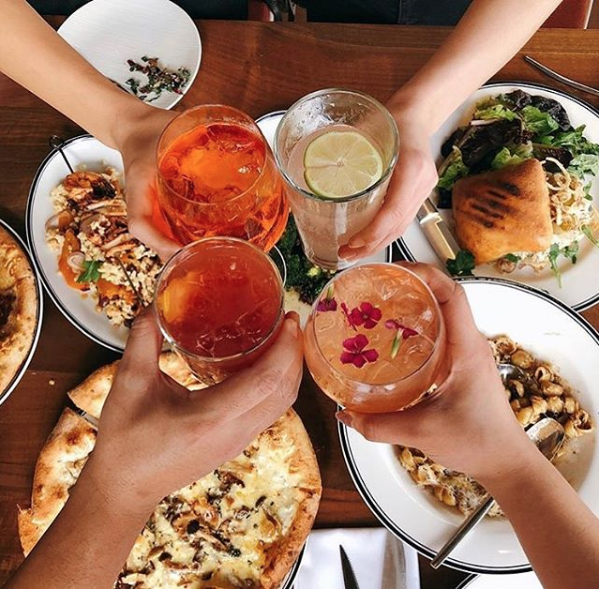 Where will you find the happiest Happy Hour La Jolla? There are definitely plenty of contenders around here! Several La Jolla restaurants have crafted unique menus that keep folks coming back. After a little recon, here are some of our top picks in the neighborhood.
This is the prime spot for wine lovers — with a view! Happy Hour is Monday-Friday from 3:30pm-6:30pm and features $3 off wines by the glass and $2 off draft beers. The wine bar is tucked away in back of the shop, and features a terrific patio with ocean views. You can try wines by the taste, glass, or bottle. If you'd rather try several different wines, we recommend the wine flight to give your taste buds some variety. They'll bring out olive oil and balsamic pairings to try at the same time, too. If you prefer beer, don't worry, they offer several craft varieties.
We Olive also offers perfectly paired appetizers, such as their Artisan Cheese and Charcuterie Plate and We Olive Duo Dip.
Herringbone is widely known for their take on Happy Hour in La Jolla, fondly referred to as "Oyster Hour." It runs daily from 4pm-6pm (all evening on Mondays), and features $1 oysters, $8 cocktails, and $6 glasses of wine. The cozy spot, which opened in 2014, features a laid-back bar and lounge area with couches and comfortable seating. There is live music playing on Fridays and Saturdays, and is known for their yummy handcrafted cocktails and sangria.
Food-wise, enjoy $1 clams or choose something from the regular menu. Looking for something to share? We recommend the Local Ceviche, which is served up with a yummy combo of aquachile, jalapeño, avocado, red onion, and cilantro atop a bed of blue corn tortilla chips.
For the ultimate happy hour atmosphere and ambience, we recommend Catania. Happy Hour is 3pm-6pm daily on the rooftop patio overlooking Girard Avenue, which offers wide views of the city, sky and ocean. Soak up the friendly, happily out-of-the-office atmosphere of people meeting friends, happily chatting and clinking glasses.
There's an extensive list of drinks offered, including the popular Aperol Spritz (a summer drink infused with orange), and the Fortunella (a yummy blend of vodka, kumquat pureé, orange blossom, and prosecco). If you're hungry, their decadent pizzas like Merguez Sausage and Fungi are only $11 each. Good to share…or tackle your own for dinner.
[button url="https://www.lajolla.com/article/best-la-jolla-happy-hour-drinks/" text="9 Essential Drinks to Try for Happy Hour in La Jolla!"]
If you're closer to the La Jolla Shores area of town, no need to trek to the downtown La Jolla Village — hit this hidden gem right on the beach! Happy Hour is Sunday-Friday from 3pm-6pm and features an "Eight for $8" menu, where you can mix and match your choice of small bites and appetizers. Select from a variety of wines by the glass, handcrafted cocktails, and well drinks while you hang out on their beachfront patio (we love the Shores Margarita!).
Duke's "Aloha Hour" goes from 3pm-close on Mondays, and 3pm-6pm Tuesday-Friday. Along with an expansive ocean view, their Barefoot Bar (where Happy Hour is located) features a yummy menu. Get $2 off all pupus (appetizers), $4 off Duke's Favorites, $7 glasses of wine, and $5 draft beers. We love their Hawaiian spin on seafood; give the Korean Sticky Ribs or the Poke Tacos a try! Indoor seating is available if it's a chilly day.
Known as one of the best places to get Mexican food in San Diego, if you're in the mood for tacos and margaritas, this is your spot! Happy Hour at Puesto is Monday-Friday from 3pm-5pm, and features a yummy assortment of Mexican inspired favorites. All tacos are $4 during Happy Hour, and you can get a Puesto Perfect Margarita for $9 (featuring Blue Agave Reposado Tequila and agave). They are known for their tacos: local favorites include Chicken Al Pastor, Maine Lobster, and their vegetarian Zucchini & Cactus tacos! The indoor/outdoor bar and lounge area is a good place for families with kids or a small group, but it does get crowded on weekends and during Happy Hour – plan to arrive early to secure a spot.
If you aren't feeling tacos, they also offer a variety of bowls, shared plates, and seafood dishes.
Onto Dinner Next?
If your Happy Hour La Jolla is simply leading up to dinner, you may wish to stay for one of these location's dining menus or head to a new spot. Learn more about top dinner options on our Restaurant Guide!