Mount Soledad in La Jolla: 100 Years of History and Controversy

Mount Soledad in La Jolla is known as one of the best spots to catch the sunset or even stargaze once night falls, and its sweeping panoramas of the Pacific Ocean, downtown, and North County have long been a favorite of locals and tourists alike. The mountain is known to many for more than just its views, however – the tall white cross that sits in the center of Mt. Soledad Park dates back more than 100 years and has been the subject of longstanding controversy. In fact, it was once the focus of one of the most famous lawsuits   involving the separation of church and state in California.
100 Years of History (& Controversy)
Three different crosses have actually been constructed on the hill since the early 1900s. The original cross was made of pure California redwood and erected by locals in 1913 who were living in La Jolla and Pacific Beach. Just 10 years later, in 1923, the cross was destroyed and stolen by vandals.
The second cross was erected in 1934 by a private group of Protestant Christians from the surrounding areas. This sturdier, stucco-over-wood frame cross stood tall for several years until, as luck would have it, a windstorm tore it from its base in 1952. It wasn't until two years later in 1954 that the La Jolla community put up the 42-foot landmark cross that towers there today. It was initially called the "Mount Soledad Easter Cross," but the word "Easter" was dropped in the 1980s.
Part of its controversy was due to its religious exclusion — the cross dominated La Jolla's highest point and identified the Village as a strictly Christian neighborhood. In fact, for many years, Jews were denied opportunity to purchase a home in La Jolla, a law that was enforced by "The La Jolla Covenant" among locals. For a while, "For Sale" signs weren't even allowed in La Jolla — making it impossible for anyone to know which houses were available to buy. The establishment of the University of California San Diego in the early 1960s (and Roger Revelle) helped to gradually put an end to this residential prejudice. La Jolla now has one of the largest Jewish communities in all of San Diego.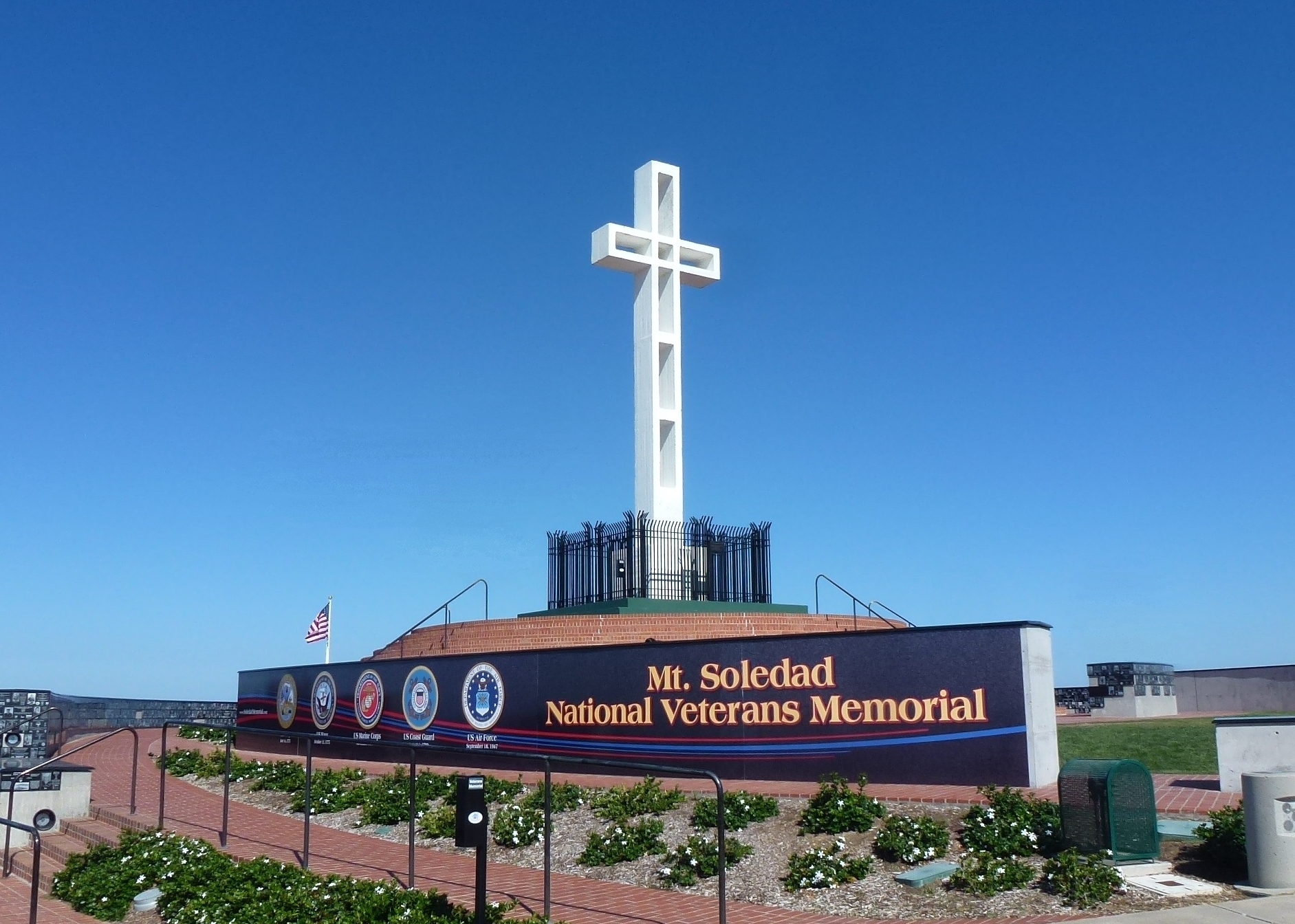 The War Memorial
The war memorial was constructed at the foot of the cross much later. The memorial itself is composed of six concentric walls that hold more than 3,500 black granite plaques, all of which were purchased by donors and engraved with the names and photos of Korean War veterans. Today, there are more than 1,700 in place, and the site holds several events annually to commemorate America's war heroes.
Veteran's Day ceremonies are held atop Mt. Soledad every year. The Memorial is open from 10am to 7pm daily, and families of veterans can request special Honor Ceremonies for their loved ones memorialized on the plaques.
There are also Memorial Day ceremonies held each May. It's a good idea to visit their website for up-to-date information regarding ceremony times.
Stunning Panoramic Views
There is no question that the panoramas atop Mt. Soledad are one-of-a-kind. On a clear day, you'll be able to see an incredible expanse of the Pacific Coastline — try and figure out which areas are which! This is also a perfect spot to catch the 4th of July fireworks at the Cove.
For the adventurers, there's another spectacular viewing point nearby from the La Jolla Heights Natural Park off of Brodiaea Way. Walk far enough and you'll find a bench perched just at the edge of the cliffs with a clear view down the coastline.
Directions to Mount Soledad

The Mount Soledad cross and war memorial are located at 6905 La Jolla Scenic Drive S., La Jolla 92037. The area is open daily from dawn until dusk.
Directions from the north: If you are coming from Del Mar, Solana Beach, or another area north of La Jolla, take I-5 South and exit La Jolla Village Dr. Turn right onto La Jolla Village Drive, then take a left onto Torrey Pines Road. Continue straight onto Hidden Valley Road. Turn right onto Via Capri, then make a left onto Soledad Park Rd.
Directions from the east: If you are coming from La Mesa, Santee, or another area east of La Jolla, take CA-52 West. Use the left two lanes to exit La Jolla Parkway. Make a left onto Hidden Valley Rd., then turn right onto Via Capri. Turn left on Soledad Park Rd., the memorial will be straight ahead.
Directions from the south: If you are coming from Chula Vista or another area south of La Jolla, take I-5 North and exit La Jolla Parkway. Turn left onto Hidden Valley Road, then turn right onto Via Capri. Make a left onto Soledad Park Rd., and the memorial will be straight ahead.
The memorial and cross are free to visit, and there is ample parking in the visitor lot.