Ocean View Hotels in San Diego in September 2023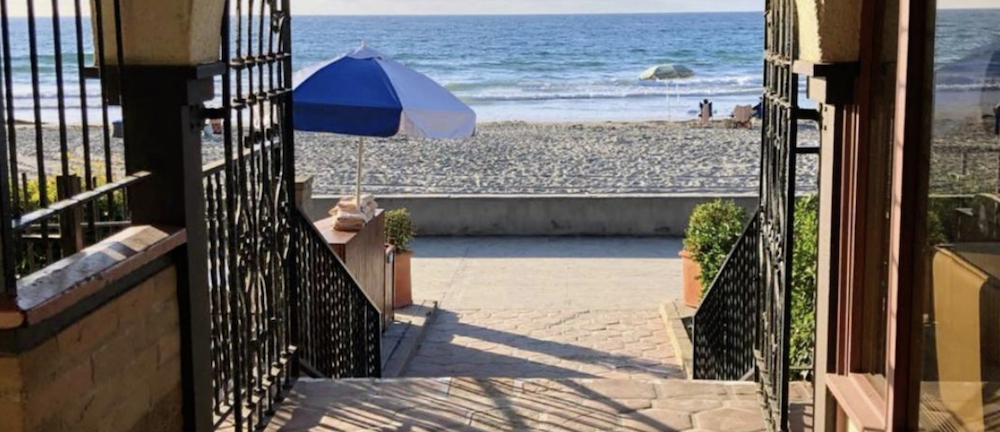 When it comes to California beachfront, San Diego is considered one of the best places for beautiful views, sand, and surf, no matter what activity (or lack of activity) you are looking for. With so many great places to look at booking in the area, your choices for ocean view hotels in San Diego may be overwhelming.
However, we will help you narrow down that list with our top-rated picks. Plan your perfect vacation or staycation in San Diego and see why San Diego hotels on the beach are some of the best rated in the nation.
The Best Oceanfront Hotels in San Diego
Planning your stay next to the ocean is always a good idea for many reasons. The biggest is perhaps that the beach can be right outside the hotel's doors, making it simple for you and anyone else to enjoy a fun filled day in the sand without the hassle of traveling to get there or get back when you are done. 
Go straight from the beach to your hotel room to change for dinner easily. Book an oceanview room for spectacular views of the sunset. Whatever your plans for your San Diego vacation, find your perfect hotel below.
Are there hotels on the beach in San Diego?
If you do a general count, there are over 60 hotels on the beach, bay, or marina in San Diego. Not all of these rooms will have oceanfront views, but they will all be located within minutes of the water, and many offer amenities that are just as enticing as the beach.
La Jolla
Pantai Inn
One of the many beautiful La Jolla hotels on the beach is the Pantai Inn. The Pantai is more of a community with cottages and villas available, many including fully equipped kitchens and even fireplaces for that ultimate homey beachfront comfort. The grounds around the inn are just as beautiful with firepits, water features, and lush gardens.
Address: 1003 Coast Blvd., La Jolla, CA
Phone: (858) 224-7600
La Jolla Beach and Tennis Club
Racking up more than 80 years of experience as a beachfront resort, the La Jolla Beach and Tennis Club boasts a private beach, oceanfront dining, and 12 championship tennis courts that have been utilized by the who's who of tennis for decades. Make this vacation your own with a number of activities to choose from including tennis lessons, kayaking excursions, and yoga classes.
Address: 2000 Spindrift Dr., La Jolla, CA 92037
Phone: (888) 828-0948
La Jolla Shores Hotel
Another of the beautiful ocean view hotels in San Diego, the La Jolla Shores Hotel is a great choice for a family vacation, wedding, event, or just a relaxing getaway. With acclaimed restaurants and newly renovated and updated rooms, this relaxed environment will have you feeling refreshed and ready for your next adventure. For the beachfront, San Diego hotels like the La Jolla Shores are definitely the best.
Address: 8110 Camino Del Oro, La Jolla, CA 92037
Phone: (855) 923-8058
North County
L'Auberge Del Mar
An award-winning luxury hotel, L'Auberge Del Mar is known as the heart of Del Mar. With a full spa, multiple restaurants, and an ocean-view pool, this beautiful hotel covers it all. For gorgeous views from oceanfront suites in San Diego, L'Auberge Del Mar is the pick of the crop.
Address: 1540 Camino Del Mar, Del Mar, CA 92014
Phone: (844) 875-5256
Cape Rey Carlsbad Beach, a Hilton Resort and Spa
Ocean view hotels in San Diego hit a peak with the Cape Rey. This hotel and resort is one of the top-rated in San Diego by Travel & Escape magazine. The ocean-facing rooms in the resort are only 150 steps from the beach, and there is a beautiful pool that faces the ocean as well for the ultimate in views and relaxation.
Address: 1 Ponto Rd., Carlsbad, CA 92011
Phone: (760) 602-0800
Beach Terrace Inn
The friendly Beach Terrace Inn touts itself as a "quirky beachfront hotel." The rooms of this unique hotel used to be apartments, meaning the rooms themselves are larger than your average hotel room. The Beach Terrace Inn also lays claim to being the only hotel in Carlsbad that is on the beach (and a private beach at that!), so it's only as crowded as the Inn is busy.
Address: 2775 Ocean St., Carlsbad, CA 92008
Phone: (760) 729-5951
Southern California Beach Club
For true beachfront, San Diego and the Southern California Beach Club are where it's at. Every suite in this bright resort has a balcony or patio facing west, which means you'll always have eyes on the ocean and the gorgeous sunsets. This casual resort is perfect for families or couples looking for a relaxed time in a beautiful setting.
Address: 121 South Pacific St., Oceanside, CA 
Phone: (760) 722-6666
Please call for Southern California Beach Club pricing & availability
Pacific Beach & Mission Beach
Pacific Terrace Hotel
Among the beautiful San Diego hotels with pools is the Pacific Terrace Hotel. While it may be a bit smaller and with fewer amenities, this is one of the best affordable San Diego beach hotels that still offers ocean view rooms and is directly on the beach. This hotel also often runs specials and packages that make a family vacation even more affordable.
Address: 610 Diamond St., San Diego, CA 92109
Phone: (858) 581-3500
Blue Sea Beach Hotel
Boasting a surf chic haven and bright and beachy rooms, the Blue Sea Beach Hotel is a best choice for San Diego hotels with pools and hotels with ocean view in San Diego at the same time. The only beachfront pool in Pacific Beach will give you endless beautiful ocean views while you are relaxing to the max. Another great choice for cheap ocean view hotels in San Diego, the Blue Sea offers package deals and discounts through their website.
Address: 707 Pacific Beach Dr., San Diego, CA 92109
Phone: (858) 488-4700
Crystal Pier Hotel & Cottages
This hotel that was originally built in the 1930's features one-of-a-kind restored cottages actually located on a pier over the ocean. This extremely unique hotel has plenty of modern amenities in its restored cottages, including full kitchens and private parking. The views can't get better than when you are on the ocean itself.
Address: 4500 Ocean Blvd., San Diego, CA 92109
Phone: (800) 748-5894
Please call for Crystal Pier Hotel & Cottages pricing & availability
The Beach Cottages
This cozy hotel right on the beach has been family-owned and operated since 1948, and offers both cottages and apartments as well as motel rooms. The cottages and apartments all have fully equipped kitchens, and there are furnished patio areas just steps away from the beach and the ocean.
Address: 4255 Ocean Blvd., San Diego, CA 92109
Phone: (858) 483-7440
Please call for The Beach Cottages pricing & availability
Mission Bay
Catamaran Resort Hotel and Spa
The Catamaran Resort Hotel and Spa is a Polynesian-themed beachfront resort that offers casual elegance for the whole family. There is a huge list of activities available for both the young and young at heart. The resort offers oceanfront dining as well as a full spa, and you can tailor your stay to exactly how you want it with in-room amenities and local discounts. Rooms that face south offer views of Mission Bay; some of the rooms that face north offer a view of the ocean and coastline.
Address: 3999 Mission Blvd., San Diego, CA 92109
Phone: (858) 488-1081
Paradise Point Resort & Spa (Bay view only)
Paradise Point Resort and Spa is located on gorgeous Mission Bay. With a location that is centrally located but still secluded, Paradise Point offers bungalow-style hotel rooms in a resort that is sure to please with the numerous amenities available. This is a resort that would be perfect for a relaxing staycation. Pamper yourself, attend an exciting event, eat wonderful foods, and be within minutes of the beach, all in one resort.
Address: 1404 Vacation Rd., San Diego, CA 92109
Phone: (858) 274-4630
Bahia Resort Hotel (Bay view only)
If you're looking for cheap ocean view hotels in San Diego, the Bahia Resort Hotel may be your best choice. This beautiful oceanfront resort was voted as a best-value American hotel on TripAdvisor. The full resort offers many amenities including beach and ocean activities, multiple on-site dining options, and gorgeous event spaces.
Address: 998 West Mission Bay Dr., San Diego, CA 92109
Phone: (858) 488-0551
Coronado & Imperial Beach
Hotel del Coronado
The historic and iconic Hotel del Coronado has been in existence since 1888 and lacks nothing due to age. The beautiful wooden architecture and sweeping areas of this resort are both family friendly and extremely elegant at the same time. The home of many weddings, celebrity visits, and other events, the Hotel del Coronado is one of the best five star hotels in San Diego.
Address: 1500 Orange Ave., Coronado, CA 92118
Phone: (619) 435-6611
Beach Village at The Del
As one of the most exclusive types of ocean view hotels in San Diego, the Beach Village at The Del offers more than just a hotel room. This is a gated community with cottages and villas, allowing you to get a more private vacation experience. Many of the villas have secluded pools and direct access to the beach.
Address: 1277 Rh Dana Pl., Coronado, CA 92118
Phone: (619) 435-6611
Loews Coronado Bay Resort
This beautiful hotel and resort is located on a private 15-acre peninsula surrounded by water, so no matter what you are doing or where you are staying on this resort you're right next to the ocean. You can get your own private poolside cabana, or enjoy one of the many available activities, restaurants, or lounges on-site.
Address: 4000 Coronado Bay Rd., Coronado, CA 92118
Phone: (877) 872-8559
Pier South Resort, Autograph Collection
As far as ocean view hotels in San Diego go, the Pier South Resort is one of the best. Miles of endless beach will entice you to play in the sand and surf, while the exquisite dining and spa resort will have you feeling pampered and happy. Book a room with a private balcony or one of the many event spaces and see why this hotel is top notch.
Address: 800 Seacoast Dr., San Diego, CA 91932
Phone: (619) 621-5900
Tower23 Hotel
The Tower23 Hotel is considered San Diego's only luxury lifestyle hotel that is located directly on the beach. With distinctive architecture and style, this hotel features a full spa, restaurant, and balcony oceanfront rooms among many other amenities. If you are looking for oceanfront suites, San Diego has some of the best to offer in the Tower23 Hotel.
Address: 800 Seacoast Dr., San Diego, CA 91932
Phone: (619) 621-5900
What You Should Know Before Booking an Ocean View Hotel in San Diego
When booking any vacation, unless you are just going for a relaxing time with no plans or interests, it is always good to plan ahead. Even if you do not plan on leaving your hotel or resort much while you are in San Diego, there may be things you want to do on the beach that will be more accessible at certain hotels. 
If you are looking for attractions, look for a hotel that is close to what you want to do. If you want to find the best prices, look for online discounts, tips, and tricks… and then call the hotel directly. It is also important to pay attention to what is going on in the San Diego area, as this can drive room rates up.
What is the best area to stay in San Diego?
While there is really no "best" area in San Diego, this answer depends on what you're looking for. Do you want upscale luxury? Look in La Jolla or Coronado. Are you more focused on relaxing beachside? Try Pacific Beach or Mission Beach. Looking for fun attractions? Book your hotel closer to downtown.
Conclusion
When you book a stay at any of these beautiful beachfront hotels, San Diego is a beautiful choice for a vacation. No matter what you are planning, you will find the perfect space for yourself and your family with gorgeous views, fun activities, and endless places to relax. For the best ocean view hotels in San Diego, keep this list in mind, and above all — enjoy your stay!
About the author: When not hiding behind a laptop, Cara Becker can be found asleep or exploring the wide world of interesting things, like how to bake the perfect cheesecake and where to find the best waterfalls. If you're interested in exploring a food you've never tried or learning a word you don't know, please share your wisdom with her on her LinkedIn profile.
Note: The banner photo in this article is from @ljshoreshotel on Instagram.