Philz La Jolla: San Francisco Flavors, San Diego Style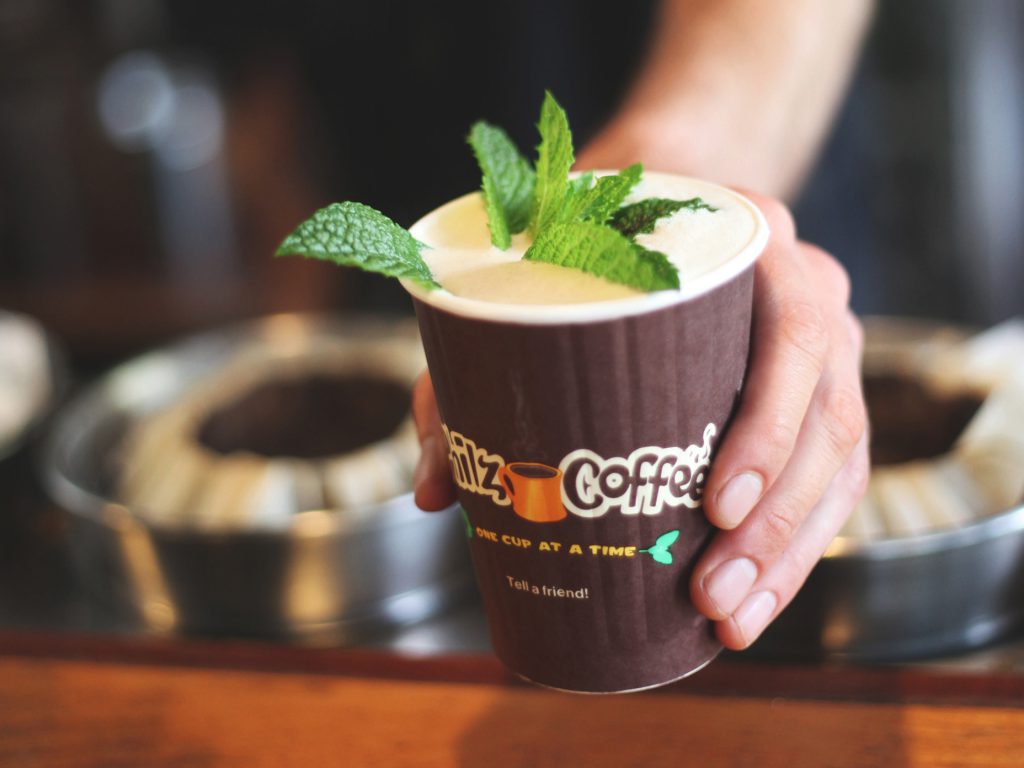 Coffee lovers rejoice, Philz La Jolla is here! The closing of Peet's Coffee at the Shops at La Jolla Village was a sad day for local caffeine junkies, but luckily, you don't have to give up your access to amazing coffee. Based in the Bay Area, Philz Coffee is insanely popular in Northern California—and it's already gathering a loyal fan base in San Diego. What exactly is so unique about this place? Here's what you need to know about La Jolla's newest up-and-coming coffee shop.
Order Up
The ordering process at Philz can be a little confusing if you've never been there before. But don't worry! We break it down for you. Once you get to the front of the line, let the barista know what coffee or tea drink you'd like (the barista who takes your order will be making your drink). There are several options on how to have your drink so keep reading to know more. Then, go to the right where you can add food and pay for your order.
Although it depends on the time of day, this is already a very popular spot for coffee lovers, so expect a sizeable line. Each order is individually brewed so allow some time as it takes awhile to drip. If you're really short on time, you can order ahead with the new Philz Coffee app. You can place your order, check on its progress, and swoop by to pick up your pour over without the wait.
Wait, What's a Pour Over?
A pour-over means a cup of drip coffee brewed manually. Made-to-order, this technique guarantees the freshest cup of joe you'll ever experience. Sorry, no espresso drinks here. Something to consider is that drip coffee packs more caffeine than your average expresso based drink.
Philz coffee shop is known for the quality and variety of their roasts from dark to medium and light roasts. Fan favorites are the Philtered Soul, Ambrosia, and Tesora.
Can't choose between two that look amazing? Mix them! Your barista can combine two varieties for a unique and delicious personalized blend. If you really want to look like an insider, ask for your drink "Philz Way,"—medium cream and medium sugar.
The menu also has a ton of signature drinks. For those who like something on the sweeter side, check out the Mint Mojito coffee: a cool concoction of iced coffee, cream, and mint, it's by far the most popular drink here. Chocolate enthusiasts should definitely go for the Mocha Tesora, a rich take on their popular Tesora. We recommend trying this one hot, but like anything on the menu, you can get it iced as well.
The Toast with the Most
While the online Philz Coffee menu only lists its drinks, they have much more to offer than that. In addition to the mouth-watering pastries (the flaky chocolate croissant is a can't-miss), their selection of sweet and savory toasts make the perfect snack to go along with a good coffee.
Of course, one of the best-sellers is the Mediterranean Avocado toast—a generous spread of avocado on sourdough, topped with a sliced hard-boiled egg and herbs. Looking for something a little different? The Labneh and Zatar (creamy yogurt and cucumber) Or try the Ricotta Honey Pistachio are excellent alternatives. They're all lighter options that are good for a little energy to get you through your day.
San Francisco Flavors, San Diego Style
In the Bay Area, Philz coffee shops tend to have a mom-and-pop feel to them, but here in San Diego, you can definitely see the influence of Southern California. The clean minimalist design is reminiscent of the hip San Francisco aesthetic. At the same time, the open and airy feeling will remind you of how close you are to the beach.
Lots of outlets, free wifi, and plenty of light make this a great space for getting some work done. You'll often see UCSD students studying for midterms or locals clicking away on their laptops. You can also take advantage of the generous outdoor seating and soak up some sun. Since it's centrally located, it's also easy to grab a drink while running errands at the neighboring Whole Foods or CVS.
Philz La Jolla is located at The Shops at La Jolla Village off of La Jolla Village Drive, between Rubio's and Sprinkles Cupcakes. There's a private, untimed parking lot, and additional spaces across the street in front of DSW or Ralph's. Open from 6:00 AM to 8:00 Sunday through Thursday, 6:00 AM to 8:30 Friday and Saturday.