RV Camping in San Diego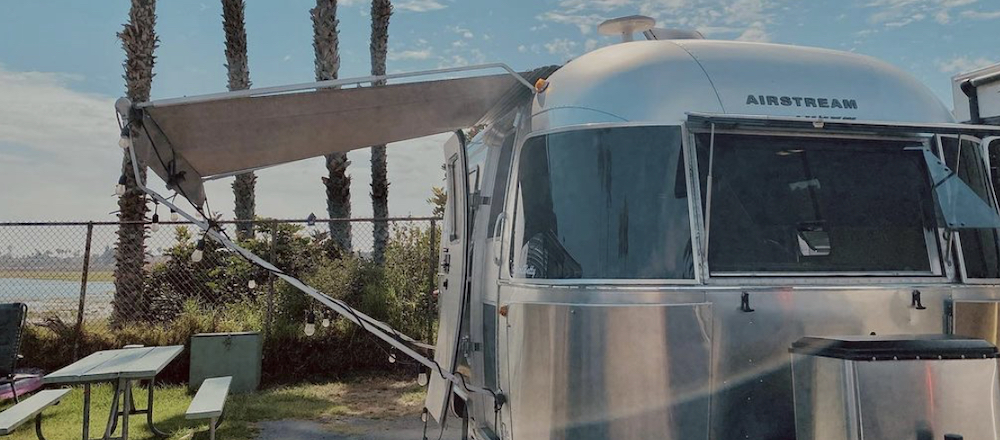 San Diego is well known for its attractions, its nightlife, its beaches, and its beautiful weather. As one of America's top vacation cities, San Diego can get quite crowded and even more populated often, especially for tourists. However, if your idea of a great vacation doesn't include nights in a hotel, you can find plenty of amazing tent or RV camping sites in San Diego. Start your La Jolla camping adventure here!
Best RV Parks & Campgrounds in San Diego
When your vacation plans include the moon and the stars, making s'mores over a campfire, or waking up on the beach, RV camping in San Diego provides all of these with the added options of seeing one of the world's best zoos, the Birch Aquarium, or even Legoland in the same trip. Whether you want to make all the plans or none, San Diego county RV camping can fulfill your outdoor getaway dreams.
North County
Paradise By The Sea RV Resort
Another of the most beautiful local long-term RV parks, San Diego is home to Paradise By The Sea which boasts the closest spots to the beach in Southern California. All concrete spaces include picnic tables on-site and cable TV for relaxing near your RV, as well as a heated pool and spa, firepits, a grocery store, and recreation areas.
Address: 1537 S. Coast Highway, Oceanside, CA 92054
Phone: (760) 439-1376
Central San Diego County
Campland on the Bay
A must if you're looking for extended stay RV parks, San Diego Mission Bay has one of the largest family fun time campsites. Campland on the Bay provides a huge list of amenities, so you'll find something for everyone in the family to stay entertained by. Unique amenities include a large host of water sports, an ice cream parlor, a skateboard park, and a dog park.
Address: 2211 Pacific Beach Drive, San Diego, CA 92109
Phone: (858) 581-4260
Mission Bay RV Resort
Located along the shores of De Anza Cove in Mission Bay, this spot for RV camping in San Diego offers some of the best views, right on the ocean. Campers at Mission Bay RV Resort have full access to all of the amenities offered at Campland on the Bay, which includes many options for sports and recreation as well as dining and entertainment.
Address: 2727 De Anza Road, San Diego, CA 92109
Phone: (877) 219-6900
Santa Fe Park RV Resort
For serene RV camping, San Diego county may not be the first location that comes to mind, but this RV Resort will have you thinking differently. Uniquely located in a valley on the beach, your views of the ocean are outstanding while your views of the populace of San Diego are conveniently tucked away behind a hill of vegetation. A great choice for long term RV parks, San Diego (and Santa Fe Park RV Resort!) absolutely knows how to cater to longer stays.
Address: 5707 Santa Fe Street, San Diego, CA 92109
Phone: (858) 272-4051
Admiral Baker RV Campground
This RV park is located with a picnic area in the middle of the Admiral Baker Golf Course in Mission Valley. Even if you're not interested in golfing, the RV park offers a full host of amenities including plenty of camping activities for kids, a swimming pool, volleyball and basketball courts, laundry, and showers. A huge playground and plenty of open spaces will let your spirit (and your kid's feet) run free.
Address: 2400 Admiral Baker Road #3606, San Diego, CA 92120
Phone: (619) 487-0019
East County
San Diego RV Resort
With some of the cheapest RV camping in San Diego county, the Sunland RV Resort San Diego offers high-speed wi-fi, a fitness room, well-kept restrooms, and even a heated pool and spa. Get a full resort vacation without paying hotel prices.
Address: 7407 Alvarado Road, La Mesa, CA 91942
Phone: (619) 373-0872
Santee Lakes Recreation Preserve
If you are looking for off road trails, San Diego hosts the gorgeous Santee Lakes Recreation Preserve. Situated on 190 acres with numerous lakes, this beautiful preserve with a mission offers everything that a resort RV park has to offer while still being secluded and private. The preserve focuses on the importance of water recycling and solar use, with solar panels installed on covered parking spots to provide dual benefits.
Address: 9310 Fanita Parkway, Santee, CA 92071
Phone: (619) 596-3141
Coronado & South Bay
Fiddler's Cove Marina & RV Park (Active Duty Military Only)
For RV camping, San Diego County has many choices. Fiddler's Cove is a full-service marina and RV park located just south of the Naval Amphibious Base. You can rent kayaks, canoes, and even larger boats for a day on the water, or park your RV and take advantage of the grills and firepits, bike paths, a ship's store, and even the internet. With beautiful views of the San Diego skyline, this RV Park is a great choice for those who want to be a little farther away from the bustle of the city.
Address: 3205 Highway 75, Coronado, CA 92155
Phone: (619) 522-8680
Sun Outdoors San Diego Bay
This resort is a gorgeous spot on the San Diego Bay and perfect for RV camping sites in San Diego. Enjoy food and drinks at the on-site cafe, get a cabana by the pool, or go enjoy some video game time in the arcade while you are right next door to the ocean.
Address: 825 E Street, Chula Vista, CA 91910
Phone: (619) 489-3950
San Diego Metro KOA
This beautiful Chula Vista spot is perfect for tent camping, RV camping, or even renting a cabin. KOA is one of San Diego's most popular camping resorts and offers everything from cable TV to resort-style pools to numerous outdoor activities that can be done individually or as a group. This nationwide camping collaborative also always has attendees on hand in case you need something.
Address: 111 N. 2nd Avenue, Chula Vista, CA 91910
Phone: (619) 427-3601
La Pacifica RV Park
This beautiful spot for RV camping in San Diego is a scaled-down, somewhat simpler park that still has great amenities and is just minutes from both a bus stop and a trolley stop that will take you to any of the attractions you wish to visit in San Diego. If you prefer to stay on-site, you'll still have the comforts of a heated pool and spa, hot showers, cable TV, and a clubhouse.
Address: 1010 W San Ysidro Boulevard, San Diego, CA 92173
Phone: (619) 428-4411
Chula Vista RV Resort
San Diego county RV camping at Chula Vista RV Resort is a must. Nestled on 17 acres on a corner in the San Diego Bay, offering a few minutes' walk to the ocean and stunning views of the Pacific sunsets. This park is beautifully laid out and offers a large pool and clubhouse as well as cable TV access and an on-site store. There is even a fitness center and game room if you want a bit of indoors time. Look across the bay for beautiful views of the San Diego skyline and plan your fun activities that are just minutes away.
Address: 460 Sandpiper Way, Chula Vista, CA 91910
Phone: (888) 303-7063
How much is an RV park in San Diego?
Rates for parking your RV in San Diego RV parks vary greatly. You can find cheap, no-frills RV camping spots for as low as $40-$50 per night, with more specialized, next-to-the-ocean sites for as much as $200 a night. The rate you get is very much going to depend on what you are looking for, and what you are willing to pay for. Check websites for San Diego RV resort reviews for tips on deals or where to find the cheapest spots.
Where can you camp for free in San Diego?
If you are looking for free camping, there are a number of sites that offer free camping within a short distance of San Diego. Many of these sites offer primitive tent camping with beautiful serene natural views of lakes and mountains. And if you're still asking, "Where can I park my RV for free in San Diego?", almost all of these primitive camping spots offer RV sites as well, although there will be no facilities available.
How long can you stay at an RV Park in San Diego?
Most San Diego RV spots will allow you to camp for up to 30 days. Many of these spots also offer a discount if you pay a longer rate, such as paying for a week or a month instead of just a day rate.
Are there pet friendly RV Parks in San Diego?
All of the RV parks listed here and most of the RV parks in the San Diego area are pet friendly. Many of these parks also offer pet amenities like watering stations and bark parks for friendly dogs to run off of their leash. Check with the website or information center of the park or resort you are visiting, but rest assured that in most cases your furry friend will be happily welcomed.
Where can I park my RV overnight in San Diego?
All of the RV parks listed offer nightly rates so you can park your RV for one night and not be concerned about paying more than you need. If you live in San Diego and need to park your RV close to your home for a night, the city of San Diego offers a temporary overnight recreational vehicle permit allowing you to park your RV on the road overnight in front of your house as parking permits.
Conclusion
RV camping in San Diego can be custom-tuned to your desires for your vacation. If you want to get away for a day, a week, or a month, there will be the perfect RV park or resort for you. Find an upscale park, a secluded park, or even a park in the middle of your refined La Jolla adventures, and plan your outdoor getaway today.
About the author: When not hiding behind a laptop, Cara Becker can be found asleep or exploring the wide world of interesting things, like how to bake the perfect cheesecake and where to find the best waterfalls. If you're interested in exploring a food you've never tried or learning a word you don't know, please share your wisdom with her on her LinkedIn profile.
The banner photo in this article is from Instagram user @rentbetty, a local company that provides Airstream rental.