San Diego Attractions for Kids: Explore Balboa Park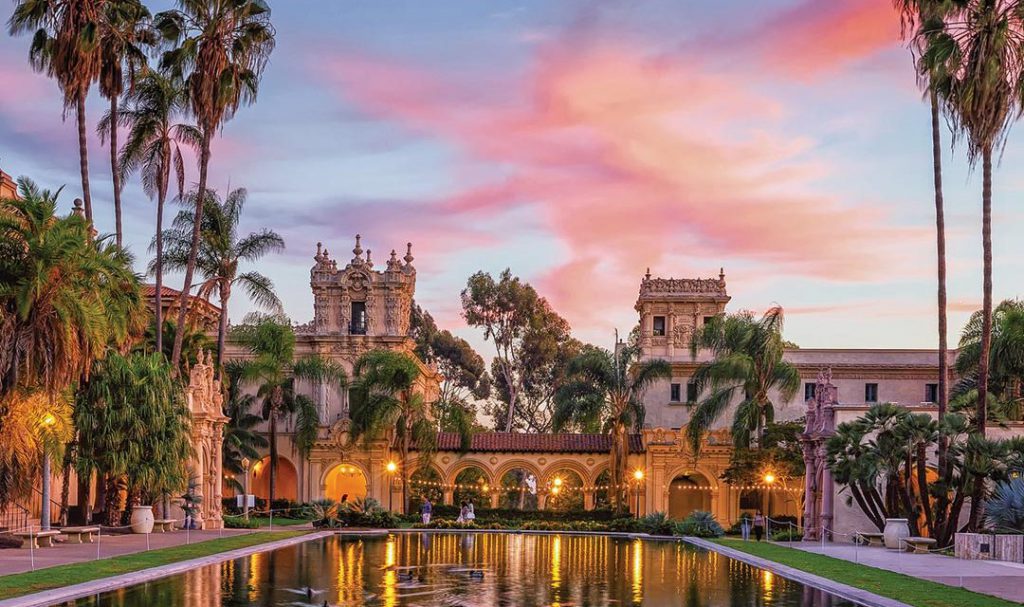 Balboa Park is one of the best places for families to visit in San Diego. There is a plethora of beautiful gardens, museums, cultural spots, theaters, playgrounds, and walking trails within the 1200-acre park. What really sets Balboa Park is all of the activities that are free and family-friendly — the park is a great place to spend the day, the afternoon, or even a couple of days exploring if you have the time! Here's our list of some of the best family-friendly activities in Balboa Park for a fun family outing.
Free Activities in Balboa Park
If you're looking for free things to do in San Diego, Balboa Park has enough activities and events to keep you and your family busy for several days! All of the gardens, playgrounds, and walking trails are open to visitors every day, and some attractions are also free.
On each Tuesday of the month, museums and attractions rotate to offer free admission to San Diego residents for "Residents Free Tuesdays." The deal includes:
The Museum of Man
Reuben H. Fleet Science Center
Japanese Friendship Garden
Model Railroad Museum
Some of the museums also offer free admission to active duty military and their family or local college students (with ID). The Veterans Museum and Memorial offers free admission every day for active duty military. Each October during the Kids Free in San Diego event, the world-famous San Diego Zoo, Reuben H. Fleet and other Park museums offer free admission to children as well.
Balboa Park Playgrounds
There are five different playgrounds within Balboa Park, which are a fun and free way for families to relax and get some exercise. Some of the playgrounds are better suited for kids under age 5, while others are intended for ages 5-12. Here are some of the most popular Balboa Park playgrounds:
Pepper Grove Playground: suitable for kids of all ages. It is separated into two main areas. The side designed for children younger than five has a giant sandbox, cushioned floors, slides and swings. The other side, designed for kids five and older, offers a large jungle gym, faux zip line and fun things to spin on.
Sixth Avenue Playground: this is a large play area that kids of all ages can enjoy. It is separated into two main areas. The side designed for kids aged 5 and up is fun and futuristic with loads of obstacles and things to climb on. The other side, recommended for children under 5, has a fire engine-themed jungle gym with ropes, slides and climbing bars.
Morley Field Playground: this medium-sized playground is perfect for kids aged 5-12, families with dogs and those who love playing sports. There are slides, monkey bars, swings and a rock-climbing wall to enjoy. It is surrounded by fun places like the a swimming pool, dog park and tennis courts.
Fun Activities for Kids at Balboa Park
Balboa Park Carousel: The historic carousel is closer the entrance of the San Diego Zoo, and is truly an awesome place to visit for families. The carousel dates back to 1910 and is a fun menagerie of animals, and all but two pairs are original with hand-carved European craftsmanship. The carousel is one of the few in the world still offering the brass ring game for everyone taking the 5-minute ride!
A little history of the carousel: the Herschell-Spillman menagerie carousel was made in New York, and shipped to Los Angeles, California. In 1915, it was displayed at the summer resort called Tent City, in Coronado, and then moved up Balboa Park around 1922. It originally was placed at the east of Balboa Park, near the San Diego Natural History Museum, but moved to its current location in 1968 to make way for the Fleet Science Center.
In 2017, the Friends of Balboa Park purchased the historic carousel. As its new owner and operator, they will ensure that it remains an historic park landmark for many more years to come.
Miniature Railroad: The miniature railroad is next to the carousel, and families with young children will likely enjoy both rides. The train pulls out of the station for 3-minute rides around a portion of Balboa Park.
The Marie Hitchcock Puppet Theater is always a hit with the little ones. Founded in 1948, the Puppet Theater is the longest continuous running puppet theater in the United States! Puppet performances are presented throughout the year by a variety of troupes; the theater presents approximately 45 shows a year, with different shows each week (12 shows a week during the winter and 15 shows a week during the summer). The theater boasts 6 rotating resident puppeteers and 2 associate puppeteers, plus occasional guest artists from around the United States. The theater seats 200, and many of productions are "full-stage" using life-size puppets.
The San Diego Model Railroad Museum is the world's largest operating model railroad museum. This unique museum contains four enormous scale and model layouts, built by separate clubs, whose exhibits depict railroads all over the Southwest. The Museum also features a Toy Train Gallery, complete with an interactive Lionel layout for children and state-of-the-art theater lighting. Your little train-lovers will absolutely love this railroad museum!
Balboa Park Gardens
The dozens of gardens located throughout Balboa Park are lovely places for a picnic or simply to just relax and enjoy the sunshine. Kids can play on the grass, and most of them offer plenty of shade and picnic tables. The Botanical Building is one of the most photographed buildings in Balboa Park and nestled among several of the most popular natural history museums.
The EthnoBotany Children's Peace Garden is a unique organic herb, fruit, and vegetable garden that honors the memory of George Washington Carver. The space is dedicated to teaching young people about the role of plants in society. Gardening classes are available to schools, youth programs, individuals and families by appointment or on Sundays at 11:30am, and the garden also serves the nearly 6,000 students in the 5th Grade Balboa Park Integration Program.
The Rose Garden, Japanese Friendship Garden, and Zoro Garden are also good options for families. Some gardens are free and some cost money to get in, so be sure to double check on admission before you go.
Where to Eat at Balboa Park
After a long day of fun, the little ones in the group will definitely have worked up an appetite! There are several great places for families to dine at Balboa Park, including casual spots for outdoor activities and quick-and-easy snack carts.
Nosh down on hot dogs, hamburgers, and soft serve ice cream at the Village Grill behind the Natural History Museum. Over by the Fleet Science Center, you can sit outside and enjoy the fountain when you eat at Craveology. They have salads and panini sandwiches, and it's a fun little spot that's slightly off the beaten path for a quieter experience. The Alaska Airlines Flight Path Grill is a good go-to spot over by the Air & Space Museum: from chili cheese dogs to grilled cheese sandwiches, there's yummy comfort food for all palates! You can sit out on the observation deck and watch the colorful planes land at the airport, too. There are also several coffee, snack, and water spots sprinkled throughout the park that you can walk to for a quick pick-me-up.
For more Balboa Park tips and how-tos, visit our explore Balboa Park page!