Where to Have Thanksgiving Dinner in La Jolla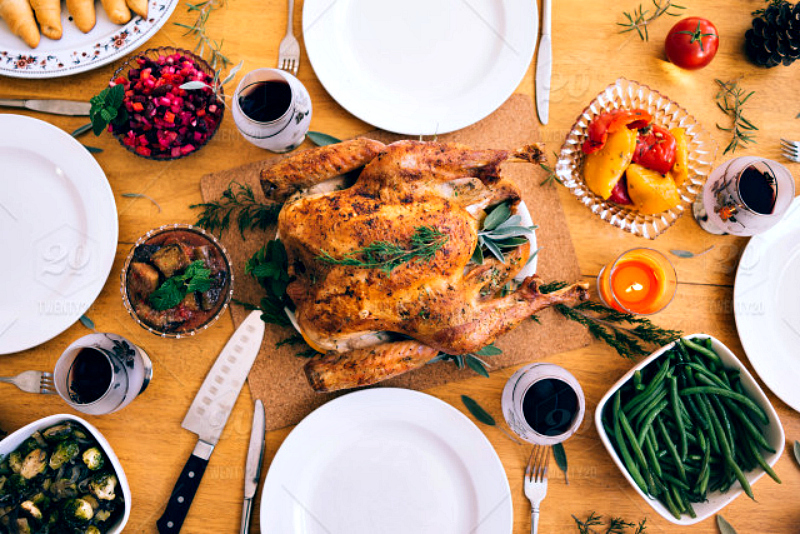 Thanksgiving is a time to express gratitude, take pleasure in the company of others, and dive into some amazing food; but if you don't have time this year to cook up a huge meal for your family, or if you just want to spend time relaxing on your holiday, don't fret—you can still have a great meal and day by trying out some of the excellent restaurants that La Jolla has to offer. We've rounded up the best La Jolla restaurants serving Thanksgiving dinner on Thursday, November 22nd. Whether you're a Thanksgiving traditionalist or adventurer, we've got something for you. (Be sure to visit our article on San Diego weather in November.)
Flemings La Jolla
Join Flemings Steakhouse La Jolla for a three-course Thanksgiving feast for just $49 per person, including classics like the Mixed Herb-Roasted Turkey Breast, or Sliced Beef Tenderloin. Sides include delicious butter-mashed sweet potatoes or Yukon Gold mashed potatoes. And bring the kids, too! This year, they have created a special three-course Thanksgiving Children's Menu for just $19.
Thanksgiving dinner will be served from 11:00am on. Reservations are highly encouraged, as this well sell out! Call 858-535-0078 or visit their website to reserve your table.
The Marine Room
With a breathtaking ocean view, the Marine Room is a great spot a for high-class Thanksgiving dining. The holiday menu also offers a wide variety of dishes for the occasion, so if you don't like turkey, that's okay! You'll have plenty of options. Celebrate the day with a mouthwatering filet mignon or an almond-crusted Swordfish cooked to perfection.
Seating is open and available on November 22 from 12pm to 7 pm. Be sure to make a reservation ahead of time by calling 866.644.2351 or visiting their website.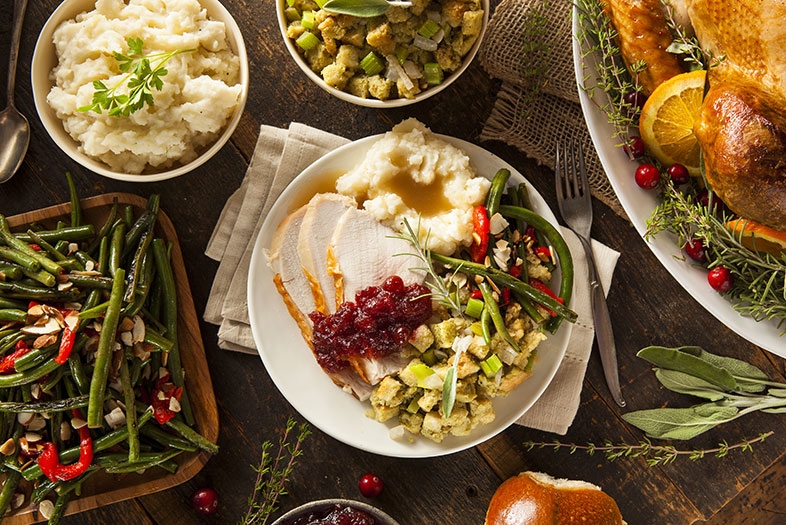 NINE-TEN
Nine-Ten (located within the Grande Colonial Hotel) offers an unparalleled dining experience day of the year, November 22nd being no exception! This year they are offering a three-course, prix-fixe meal for $75 per person ($110 with wine pairings). In addition to the chefs' dedication to using only the freshest local products, their innovative and creative style guarantees a unique meal that's worth the visit.
Reservations are required, so call (858) 964-5400 to grab a spot between 3:30 and 8:30 pm. Children 12 and below get a discounted price of $25.
A. R. Valentien
A.R. Valentien is located in The Lodge at Torrey Pines, La Jolla's world famous five-diamond hotel. If you're looking for luxury, you've come to the right place. The wooden interior and seating overlooking the golf course give this spot the feeling of a high-end country club. This is a great spot for anyone who enjoys a traditional, all-out thanksgiving meal. The Lodge is also a great option for anyone who has family coming in from out of town.
This year, the restaurant is offering a four-course prix fixe meal featuring the tastes of the season. Dinner will be served from 4pm-10pm. We recommend you make a reservation, which you can do either by calling (858) 453-4420 or visiting their website.
The Shores Restaurant
Pick and choose from your favorite holiday treats at The Shores Restaurant (located at La Jolla Shores Hotel)! This Thanksgiving buffet is stuffed to the brim with anything you could want — including a variety of savory appetizers; delicious main courses including Red Sage Peppercorn Brined Carolina Tom Turkey and BBQ Rub Angus Prime Rib Roast; seasonal sides, delicious pies, and sweet treats. Its diverse, all-you-can-eat menu makes it perfect for big groups or picky eaters.
In addition to the fantastic variety, the Shores offers some of the best prices. Adults eat for $64 per person, while children can eat for anywhere from $5 to $38 depending on age. Food will be served from 10:00am-7:00pm. Reservations aren't required, but for anyone who loves buffets as much as we do, it's a good idea to secure your spot by calling 866.644.2630 or going online.

George's California Modern
Are you looking for something a little more "advanced?" California Modern, part of the infamous George's at the Cove, can help with that. The chefs offer creative takes on Thanksgiving classics. It's a three course meal, so you can sample a persimmon salad, stinging nettle spaghetti, or beef tartare without having to give up your full turkey dinner. And since George's is known for their seafood, of course we have to recommend the fish tacos.
Meals are $62 per person, with one choice of appetizer, entree, and dessert. The special menu will available from 3:00-8:00pm. Make a reservation by calling (858) 454-4244 or visiting their website.
Duke's La Jolla
Sometimes all you want is to relax with your family, breathe in the fresh ocean air, and have a good meal. Duke's keeps it simple with their Thanksgiving Dinner Special, and there is a smaller portioned version for children. You get all the goodies and fixings you would if you were at home, but with the addition of stellar patio seating and a view of the waterside cliffs that can't be beat. Don't forget to leave room for the pumpkin pie!
It's also one of the most economical options, especially for big groups or groups with younger guests. Reservations aren't necessary, but if you'd like to make one you can call (858) 454-5888 or visit their website.
Eddie V's
Eddie V's will be serving a traditional Thanksgiving dinner with all the trimmings this year — complete with Brioche Sage Stuffing and hand-whipped potatoes, to name a few! If you're not feeling festive, you can always order from the regular menu; no one could blame you for eyeing the Chilean sea bass or lobster tacos at this well-known seafood destination in La Jolla.
Both menus will be served from 11:00am-9:00 pm. Reservations are recommended —call (619) 615-0281 or head here.
Stay tuned for more Thanksgiving tips, ideas, and events!