Top 5 Activities in La Jolla for Adventurers

Kayak La Jolla Cove:
Whether you are a beginner or an expert, anyone can kayak La Jolla Cove and explore the beauty that encapsulates the sea caves and waters below. Sign up for a guided tour with Everyday California and not only will you get to glide through and near the spectacular sea caves, you can safely encounter wildlife from above, such as sea lions, Garibaldi and even leopard sharks. Paddling to and from the caves will definitely get your heart rate up and strengthen your arms at the same time!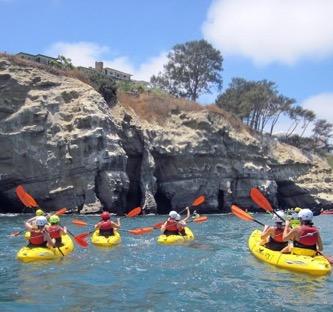 Rent a Bike:
The bike paths are endless in La Jolla. You can hop on the Soledad Slide Bike Tour and view the impressive views that stretch from Orange County to Mexico. From Mt. Soledad, you ride down the mountain (drooling at some of the most luxurious real estate in San Diego) to the breathtaking coastline where you can get up-close-and-personal with the large, shore break waves crashing at WindanSea Beach and the sea lions at the Children's Pool.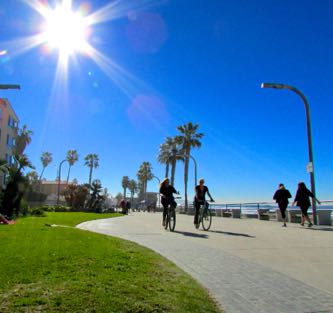 Or go at your own pace and create your own route. One of the most popular routes is the La Jolla City Loop. Start off of Prospect Street and follow the bike path signs; you can bike through Bird Rock and all the way south to the Pacific Beach boardwalk.
Hike Torrey Pines State Reserve:
The breathtaking Torrey Pines State Reserve is located between La Jolla and Del Mar. There are several different trails you can take along the way, so feel free to venture down different trails if you are up for a longer hike. Regardless, don't forget to stop and take in the panoramic ocean views throughout your time at Torrey Pines.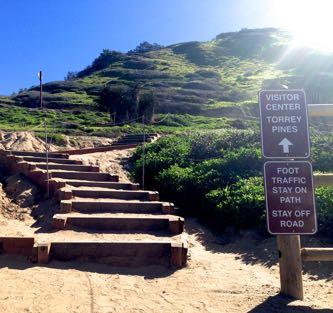 Once you reach the top you can head back down the way you came or take the paved road down the mountain. Either way, you will feel the burn and bask in beautiful views. Click here for directions.
Hours: 7:15 a.m. to sunset
Parking: Free parking along Highway 101 can be crowded and hard to come by; and the state beach parking can cost up to $15 per day.
Local Tip: We recommend parking along Carmel Valley Road in the free parallel spaces and walking under the Coaster Bridge to access the beach and hike areas.
Snorkel and Swim:
La Jolla Cove is the best place to snorkel because the beach is sheltered from the waves due to its north facing location. Once you get your snorkel gear on, you don't have to swim far to see a multitude of aquatic life. While the most plentiful are Garibaldi and sea lions, people have been known to see leopard sharks, octopus, stingrays, sea stars, urchins and many other fish species. You can also choose to swim at La Jolla Shores or WindanSea Beach.
Local Tip: We recommend swimming at La Jolla Shores for children and amateur swimmers due to its sandy bottom and smaller waves. WindanSea has a big shore break and a rocky bottom and is probably best-suited for adults and more advanced swimmers. Both beaches are fun for different swimming levels.