The San Diego Zoo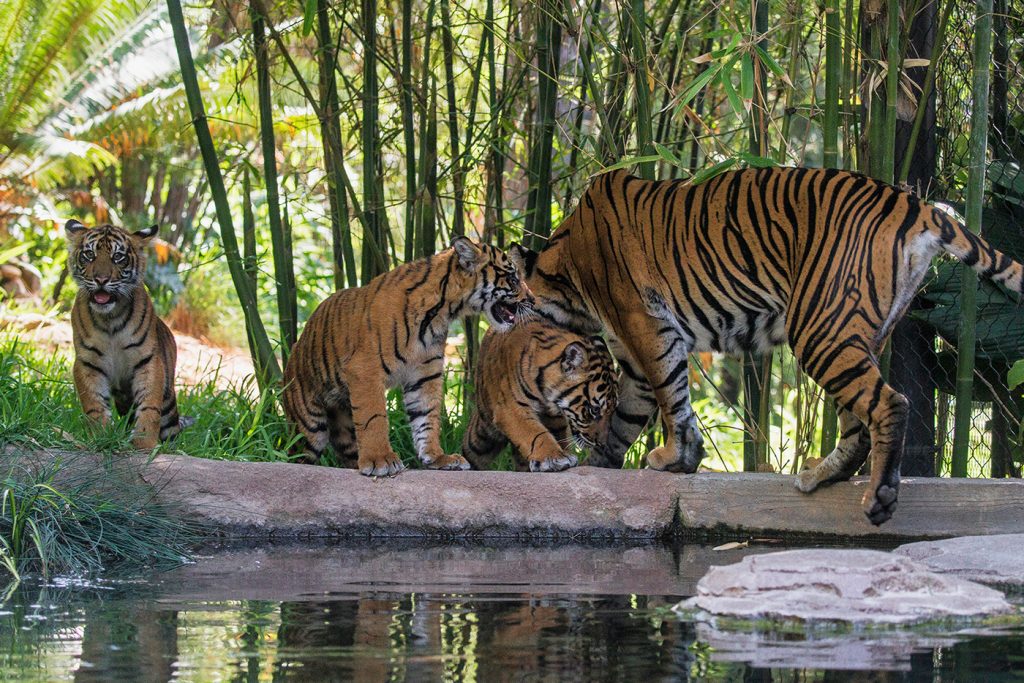 The San Diego Zoo is one of San Diego's most famous attractions. The Zoo opened in 1916, and is now home to more than 3,700 animals of more than 650 different species and subspecies.
The Zoo is a great place to spend the day while you're visiting San Diego, and there is no shortage of activities, exhibits, and animals to see while you're there. Here's everything you need to know about visiting the San Diego Zoo!
Quick Link to Discounted Tickets
Save 20% or more off 50+ popular attractions such as SeaWorld, Universal Studios and the San Diego Zoo, with a digital GoCity discount pass.
*30-day full refund risk free guarantee
You can purchase San Diego Zoo tickets online in advance and save 5%, or at the front entrance (for full price) when you arrive.
You don't want to miss out on the world renowned, San Diego Zoo!
1-Day Admission tickets: $65 for adults and $55 for children (ages 3-11).
Admission includes the Guided Bus Tour, Kangaroo Express Bus, Skyfari aerial tram, all regularly shows and exhibits.
2-Visit Passes: $110 for adults and $100 for children (ages 3-11).
Includes one visit to the San Diego Zoo and one visit to the San Diego Zoo Safari Park -or- two visits to the San Diego Zoo -or- two visits to the San Diego Zoo Safari Park.
Don't miss the brand-new bronze statue of "Rex" The Lion at the Zoo entrance!
At over 27-feet tall and 20,000 pounds, Rex is the largest cantilever bronze animal statue in the world. Thousands of hours of craftsmanship and expert engineering enable Rex to carry his weight on one paw!
Don't miss this epic photo opportunity to start or cap off your Zoo visit.
Directions & How to Get There
The San Diego Zoo is located in Balboa Park, just north of downtown San Diego, at 2920 Zoo Drive, San Diego, CA 92101. The park is most easily accessed via State Route 163.
Directions from the NORTH (southbound):
From Interstate 5 (Los Angeles and Orange County), take the Pershing Dr. exit and follow the signs.
From Interstate 15 (Escondido and Riverside), take State Route 163 south to the Park Blvd./I-5 South exit. Exit at Park Blvd. Turn left on Park Blvd. and head north; Zoo entrance is off Park Blvd. at Zoo Place.
Directions from the SOUTH (northbound):
From Interstate 5 (Mexico), take the State Route 163 north exit, then the Zoo/Museums (Richmond Street) exit and follow the signs.
Directions from the EAST (westbound):
From Interstate 8 (Imperial County and Arizona), take State Route 163 south to the Park Blvd./I-5 South exit. Exit at Park Blvd. Turn left on Park Blvd. and head north; Zoo entrance is off Park Blvd at Zoo Place.
From State Route 94, proceed into downtown San Diego to 11th Avenue. Turn right on 11th Avenue and proceed north to A Street. Turn right on A Street and then make a quick left onto Park Blvd. and head north; Zoo entrance is off Park Blvd. at Zoo Place.
Public Transportation
It's easy to get there on public transit. Rapid 215 and Route 7 stop at the Zoo and are an easy connection in downtown from Amtrak and COASTER trains at the Santa Fe Depot, downtown hotels, the Cruise Ship Terminal, Blue, Orange, and Green Line Trolleys and other MTS bus routes.
For fare and schedule information, visit sdmts.com.
Parking
Parking is always free in the lot in front of the Zoo. Additional free parking is available throughout Balboa Park, but will be farther from the main entrance.
Tip: If you have an electric vehicle, you're in luck! There are four electric vehicle charging stations in the free parking lot, as well as one station in a handicapped spot a few feet away.
Hours at The San Diego Zoo
The San Diego Zoo is open every of the year, including all holidays.
Summer hours are typically 9am-9pm.
Fall/winter hours vary but are usually 9am-5pm.
Check the Zoo's website for the most up-to-date hours and schedule.
The Animal Exhibits
No visit to the Zoo is complete without checking out the great animal exhibits. There are several main animal exhibit areas in the park.
Africa Rocks
Experience Africa, from the rocky shores and savannah to the forest and highlands. Includes six terrains and hundreds of animals, including monkeys, leopards, lemurs, and more.
This is a great place to start your day at the Zoo, as it's near the entrance and is a good area to get out of the way early as it's very popular!
Asian Passage
The Asian Passage area includes the Sun Bear Forest, Grizzly Bear exhibit, and more. It's a fun area to explore, and isn't quite as big as Africa Rocks.
Discovery Outpost
In the Zoo's Discovery Outpost, a large pond habitat features all kinds of creatures – including turtles, snakes, alligators, and more.
Elephant Odyssey
Elephant Odyssey is one of the most well known parts of the park. It's a huge area that's dedicated solely to several beautiful African and Asian elephants.
The Elephants are free to roam among large areas, and it also includes the Elephant Care Center where you may see a zookeeper caring for one of them.
Lost Forest
The Lost Forest is a fun little area packed with extensive trails that wind through exhibits and aviaries.
These trails are home to animals from the rainforests of Asia and Africa, and wind their way up into the canopy as well as along the forest floor, with arboreal animals displayed above and ground dwellers below. You'll find monkeys, barbirusas, tigers, great apes, okapis, and several various species of exotic birds.
This is a great place to spend a while and just roam around!
Northern Frontier
Here you'll find all things northern – from Polar Bear Plunge, which is home to two beautiful polar bears – to the Arctic Fox, Zebra, and more.
Outback
The Outback represents some of Australia's most well known creatures! You'll find the Tasmanian Devil, Kookaburra, koala, and camel here.
Panda Canyon
Panda Canyon is definitely the San Diego Zoo's prized exhibit.
The Zoo is home to three Giant Pandas, as well as one Red Panda. This is one of the only places in the United States to view the Giant Panda, so it's a pretty special experience.
However, the line is almost always very long – expect to wait up to an hour to view them.
We recommend doing this exhibit very early on in the day, right after you arrive.
*Early Morning with Pandas
This is a chance to visit the giant panda viewing area before it officially opens for the day – a great way to avoid the lines.
Urban Jungle
The Urban Jungle allows you to get up-close-and-personal with some of the Zoo's largest animals: giraffes and rhinoceros.
Right now there are three giraffes at the Zoo (one was just born in 2015), and one rhino.
Special Interactive Experiences
Inside Look Tours
A two-hour entertaining and educational adventure, Inside Look Tours offers special behind-the-scenes views and interesting information about how we take care of the animals.
Discovery Cart Tour
Spend the day driving around in the back of an expedition cart, as you enjoy a 60-minute guided tour of the Zoo led by a knowledgeable guide.
Animals in Action Experience
For this fun and interactive experience, you'll get to see the animals up close and personal for a view unlike any other! Only available at certain exhibits.
Keeper for a Day
What does it take to be a zookeeper at the San Diego Zoo? In this personalized experience, you will learn firsthand from world-class keepers!
Crazy About Cats
Travel by cart and foot to some of the Zoo's most iconic and fascinating cat species on this early morning tour focusing on wild cats.
Sunrise Surprise Stroll
Walk the grounds with experienced Zoo educators as they share the latest updates on their animal collection and the "inside secrets" of what's going on, all before the Zoo opens for the day.
Exclusive VIP Experience
The Exclusive VIP Experience is your key to off-exhibit areas, animal interactions, and the very best in personalized service.
Look for: environmentally-conscious information and facts posted throughout the park – including optimum CO2 concentration, composting, and extinct animals that were native to the area.
Keeper talks are held throughout the day, where you can learn more in-depth information about certain animals. Check your zoo map for times.
Look for: hidden gems! You'll find miniature bronze sculptures, peacocks freely roaming throughout the park, and labels displaying the scientific names for every plant in the park.
For those with kids, keep an eye out for interactive sculptures and learning boards.
Certain kiosk locations and food spots offer Happy Hour deals, which include drinks and small bites.
Certain local breweries brewed up special beers that are only available at The Zoo: including Mike Hess African Leopard IPA, Ballast Point Koala Kolsch, and Karl Strauss Penguin Pale Ale.
Insider Tips
Take the Skyfari at dusk – you'll get some terrific sunset photos with great views of the rest of Balboa Park, the California Tower, and more.
Polar Bear Plunge has some of the best photo ops and kids' activities in the park.
There are a lot of baby animals right now: baby tapir, baby leopards, baby hippo, semi baby giraffe.
Best spot to view the tigers: up by the aviary exit, not down below.
The bus can be used not only for a tour, but also as a means of transportation: it makes four stops throughout the park where patrons can either exit or board (less lines at these other boarding spots as opposed to the main one by the front entrance).
A lot of the animals are active in the evening. Some even get fed later in the day so there's a high probability they'll be out in the open as dusk approaches!
Where to Eat
There are nearly 20 different places to eat and drink at the Zoo, ranging from casual to formal dining.
If you just want a quick snack and a drink, there are a multitude of small kiosks throughout the Zoo, as well. Here are the main restaurants:
Albert's
Albert's offers full-service dining where you can enjoy open-air deck seating overlooking a private waterfall.
Treetops Café
Located in the Lost Forest, this cafe (with its spectacular views from multilevel decks) offers Italian cuisine and menu items including chicken parmesan, spaghetti and meatballs, chicken caesar wraps, meatball sandwiches, and more.
Front Street Café
Across from the Reptile House, Front Street Café offers a variety of Mexican and American entrées.
San Diego Zoo Sandwich Co
This spot is just past the entrance of the Zoo, and offers a bunch of different sandwich options as well as to-go breakfast fare.
Lagoon Terrace
Enjoy a specialty hot dog, fresh-baked pizza by the slice, or a meatball sandwich here.
Sabertooth Grill
Sabertooth Grill at Elephant Odyssey is leading Zoo dining into a new era, focusing on fresh California cuisine using cutting-edge service concepts.
Hua Mei Cafe
Located between Asian Passage and Panda Canyon, Hua Mei Café offers a variety of Asian favorites such as Orange Chicken, Teriyaki Chicken, and Peppered Beef Teriyaki.
Safari Kitchen
The Safari Kitchen is the perfect place to relax and enjoy a variety of gourmet burgers, chicken sandwiches, chicken strip baskets, and snack items.
Activities
Guided Bus Tour
The guided bus tour is a great way to get a quick overview of the park.
The 35-minute narrated tour is on a double decker bus, and is included with all admission tickets. It runs from 9:30am to just about an hour before closing time daily.

Skyfari Aerial Tram
The Skyfari is a fun way to see the Zoo from above!
The tram is included with all admission tickets. Soar over the treetops to the other end of the Zoo while you take in the views!
Tip: we recommend going at dusk; the view of sunset from the tram is one-of-a-kind. Runs from 10am-9pm daily.
Kangaroo Bus
The Kangaroo Bus lets you hop on and off at four different stops throughout the Zoo; it's a great means of transportation and can be used to get from one area to the other.
Just wait at one of the stops with a yellow Kangaroo Bus banner. A bus will stop every 15 minutes. This is also included with all admission tickets.
4-D Theaters
There are two 4-D theaters at the park: one at the Northern Frontier, and one at the Children's Zoo.
Movies run daily until 8pm (or earlier depending on closing time of the zoo), and admission is $6. Be sure to check the daily schedule and movie times on your map.
Shows
There are a couple of different shows held at the Zoo:
Dr. Zoolittle and Friends Explore Africa, held at 4pm and 5pm daily
Wild About Animals, at 1pm daily.
Children's Areas
Apart from the mini Children's Zoo, which is located at the Discovery Outpost and is going through an extensive remodel (to reopen in 2021 and be much larger), there are a few play areas for kids throughout the park.
Elephant Play Yard
Discovery Playground
Koala Klimber
Polar Play Area
Balboa Park Miniature Train (outside of Zoo Entrance – obtain a hand stamp at the Zoo's exit for same day re-entry. Train tickets are $3 for ages 1 and older)
You can find them all on your map, and most are part of a much larger exhibit area like Polar Bear Plunge or Elephant Odyssey. Keep an eye out as you walk!
The San Diego Zoo Safari Park is the Zoo's companion park, and offers an expansive view of a variety of wild animals. Visit their website for information.
For tickets for the Zoo, book on LaJolla.com and save.