Police Hope CCTV Footage of BB Gun Shooters will Lead to Arrest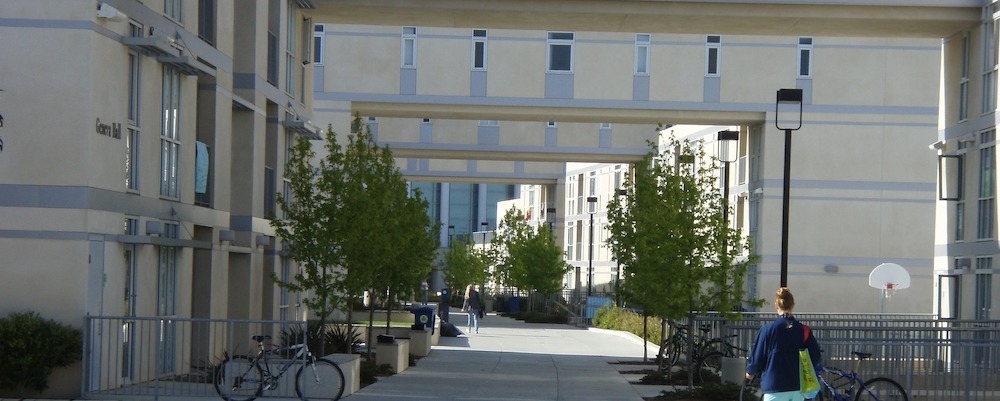 Do you recognize either of these men?
UC San Diego Police released campus CCTV images of suspects in an aggravated assault on August 28, 2021, at about 3:20 p.m.
According to ABC 10News San Diego, both suspects are white males, in their late teens to early 20s, riding black e-bikes and wearing black helmets and goggles. The main suspect was wearing white shoes while his accomplice was wearing black shoes.
The alleged BB gun shooter wore a light blue jacket with a grey hooded sweatshirt underneath, black pants, and white shoes.
The second suspect is wanted for questioning. No one saw him with a weapon or doing anything except associating with the shooter.
The two suspects came from North Torrey Pines Road at Muir Lane, to the intersection of Hopkins and Voight drive, NBC 7San Diego reported.
At this intersection, the alleged gunman drew his weapon, a light-colored BB gun, and fired at a victim. The suspected gunman hit the victim multiple times before the suspects turned west, returning to North Torrey Pines Road from Muir Lane.
Both suspects are still at large, and police need help from the public to bring them to justice and figure out what happened that August afternoon.
If you recognize either of these men or believe you have information about the case, investigators urge you to call UC San Diego Police Department Detectives at (858) 534-4357 or send an email to detective@ucsd.edu.
[mv_create key="25″ layout="hero" thumbnail="https://lajolla.com/wp-content/uploads/2021/04/haunted-san-diego.jpg" title="More Mysteries of San Diego" type="list"]