7 Reasons to Tour the the Salk Institute in La Jolla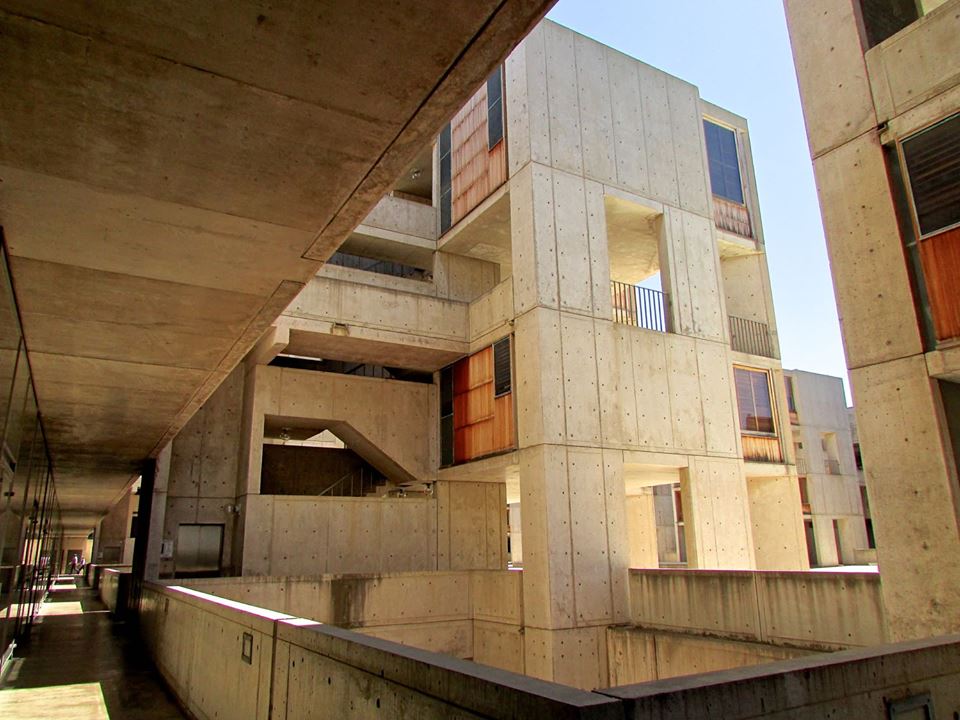 The Salk Institute for Biological Studies in La Jolla California is a world-famous research institute that opened its doors in 1963 under the watchful eye of Jonas Salk, who is credited with developing the first safe and effective polio vaccine. He envisioned it as a collaborative environment where researchers could explore the basic principles of life and contemplate the wider implications of their discoveries.
Visit the Salk Institute
To design the facility, Salk joined forces with famous architect Louis Kahn and directed him to "create a facility worthy of a visit by Picasso."
But can you visit Salk Institute?
Absolutely, and there are many reasons to do so! The Salk Institute remains one of the world's leading architectural marvels; its spacious, unobstructed laboratory rooms and sharp lines continue to stun architects and tourists alike. World-famous for both architecture and biology, here are seven reasons you need to a book a Salk Institute tour.
Reasons to Tour the Salk Institute for Biological Studies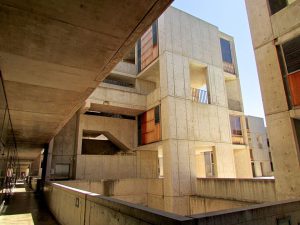 1. It's one of the top biology research facilities in the world.
Nestled in the hills and rocky bluffs of La Jolla California, the Salk Institute has been making impactful discoveries since its completion in 1963. The institute's major areas of study are aging and regenerative medicine, cancer biology, immune system biology, metabolism and diabetes, neuroscience and neurological disorders, molecular biology, and plant biology. Its cancer center is one of the best in the world.
Salk research provides new understanding and potential treatments for a range of diseases, from AIDS, Parkinson's Disease, and Alzheimer's Disease to cancer and cardiovascular disorders. Discoveries by plant biologists are paving the way to improving the quality and quantity of the world's food supply and to addressing critical environmental problems, including global warming.
2. It has been deemed one of the boldest architectural feats of all time.
Pioneering architect Louis Kahn truly created an architectural marvel. His masterpiece consists of two mirror-image structures – each six stories tall – that flank a grand travertine courtyard. Three floors house laboratories and the three levels above them provide access to utilities. Towers jutting into the courtyard provide study space for senior faculty members. Towers at the east end contain heating, ventilating and other support systems. At the west end are six floors of offices overlooking the Pacific Ocean. In total, the Institute is comprised of 29 different structures.
In July 2017, Salk Institute announced with the Getty Conservation Institute (GCI) that conservation efforts were complete for one of the key architectural elements at the Salk Institute – its gorgeous teak window walls. Now, the teak wood window walls will be protected and maintained for the next 50 years.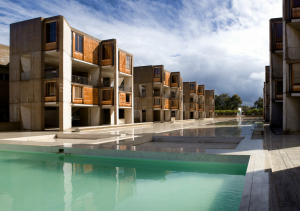 3. Research here has already impacted YOU directly.
The Salk Institute was started by Dr. Jonas Salk, the man who developed the first successful polio vaccine. The disease used to be a serious fear as many people, especially children, died of it. Thanks to the work of Dr. Salk, polio is now preventable.
Jonas Salk's mission was to dare to make dreams into reality, and he's best known for dedicating an extended portion of his career to developing a polio vaccine. Other career achievements include but are not limited to serving on the board of directors of the John D. and Catherine T. MacArthur Foundation, receiving the Albert Lasker Award, and of course, founding the Salk Institute.
4. Walking the establishment, you're passing by some of the world's top minds.
As the scientists and researches come in and out of offices, you never know what groundbreaking projects they're working on. Research here has provided new understanding and potential treatments for a range of other neurological diseases, from AIDS, Alzheimer's disease, and Parkinson's Disease to cancer and cardiovascular disorders. Discoveries by plant biologists and scientists are paving the way to improving the quality and quantity of the world's food supply and to addressing critical environmental problems, including global warming. Its Center of Excellence in Stem Cells Genomics was created through a $40 million award by California's stem cells research agency, the California Institute for Regenerative Medicine. It continues to deliver groundbreaking research in the field.
Salk said of his institute, "The Salk Institute is a curious place, not easily understood, and the reason for it is that this is a place in the process of creation. It is being created and is engaged in studies of creation. We cannot be certain what will happen here, but we can be certain it will contribute to the welfare and understanding of man."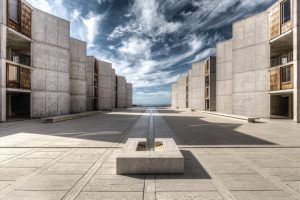 5. You may meet a Nobel Prize Candidate or Nobel Laureate.
One of those very people passing could've won or be currently up for a Nobel Prize. To date, the Salk Institute for Biological Studies has produced six Nobel Laureates (including Elizabeth Blackburn and Francis Crick), one National Medal of Science winner, and countless others. View the full list of awards and accolades here.
Salk scientists, such as Robert Holley, are well known the world over for their work in the field of medicine. In fact, Holley shared the Nobel Prize in Physiology or Medicine in 1968.
6. It's a beautiful spot for lunch.
On the ocean-facing side of the venue sits a small eatery called the CulinArt café; it's open for lunch Monday-Friday. It's the perfect place to grab a sandwich and enjoy views of the architecture, San Diego, and Pacific Ocean.
7. The view is unbeatable
The Gliderport is just north of the Salk Institute, so, if the wind's are right, there's a good chance you'll seem some hang gliders or paragliders cruising the sky over the Pacific Ocean and San Diego. During the winter, you may be lucky enough to spot some whales or even dolphins as they make their migration south.
Ready to book your tour? Guided architectural tours are offered at noon Monday through Friday. It's important to reserve your spot ahead of time; you can do so at the Salk Institute's Architecture Tour home page.
If you're interested in more than a tour, the Institute also offers free "Meet-A-Scientist" talks at 11:30am on Mondays, Wednesdays and Fridays. All visitors are welcome, and they're a great way to gain a more in-depth understanding about the latest scientific discoveries at the Institute with a Salk researcher.
https://www.instagram.com/p/CP-xn8zjJ60/?utm_source=ig_web_copy_link
What is the Salk Institute Known for?
The Salk Institute in La Jolla is known for many things in addition to the fact that it was founded by the world renowned Jonas Salk. This includes the architecture of the building, its many areas of research, and its partnership with UCSD and local San Diego biotech companies. It's also known as one of the best things to do in La Jolla, as you could easily spend an entire day taking in the outside and touring the interior.
More About the Salk Institute Research Areas
The Salk Institute has many areas of research, including but not limited to aging, cancer, genetics, infectious disease, and neuroscience. Its use of chemical process calculations, in particular, has generated attention from researchers around the world.
What Style of Architecture is the Salk Institute?
The Salk Institute in San Diego is an architectural landmark that attracts thousands upon thousands of visitors every year. World-renowned architect Louis I. Kahn designed the research facility in the modernist style of architecture which can be seen in the use of concrete, teak, lead, glass and steel.
Although the Salk Institute was built in 1960, it remains an architectural wonder. And for that reason, you'll still hear people refer to it as the Louis Kahn Salk Institute. In the world of La Jolla architecture, it's the cream of the crop.
https://www.instagram.com/p/CP-IVV7h2tS/?utm_source=ig_web_copy_link
Is Salk Institute Part of UCSD?
The Salk Institute is not a degree-granting institution of higher education (it's an independent nonprofit organization), but it does manage a graduate program in correspondence with UCSD. Furthermore, all Salk Research Institute professors have adjunct appointments at UC San Diego.
Salk Institute Tours
If you're interested in a Salk Institute tour, contact the organization via phone or online to learn more about your options. Hours change regularly, so it's best to verify your plans in advance. Note: you can take a virtual tour of the Salk Institute at any time.
https://www.instagram.com/p/CPv5G7hlaCe/?utm_source=ig_web_copy_link
Conclusion
There's no right or wrong time to visit the Salk Institute for Biological Studies. You can take a closer look on your own, or sign up for one of the many Salk Institute tours or events.
If you're interested in visiting, the Salk Institute address is:
10010 N Torrey Pines Rd
La Jolla, CA 92037
From the Salk Institute interior to the exterior architecture, you can spend an entire day here in amazement!