5 Incredible Homes in La Jolla That You Didn't Know Existed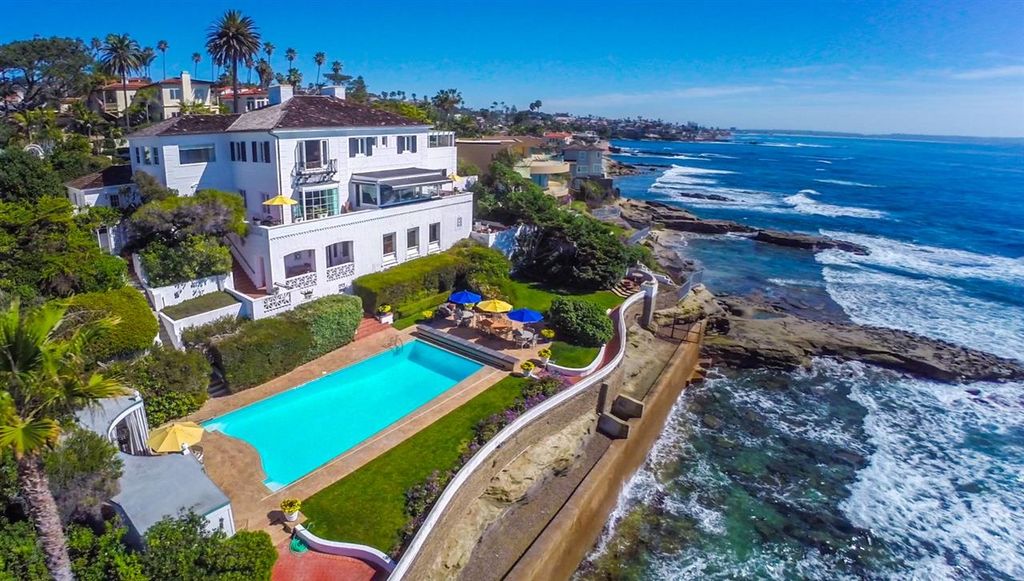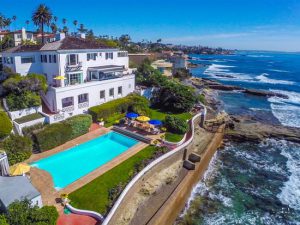 Image from Zillow
La Jolla is obviously a prime vacation destination, and who wouldn't want to be on vacation all year long? Those who can afford it, do, in elaborate beachside luxury and most importantly, with an incredible number of bathrooms. We can't all live that life, but fantasize about having 10 or more bathrooms in your house (mansion) with our roundup.
6210 Camino de la Costa
$22.5 million
This 7 bedroom mansion (pictured at top) was built in 1939 by famous architect Richard S. Requa, the man who also designed Balboa's Park's Old Globe and original Torrey Pines Lodge. This is one of the incredibly rare homes of the area that not only directly overlooks the cliffs down to the beach, but has a pool you can do so in. At 3 stories and only minutes away from both the heart of The Village and downtown Bird Rock, it's definitely a gem. You'll be glad to know it has 10 bathrooms.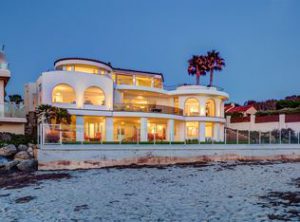 Image from Zillow
7400 Vista del Mar
$26.5 million
Towering columns and gleaming white arches will dazzle you as you stare up at this 8,328 sq ft house. Designed by Don Edson, the Mediterranean-inspired house backs up to Marine Street beach. This 3-floor beauty has 7 bedrooms, an indoor movie theatre, a rooftop spa (don't ask us how that happens) and of course, 10 bathrooms. Watch out if you're on the beach at sunset, as all those windows are sure to reflect the light.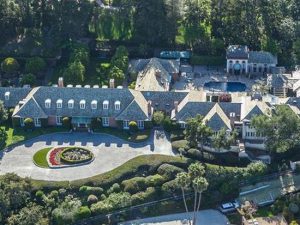 Image from Zillow
7007 Country Club Drive
$25.5 million
This French-styled estate, nestled in the Country Club neighborhood of La Jolla, was built in 1959. From the library and formal dining room to the 8 bedrooms, greenhouse and 12 car garages, it's no wonder the home has stayed within the family until this time. It was owned by the former publisher of the Union-Tribute, Helen Copley, and then passed down to her son until his passing. It has hosted guests like Richard Nixon, and has a beautiful 14 bathrooms. Honestly, that's a different bathroom for every month of the year.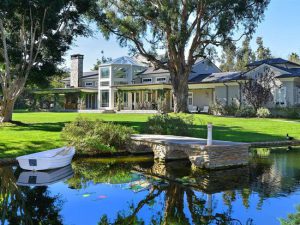 Image from Zillow
2861 Idle Hour Rd
$22.9 million
This 2.87-acre property is like a gorgeously landscaped fairy tale country house. Why? It has a 14,000-square-foot residence with 7 bedrooms, for starters. Then there's also a lake and an island on the property for a heavy dose of romance. If you want to get active, this home also boasts a skateboard park, disco, and seven-car garage alongside the more traditional tennis court and swimming pool. Best of all, this house has 14 bathrooms. Incredible.
If you'd like to pursue any of these houses, check out our guide to La Jolla real estate!
9650 La Jolla Farms Rd
$22.6 million
The grocery-store investor billionaire Ron Burkle owns this 5.5 acre property perched above Black's Beach. Visitors to the beach may be able to catch a glimpse of the gorgeous gardens in the front of the house! The 22k sq feet house that has 12 bedrooms and 17.5 bathrooms, the most we've found yet. We don't know how many people live in that home, but it could probably house a Super-Bowl-winning football team.