The Best Beaches in Encinitas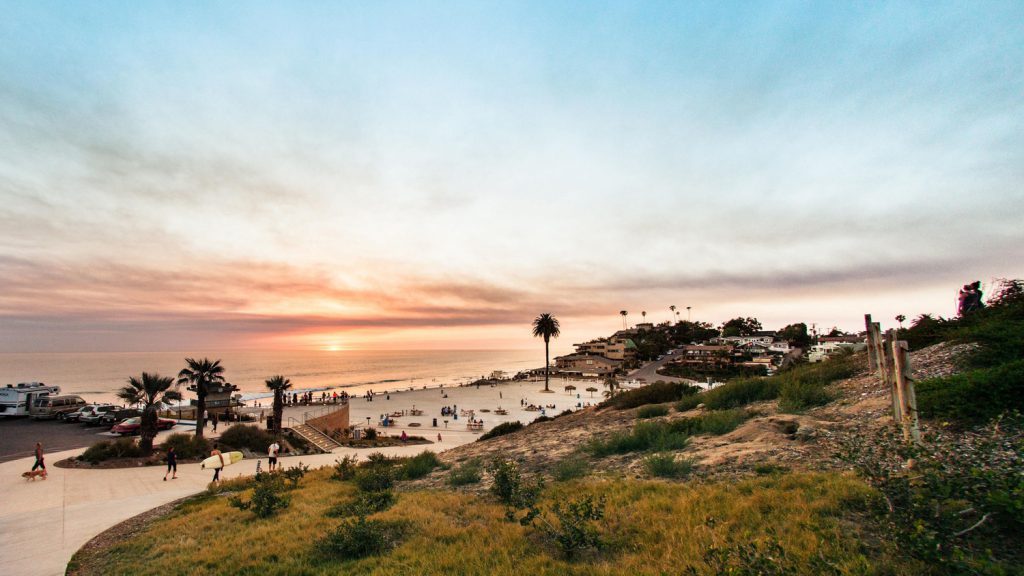 Running parallel to historic Highway 101, the beaches in Encinitas are some of the best hidden gems in San Diego's North County Coastal region. From soft white sand to picturesque rocky bluffs and legendary surf spots along the coast, the beaches in this quaint surf town in Southern California offer a little something for everyone. An eclectic mix of '60s-inspired beach culture combined with boutique shops, contemporary restaurants, and yoga studios, Encinitas is a vibrant beach town where the traditional SoCal surf scene still flourishes. Here is your guide to the best beaches in the city of Encinitas! Then when you're hungry or ready for happy hour, check out our list of Encinitas bars that are worth checking out.
Popular Activities at Encinitas Beaches
Surfing
Paddle boarding
Boogie boarding
Sunbathing
Beach volleyball
Body surfing
Swimming (in designated areas)
The Best Beaches in Encinitas
Moonlight Beach
Moonlight Beach is the gem of Encinitas' beaches, and is one of the most popular among local families looking for things to do. With easy access, free parking, great facilities, lifeguards, volleyball courts and a sandy beach, Moonlight is almost always packed with people. Recent upgrades and the addition of a snack shop have definitely helped the beautiful beach stand out as the best family destination along this section of the coast, so feel free to bring the dog and kids.
Amenities include restrooms with showers, picnic areas, a playground, bonfire rings, and a lifeguard tower. During the summers, this particular beach gets packed; while parking is plentiful, you'll have the best luck looking along Highway 101 rather than at the beach itself.
How to get there: Moonlight State Beach is at the west end of Encinitas Boulevard from I-5. After crossing Highway 101 Encinitas Blvd becomes B Street. There is a paid parking lot with an entrance on C Street, but first look for free street parking in the area. You might have to walk a ways to the beach on sunny days, but there is a drop-off area next to the sand on B Street.
D Street Beach
D Street ends at a nice viewpoint looking out over the ocean where surfers ride in on long rolling waves. A large wooden staircase leads down the bluff to the beach, which is wide and sandy. Parking is usually plentiful and relatively easy to find along neighboring surface streets and residential areas.
While there are no facilities or amenities at this beach, it's close enough to Moonlight Beach to head up there for restrooms and food. Lifeguards are on duty here every day during the summer months.
How to get there: head one block south of Moonlight State Beach and find parking along Highway 101.
Swami's Beach
Swami's Surf Beach is a famous surfing mecca at the southern end of Encinitas and is considered by many to still be a premier surfing destination. The park at Swami's Beach is a great vantage point for watching surfers, and has shaded areas to enjoy a picnic on the grass as well. When the tide isn't too high, you can walk south for quite a distance down into San Elijo State Beach. A parking lot (with spaces for about 30 cars), picnic area, and restrooms are located there. More parking can be found along the highway shoulder. A ramp and stairs lead down to the beach.
Several cafes, including the famous Swami's Cafe, and other restaurants are just a short walk north on Highway 101. There is a long stairway that descends the steep bluff from the parking lot to the beach. If the parking lot is full you will have to park along the highway outside of the park entrance. During low tides some tide pools can be found at the point north from the bottom of the stairs.
How to get there: Access the beach off South Coast Highway 101 at Swami's Seaside Park (1298 S Coast Highway 101, Encinitas, CA).
Stone Steps Beach
Stone Steps Beach is a locals' beach in Encinitas that is a little off-the-beaten-path. The city has signed it as "Stonesteps Beach Access," but most people refer to it as Stone Steps. True to its name, you'll find a large concrete and stone stairway with nearly 100 steps that descends the steep bluff to the narrow beach below.
This is a great beach for surfing or for walking along, but be aware that high tides will cover the entire beach in certain areas. Walk north and you'll get to Beacon's Beach and walk south and you'll reach Moonlight Beach.
How to get there: head west on El Portal Street from Highway 101 then veer left onto S El Portal St to the end. Lifeguards are on duty during the summer.
Encinitas Beach
Encinitas Beach doesn't have its own access, so it's a great spot if you're looking for a more secluded section of the coast. The tall walls that prevent erosion for the expensive homes up on the bluff also provide a space to sunbathe that is not visible from above. Encinitas Beach consists of a narrow strip of sand, and makes for a great beach walk when the tide allows.
At high tide Encinitas Beach can be impossible to access, so be sure to check the tides before heading here. Surfers, swimmers, and sunbathers like the area, away from the busier stretches of beach in Encinitas. Lifeguards are on duty during the summer, but there are no other facilities.
How to get there: you can reach Encinitas Beach by walking north from Stone Steps Beach. Park along surface streets.
Beacon's Beach
Beacon's Beach in Encinitas is technically "South Leucadia State Beach" because it's the southern beach access of this state park, but the city-run beach has been called Beacon's by the locals for decades. The beach here, just like Grandview Beach and nearby Stone Steps Beach to the south, is tucked below the bluff where homes and condos are densely packed.
A narrow trail with three switchbacks descends the bluff face. Beacon's Beach has a small parking lot on Neptune Avenue between Jasper Street and West Leucadia Boulevard a couple blocks west of Highway 101 in the Encinitas neighborhood of Leucadia. However, the lot is often full and getting a parking spot near the beach access is usually a problem; you may have to park along a surface street and walk a ways.
Surfers and sunbathers are the main users, but if you just need to take off your shoes and walk on a beach this one is great! Just be aware that during high tides the beaches in this area are very narrow or all wet. Once again, lifeguards are on duty during the summer, but there are no other facilities here. It is a favorite destination for surfers and can often be crowded out on the water.
How to get there: the beach is located at 948 Neptune Avenue, where you'll find the parking lot. Park here or on a nearby street and take the stairway down to the sandy beach.
Boneyard Beach
Boneyard Beach is located below a very steep cliff between Swami's Beach and D Street Beach in Encinitas, CA. Boneyards is a dry sandy beach at medium and low tides, and is only accessible by walking from the neighboring beaches (easier and safer from the D Street stairway access). There are no facilities or amenities here.
At low tide the beach is wide so you can walk out a long ways to look back at the homes high on the bluff. Because of its seclusion below the bluff, Boneyard Beach is popular with surfers when the conditions are right.
How to get there: head to Swami's or D Street Beach, and when you get to the bottom of the stairs head north or south respectively.
Cardiff State Beach (North)
North Beach at Cardiff State Beach is located at the entrance to San Elijo Lagoon in the Encinitas community of Cardiff-by-the-Sea. This is a day-use facility, but you'll find San Elijo State Beach Campground across the lagoon if you want to camp overnight. The north end of Cardiff State Beach is also called "Restaurant Row" by locals because of the series of restaurants next to the beach on Highway 101. The North Beach parking lot is much smaller than the one at the south end of Cardiff SB, so plan to get here early. Amenities include lifeguards on duty, restrooms, showers, picnic tables, and barbecues. Swimming, surfing, sunbathing, and beach walking are popular activities here.
There are some parking spots along Highway 101 just south of the restaurants. Surfers congregate just offshore near the channel entrance in an area called Cardiff Reef. There are strong rip currents in some areas, especially at the lagoon channel, so be careful swimming here or check in with a lifeguard before you swim.
How to get there: the beach is located at 2500 S. Coast Highway 101; find parking along Hwy 101 and head over to the beach.
Cardiff State Beach (Seaside Beach)
Seaside Beach is a sandy beach in Cardiff State Beach at the border between Solana Beach and the Cardiff-by-the-Sea area of Encinitas, CA. Cardiff State Beach is the long sandy strip along the west side of San Elijo Lagoon a large wetlands and ecological reserve. If you want to see the lagoon, they have a visitor center nearby on Manchester Avenue.
The parking lot at Seaside Beach is on Highway 101 just north of the city of Solana Beach. You'll see surfers enjoying the waves that break over the reef known as Seaside Reef, Cardiff Reef, or Tabletops. Seaside Beach itself is narrow especially at high tide. When the tide allows you can walk south on the sand to the beach at Tide Beach Park below the high bluffs of Solana Beach. Rip currents exist, so be careful where you swim while at Cardiff State Beach.
There are many restaurant options just up the highway behind the North Beach of Cardiff State Beach. Amenities include restrooms and showers, and there are always lifeguards on duty. Surfing and swimming are popular activities here and it is dog friendly.
How to get there: Head north from Solana Beach and find Seaside Beach at 2504 S. Coast Highway 101. The parking lot is on the highway.
For more information on local and nearby La Jolla beaches, view our other beach guides!