21 Date Night Ideas in La Jolla & San Diego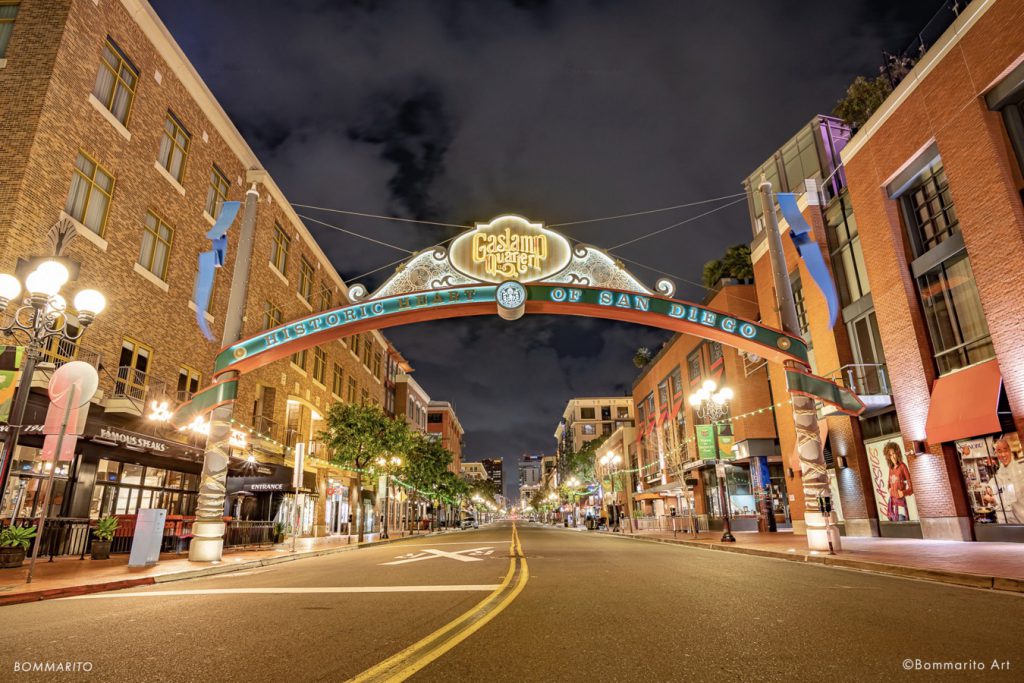 With so many awesome things to do in San Diego year-round, you never have to resort to a boring date night at the movies!
From harbor cruises and epic outdoor adventures to romantic beach walks and magic shows, we've put together what we think is a pretty complete list of fantastic date night ideas in San Diego. Whether you're a long-term couple looking to spice things up, browsing first date ideas, or just looking for something new, we've got you covered. Keep reading to discover our ultimate list of 21 date night ideas in San Diego.
Make sure to read all the way to #21 for a Bonus Tip that includes 10 additional fun dates for couples.
1) Explore La Jolla Cove
Spend the late afternoon taking a kayak tour around gorgeous La Jolla Cove, where you'll get the chance to see seals and sea lions, plus the La Jolla sea caves up close.
Afterwards, freshen up for a gourmet dinner at one of the local fine dining restaurants; there are tons to choose from!
As the night comes to a close,  grab a blanket and cozy up on the grass at Ellen Browning Scripps Park or hunt for your own secluded piece of paradise on the beach.
Shop La Jolla Artwork
2) Check out a local winery
If you feel a bit 'been there, done that' with the local craft brewery scene, why not mix things up a little and check out a local winery?
Most people visit Temecula for the winery scene, but there are plenty closer to home — from right here in downtown San Diego all the way to north county.
Bernardo Winery (13330 Paseo Del Verano Norte), which is San Diego's oldest winery, is home to a wine tasting room, several adorable shops with hand-crafted items and often hosts special events. This family-owned winery is a great place for couples to enjoy the perfect date night.
Salerno Winery in Ramona is another great destination; complete with a sculpture garden and a large outdoor space with sweeping views of the vineyards, this is a romantic and lovely spot to spend the evening.
3) Go apple picking in Julian

Just a little over an hour from La Jolla, Julian and its surrounding mountain towns are great places to explore and experience a unique opportunity to pick apples at one of its many local apple orchards.
Starting in September each year and lasting until the apples run out, what better way to welcome in Fall than to take a day trip and collect your own apples from the thousands of trees in this picturesque region.
A great trip for two, a double date, group of friends or even the entire family, fill a bag of the many varietals including Empires, Fuji, Golden Delicious and more.
Many orchards offer fresh apple cider, apple preserves and apple pie to satisfy your sweet tooth!
We've got you covered with locations and details of a few of our favorites.
4) Catch a full moon dinner cruise
What could be more romantic than gazing at San Diego's vibrant skyline from the water, beneath a glowing full moon?
Hop aboard Hornblower Cruises' signature full moon dinner cruise (1800 N Harbor Dr.) and enjoy a glass of bubbly champagne, a three-course dinner, and plenty of time to dance under the stars and enjoy the sparkling sights around San Diego Bay. Tickets start at $85 per person.
5) Take a cruise during the day or at sunset
If getting on the water is what you are after but you'd prefer something during the day, without the dinner or perhaps a little more low key, San Diego has lots of great options for your date.
Many of San Diego's best sights can be seen from the comfort of a cruise ship. Wheather a day cruise around the bay, an evening sunset cruise that's a bit more romantic or a cruise with some booze, San Diego is a perfect spot for a few hours on the water!
Consider some of our favorites below.
6) Get competitive at a local trivia night
Trivia nights are a great way to mix up your typical night out at a bar — and you've got options for basically every night of the week.  
Where can you find a trivia night? Chances are, if there's a San Diego pub, brewery tasting room, or winery tasting room that you love, they may very well host a trivia night. There are a few other techniques:
Search the hashtag #sandiegotrivia on Instagram
Follow popular trivia companies who operate locally, such as Trivia Goat (@triviagoat on Instagram)
Use the "Find a Quiz" tool on the Geeks Who Drink website
7) Spend the night at a local La Jolla hotel
A night away from home can be just what the doctor ordered for some rest and relaxation. Pamper yourself and your significant other for the night or a weekend and let someone else do the laundry this time.
For an experience above and beyond dinner and a movie, consider splurging and staying in one of San Diego's amzing hotels. With so many to choose from, we narrowed down the list to 5 or our favorites below.
8) Catch a drive-in movie
Every Wednesday night, the iconic Pearl Hotel in Point Loma (1410 Rosecrans St.) hosts a free dive-in theater event poolside. Get there early to grab a bite at the newly revamped Charles and Dinorah restaurant (named for the couple who owned the hotel originally).
After dinner, grab a cocktail from the bar and a pool chair, or simply hop into the pool to watch the show!
Classics such as Jaws, The Parent Trap, and Wet Hot American Summer have all made an appearance.
If you'd rather stay dry, there are plenty of outdoor movie venues throughout San Diego County as well. Check out our complete guide to outdoor movies to get the scoop!
9) Adventure through Balboa Park
With twelve museums, multiple parks, beautiful gardens, and fabulous restaurants, Balboa Park really does have something for everyone.  Whether you're in the mood for an artsy date at a museum or an outdoor outing to admire the beautiful gardens and century-old architecture, you can find everything you need for a romantic time here.
Pro-tip: pack a picnic to enjoy in a secluded section of the park (there are even a few spots where drinking alcohol is allowed), or catch a play that night at the Old Globe Theatre.
10) Take a sunset hike
Few things are more romantic than watching the sunset together on a warm evening; and what better place to do it than along the coast?
Torrey Pines State Reserve (12600 N Torrey Pines Rd.), just 20 minutes north of La Jolla, offers several picturesque coastal hikes. Get there around 6 or 7pm to start your hike, and finish it off at one of the benches with a gorgeous view of the Pacific Ocean and the San Diego coastline.
Afterwards, grab some dinner in nearby upscale Del Mar or back in La Jolla.
11) Watch some live music under the stars
Outdoor concerts at places like Humphrey's by the Bay (2241 Shelter Island Dr.) happen a few times a week, every week. Fridays and Saturdays are the most popular, and you can purchase tickets for just the show or a package deal with dinner.
They also offer package deals that come with a hotel room for the night — a romantic bonus for those willing to spend a bit more cash! The setting is serene; arrive early to watch the sunset on the bay and have a few drinks.
12) Take a romantic ride in hot air balloon
For a big first impression, treat your date to an evening in the clouds!
Local hot air balloon companies like Sky's the Limit Balloon (11835 Carmel Mountain Rd.) offer daily sunset champagne adventures leaving from Del Mar that offer gorgeous views of the coastline and surrounding areas.
It's a bit pricier than our other date night options, but it's hard to beat the romance factor! Afterwards, have some dinner in downtown Del Mar and walk over to Powerhouse Park on the water.
If you're willing to venture a bit farther, Temecula (about an hour north of San Diego) is home to a multitude of hot air balloon vendors; there are several options that range in price and timing.
13) Enjoy some comedy or improv
San Diego is home to a surprising amount of comedy clubs and improv show venues. From our very own Comedy Store La Jolla (916 Pearl St.)–which boasts an incredible history that dates back to the '80s–to Finest City Improv in downtown San Diego, there are plenty of places to take a significant other who's always up for a good laugh.
Stop by the Gaslamp District during the weekend. There are usually shows every Friday and Saturday, and occasionally there will be one or two during the week.
Check the venue's website for details before you go.
14) Experience a secret speakeasy
Secret bars are all the rage in San Diego right now!
Noble Experiment in the East Village (777 G St.), False Idol (a secret tiki bar) in Little Italy (675 W Beech St.), Bar Three Piece behind Seven Grand in North Park (3054 University Ave.), and Prohibition Lounge in the Gaslamp (548 Fifth Ave.) are all in the San Diego metro area; Raised By Wolves is at Westfield UTC La Jolla (4301 La Jolla Village Dr.).
Grab some dinner and then pick your poison! Note that several of these spots require reservations, so do check in advance to ensure you have a spot for the evening you wish.
15) Play some old-school arcade games
Coin Haus in La Mesa (8361 Allison Ave.) is a member of the Cohn Restaurant Group; it's a self-proclaimed 21-and-up "beercade" that features 50 self-serve taps.
Once you've poured yourself a cold one, play one of their 29 retro arcade games — including Games of Thrones and Ghostbusters pinball. It's the perfect place for all you adults who are kids at heart! 
Afterwards, grab a bite to eat with your boo at BO-beau kitchen + garden.
If you're looking for something more central, Coin Op has locations both in North Park (3926 30th St.) and the Gaslamp Quarter (789 Sixth Ave.); it's a similar vibe as Coin Haus, but a bit smaller. The games are still great though!
16) See a magic show
Have you ever driven past Mystique Dining of La Jolla (915 Pearl St.) and wondered what it was all about? An evening at this restaurant/entertainment venue is sure to be a one-of-a-kind experience that you won't be soon to forget.
You'll need two and a half hours for dinner, and don't worry — you'll be able to talk to your date while you eat. After dessert there's a 45-minute magic show.
What kind of food do you eat at a magic show? The food ranges from meat to vegetarian options.
Swing by their website to buy tickets.
17) Explore Liberty Station at night
Stroll through the trendy Liberty Station Arts District (2820 Roosevelt Rd.) on the first Friday of every month from 5pm to 9pm and you'll get to meet working artists, enjoy dance, theater, and music performances, and visit museums and galleries.
Wander through the latest exhibits at the Visions Art Museum and the San Diego Comic Art Gallery, then hit up Comickaze Comics for an eccentric selection of mainstream and independent comics, graphic novels, statues, and action figures.
Cap off an excellent evening with dinner at one of Liberty Public Market's dozens of food venues.
18) Wander through Seaport Village — and learn how to Salsa!
Try your salsa moves in the beautiful outdoor courtyard at the Headquarters at Seaport Village (849 W Harbor Dr.)!
Throughout much of the year, local musician Manny Cepeda and his orchestra will be playing their repertoire of classic salsa, merengue, cumbia, bachata, and Cuban music.
New to salsa? No worries, as there's no experience necessary for this free event. Call (619) 339-5936 for more information, or follow Manny on Instagram at @mannycepeda1.
19) Take an evening stroll along Oceanside Pier
At 1,942 feet, the historical Oceanside Pier is one of the longest wooden piers on the West Coast.
Take a leisurely stroll out over the Pacific Ocean, watch the surfers ride a wave, fishermen catch a fish, and cap off your stroll with a chocolate milkshake for two at Ruby's Diner at the end of the pier.
Afterwards, take some time to explore historic downtown Oceanside; grab a bite to eat at Wrench & Rodent Seabasstropub, or have a beer at Bagby Beer Company.
Shop La Jolla Artwork
20) Enjoy a rooftop cocktail under the stars
Few things are more beautiful than the San Diego coastline under a blanket of stars.
Head downtown to the rooftop at The Nolen in the Gaslamp Quarter (453 Sixth Ave. #7007) for incredible panoramas of downtown and delicious handcrafted cocktails; or stop by Altitude Sky Lounge (660 K St. Atop), a swanky outdoor club atop the Gaslamp Marriott with impressive views of Petco Park, DJs, and fire pits.
If you're in the mood for some grub, head over to Catania's rooftop dining area in La Jolla for some decadent Italian food and a Happy Hour cocktail.
21) Drink wine and paint a masterpiece together
Anyone can be an artist at Pinot's Palette (2820 Roosevelt Rd., Suite 106) in the beautiful Liberty Station Arts District! Call (619) 675-0058 for more information.
Each two- or three-hour session takes you through the creation of your own colorful painting, no experience required. Grab a glass of vino to get your creative juices flowing, then relax and follow the instructor-led, step-by-step directions.
Bonus Tip for Date Night in La Jolla
Running a bit tight on budget? We understand! Great dates can be had in La Jolla for all budgets.
With amazing weather, great beaches and views at every turn, La Jolla has lots of amazing opportunities to go on a date without spending a fortune.
Check out our list of 10 fun date ideas for couples, mostly completely free!
Explore on your own
When all is said and done, there are so many activities to choose from in San Diego that it can be hard to decide! You could even go to a shooting range!
Whether you and your date prefer spending time adventuring outdoors or you're looking for a cozy night inside together, there is something for every type of date night idea in San Diego.