Encinitas Events & Things to Do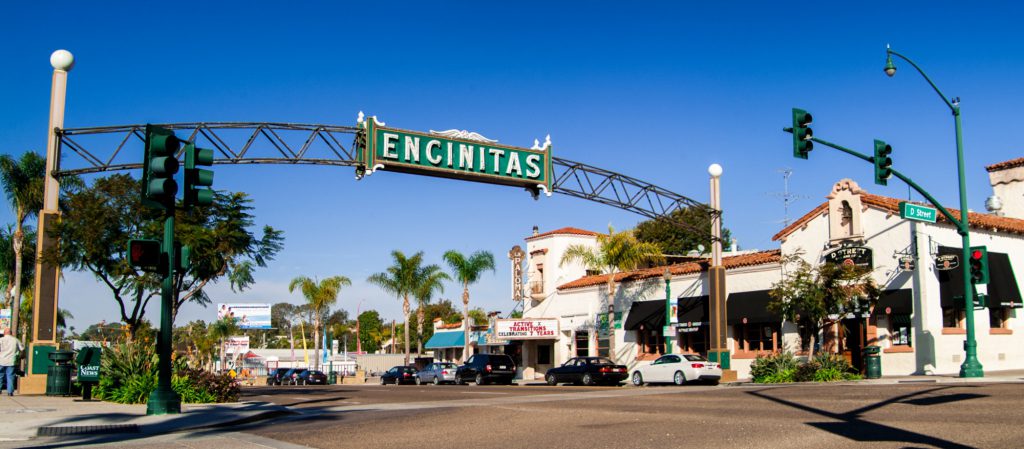 Encinitas is a fun beach town in North County, San Diego that's known for its surf culture, boutiques, and great restaurants. Anyone living in Encinitas will also tell you about its tight-knit community. At just a 30-minute drive from La Jolla and 45 minutes from downtown San Diego, Encinitas is easy to get to and makes for a great place for a day trip from anywhere in the County — and there's always something to do! From the weekly Farmers Market to the Taste of Encinitas each summer, this funky coastal town is an exciting place to visit any time of year. Here's a rundown of some of the most popular events and things to do in Encinitas!
Annual Events
Spring Street Fair
Every April, you can enjoy over 450 unique food, arts and crafts vendors plus four entertainment stages, children's activities, Bike Valets, and a Beer Garden! Take advantage of free family fun, entertainment, a National Award Winning MainStreet and a traditional Southern California beach town.
Savor craft beers and soak up the sun while listening to the best bands in San Diego rock out at the Beer Garden Stage. You can even bring your kids and your dogs! Take a break from the hustle and bustle by listening to the eclectic music at The Lumberyard Courtyard Stage. See the stars of tomorrow perform at the Hansen's Community Stage! Great news for cyclists, our two Bike Valet stations are open both days to store your bicycles while you peruse the Street Fair!
[ad size=728×90]
Encinitas Cruise Nights
On the third Thursday of each summer month from May through September each year, the streets of Encinitas turn into Encinitas Cruise Nights! Old-school hot rods, foreign automobiles, classic cars, and woodies line S. Coast Hwy 101 all the way from D Street to K Street. Classic cars are also parked along the Hwy 101 and on side streets, and oftentimes there is live music being played in various spots along Hwy 101.
The event is open and free to the public. Every car in attendance is eligible for awards and there is no cost for displaying or viewing the cars. Encinitas Classic Car Nights is a great reason to spend a summer night out in historic downtown Encinitas with great restaurants and unique shops.
Taste of Encinitas
Every August, the annual Taste of Encinitas event comes to the streets of historic downtown. This is a great way to experience some of the best Encinitas restaurants and shops, while you slowly stroll through town and listen to the sounds of live music. Treat your taste buds to food samples from more than 30 restaurants and enjoy local wine and craft beer served at 19 "Sip Stops" hosted by shops and salons. Don't forget to pause along the way to enjoy live music at eight different venues. Tickets cost $45 per person and include all food and 10 drink samples; they can be purchased the day of the event at Encinitas 101 MainStreet Association's office (818 S. Coast Highway 101).
[ad link="https://www.lajolla.com/article/things-to-do-in-encinitas/" size="300×250″]
LeucadiART Walk
Each August, the streets of Leucadia and Encinitas come alive for the LeucadiART Walk, which takes place along two miles of scenic Hwy 101 at various locations in downtown Leucadia. You'll find local juried artists showing off their art at various booths along the 101, and a few places host live music from local bands. There are also live dance and art demonstrations throughout. This past year, there was a live surfboard art demonstration!
Leucadia ArtWalk doesn't forget about the kiddos either — the event features a Children's Art Pavilion complete with children's activities, wearable art fashion show, art demonstrations, and a raffle for prizes.
For thirsty art-lovers, there is a Beer & Wine Garden (21+) featuring local breweries and distilleries, including Lost Abbey, Port Brewing, and Boochcraft. A free shuttle bus runs during the event, as well as two trolleys, which make several stops throughout downtown.
Summer Series at the Lumberyard
The Lumberyard is an expansive shopping and courtyard area in the middle of downtown Encinitas, and is home to nearly 50 stores and restaurants. The Lumberyard puts on several events throughout the year, and one of the most loved by locals is the Summer Concert Series, which happens August-September on weekend nights. Live music from local bands happens from 5pm-9pm; bring your friends and family to enjoy dinner, shopping, and live music on a warm summer night!
Halloween Safe Trick-or-Treat
Every Halloween, The Encinitas 101 MainStreet Association presents its Annual Safe Trick-or-Treat event. Historic Highway 101(from Encinitas Blvd to K Street) will turn into "Pumpkin Lane" as local businesses stay open late to welcome trick-or-treaters. The public is also invited to see the amazing pumpkins carved by the Self-Realization Fellowship monks each year.
Along the 101 there are several places to stop and enjoy Halloween-themed activities. You'll find live music and games In the Lumberyard courtyard, and in the SRF parking lot (next to their K Street Store) check out the Queens Court! This event is free and families are welcome to join in the fun!
[ad link="https://www.lajolla.com/article/10-bars-in-encinitas-to-add-to-your-list/" size="300×250″]
Annual Holiday Street Fair
Every December, get ready for the holidays with more than 450 food, arts, and crafts vendors and live entertainment on four different stages, as well as children's rides, a Beer Garden, and bike valets! This is a great way to get started on your shopping for the holidays and support local artisans and makers.
There's plenty to eat and drink, too! Savor craft beers and soak up some winter sun while listening to the best bands in San Diego rock out at the Beer Garden Stage, or take a break from the hustle and bustle by listening to the eclectic music at The Lumberyard Courtyard Stage. The schedule of events and the bands that play varies with each year, so be sure to check the website for details and real-time updates.
Garden of Lights at the Botanic Garden
Each December, the San Diego Botanic Garden in Encinitas is transformed into a dazzling winter wonderland with over 125,000 sparkling lights. Festive holiday activities abound, including sledding and horse-drawn wagon rides, holiday crafts, marshmallow roasting, Nutcracker displays, visits with Santa, food trucks, hot mulled wine, nightly live music and live entertainment, and catered refreshments from local eateries.
Kids are welcome — there are numerous family-friendly activities held throughout the festivities!
Seaside Bazaar (weekly)
Every Saturday and Sunday, The Seaside Bazaar opens in the heart of Encinitas on Highway 101. The Bazaar is an offbeat European style open-air flea market, and is one of the best outdoor shopping experiences in North County! More than 50 vendors sell such crafts as artisan jewelry, wind chimes, weather vanes, photography and art, collectibles, inexpensive antiques, leather goods, clothing, and more. The seaside bazaar is also within walking distance to shops, restaurants, and the La Paloma Theater in historic downtown Encinitas.
Encinitas Seaside Bazaar is held on a dirt lot in tent exhibits, just south of Encinitas Blvd and north of the La Paloma Theatre. Free parking is available on the lot next to the bazaar, as well as along nearby streets.
[ad size=728×90]
Leucadia Farmers Market (weekly)
For another local shopping experience, head to the weekly Leucadia Farmers Market every Sunday from 10am-2pm. The market features more than 75 vendors selling fresh flowers, plants, produce, and vegetables, including a large Certified Organic Section. You'll also find specialty foods, including fresh breads, beef, seafood, marinades, pastas, and sauces. Come hungry, as there is a huge food court that serves breakfast and lunch!
In addition to all the great vendors on-site, the market also features a children's playground, covered picnic area, live music, balloon twisting, and face painting. The Farmers Market is held at Paul Ecke Central School (185 Union Street, Encinitas 92024).