Planning a Date Night in Encinitas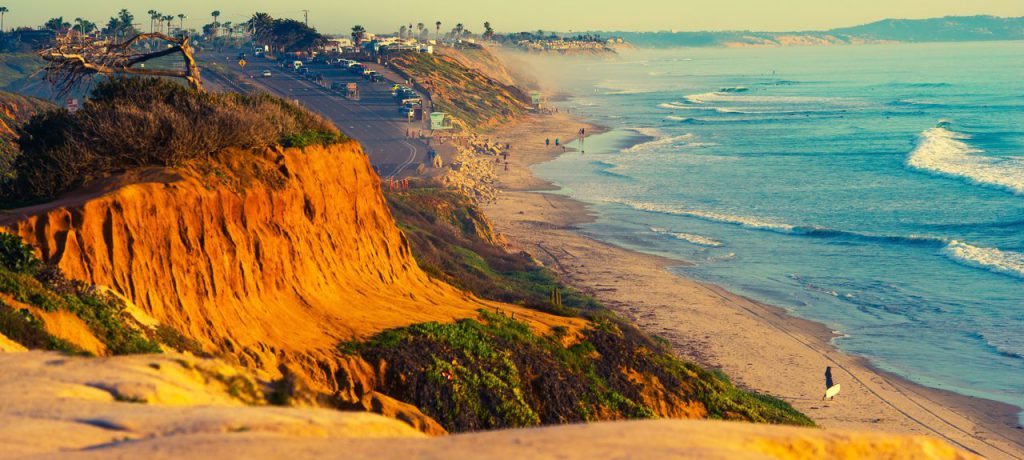 As a fun coastal beach town with a laid-back vibe, Encinitas, California is a great location to have a date night with your significant other! Because the gorgeous coastline stretches across this gorgeous San Diego neighborhood, you'll get to incorporate the water into your evening plans while enjoying the best Encinitas bars, restaurants, and more. Here are ten great date night ideas in the city of Encinitas!
Have a bonfire at Moonlight Beach.
Pack up a cuddling blanket and your favorite stuff to barbecue and head to Moonlight Beach in Encinitas for a romantic evening! Keep it simple by simply making s'mores and bring a bottle of wine. Be sure to get there early to stake out one of the eight fire pits for your sunset grilling session. You can also bring your own grill to South Carlsbad State Beach or use one of the fire rings at Oceanside Beach and make your own party of two.
Cozy up with some live music and dinner.
One of Encinitas' best restaurants is Solace and the Moonlight Lounge. Known for its cozy atmosphere and unique take on elevated comfort food, this is a great place for a date night. Every Sunday Night, you'll be treated to live music in the Moonlight Lounge from 7 to 9pm; an added bonus to impress that special someone! Menu food specials for Sunday evenings include Oyster Specials and Buttermilk Fried Jidori Chicken.
[ad size=728×90]
Do some wine tasting at Solterra.
You don't have to drive all the way to Temecula to do some wine tasting in San Diego! Encinitas has its very own beachside winery and tasting room: Solterra Winery + Kitchen. Located right on Highway 101, this Encinitas restaurant offers everything from wine tastings and bottles to-go, to an all-you-can-eat Mediterranean tapas buffet. Sit at the bar for wine-tasting and sample six of their wines at a time, or stick to a single selection by the glass, bottle, or get an entire growler of wine on tap.
Solterra winery also hosts live music most Friday and Saturday nights, so be sure to double check their event calendar before you go!
Catch a movie at the historic La Paloma Theater.
The magic of going to a movie theater on a date may have been lost when the gigantic multiplexes took the reins from the quaint, hometown theaters; but it's different at the La Paloma Theater! Take a stroll back through time by visiting this historic spot along the 101 for an evening. The venue opened in 1928, and still maintains much of its charm. You may not find the latest blockbuster here, but you will always find a weekly midnight showing of The Rocky Horror Picture Show and other select indie films.
Have a picnic at Oakcrest Park.
Oakcrest Park is a big grassy area on a hillside with shade trees, picnic tables, and BBQs, which makes it a perfect place to post up with a blanket and some sandwiches with your partner. If you're in the mood for games, you'll find a sporting area with a children's playground, two half basketball courts, a Bocce ball area, and horseshoe pits right next to the park. Two trailheads lead from the west end of the park into the hills, offering a fun way to stretch your legs once you've finished picnicking.
[widget id="text-2″]
Get competitive at a local Trivia Night.
Impress your date with your vast knowledge! Trivia Nights have become incredibly popular for a date night in San Diego the past few years, and there are great bars and pubs all over the county that host them weekly. There are several in Encinitas alone! Regal Seagull hosts one every Tuesday, D Street Bar & Grill holds them on Thursdays, and Schooner Station Pizzeria hosts them on Tuesdays as well.
[ad size=728×90]
Have cocktails by the sea.
The city of Encinitas boasts a great bar scene, and a wide variety of pubs, saloons, and romantic cocktail bars. If you're just looking to have a few drinks and chat with your date, try Union Kitchen & Tap or the Bier Garden of Encinitas for a slightly livelier atmosphere. 3rd Corner Wine Shop & Bistro has a cozier, restaurant-style vibe, but they have a great daily Happy Hour and is a must-try for wine lovers! You can even pick up your own bottle at their wine shop and take it to-go for a picnic by the sea.
Encinitas, California is a great place for your next San Diego date night! With a wide variety of incredible restaurants, bars, pubs, outdoor activities, and other things to do, we can guarantee you and your partner won't have to worry about what to do next. For even more things to do, check out our 10 must-dos in Encinitas or browse surrounding neighborhoods such as Del Mar.