Falconry Classes at Torrey Pines Gliderport: One of La Jolla's Best-Kept Secrets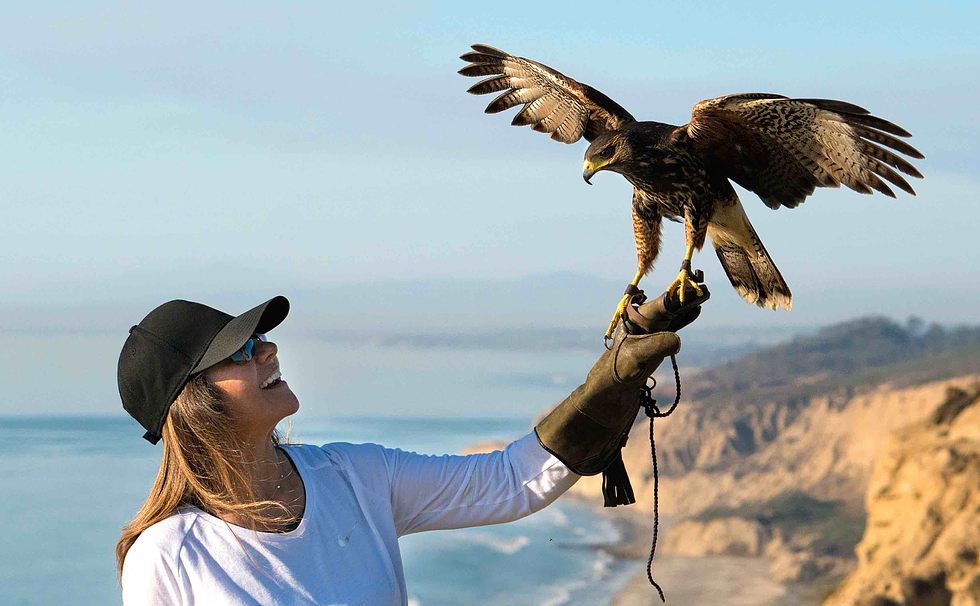 One of La Jolla's best-kept secrets is hiding in plain sight along the cliffs at the Torrey Pines Gliderport! Very few people are aware that Falconry Classes, including simulated hunting experiences and interactive flight exhibition, are available daily at the Torrey Pines Gliderport right here in La Jolla (where you can also hang glide and paraglide). Total Raptor eXperience has been training locals and visitors alike in the ancient art of falconry since 2014, and each class offers an up-close-and-personal glimpse into the "sport of kings;" right in your own backyard!
The Art of Falconry
Though definitely a lesser-known sport in today's age, falconry has been around for centuries. By definition, falconry is the ancient art of killing wild game with a trained bird of prey. Originally, falconry was using a bird of prey as a tool for catching food for the table. The art is first thought to have originated in the far east, with the first record of it being as far back as 1700 BC. It's widely thought that the sport was restricted to the upper classes, but their lives were recorded more than the lower classes. It seems falconry could be practiced anywhere as nearly all land was for common use.
It was an art that was taught to sons of gentry, along with archery and riding. The gentlemen would go out for a day's hawking with their birds, but the day-to-day care and training of the birds was carried out by a residential falconer.
Eventually, falconry took a backseat with the invention of gunpowder; however, it was still practiced by nobility, and according to a published list in the 15th Century, a different species of raptor was assigned to different ranks in society. Today, falconry remains a somewhat rare activity, though there are classes and birds-of-prey encounters held throughout the U.S — and now, you can experience it for yourself in La Jolla!
The company offers three different classes at the Torrey Pines Gliderport throughout the year:
Falconry Classes
Falcon Flight Encounters
: This is a totally interactive bird of prey (also known as 'raptors') experience, where you'll work closely with the falcons by calling them to and from hand-held perches as they fly over the La Jolla bluffs. You'll get to watch them perform simulated hunting exercises while you discuss the flight styles, identification, and conservation of different species with the naturalist. Each class is 1 hour 30 minutes.
Introduction to Falconry
If you want to touch a real falcon, this is the class for you! Their instructors will guide you through the basic steps of raptor handling: holding, calling, and releasing a bird using a falconry glove. This is truly an awesome chance to connect with a bird of prey and learn about the history of falconry, raptor ecology, and raptor conservation. All ages are welcome! This is a one-hour class.
Owl Encounters
: If falcons aren't for you, try an owl encounter! You'll get to meet their owls and learn about their incredible hunting skills. Bonus: you'll be able to hold at least one of the owls and have your picture taken (a great photo op if you ask us!).
This is one of the most unique things to do in La Jolla, and we are always looking for new and exciting activities! Whether you're here visiting with family on vacation or you're a regular visitor, experiencing falconry in La Jolla will definitely provide you with a crazy story to tell back home.
For more information on Total Raptor Experience or to book a class, visit their website.