Farmers Markets in San Diego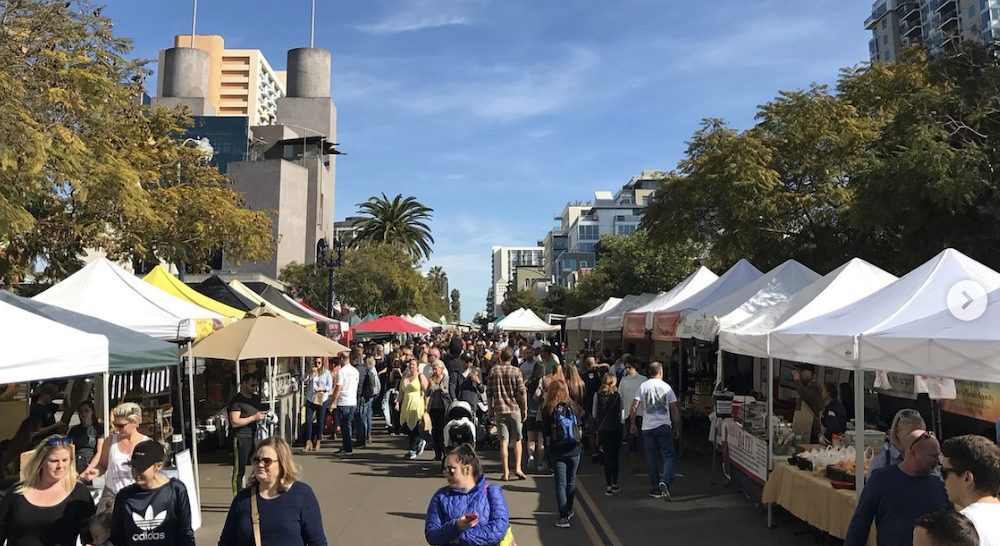 San Diego farmers are an incredible group of people. Their hard work means that people around the nation have access to quality honey, avocados, eggs, limes, and more. Not only that, but they provide an attractive option to local restaurants and home chefs who want to source their ingredients from more sustainable suppliers. 
As anyone who lives here knows, it's great to have access to all these foods fresh from the farm when you go to local farmers markets. If you're really lucky, you live within blocks to one and you don't even have to look for parking!
What is a Farmers Market?
A farmers market is an open-air market where farmers, artisans, crafters, food trucks, local cooks, and more all go to sell their handmade, farm-grown, and handcrafted wares to the public. Vendors rent space and bring their tents, tables, and supplies to get their products in front of thousands of people a week. A typical farmers market in San Diego is divided into two sections; one section has booths with wares including local farm-fresh veggies, artisanal honey, local cheeses and meats, imported oils and vinegars, baked goods, kombucha, and hand-made apparel. The other section is where you'll find food stalls. Typical food options at a farmers market in San Diego include Vietnamese iced coffee, organic smoothies, breakfast sandwiches, stuffed hashbrowns, gourmet grilled cheese sandwiches, crepes, gyros, vegan Buddha bowls, East African sambusas, Hawaiian poke, and even fresh sea urchin!
Is it cheaper to shop at a farmers market?
Yes. No. Maybe. Shopping at a farmers market gives you access to local food that is fresh from the farm. There are many reasons to visit your local farmer's market. Some farmers pick food the morning of the market or the day before to ensure you get the highest quality fruits and vegetables possible. The pricing for this is typically a little higher than the grocery store. Although, some non-food vendors may sell their products a little cheaper than they would online because there are less fees to pay.
Can you haggle at a farmers market?
Many business owners at the farmers market are willing to give a little bit of a price break if you buy more of an item at one time. For example, a pint of strawberries could cost $5, but if you buy two pints, the pricing might be closer to $8. If you really want a deal, wait until the end of the day, when many farmers want to get rid of their old produce to make room for new.
Where to park at a farmers market 
If you plan to drive to a farmers market in San Diego, there will be different parking options at each of the farmer's markets. See below to find out where to park at each location. Other alternatives include taking public transportation or riding a bicycle. And it's not unheard of for a local to ride a skateboard to their local market.
How to sell at a farmers market?
Selling at a farmers market in San Diego means you need to have the right credentials. Food producers need to be inspected and pass the inspection with a certificate from the County Department of Agriculture, Weights and Measures Office. Many markets also require vendors to have liability insurance and other business credentials. Some of the most important supplies to buy include a tent–like the ones from Instent Industries– a credit card processing solution, tables, signage, and a chair to sit on if you can get a moment.
The Top Farmers Markets in San Diego to Visit
 Spend your morning or afternoon perusing these San Diego farmers markets to find fresh fruit and vegetables, grass-fed and organic meats, pasture-raised eggs, unique gifts, flowers, and so much more. With more than 6,000 farmers in the region, you're sure to find something delicious to feast on, and something amazing to bring home.
La Jolla Farmers Market
La Jolla is only around 15 minute trip from downtown San Diego, and is a true gem of SD County.  With its hilly coastal resort vibes, sea-level caves, rocky shorelines and breathtaking beaches – La Jolla is the "go-to" place when selecting premium goods for home or kitchen.  Relish the sun, and soak in the sensational seascapes as you shop at La Jolla farmers market.
La Jolla Open Aire Farmers Market
What makes the La Jolla Farmers Market in San Diego special is their connection to the community. The vendors at this market are like family, but the market does something unique each week. All proceeds from the market benefit La Jolla Elementary School and help to fund the arts, music, additional classroom teachers and more. The farmers and vendors who sell here bring their best meats, honey, fruit, vegetables, and more. You'll also enjoy free parking because this market is on Sunday.
Day & Time: Sunday 9 a.m. – 1 p.m. 
Parking: There are many affordable parking spaces in the area. The best option is to use Park Connect to find a spot. Additionally, for those requiring ADA parking, you can find it at Union Bank, located at 1858 Cable St, San Diego, CA 92107. 
Address: 7335 Girard Avenue La Jolla, CA 92037 at the corner of Girard Avenue and Center Street
North County San Diego Farmers Markets
Known for its impressive diversity, North San Diego County is a host to sprawling canyons, sparkly beaches, cool valleys, rolling grasslands, and majestic mountain ranges.  And if you think the geography is diverse – wait till you sample their farmer's markets. From artisanal handcrafts to craft cheese, you're bound to find what you need (and even things you don't) at North SD County markets.
Del Mar Farmers Market
Established in 1986, Del Mar Farmers Market is the second oldest of its kind in North County. Since its first day open, this market has held firm to its vision of serving the community while also sustaining local farming culture. They are also committed to non-profits, and donate a portion of all their proceeds to worthy organizations such as the Del Mar Library and scholarships for farmers. They have a dizzying array of pesticide-free, organic fruits and veggies as well as farm-fresh eggs, herbs, honey, and flowers. They also have vendors who specialize in hand-hewn delights such as vintage clothing, jewelry, candles and more.
Day & Time: Saturdays 1 p.m. – 4 p.m., year-round
Parking: Free parking available in the Civic Center Garage
Address: Civic Center – 1050 Camino Del Mar, Del Mar, CA 92014
Carlsbad Village Farmers Market
Swing by the Carlsbad Farmers Market in San Diego on your way home from work. Their mid-week market means you'll always have something fresh to cook with. Whether you come for fresh-baked cookies, or tart and tasty fermented pickles, there is something for everyone at this weekly farmers market in San Diego. If you're looking for a bouquet of flowers, Carlsbad Village Farmers Market vendors have you covered. They are known for their extraordinary variety of beautiful arrangements that you can take home each week.
Day & Time: Wednesday 2:30 p.m. – 7 p.m.
Parking: Hunt for spaces in the Village, because they are there. There are also spaces available in one of the public parking lots within just 2 blocks of the market. Make sure you remove your car from State Street starting at 1 p.m. to make room for the market.
Address: State Street at 2965 Roosevelt St, Carlsbad, CA 92008
Leucadia Farmers Market
Founded in 2005, Leucadia Farmers Market is a family-friendly market with 75+ vendors. They offer organic produce as well as other fresh offerings such as vibrant wheat grass, local honey, homemade sauces, jellies, jams, pastas, breads, and more. They also have vendors featuring fresh seafood, USDA beef and chicken. Take the whole family, enjoy live music and stock up with yummy delights from Leucadia.
Day & Time: Every Sunday from 10 a.m. – 2 p.m.
Parking: Parking is at a premium but spots are available. There is additional free parking 75 yards North on Vulcan at Sierra Padre Doors. The market also gives out Bicycle Bucks most Sundays to anyone who shows up on their bike. It is worth $1.00 off any purchase.
Address: on the school grounds of Paul Ecke Central School located at 185 Union Street, Encinitas, CA. 92024
San Marcos Farmers Market
In addition to serving up the usual suspects of tasty, organic produce, San Marcos Farmers Market also has multiple vendors that foodies will love. Belly up to BomBom Bakehouse and try a sweet churro treat. Or check out Baba Hummus for homemade pitas with tzatziki sauce. And don't leave until you've sampled the incredible edibles at Concina Tamale, where you can have your pick of fresh-made meat or vegan tamales. From Kenyan food to traditional bao buns and dumplings, SMFM serves up international cuisine in an informal, casual open-air environment. They also have a host of artisan offerings such as honey, cheeses, specialty sauces and salsas, spices, teas, soups and more.
Day & Time: Every Tuesday. Spring/Summer from 3 p.m. – 7 p.m. and Fall Winter 3 p.m. – 6 p.m.
Parking: Parking in front of the market can get tight, but there are two parking structures available. Parking structure 1 is located on 201 Campus Way. Parking structure 2 is located at 295 June Way.
Address: 251 N City Dr, San Marcos, CA 92078
Central San Diego Farmers Markets
Central San Diego is home to downtown proper and home to familiar areas such as Barrio Logan, Hillcrest, and Mission Hills. The Central Region of SD is also the host to the heart of the Bay area, featuring loads of attractions such as craft breweries, boating, Bay tours, museums, amusement parks and more. Not to mention, Central SD has some of the greatest farmers markets around!
Little Italy Farmers Market
Little Italy is known for its delicious foods, smells, and sights that bring you into the Old World while walking through San Diego. They host a weekly farmers market in San Diego where people can purchase fresh olive oil, supplies to make a delicious Italian meal, fresh-baked bread, paninis, handmade jewelry, and refreshing lemonades to go. Little Italy is a delightful walk with authentic Italian restaurants, boutiques, and more. 
Day & Time: Saturday 8 a.m. – 2 p.m.
Parking: Parking for the Little Italy Farmers Market is easy when you use one of the many surrounding parking garages. There is one located at 601 Ash Street and offers interior parking for only $5 per vehicle including all-day Saturday and Sunday. Street parking is limited outside the bounds of the market at metered spots.
Address: 501 W. Date Street from Kettner Blvd. to Front St., San Diego, CA 92101
Hillcrest Farmers Market
The Hillcrest Farmers Market is the original farmer's market in San Diego. It is also the largest and boasts over 175 vendors. Many vendors offer exquisite selections of international foods and ingredients to make your next meal a true foodie haven. With vendors offering locally grown organic produce, you'll be able to find many options that fit your pesticide-free lifestyle. Hillcrest Farmers Market also features incredible craftsmen who make one-of-a-kind pieces for your home. Parking here is simple because it's Sunday! This means that all parking is free at the meters or one of the designated free lots. This market is also open year-round including on Christmas and New Year's.
Day & Time: Sunday 9 a.m. – 2 p.m. 
Parking: You'll find 300 FREE Spaces at the School District Parking Lot on Campus Ave. Additionally, there are 153 FREE spots available at the Hillcrest DMV at 3960 Normal Street. 
Address: 3960 Normal St Intersection of Normal and Lincoln San Diego, CA 92103
Ocean Beach Farmers Market
People come to the Ocean Beach Farmers Market in San Diego for the local music, the handpicked fruits, and the unique beach vibe. Guests will walk the market on their evening stroll, they'll come from the beach in their bathing suits, and find local honey, flowers, food truck style meals, and more.
Day & Time: Wednesday 2 p.m. – 8 p.m. 
Parking: There are many affordable parking spaces in the area. The best option is to use Park Connect to find a spot. Additionally, for those requiring ADA parking, you can find it at Union Bank, located at 1858 Cable St, San Diego, CA 92107. 
Address: 4900 Newport Avenue between Cable and Bacon Streets, San Diego, CA, 92107
Mission Hills Farmers Market
Designed to be a local neighborhood market, you will find a small, curated selection of around 20 different vendors at the Mission Hills Farmers Market in San Diego. Say hello to neighbors and choose from local produce, unique cupcakes, and more. The relaxed vibe will help you discover new things and easily find your favorites.
Day & Time: Wednesday 3 p.m. – 6 p.m. 
Parking: Park anywhere on neighboring streets where there is a meter or at a local public parking lot. 
Address: Falcon Street (between Fort Stockton and Washington), San Diego, CA 92103
North Park Farmers Market
Bring home the catch of the day with fresh seafood at the North Park Farmers Market. They also offer vendors featuring cheeses, salts, fresh honey, and local chef demonstrations and food. With more than 65 vendors, this farmers market is a fan favorite in San Diego. The live music adds a festival flair to the weekly market and people enjoy shopping the vendors whether rain or shine.
Day & Time: Thursday 3 p.m. – 7 p.m. 
Parking: Parking at the North Park Farmers Market can be limited. Get there early to ensure you get a spot. The local North Park Garage has some parking options as well as neighboring streets at meters.
Address: Located between 29th and Ray Street on North Park Way, San Diego, CA 92104 
Pacific Beach Farmers Market
With a location right by the beach, you can get some fun in the sun and stop by the market on your way home. The Pacific Beach Farmers Market in San Diego is known for its wide selection of seafood, vegan soups, and organic produce. Neighbors love to shop, socialize, and explore this local market.
Day & Time: Tuesday 2 p.m. – 6:30 p.m. 
Parking: Parking can be found on the street at meters or at parking garages. The cheapest parking around is located at 1245 Garnet Avenue.
Address: 901 Garnet Avenue, San Diego, CA 92109
East County San Diego Farmers Markets
East County is a vision to behold with the Cuyamaca & Laguna Mountains as well as the solemn desert area of the Anza-Borrego State Park. Between the coastal foothills to sunny landscapes dappling the area, East County is a lovely gem to visit. Equally delightful are the farmers markets in East County below listed.
La Mesa Farmers Market
La Mesa Farmers Market features organic produce that runs the gamut from citrus to beets. Currently run by Brian's Farmers, the market strives to provide quality wares and foods to the community via sustainable practices while also promoting local farmers. In addition to fresh fruits and veg, La Mesa Farmers Market vendors are also serving up flower bouquets, live music, fermented offerings, soaps, ice cream, jerky, eggs, juices, and more.
Day & Time: Fridays 11 a.m. – 1:30 p.m.
Parking: Allison Ave Parking Lot between Palm and 4th
Address: La Mesa Blvd between Palm Ave & 4th St. La Mesa, CA 91942
Lemon Grove Farmers Market
They say good things come in little packages, and Lemon Grove Farmers Market is proving that adage. This is a small, upstart market, but they have high aspirations of becoming a community hub. Lemon Grove's offerings grow by the week, and they recently have new food vendors like Pizza at the Market with hand-tossed pizzas and Tortillas de Lola, serving up fresh-made, authentic tortillas while you shop. Of course, you can stock up on your staples while visiting and grab your eggs, fruit, vegetables, greens and homemade breads. Lemon Grove also has vendors who sell creative home decorations, jewelry and kitchen goodies such as custom-made cups and spoons.
Day & Time: Every Thursday 3 p.m. – 7 p.m.
Parking: Free parking is provided at the VFW parking lot
Address: Located in the VFW Post 2082 on 2885 Lemon Grove Ave, Lemon Grove, CA 91945
South Bay San Diego Farmers Markets
Also known as South County, South Bay is the home of close-knit communities such as National City, Chula Vista and Imperial Beach. It is a beautiful place to live, work, play – and of course shop at farmers markets!
Imperial Beach Farmers Market
Imperial Beach, or "I.B.," as the locals call it, has a reputation for being one of the most laid-back beach towns in all of Southern California. It's also the most southwesterly city in the continental United States. Take advantage of the relaxed vibes by visiting the Imperial Beach Farmers Market on Thursdays, and stick around to watch the sunset over the Pacific Ocean.
Day & Time: Thursday 2 p.m. – 6 p.m. (open until 7 p.m. during the summer)
Parking: Parking can be found on the street in the surrounding area
 Address: Seacoast Drive Pier Plaza, 10 Evergreen Ave., Imperial Beach, CA 91932
Chula Vista Farmers Market and Open Air Bazaar
Nestled in the Third Avenue Village Market, Chula Vista Farmers Market is hosted by the Downtown Business Association. Purchase delicious, organic fruits, veggies from certified farmers as well as fresh-cut flowers from local nurseries. The market will also impress you with its impressive array of international foods, handmade foodie items and artisanal culinary delights such as sauces, jellies, and more. The market also features handcrafts such as jewelry, clothing, and candles – all at reasonable prices.
Day & Time: Every Thursday 3 p.m. – 7 p.m.
Parking: There is sufficient parking around the market in the downtown area.
Address: Downtown Chula Vista, on 290 Center Street between Church and Third Avenue
Other Things to Consider
After viewing these amazing farmers markets in San Diego, you might still have a few questions. Here are some common inquiries about shopping at farmers markets in the area.
What day is the San Diego Farmer's Market?
Because there are many farmer's markets in San Diego, you have your pick to almost any day of the week. Most SD farmers markets are open for business on Sundays or Saturdays. However, other markets such as Mission Hills and Carlsbad are open on Wednesdays. Just take a gander at the days of operation on this SD farmers market guide and pick the market that is open on the day you want to go.
Which is the biggest farmers market in San Diego County?
Boasting over 175 vendors, Hillcrest Farmers Market in Central San Diego is the largest in the county.
Is there a farmers market in El Cajon?
There was, but the Downtown El Cajon Farmers Market in East County in the Prescott Promenade was closed permanently in 2017. Nevertheless, only 4 miles away from El Cajon awaits the La Mesa Farmers Market. Or, you might want to try the Lemon Grove Farmers Market only 8 miles away from El Cajon.
What day is the Carlsbad Farmers Market?
Every Wednesday from 2:30 p.m. to 7 p.m.
What day is Encinitas Farmers Market held?
Also known as the Leucadia Certified Farmers Market, this event is open for shopping every Sunday from 10 a.m. to 2 p.m.
Are pets or dogs allowed at San Diego Farmers Markets?
Regrettably, no. According to California state guidelines, pets are prohibited to enter SD farmers markets. However, legitimate service animals are permitted.

Conclusion
No matter where you work or live in San Diego, there is a farmers market nearby. Whether you go for the food, the music, to say hello to friends, there are infinite reasons to visit your local farmers market. Find your favorites and try something new at the farmers market in San Diego.
About the author: Kristi Crosson is a writer, photographer, and farmer. She and her family raise chickens and rabbits and they are attempting to grow herbs as well. Her favorite part about summer is the time in the evening when the fireflies light up the fields with their luminescent glow. You can find her at KristiCrosson.com.
The banner photo of the Little Italy Farmers Market in this article is from IG user @mikireaume.