The Lazy Adult's Guide to San Diego Comic-Con International Offsite Events & Parties 2017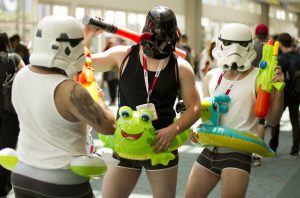 Eileen Blancas, sub-culture and pop culture enthusiast, guest blogs today with an insightful and easy San Diego Comic Con 2017 off-site events guide. No badge required.
If you've been following my San Diego Comic Con guides throughout the years, you know my guides follow a central theme: survival and laziness. I, like you, enjoy a good time. But also like you, I don't enjoy going through the countless event guides with terrible layouts, Facebook invites that inevitably get lost in the FB black hole, and press release after press release about some toy you've never heard of (#sorrynotsorry). And yet, it brings me such joy to wade through it all to provide you with the most interesting events!All events in this guide do not require a Comic Con badge, but some do have a cover. At the time of writing this, events have not yet "sold-out." No, I cannot get you into any of the Conan events.
If you're visiting San Diego for the first time or if you will be staying all week be sure to visit La Jolla and take in some sun and explore the Village. Not sure where to start? Check out our handy guides here.

All-Weekend Offsite Events
Petco Park Interactive Zone 100 Park Blvd.
When: Th-Sat Open-6pm, Sun Open-5pm
What: After a bit of hiatus, Petco Park Interactive Zone is back. It is the best place to go if you are badgeless and low on funds. Expect to see photo booths, VR and arcade demos from the Razer Experience Tour, food provided by Netflix's "The Rise of Voltron," and much more!
Netflix Experience Hilton Gaslamp, 4th Ave. and L St.
When: Th-Sat 11-8PM, Sun 11-3PM
What: With several original hit shows under their belt, and now a hit movie, "Okja," Netflix is going in strong this year at Comic Con. Since you're badgeless and have no hope of getting into Hall H, the Netflix Experience is your next best bet. Catch sneak peeks of upcoming originals, exclusive giveaways, and more. You will also be able to immerse yourselves into the worlds of "Stranger Things," "Bright," and the streets of New York with Marvel's "The Defenders."
FXHibition Hilton San Diego Bayfront Lawn, 1 Park Blvd.
When: Th-Sat 12—6pm, Sun 10—2pm
What: Fri Screening: 7pm—9pm, doors 6:30pm
Much like the Petco Park Interactive Zone, the Bayfront Lawn is another place to find the most bang for your $0. Immerse yourself in a mixed reality experience with FX shows like "Legion," "American Horror Story," "Archer," "Atlanta" and more. Find out more on their SDCC site, FXSDCC.
Nintendo Gaming Lounge — Marriott Marquis & Marina
When: Thursday, July 20 — Sunday, July 23 (10AM-7PM on Thursday-Saturday, and 10AM-5PM on Sunday).
What: Play some of their most popular games like: The Legend of Zelda: Breath of the Wild, Mario Kart 8 Deluxe, Splatoon 2, Pokémon Tournament DX, Pokémon Moon, Super Mario Maker, and more. For more info click here.
Adult Swim On the Green Convention Way & 5th Ave Pier, Behind Convention Center
When: Th-Sun 1-6pm; 18+
What: The first of adults-only events, this is a TOP NOTCH offsite that everyone makes the effort to attend. Wacky carnival games, free swag, and the Meatwad Dome experience — said to be upgraded this year w/motion seats. Get a tarot card reading, befriend a motorized animal, and wait in a gigantic line! Just kidding, skip the line and register at the Adult Swim event site. Also check the site out for a schedule of signings with "Rick & Morty," "Robot Chicken," and "The Jellies."
TBS "Wrecked" Marina behind Convention Center
When: Th-Sun 12-5pm; 21+
What: This is probably the most legit new event to pop up on the offsite circuit. This "floating island" will include an island bar, coconut skeeball, minigolf, palm tree climbing, and a mechanical boar — all on a barge in the SD bay! They're even advertising that you can pee in an airplane cabin, but that's up to you!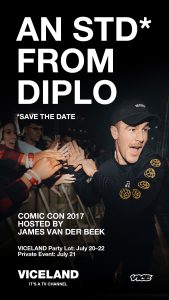 VICELAND Party Bus w/James Van der Beek 530 Island Avenue
When: Th—Sat 9-6PM
What: Official Party w/Diplo at Fluxx, RSVP only
I know what you're thinking — what the hell is this flyer and what does Dawson have to do with Comic Con? Well, it looks like the VICELAND Party Bus is parking itself at SDCC to celebrate the launch of their new show starring James Van Der Beek, "What Would Diplo Do?" Yeah, I have no idea either — but it sounds a trip! The bus is fully loaded with a lounge area, snacks, drinks, music, wi-fi, swag, and even a rooftop deck. There will also be special guests stopping by throughout the week. Probably Diplo. Ask him if you can get into the exclusive party, just don't catch any STDs.
Mr.Robot 327 4th Ave btwn J and Island
When: Th-Sat 11-7pm, Sun 11-4pm
What: While many people seem to be bummed that Mr.Robot doesn't have a ferris wheel or panel this year, there is something better! A free meal! Alright, so I am biased. I can't say I know much of Mr.Robot, but I can say I am a fan of free food. Head to the "E Corp's Bank of E" for an E Corp Card. That card will give allow you to make purchases (I assume), but best of all, if you go to the "Red Wheelbarrow BBQ" next door, they will give you a free bbq meal. You're welcome.
For more offsite events visit SDCC's official list. Now onto the parties!
Thursday Parties
Thursday is THE day for parties. I am listing them in the order of importance, most important to backup plan.
IGN x Sony x MRC Studios: The Dark Tower Fan Party Tipsy Crow
When: 8-2am; Free; 21+
What: They list baby ribs and drinks, I don't know if that means it is free eats and drinks, but with sponsorships like that — you best show up and find out! They've also got live performances as well, should be a great time! Register now on eventbrite.
Syfy x The Nerd Machine Fan Dance Party The New Children's Museum
When: 9-12pm; Free
What: If you're one of the many who were disappointed in the lack of a physical Nerd HQ, have no fear! There are not just one, but two fan dance parties by Syfy and Nerd HQ! Show up in your cosplay and dance with all your best friends. This is the party to just let loose at!
Rave of Thrones Omnia
When: 9:30-2am; $20; 21+
What: Kristian Nairn is back with the Rave of Thrones! If you're a fan of Game of Thrones or dance music, this is not an event to be missed! It is, however $20 pre-sale and probably an arm and a leg the day of. Buy tickets at the Omnia website.
Bangarang Heroes and Rebels Bassmnt
When: 9-1am; $15; 21+
What: Famed for his roles as Rufio in "HOOK," and Prince Zuko in "AVATAR: The Last Airbender," Dante Basco is hosting a dance party at the nightclub Bassmnt. Cosplay is encouraged, egos are not — check it at the door. Tickets are $15 and may be purchased here.
Modern Times Beer Dinner w/Star Wars Spelling Bee BIGA
When: 7-11pm, $35 online $45 at the door, 21+
What: This event is probably going to be pretty dope as who doesn't love a three course dinner, local beer pairings, and a super geeky spelling bee? Do you know how to spell Tatooine? I'll give you a hint: I just wrote it. Buy tickets here.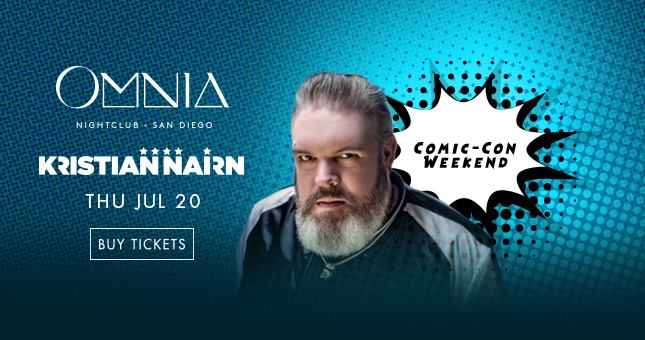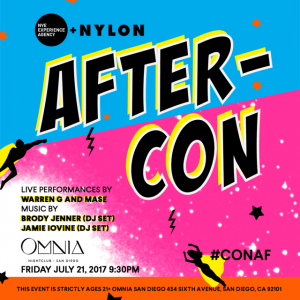 Friday Parties
Ghostbusters Mass Hysteria Werewolf
When: 8am-2am; Free; all ages until 9pm
What: A beloved event by all, Ghostbusters Mass Hysteria is an all day event with panels and prizes, followed by a party for the adults! It is first come, first serve — and tons of fun. For schedule and more info, follow their FB invite page.
NYLON AND NVE EXPERIENCE AGENCY PRESENT AFTER-CON AT OMNIA NIGHTCLUB SAN DIEGO
When: Friday, July 21  9:30 p.m. — 2:00 a.m.  Held at San Diego's OMNIA Nightclub located in the legendary Gaslamp Quarter.
What: Tyler Posey ("Teen Wolf"), Danai Gurira ("Black Panther"), Jamie Chung ("Big Hero 6: The Series"), Warren G (Hip-hop artist), Brody Jenner (DJ), Jamie Iovine (DJ),  Aimee Garcia ("Lucifer"), Bree Turner ("Grimm"), Bryan Greenberg ("The Mindy Project"), Cassie Scerbo ("Sharknado 5: Global Swarming"), Fabio Lanzoni (Model), Ian Ziering ("Sharknado 5: Global Swarming), Katheryn Winnick ("Vikings"), Lana Parrilla ("Once Upon a Time"), Marie Avgeropoulos ("The 100"), Paul Johansson ("Van Helsing"), Robert Buckley ("iZombie"), Shohreh Aghdashloo ("The Expanse"), Tara Reid ("Sharknado 5: Global Swarming") and more to be announced.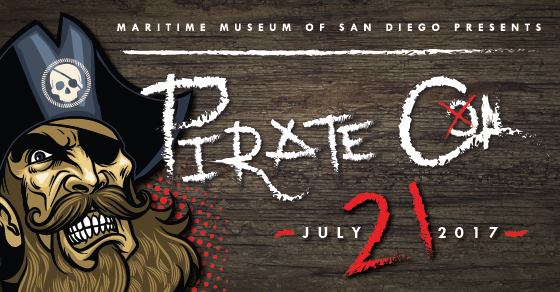 Pirate Con Maritime Museum of San Diego
When: 8-12pm; $40; 21+
What: I've heard stories about this party. Depending on who you are, this could be either good or bad. You've been warned! Bonus! You get a Funko toy with the purchase of your ticket! Tickets may be purchased at the Maritime Museum of San Diego website here.
Japanese Pop Culture Party: Yokai Omatsuri Japanese Friendship Garden
When: 7:30-11:30pm; $25; 18+
What: If kawaii Japanese culture is more your thing, check out the Japanese Friendship Garden at Balboa Park for activities, food, and DJs. Tickets can be purchased here.
Das Bunker Galactic Dance Party at SDCC Spin Nightclub
When: 9pm- ???; $25; 21+
What: Los Angeles' famed Industrial Dance Club treks over to San Diego for a night of galactic fun. Spin is known to go well into 4am, so if you're looking for an all nighter, this is your party! Buy tickets here.
Saturday Parties
Syfy x The Nerd Machine Fan Dance Party Pt. 2 The New Children's Museum
When: 9-12pm; Free
See Thursday's description.
SDCC Horror Cosplay Meetup – Club Sabbat Presents Horror vs Sci-Fi
MEETUP: Location TBA; 6:30-7:30pm; Free; All Ages
AFTER PARTY: Numb3rs Nightclub 9-2am; $7; 21+
The well beloved Zombie Walk is no longer, but lives in the spirit of an all new horror meetup! In zombie fashion, the location is TBA, follow the FB account herefor more info. Following the meetup is the after party presented by Club Sabbat, come in your horror gear or switch it up to galactic babe status. Watch the tentacles! The after party is 21+, sorry horror kids.
Comic-Con Club Crawl Analog Bar
I'm not a huge fan of crawls, but I admit they can be fun — and people seem to enjoy them. Use this discount from Goldstar. This crawl is also on Friday, but don't pay more when you can pay less. Go Saturday. More info and tickets here.