Your Guide to the Best Halloween Parties in San Diego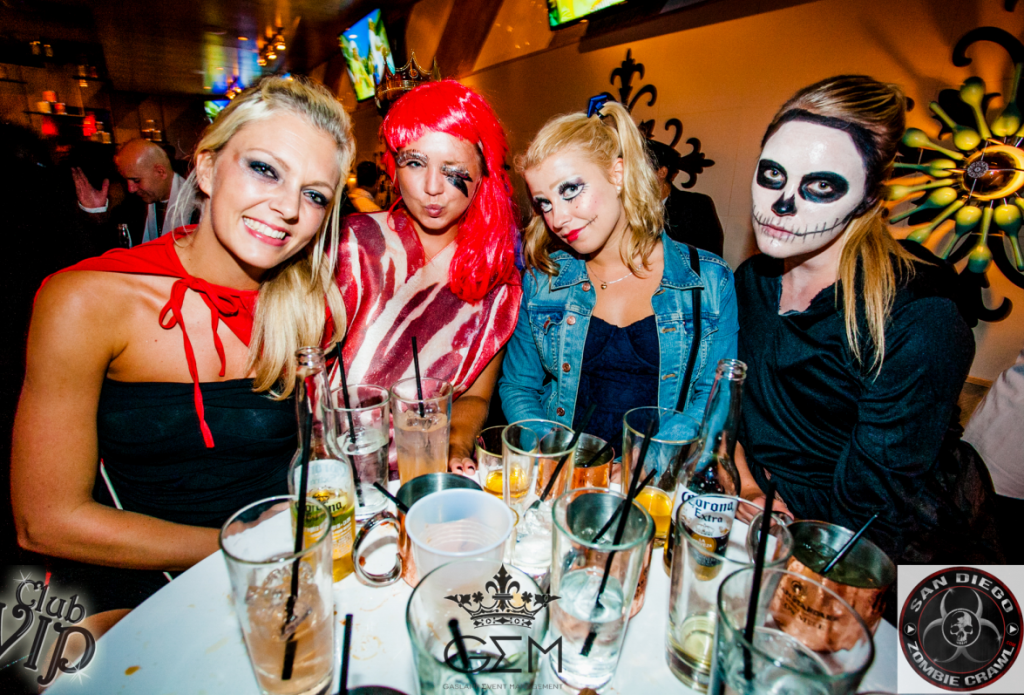 NOTE: In 2021, we created an updated version of this page: 12 Halloween Events in San Diego.
It's that time of year again — Halloween is just around the corner, you're beginning to see Fall colors in San Diego, and the spooky celebrations are already getting started! Leave the trick-or-treating to the kids and throw on your best costume to roam the streets and clubs of downtown San Diego and beyond — from epic outdoor parties to all-night bar crawls, there's definitely something for everyone happening this Halloween.
Halloween Pacific Beach Pub Crawl
When: October 27, 2018
Come in costume and hit the streets of Pacific Beach for a Halloween pub crawl night out! Tickets to this year's Pacific Beach Halloween pub crawl will get you drink discounts and free welcome shots and entry at over 10 different Halloween parties. Featuring some of the best bars with amazing drink and entertainment specials, there's no shortage of fun entertainment at this year's Pacific Beach Pub Crawl. Meet new friends and visit new places on one of the most popular nights of the year, and prepare to dress yourself up in one of your favorite costumes!
San Diego Pre-Halloween Pub Crawl
When: October 26, 27, 31
Put on your best costume for this massive Halloween Pub Crawl over three Spook-tacular nights with a half dozen bars! During select hours on the 26th, 27th, and 31st. Show your wristband at over 10 different bars and nightclubs for free entry and exclusive drink specials including free welcome shots at select venues. The best part? There's no schedule — so you and friends roam the streets at your own pace and party non-stop all night. This year's pre-Halloween Pub Crawl will happen on three separate nights at the end of October.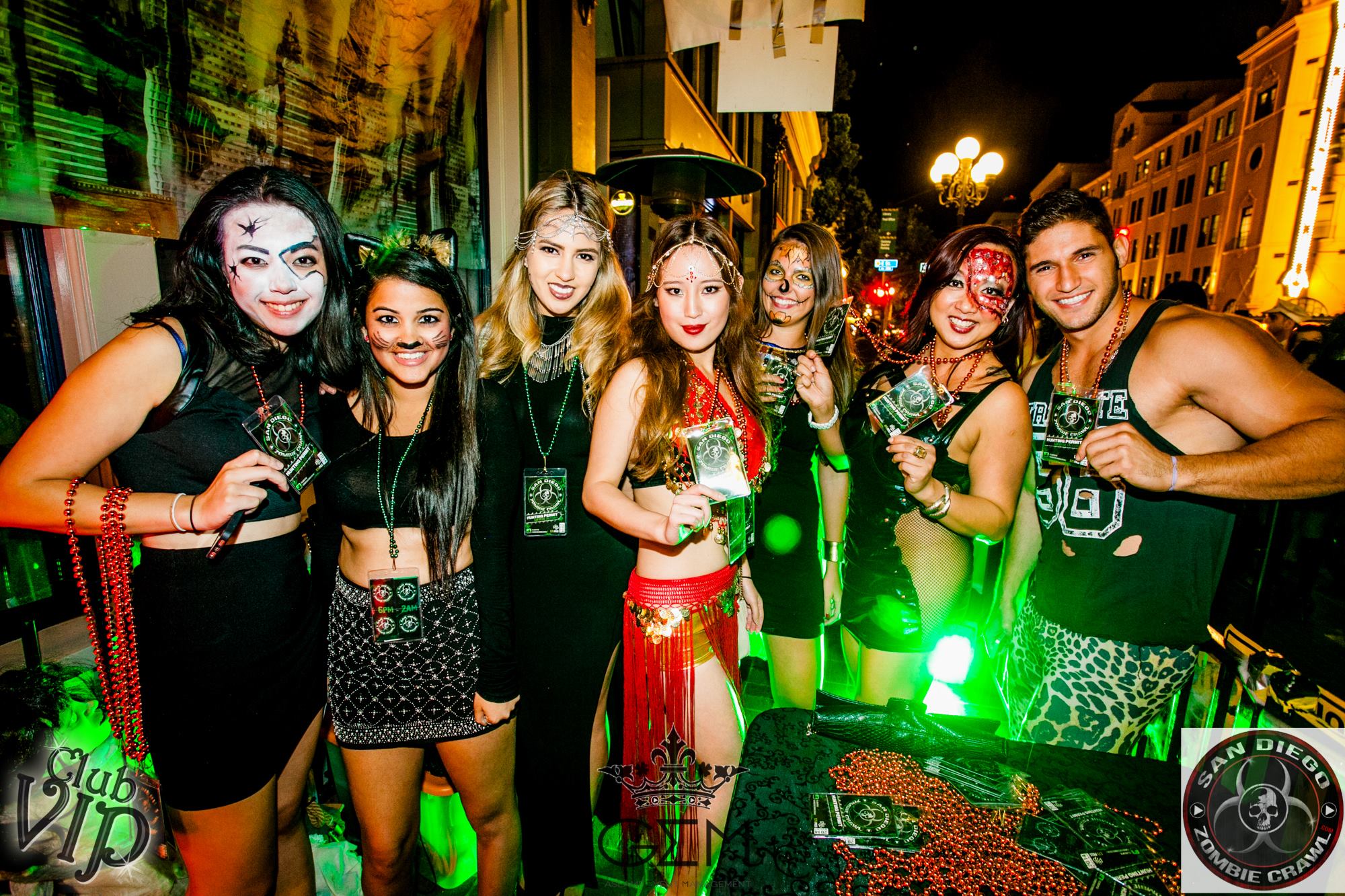 San Diego Zombie Crawl Gaslamp Takeover
When: October 26, 27, 31
If you love Halloween, dining and the nightlife, you won't want to miss San Diego's #1 Halloween Celebration! Your San Diego Zombie Crawl ticket includes three nights of access to more than 25 premier club destinations, welcome shots, and food and beverage specials in the Gaslamp Quarter and downtown San Diego. Closing parties will be held at different clubs each night: Parq Restaurant/Nightclub, Bassmnt, and Omnia, three of the most popular spots in San Diego. This is the ultimate way to experience the nightlife and Halloween festivities the Gaslamp Quarter is famous for!
[ad size=728×90]
Sinners & Saints: Night at the Haunted Museum
When: October 26, 2018
Head to the San Diego Museum of Man for a spooktacular extravaganza as they raise money for a great cause: Urban Street Angels and the mission to end youth homelessness in San Diego and beyond. 100% of proceeds from the event go directly to aiding homeless youth in the local community.
Sinners & Saints promises to be a frightfully fantastic evening with delectable appetizers, stocked bars, costume contests, live entertainment from DJ Aaron K, and amazing raffle and silent auction items. The Museum will have all of their exhibits open for your enjoyment, including Ancient Egypt, Monsters, and Beerology, so it's a great time to explore everything Balboa Park has to offer!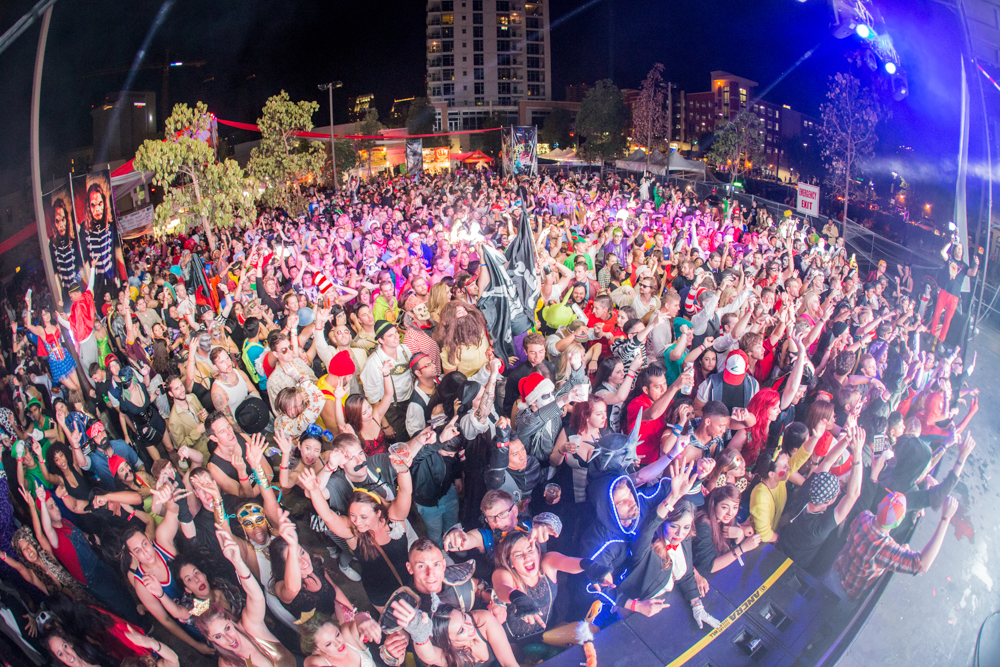 WCKD Village
When: October 27, 2018
Monster Bash is now WCKD Village! After 19 years of thrilling festivals, Monster Bash is getting WCKD: prepare to enter into a realm of electrifying adventures as San Diego's favorite Halloween festival returns, bringing you all the exhilaration of previous years, with a new WCKD twist. Six blocks in the East Village will transform right before your eyes as the WCKD Village comes to life.
Life-size interactive games, four stages of live music and entertainment, extravagant thrills, a creepy costume contest, and haunting experiences (including The Demented Circus and The Village Crypt) converge to become one of San Diego's biggest Halloween parties of the year!
[widget id="text-2″]
Nightmare on Normal Street
When: October 27, 2018
Hillcrest's epic haunted dance party and Halloween costume competition is back! Nightmare on Normal will take over the Pride Flag Plaza at Normal and University on Saturday, October 2 from 6pm-11pm! This year's event benefits the San Diego LGBT Community Center and Fabulous Hillcrest.
With late night live entertainment, costume contest (including a special pet contest for your furry, fuzzy, and feathery companions), outdoor bars, and the best people watching in all of San Diego, this is an event you won't want to miss!
Hard Rock Hotel's "A Halloween Odyssey"
When: October 27, 2018
Hard Rock Hotel is famous for throwing massive Halloween parties each year, and this year is no different! The theme for 2018 is "A Halloween Odyssey," and guests will get to experience a chilling reenactment of Stanley Kubrick's most infamous films on October 27th at one of the biggest parties of the evening.
More than 4,000 costumed party-goers will drink and dance in five rooms over three decked-out floors, each room with a different music format accompanied by a notorious Kubrick-inspired theme. Over 15 DJ's and two headliners will keep the downtown odyssey going all night long. This year's headliners include Oliver Heldens and several more TBA.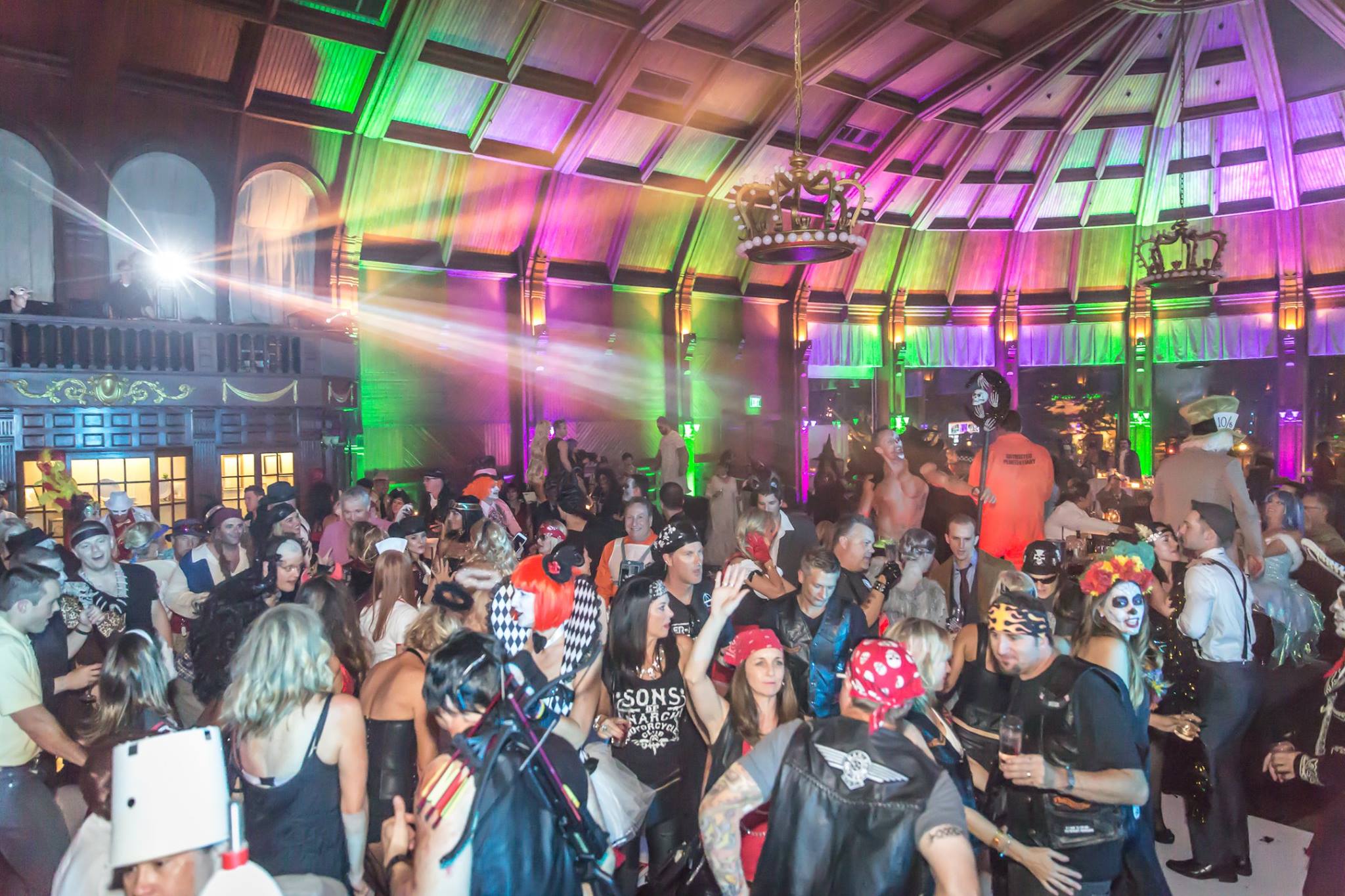 Hallo-wine and Spirits Party
When: October 27, 2018
Celebrate Halloween at San Diego's famous haunted hotel on Saturday, October 27! Wear your best costume and head to the 9th annual, adults-only Hallo-wine & Spirits Party full of spooky surroundings, great eats, drinks, and dancing. This year's theme is Legendary Screams from the Silver Screen. Don't forget to use #DelHallowine to post your photos and videos of the event!
The evening begins at 9 pm with a reception on the Garden Patio featuring culinary delights and wine tasting. Afterward, the party starts to head into the Crown Room for dessert, drinks, dancing, and the crowning of the year's best Halloween costume. Make reservations early for this one, as tickets often sell out in advance. The event goes from 7pm-12am.
[ad link="https://www.lajolla.com/article/your-guide-to-san-diego-breweries/" size="300×250″]
Halloween Yacht Party
When: October 27, 2018
If you're looking for a different way to celebrate Halloween this year, try a harbor cruise! Guests will board the Spirit of San Diego from San Diego Harbor for a three-hour cruise with hundreds of fellow costumed party guests. The luxury party yacht will feature all kinds of treats and appetizers, a full bar, DJs and dancing on multiple levels, and costume parties (including a chance to win a $500 cash prize for best costume!). The event is 21+ and the cruise starts at 9 pm.
For more Halloween festivities, fun, events, and Fall activities, visit our Events Page to stay up-to-date on the city's latest happenings!