Herringbone La Jolla, San Diego, CA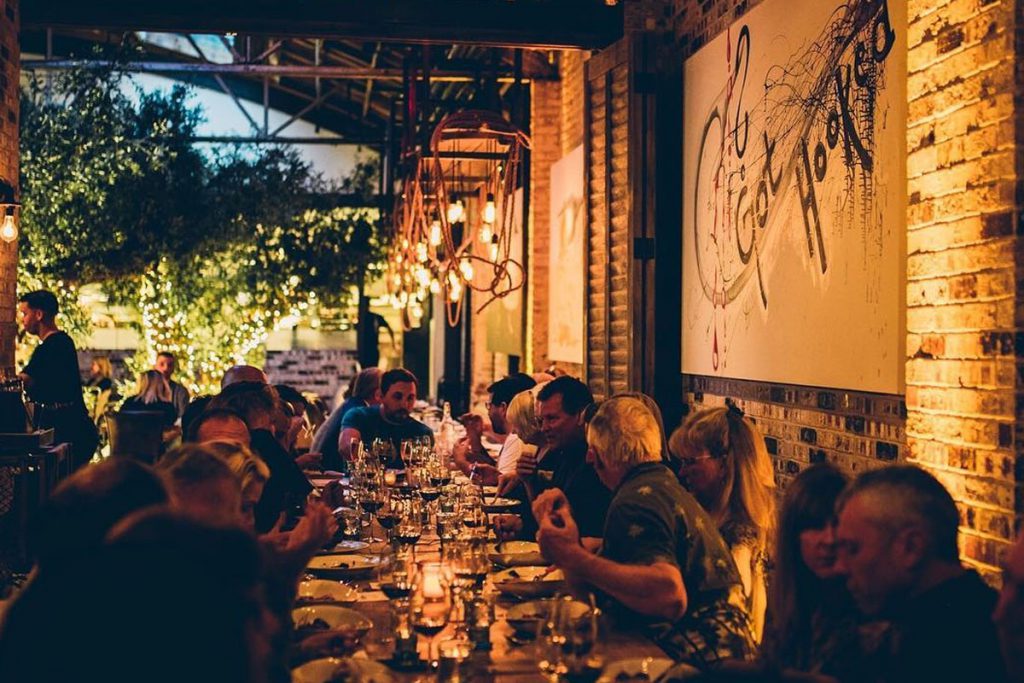 Take After-Work Drinks to the Next Level at Herringbone's Oyster Hour
With its charming ambience, tempting craft cocktails, and inventive takes on classic American fare, happy hour in La Jolla at Herringbone is not your average after-work bar. Executive Chef Brian Malarkey, a Top Chef finalist and founder of several successful restaurants (including Searsucker restaurant in San Diego), has created a space that's both trendy and communal — so even though it's stylish, it's still got an inviting feeling that makes it perfect for a night out with friends. Not to mention Malarkey's menu of savory dishes, which will totally change your concept of bar food.
Take your evening drinks to the next level and check out happy hour (or Oyster Hour, as they call it) at Herringbone first.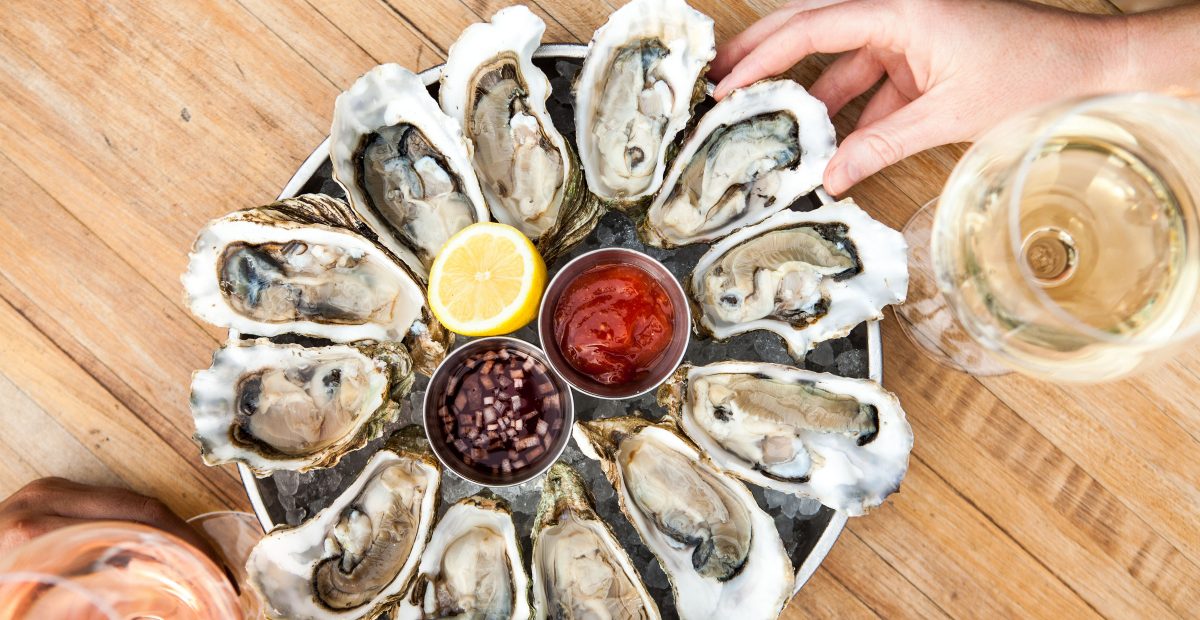 Romantic Coastal Lounge
Herringbone is well known by locals for its lofty, modern-rustic atmosphere. With its high ceilings, wooden beams, and exposed brick give it a "repurposed vintage" vibe. The location is actually a renovated 1930s warehouse; it was transformed from a practically abandoned building, to a chic space. Throughout this romantic coastal lounge, 100-year-old olive trees and strung fairy lights bring the outside in and add a touch of whimsy.
The restaurant has two areas: the sky-lit dining room in the back, and a more casual area in the front where happy hour takes place. With plenty of seating both inside and out (where you can enjoy some of the year-round lovely weather in San Diego) it's great for a social dining outing. It's spacious enough to fit everyone in your party while still feeling cozy. There are tables for bigger groups, while the plush chairs and window-side sofa are great for more intimate conversation. The wood-burning fireplace will keep you warm, too, if you can snag a seat nearby during the chilly nights. The outdoor patio is pet friendly, so feel free to bring along your furry friend.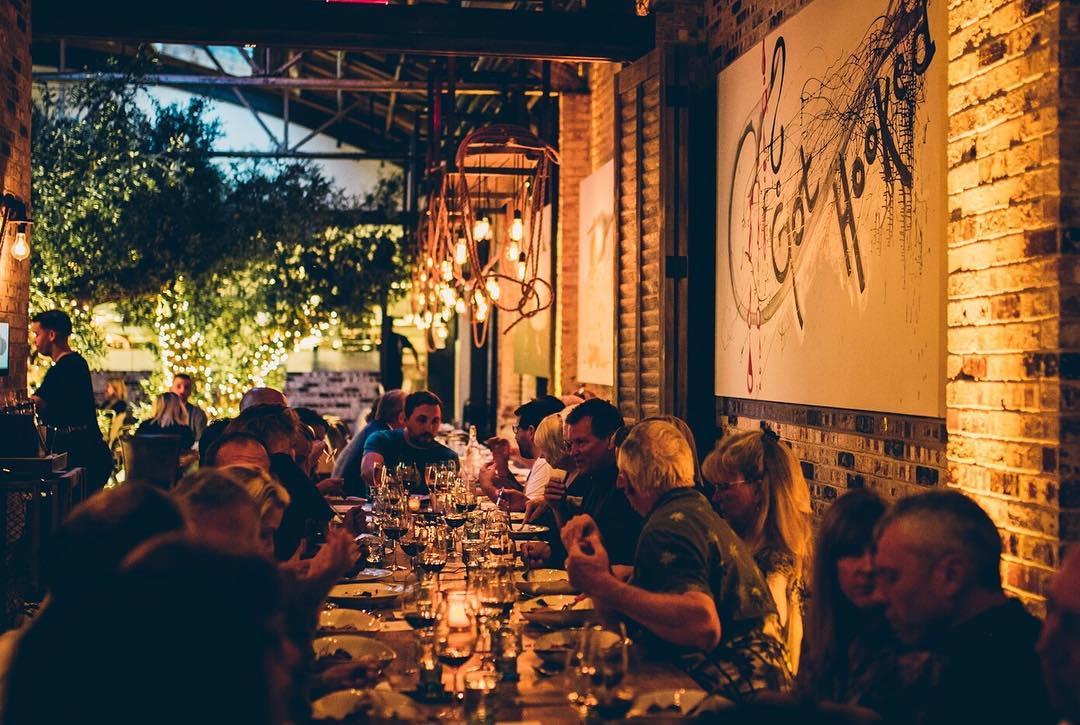 Chic But Chill
Downtown La Jolla is perfect for when you're feeling festive, but want something more laid back than a trip to the Downtown San Diego area or Pacific Beach.
While Herringbone is an upscale place, it's low-key enough to still enjoy Happy Hour on the casual side. It's definitely on the fancier side compared to an Irish Pub like Hennessey's Tavern, but not quite as formal as the Marine Room — so no need to worry about a dress code. This makes it perfect for drinks before a date, a fun work get-together, or ladies night out to catch up with friends.
Live Music
Did we mention the music? Every Thursday and Friday from 5:00-7:00 pm, you can enjoy free live music from local artists as you sip your cocktails and taste delicious small plates. If you're stopping by during the weekend, they have a set at 12:00-2:00 pm and again from 4:00-6:00 pm.
A tip for beer lovers: On Saturdays from 12:00-4:00 pm, the restaurant also hosts "Acoustics and Ales," where they feature draft beers from a visiting brewery along with chill acoustic tunes.
Well Pours, Poured Well
A good happy hour starts with one thing: a good drink. Luckily, Herringbone has you more than covered there. Its happy hour menu has got some of the best cocktails in La Jolla, with a variety of both original recipes and classics. They've got well drinks down (and for only $5), but if you want something different, you've got to try one of their specialty cocktails.
Snake In The Grass [pictured left]
This is for anyone looking to step up their usual Gin and Tonic. Cucumber gin, lime, mint, and soda come together in this refreshing mix.
Jaleberry [pictured right]
Sweet, spice, and everything nice. The kick of the strawberry jalapeño tequila is balanced out with a little bit of lime and agave.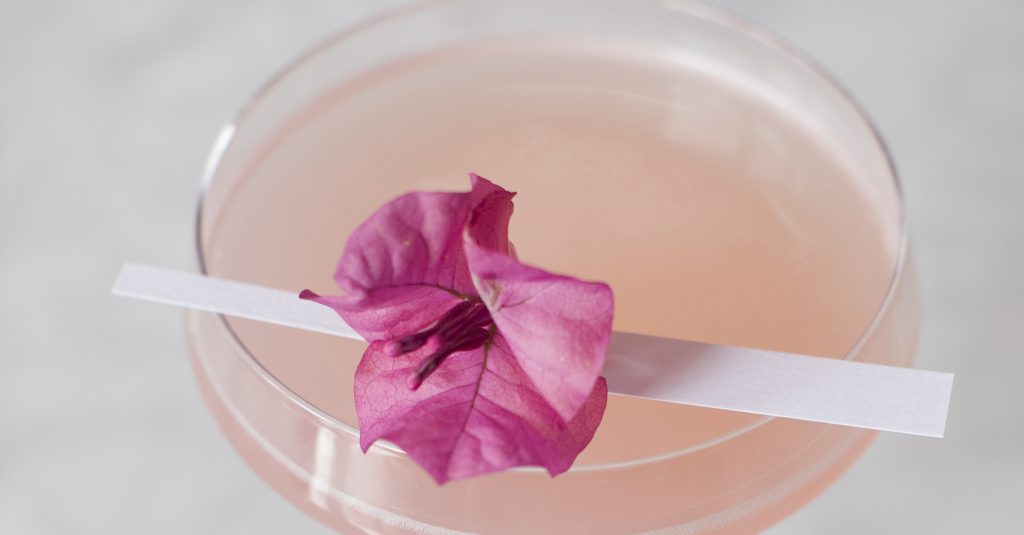 La Jolla Aviation
This luscious combination of gin, maraschino, creme yvette, and lemon will have you soaring.
Ocean Breeze
Probably the fruitiest cocktail option, this drink is a delicious concoction of Effen black cherry vodka, pineapple, cranberry, and lemon.
Housemade Infusions
The bar at Herringbone offers its own house-made infused liquors, which are made by soaking fruits or spices in spirits to create a unique flavor from natural ingredients. The happy hour menu includes two of their most popular, the cucumber gin and the strawberry jalapeño tequila.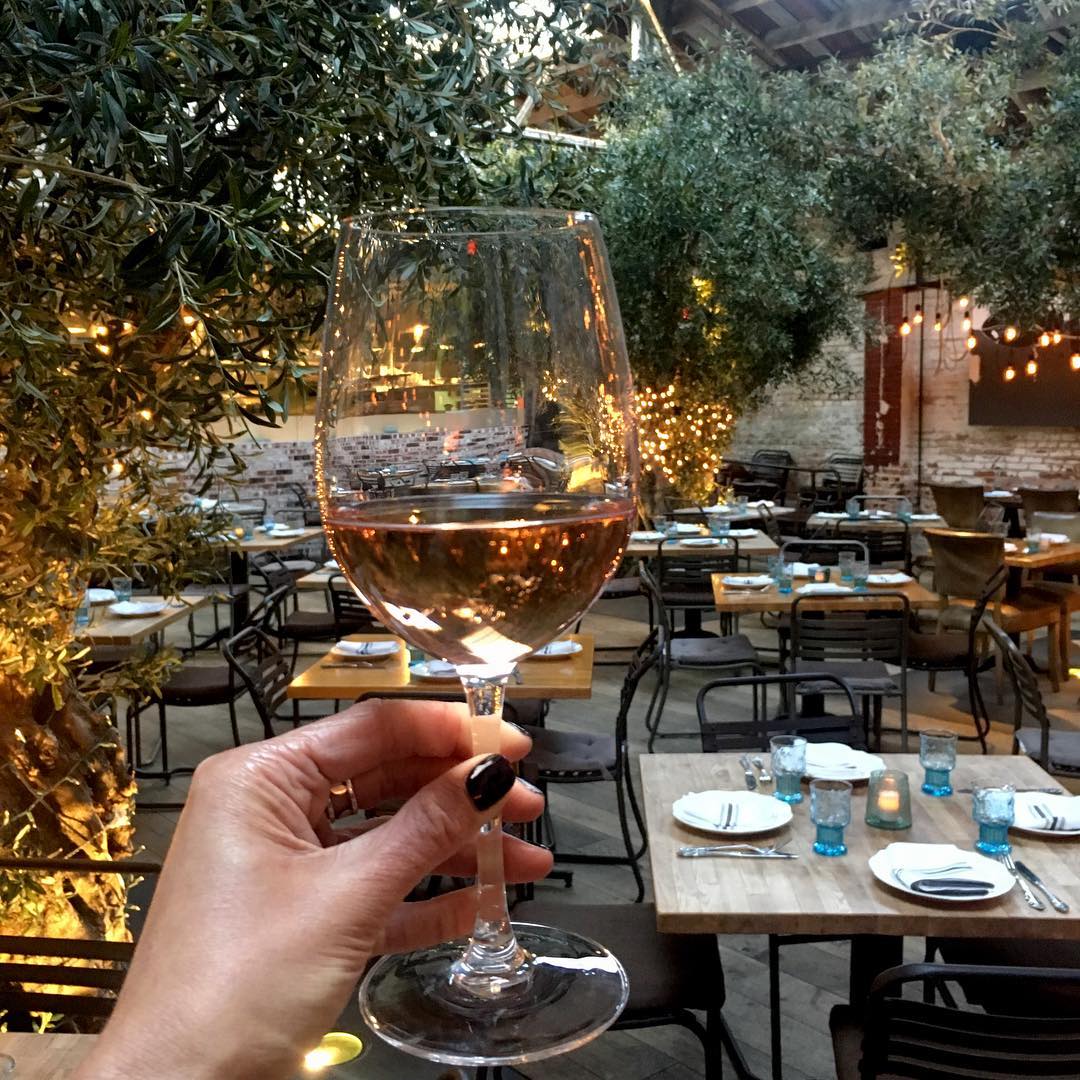 The Usuals
Not into the hard stuff? They carry local craft beer like St. Archer, as well as other popular names like Anchor. The wine list also covers pretty much all of your bases, whether you want a light chardonnay or an earthy Pinot Noir (hint: visit on "Tannin Tuesdays" for half-off all bottles of wine during lunch and dinner, or on Saturdays for endless $25 rosé wine).
Fish Meats Field
When Malarkey opened Herringbone La Jolla in 2012, he envisioned a fine dining experience of "Fish Meats Field:" coastal cuisine made with the best seafood that markets have to offer, as well as the freshest farm produce of the season. His approach to contemporary American cuisine brings in the best of both worlds, reflected in the carefully curated happy hour menu that's the perfect balance of surf and turf.
Seafood Offerings
Even though it's a favorite around town for evening drinks, Herringbone is known first and foremost for having some of the best seafood in La Jolla. Only two of the options of happy hour selection come from the usual coastal menu, but they're seriously delicious, and and seriously good deals.
Oyster Hour
Of course one of the of the most popular features of Herringbone's happy hour menu is the Oyster Hour. Order their famous shucked oysters on the half shell for just a $1 each. It's a great deal, and they're always incredibly fresh. The variety depends on the chef's selection of what's best on the market that day.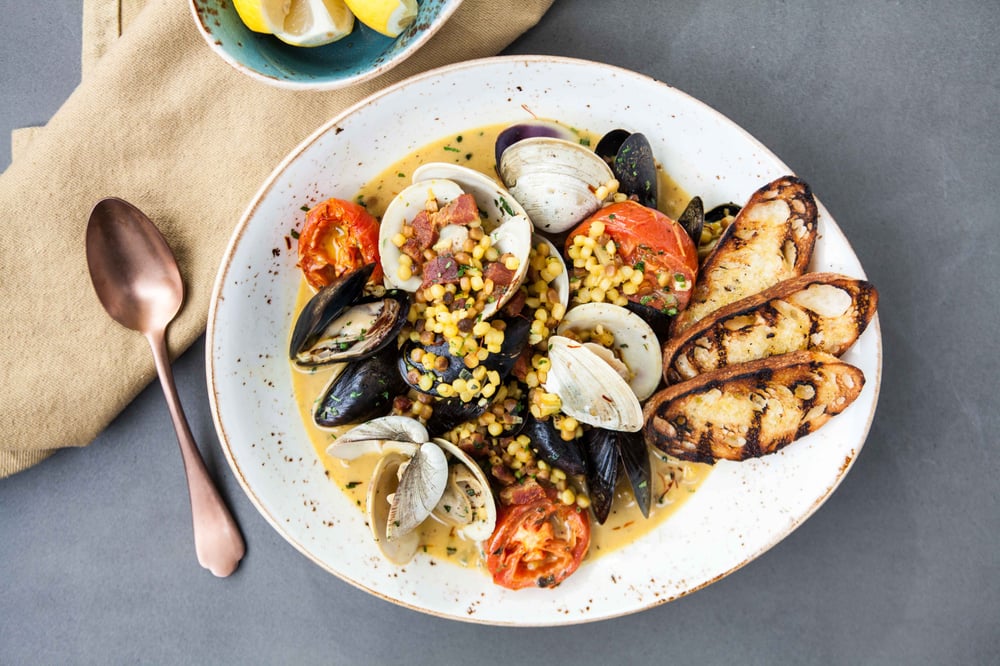 Curried Mussels
This one is more of a full plate, which makes it optimal for sharing. If you usually shy away from mussels because of a "fishy" taste, you're going to be pleasantly surprised by the subtle flavor here. Served with indian-inspired yellow curry, there's a bite from the Calabrian chilies that's balanced by the coolness of a little mint. Plus, on the side is helping of warm naan bread.
Arancini Risotto Balls
Filled with the creamy goodness of a three-cheese risotto cooked to perfection, these crispy delights are petite but very satisfying. They're served with an herb aioli on the side for dipping.
Before You Go
Oyster Hour is from 4:00-6:00 pm Tuesdays through Sundays, and from 4:00 pm until close on Mondays. Since it's a pretty casual event, Herringbone doesn't take reservations for this time. However, you should be fine on any weekday — things usually pick up after 6:00 pm, or a little earlier on Saturdays.
Herringbone is located on 7837 Herschel Ave. There's a private free lot for parking, and valet on Fridays and Saturdays. There are also some paid lots or free street parking on Herschel and Silverado (the two-hour spots are only monitored until 6:00 pm in La Jolla, so if you arrive at 4:00 or later try to find one of those).