Guide to the Trails at Torrey Pines State Reserve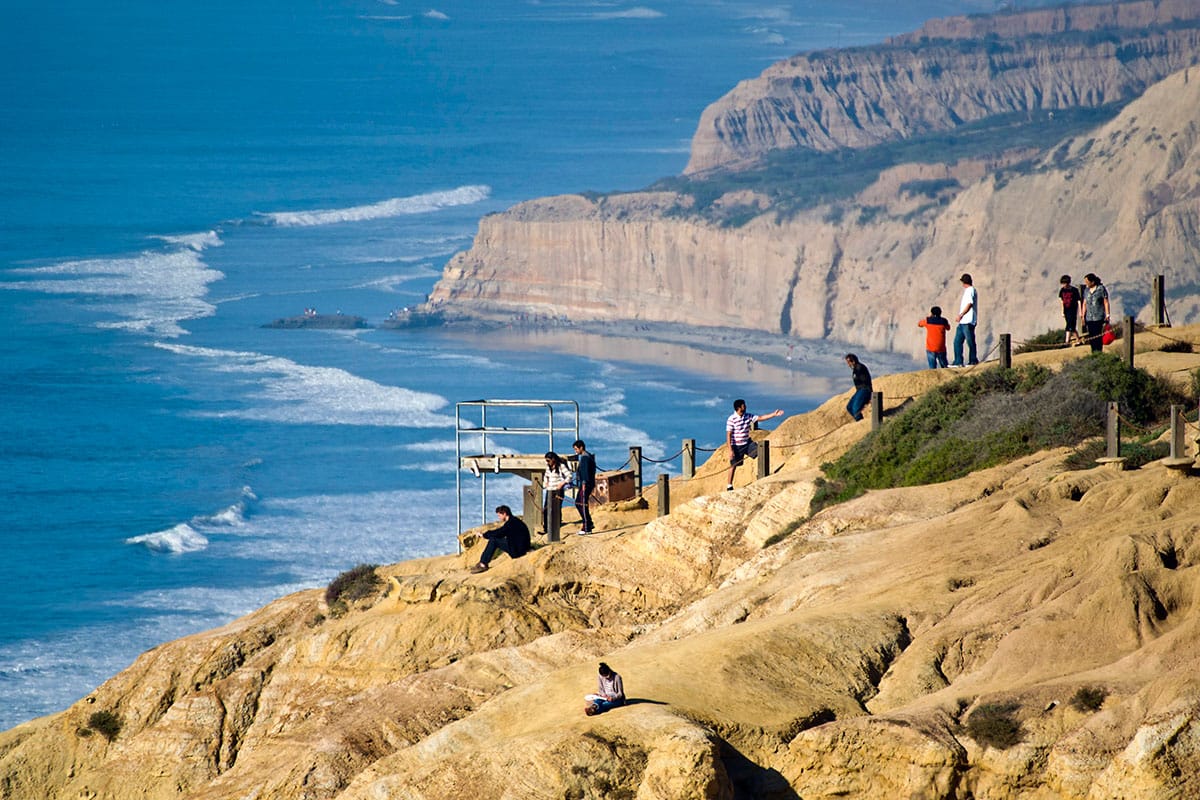 For those that love hiking and relaxing at the beach, Torrey Pines State Reserve is the ultimate place for combining both activities. You can spend the day hitting steep climbs or enjoying more laid-back paths. Whether taking a leisurely stroll or getting a morning run on the trails, we can't say no to any trail that leads directly to the beach!
Did you know that the Torrey Pine is the rarest pine tree in the entire United States? They are only found here and at the Channel Islands. When you visit, you're getting to see a very rare, endangered species. You'll also notice plenty of interesting rock formations; the sandstone cliffs that make up a majority of Torrey Pines date back hundreds of years and have slowly eroded over time, creating an incredible panoramic view every time you hike.
We want to make sure you feel prepared when heading out for a Torrey Pines hike, so we're sharing an overview about each trail, parking, important rules, tips, and more. Please Note:  DOGS ARE NOT ALLOWED at Torrey Pines State Park or Beach
The Trails
This state park is made up of six trails, which vary on length and intensity. This makes choosing a trail quite like ordering at Starbucks, personable and customizable.
Let's touch on each of the six trails:
1. Guy Fleming Trail
.8 mile loop
This is an easy loop that takes you to 2 incredible look out points. You make your way to the cliffs that overlook the ocean and then walk north, parallel to the coastline. Winding back towards the trail's beginning, you'll find yourself amongst pines that appear to be permanently swept back towards the land. Fun fact: This is because the salty sea air naturally prunes them and shapes them this way.
To work in a longer day of hiking, we suggest hiking this loop and then continuing on to another hike when you return to the main path.
2. Razor Point Trail
1.3 mile 
This trail is exciting because it breaks off into several additional trials. Veering off to take these paths is a fun, subtle way to add to your workout. The best part? It lands you at a incredibly large rock area that's an ultimate lookout point for ocean views and photos.
Yucca Point Trail is one of the small breakaway trails. This small garden loop is a delightful spot to stroll and take in ocean views. We highly recommend taking the short time to branch off onto it. It's also accessible via the Beach Trail, described below.
3. Beach Trail
¾ mile
Start high up on the cliffs and weave your way down. It's more important to have good-gripping shoes on this trail than some of the flatter loops. This is because you'll be carefully working your way downhill. When you make it down the final steps, you'll step (or leap!) onto the sand. Making it to a beach has never been so triumphant.
After taking in the seaside, you can make your way back up the trail for a fantastic uphill workout or head back to where you (likely) parked by simply walking the beach back north. You can also branch off to Razor Point or make your way back up by the Broken Hill Trail, described in further detail below.
4. Broken Hill Trail
Access to beach via 2 paths, one 1.2 miles & one 1.3 miles
This is for folks looking for a great calf-burn. The Broken Hill Trail has some serious uphill climbing. When you reach its few points prime for looking out, you realize your heightened elevation and know you worked hard for that view!
5. Parry Grove
½ miles
This half-mile hike takes you through the wildflower-filled Whitaker garden. It leads downwards to a lovely ocean view, an ideal spot for resting before turning to hike back up the trail.
See Also: 5 Other Scenic Hikes in La Jolla
6. High Point Trail
0.1 mile hike
This short path gives you a complete 360 degree view of La Jolla and the surrounding San Diego area. If you're a visitor wanting to get a better feel for the area or a native who has never experienced the entirety of this area's beauty, it's worth checking out.
There are other short trails and extensions along the way, such as the Red Ridge Loop Trail, but we want to leave some surprise. There's nothing more exciting than exploring the main trails and discovering unknown paths of your own!
A Few Tips
Unless you drive to park up at the top, the steepest part can be the walk up to the high-up trails from the parking lot. So most of your workout is knocked out of the way before you even start!
On that note, do be aware that parking can get tricky. You can find yourself hunting for free street parking or deciding to go ahead and pay in the main lot, which is usually between $12 and $15. At the same price as an average movie ticket, just about all visitors agree that paying for a spot is worth the day's experience.
Dogs aren't allowed on the trail or the main road, trails or beach.
However, you can drive just a few minutes' north to Del Mar Dog Beach for a more dog-friendly area.
Packing plenty of water and sunscreen is vital. Even if a strong breeze is whipping about and cooling you down, the sun's rays are still beating down, strong as ever. Re-apply SPF to prevent the unpleasantry that is sunburning!
For up-to-date trail information and any park closure alerts, head to the Torrey Pines State Reserve website.