Explore La Jolla Cove on Wheels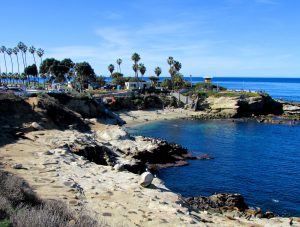 La Jolla Cove is a beautiful spot to look at the seals, take some photographs, and check out the waves — but all that walking around can get tiring! Luckily, there are a few options for exploring La Jolla Cove on wheels so you can take the edge off a long day on your feet. From biking to trying out a Segway and even taking out a golf cart, here are the easiest ways to kick back, relax, and enjoy La Jolla Cove!
Rent a Golf Cart
La Jolla Golf Carts provides four, six, and eight-seat vehicles for all of you and your families' golf cart needs! This is a great way to see the Cove in style. Take one out for a spin for an hour or the entire day; you can even schedule a guided tour of the Village and the beautiful La Jolla coastline if you want something a bit more structured.
Prices start at $59/hour for a 4-seater and $79/hour for a 6-seater. They are located at 888 Prospect Street in La Jolla.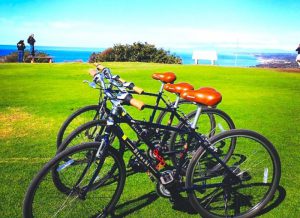 Rent (Or Take a Tour on) a Bike
There is a myriad of bike rental options in La Jolla. And for good reason — with practically perfect weather year-round, what better way to take in the gorgeous coastline than on a pair of wheels?! Bike & Kayak Tours offers all types of bikes at hourly and day rates, starting at just $8 an hour. If you're really feeling adventurous, they offer trail and mountain bikes for the off-roaders!
La Jolla Kayak offers two pretty awesome combo bike tours: the Soledad Slide Bike Tour and the half-day Bike & Kayak Tour (which essentially combines the original Kayak Tour with the Soledad Slide Tour).
The Soledad Slide Tour starts atop Mt. Soledad with 360-degree panoramas of the beautiful San Diego coastline, then winds its way down past all the hidden treasures and hot spots in La Jolla, including La Jolla Cove. Riders are transported to the top of Mt. Soledad, and the tour is mostly downhill and suitable for riders of all skill levels. If you prefer to explore La Jolla at your own pace, we can supply you with everything you'll need including a bike, helmet and maps!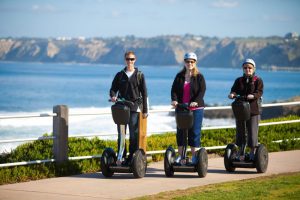 Take a Tour on a Segway
Roll through La Jolla on a two-wheeler! Segway of Pacific Beach offers a Mt. Soledad Tour, complete with a tutorial session. The tour starts with a ride along the Pacific Ocean boardwalk before heading inland along sidewalks to Kate Sessions Park. From there, you'll head up to the war memorial atop Mt. Soledad.
"Another Side of San Diego" also offers an informative La Jolla tour. This one lasts about two hours and takes you along views of the Children's Pool, Sunny Jim Cave, and La Jolla Cove. The "We Love Tourists" tour will tell you a little about La Jolla's architectural history, information on the a variety of California sea creatures, and even tidbits about the legacy of Dr. Seuss.