La Jolla Spotlight: Molly Rossettie, Owner of Hi Sweetheart Gift Boutique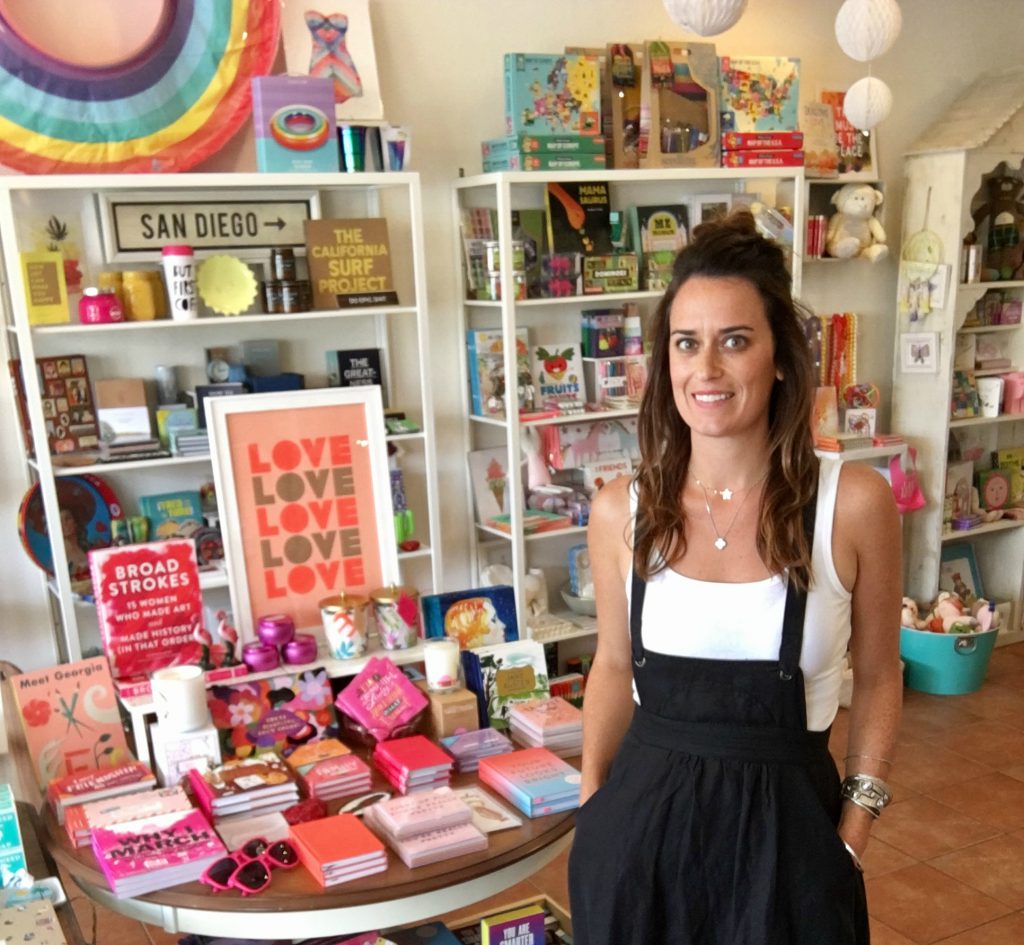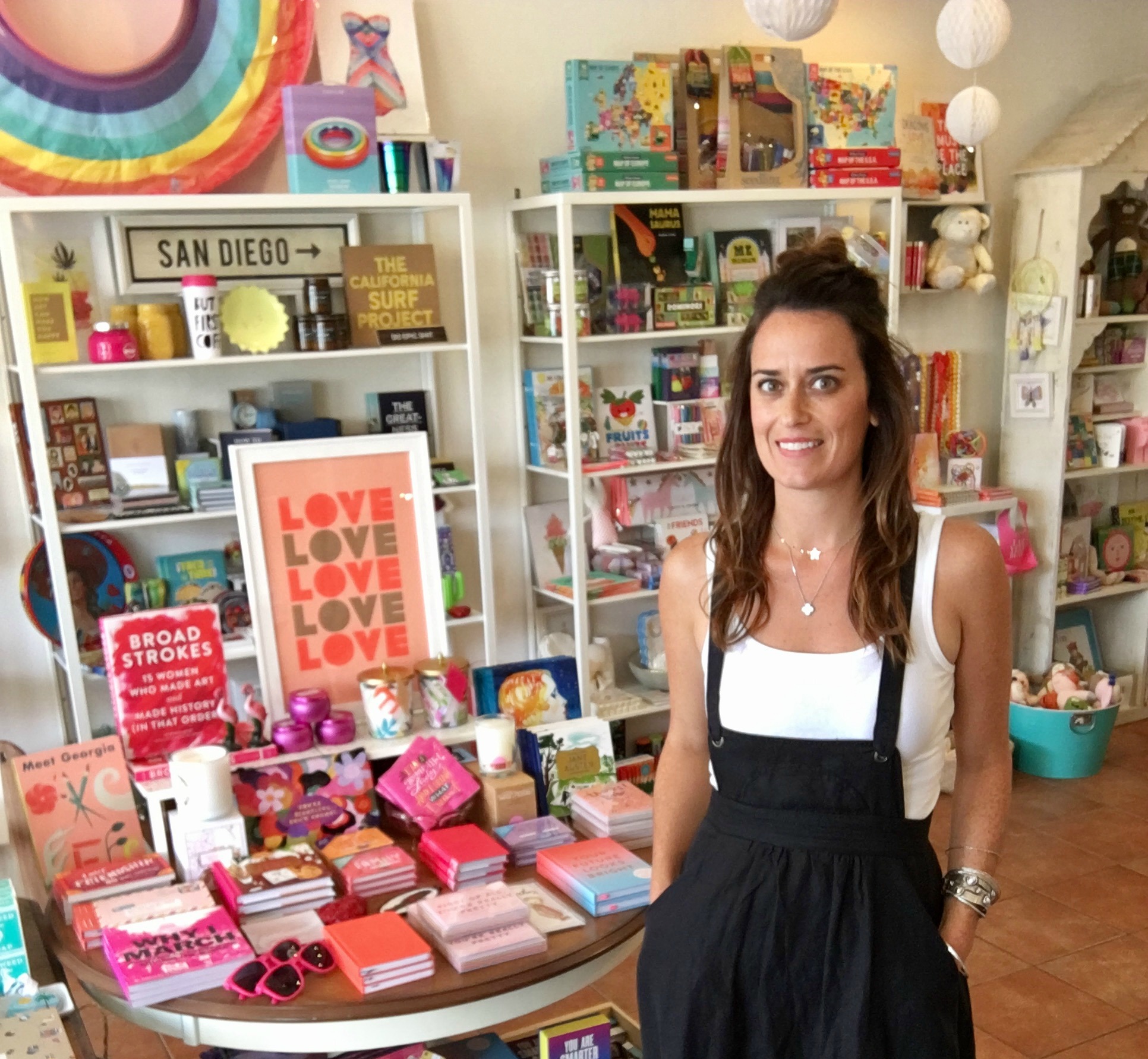 When Molly Rossettie moved away from Orange County several years ago, she never thought she'd return to sunny SoCal — or be the owner of an incredibly successful boutique! After having lived in both New York and Philadelphia (where she opened her first store, The Little Apple), she and her husband decided to relocate to San Diego in early 2013. The idea for Hi Sweetheart was born after Molly started settling in; she was working at the MCASD when she realized the potential for a new boutique right here in La Jolla. Hi Sweetheart opened its doors in March of 2014 and has been stocked with cute gifts, home decor, and other adorable goodies ever since!
We sat down with Molly to chat about her love of La Jolla, her creative aspirations for the boutique, and her new blog.
Your shop, Hi Sweetheart, has been in The Village for over 3 years now. What has been your favorite part about being a small business owner in La Jolla?
Owning Hi Sweetheart is a wonderfully creative outlet for me. From selecting the inventory & fine tuning the visual merchandising to crafting the window displays and composing the posts for the shop's social media pages, it's always something new that gets the wheels turning, especially at 11:30pm when I'm trying to sleep! The friendships I've created with customers, too. I love when a customer brings their kids, parents or an out-of-town friend into the shop to say hi. It means a lot to me that they feel the store is a fun, bright and happy place that they want to share.
As someone who wasn't born here, what were your first impressions of La Jolla? Have they changed over the years?
La Jolla is beautiful place live. When my husband was accepted to his residency here, we came to find an apartment & as we drove down Torrey Pines Road it was sunny and perfectly breezy, flowers were in bloom and literally a butterfly floated past. We found an apartment in the village by the Museum of Contemporary Art, just blocks from the beach and we just kept saying to each other "it's so nice here." We relocated from Philadelphia, so there was some major culture shock! I am a Southern California native, but lived in New York and Philadelphia for over 8 years before coming back.
I had gotten accustomed to living in busy and very diverse cities; walking at a fast pace, riding the subway, living in a high-rise, making 9:30pm dinner reservations. There was an adjustment period, but four years later, we are still here! I treat La Jolla like a little city. I love the outdoor murals all over the village, we walk from our house in The Muirlands down to dinner and drinks, I shop in and support local businesses in the village and I actually like when village is busy and bustling with locals and tourists.
Did any of that serve as inspiration for starting your new blog? What was the main inspiration behind it?
The idea behind the blog was to create a digital "Unofficial Local's Guide to La Jolla." Something that could be useful for tourists who visit the shop. I love sharing restaurant and activity suggestions with visitors, but I usually just scribble it down on a post-it. I thought it could be a useful tool to market the shop as well as offer a local perspective to eating, shopping and exploring the village. The funny thing is, the blog has now taken on a completely different format, thanks to local freelance blogger and Hi Sweetheart shopgirl, Eliza Vera, who has helped me create some great content. We launched the blog on July 15th and I'm still working on the Local's Guide! Coming Soon!
Tell us a little bit about your "Wonder Women" series. What was your inspiration for starting that?
The "Wonder Women" series was inspired by the whole "Girl Boss" movement. I work with a lot of female designers and entrepreneurs and many of my customers are women, so I thought it would be a great platform to feature them and share their work and some fun facts about them! I based some of the interview questions on the Proust Questionnaire that is featured on the last page of every Vanity Fair magazine.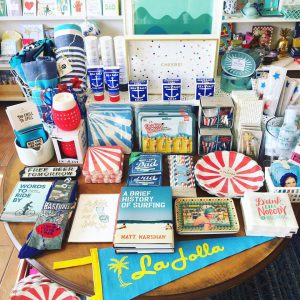 How did you go about picking the people you interview? Are they all local?
So far the blog's "Wonder Women" have been local, but my list of names is growing and I hope to eventually include Marnie Duncan, owner of MOD Fitness in Austin; Nicole McClay and Jessica Schulz, sisters and owners of KORE Swim; and sisters and owners of Rock Scissor Paper in Los Angeles, Heidi & Susie Bauer.
Has anyone that you've spoken with really stood out or surprised you, and why?
I've been more excited by the entrepreneurial and creative spirit of so many people. The willingness to take a chance, be imaginative, balance their home ad work life and endure those "what the hell am I doing?" moments.
How do you curate the "La Jolla Local's Guide"? Is it mostly your favorite spots, places you've discovered over the years?
Yes, the guide highlights my personal local favorites. There is no "sponsored" content or anything. I've include tried and true spots for a light lunch with the girls, early outdoor breakfast with kids, martinis with a view, a quick and lasting manicure and a fun Sunday activity for the whole family. I wanted to make it more than a list of businesses and addresses, but more of an "occasion" based guide to visiting and living in La Jolla.
What are some of your other favorite "hidden gems" in La Jolla? Any place you frequent regularly or want to learn more about?
Happy Hour at Catania. Sicilia Bella for espresso or cappuccino. Wax Me Boutique for brows and a nice, natural sunless tan. Manhattan in the Empress Hotel on Fridays and Saturdays for dinner for two at the bar and the musical stylings of Tad Sisler (it's so fun). El Ranchero Verde "The Ranch" for post-beach day margaritas and chips and salsa. The Bird Rock Bike Path is a great route for walkers to get to from the village to Bird Rock to explore another part of La Jolla.
Do you have any insider tips for someone visiting La Jolla?
I think walking is best way to explore any neighborhood. I would advise tourists to turn down the smaller streets off Prospect & Girard, like Ivanhoe Avenue and Kline Street. There are fewer chains and some hidden gems off the main drag in the village. If you are with kids and need a non-beach activity, check out the Birch Aquarium and the La Jolla Rec Center. Chat with shop owners, servers, bartenders (especially at Whisknladle & Catania), industry people usually have great insight and suggestions for post-lunch shopping and place to explore outside La Jolla.
Hi Sweetheart is located at 7920 Ivanhoe Avenue in La Jolla. Stop by any day of the week — the shop is open 10am-6pm Monday-Saturday, and 10am-4pm on Sunday. Be sure to follow their new blog for more La Jolla stories!