Inside Look at Nautilus Tavern: La Jolla's New Neighborhood Bar & Grill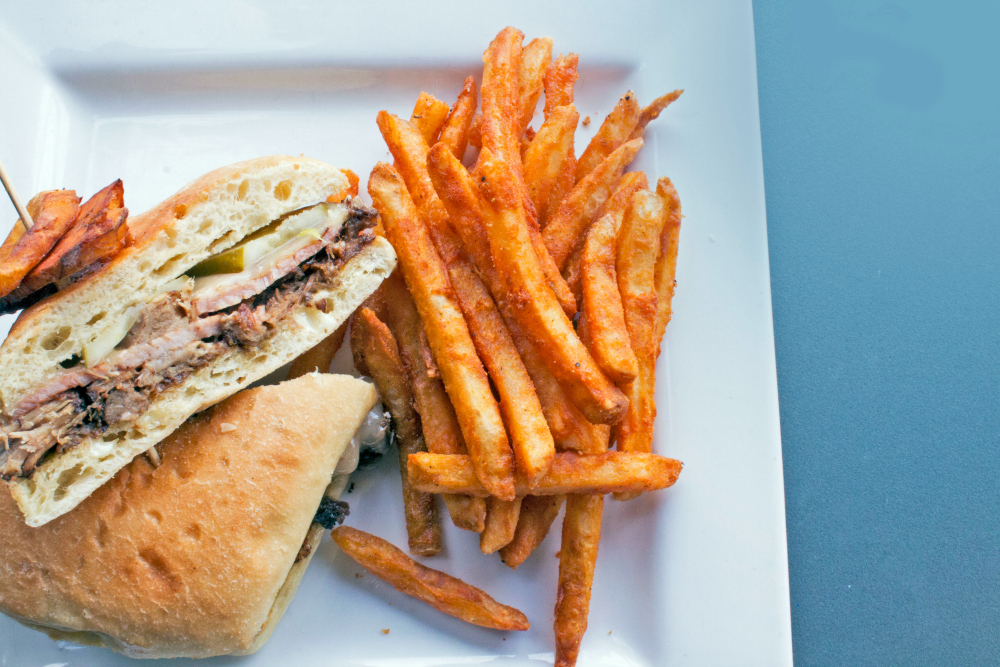 Tucked away on La Jolla Blvd., just past the La Jolla Community Center, Nautilus Tavern is unassuming yet welcoming. A spacious patio and large floor-to-ceiling doors that open up to reveal a cozy dining room create a comfortable vibe that stands out in its own way among the sea of ever-changing La Jolla restaurants.
While many eateries in the Village trend toward upscale/ fine dining, Nautilus Tavern picks up where places like ultra-casual La Jolla Brewing Company (RIP) left off: the cozy bar and grill next door. Combine that friendly atmosphere with some seriously flavorful comfort food, and you've got yourself La Jolla's newest dining gem. We got the chance to visit the Tavern and sample some of their dishes while chatting with Executive Chef Shelly Velez to get the inside scoop on what makes this place tick.
Location, location, location!
The Tavern fits in well with La Jolla's seaside vibes; just a block from the beach and up the road from Windansea Beach, its nautical theme is infused with a touch of modernity and exudes a 'costal chic' vibe.
The 2,500 square-foot space, though large, doesn't feel overwhelming. The back patio is a great area for families with kids, and the front patio offers the best of both worlds.
[Veggie Sandwich]
Upscale Comfort Food — With a Twist
Executive Chef Shelly Velez is the woman behind the menu at Nautilus Tavern in La Jolla. Having known the owners since they opened up Pillbox Tavern in Solana Beach, she has expertly curated both restaurants' menus and added her own flair to each — and that flair comes in the form of all things flavorful. From Southern-inspired comfort food to spicy, smoky maple-infused barbecue, Shelly has been crafting her art and love of cuisine for nearly 20 years.
Shelly was born in Panama, where she cultivated a deep love for flavorful, traditional dishes; she learned to cook gravy from scratch and developed a passion for making sauces. Today, she has her own line of barbecue sauces that you can purchase by the bottle at Pillbox Tavern: California Style, Habañero BBQ, and Maple Bourbon Bacon, a local favorite that can be spotted on the menu at Nautilus Tavern in the form of Maple Bacon Bourbon Wings.
Shelly makes all of the dressings and other sauces from scratch each day; oftentimes, she'll team up with the head Mixologist, who makes his own syrups to add to the cocktails. Once, she turned a berry syrup that he didn't use as a dressing for the Power Spinach Salad — a pretty excellent way to collaborate, we must say!
[Cubano Sandwich]
Shelly crafted the Tavern's menu to combine traditional comfort food with a bit of a Southern twist; hints of her Panamanian heritage are sprinkled throughout the menu, as well, from the Grilled Mexican Caesar Salad to the side of Sweet Plantains.
Handcrafted Cocktails
No good restaurant is complete without a cocktail and beer menu! The Tavern's hand-picked collection of cocktails emphasize fresh ingredients and house-made syrups. From the "It's Noon Somewhere" (which is a combo of vodka, ruby red grapefruit juice, lime juice, and elderflower liqueur infused with house-made habañero syrup and a touch of rhubarb bitters vodka) to their take on a classic Margarita (casa noble reposado tequila, Cointreau, fresh lime juice, and tepa agave), you can't go wrong with any of their selections. The Tavern has 30 beers on tap at any given time, and the selection includes several local breweries sprinkled with a few more exotic options (Boochcraft, anyone?).
[Mexican Caesar Salad]
House-Made Appetizers & Shareables
The Tavern offers up a wide range of dishes, from shareable appetizers to large plates and several options for hot wings; there's even a "Grown-up Grilled Cheese" in the mix!
Our favorite appetizers included a well-rounded Hummus Plate that boasts three different flavors of hummus and a generous assortment of pita bread; and spicy chicken lettuce cups, which are just spicy enough to bring out all of the flavors in the meat and poke sauce.
Next up was the Grilled Mexican Caesar Salad, which is seriously not your typical Caesar salad: it packs a one-two punch with grilled-to-perfection Romaine wedges and a light, slightly spicy Avocado Caesar dressing (made from scratch in-house, of course). The wedges are topped with a generous portion of pepitas, shaved parmesan, diced tomatoes, blackened chicken breast, and fried shallots to create a yummy Ceasar with a Mexican twist.
[Hot Wings]
Traditional Plates Packed with Flavor
The hot wings were some of our favorite items on the menu. Bursting with flavor, there are seven different types and styles of wings you can choose from. We sampled the Maple Bacon Bourbon, smothered in that delicious Shelly-style BBQ sauce; the Marea Ancho Chile, which are rubbed with a dry ancho Chile powder infused with local coffee (not overly spicy); and the more traditional Buffalo Wings, which are packed with a punch of spice and flavored with the famous Frank's Hot Sauce.
If you're into grilled cheese, you'll definitely want to sample the Grown Up Grilled Cheese. Serrano cream cheese, Gouda, Havarti, cheddar, swiss, sliced bacon, and tomato are packed between two thick slices of Parmesan-crusted Amish bread for a serious (and epic) twist on the good ol' classic. If you want a little something extra, Shelly recommends adding chicken to round it out. The Muenster Veggie sandwich was a close runner-up (the black bean veggie patty was to die for), complete with a big portobello mushroom and basil hummus spread to finish it off. 

[Nautilus Plate]
For a more traditional dinner, go with the Nautilus Plate. Chunks of house-smoked Kahlua pork are served with sweet plantains, macaroni salad, and coco (coconut) rice. The pork is the sweet, flavorful, melt-in-your-mouth kind of good — after being marinated in sea salt for a full day, the pork gets slow-roasted for a solid four hours before it served to guests.
A New Spot for the Locals
What we liked most about the Tavern is its homey, neighborhood feel; the kind of place you can meet up with friends or family after work for a happy hour or watch the game, have a pint and dig into a no-frills comfort food that's cooked exactly the way it should be.
Nautilus Tavern La Jolla is located at 6830 La Jolla Blvd. in La Jolla. They're open for brunch, lunch, and dinner; Monday-Friday from 11am-12am, and Saturday/Sunday from 10am-12am.