San Diego AirBNB Favorites Of The Rich And Famous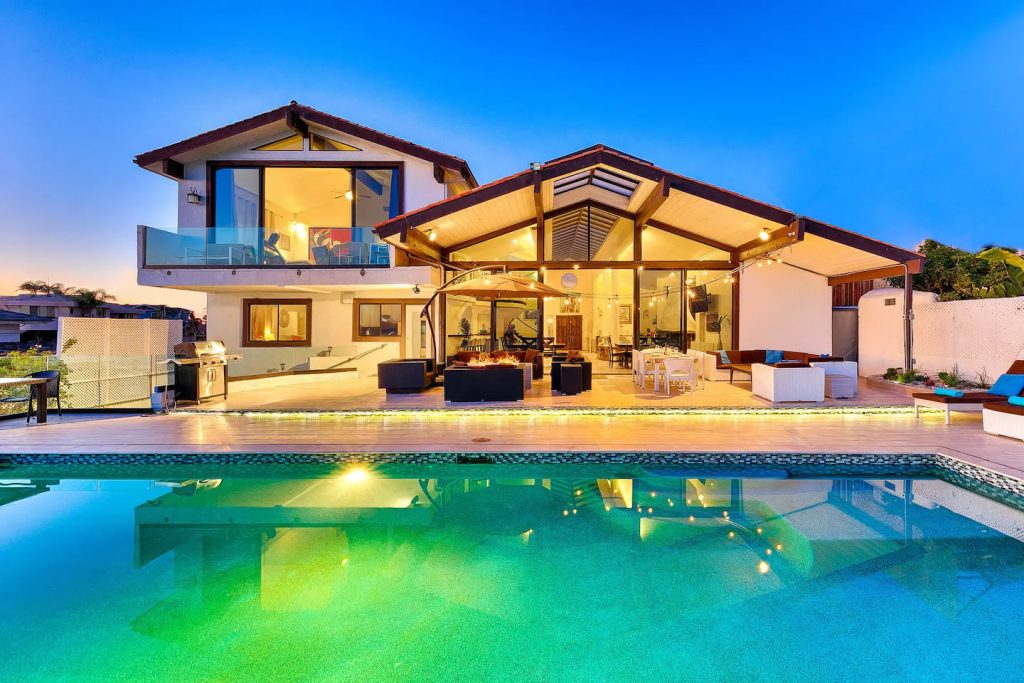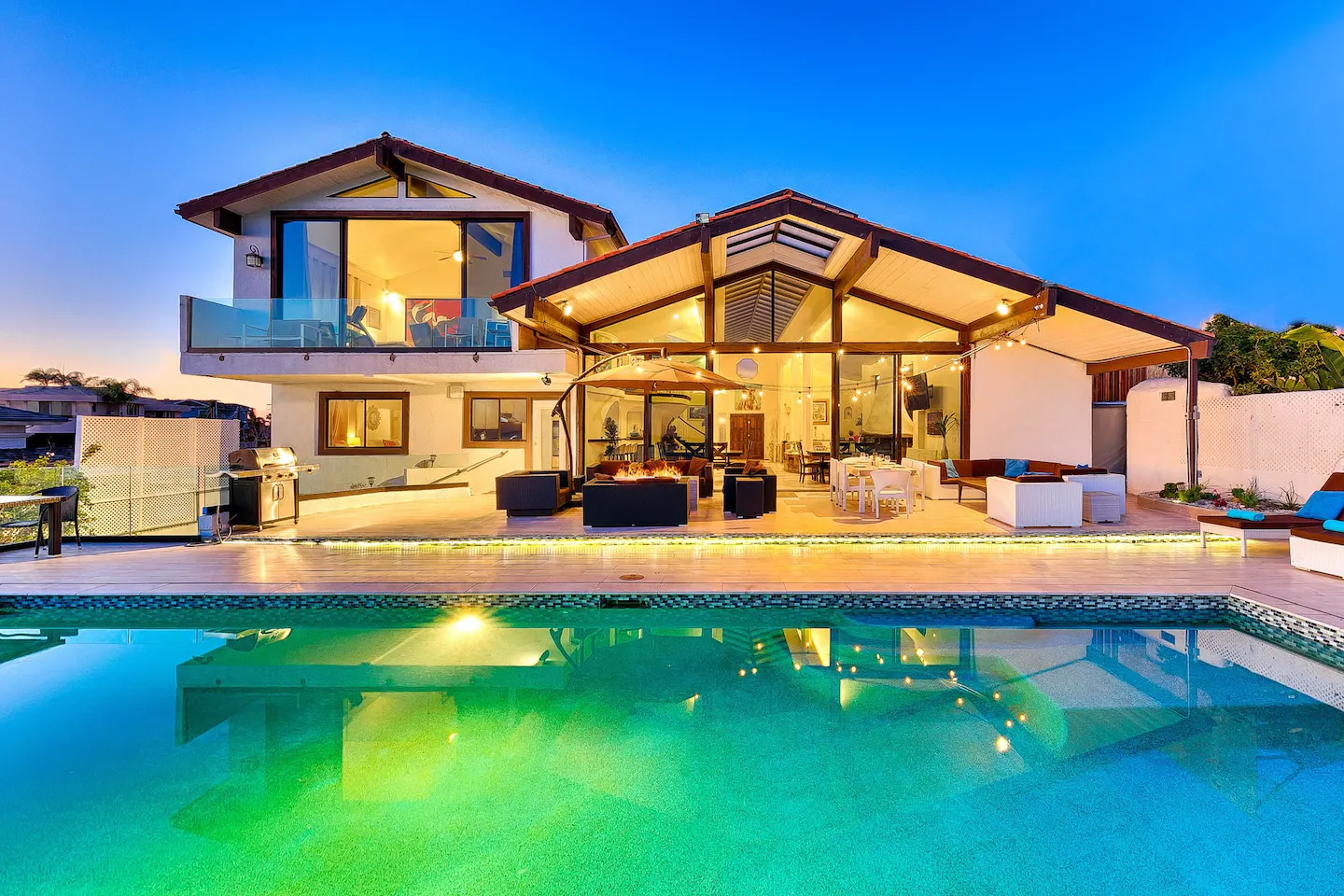 When it comes time to plan a vacation, especially one to Southern California or La Jolla, there's always the preemptive San Diego Air BNB search, without a max budget set, looking for a sneak peek into the vacation options of the rich and famous – those traveling without a budget. The goal here is to look for the most expensive Airbnb in San Diego! And if you spend any time exploring the greater region thinking, what Air BNB should I stay in San Diego, you're sure to find some incredible homes by the beach in just a few clicks. 
We've rounded up some of the best luxury Air BNBs in all of San Diego, not just La Jolla. We only set one rule, nothing can cost less than $15,000 per week!
La Jolla Black Gold Resort
Sunset Pointe in the Birdrock neighborhood is known best for its 100+ feet of private coastline with uninterrupted views of the Pacific Ocean from nearly every room in the home. A one week stay at the Sunset Pointe San Diego Air BNB is about $15,000. Chalk this up for your list of luxury Airbnbs in San Diego!
If crowds near the beach aren't your thing, head East to the famous Rancho Sante Fe and book this estate. Located around the corner from Bill Gates' horse ranch … that he bought from Jenny Craig. To call names like that your neighbors, you'll need to shell out around $25,000 for one week living the high life at this Rancho Sante Fe Air BNB.
When the La Jolla rec center is busy with basketball instead of pickleball just skip down the coast to this mansion and get your own private rooftop court. This Air BNB estate in La Jolla has a rooftop count, an oceanfront view, and 8 bedrooms. To set up your own rooftop Wimbledon and have a room for each contestant you'll be forking over $17,000 for a week on the cliffs. 
Being able to hit the surf moments after finishing your morning espresso has never been so easy at this Oceanfront Luxury Estate in La Jolla. Staying right on the surf in your San Diego Air BNB can be a once-in-a-lifetime experience, especially with the $28,000 per week price tag at this place. 
Encinitas, in North County San Diego, hosts this incredible Encinitas Retreat with endless ocean views day and night. Come catch some rays, waves, and vibes of the relaxing north county for a cool $15,000 per week for this North Country Air BNB.
Relaxation, tranquility, and silence run rampant at this gorgeous Rancho Sante Fe Private Family Resort. Situated on a 2-acre property you can fill the seven bedrooms with friends and family to enjoy peace by the pool. The price for a week among the elites of Rancho Sante Fe at this home costs around $15,000. 
Located less than a mile from La Jolla Shore, this mansion has seven bedrooms a massive kitchen and incredible sunset views across the valley towards the Pacific Ocean. Upon checkout, your bill for a week's stay at this San Diego Air BNB is about $20,000. 
The Grand Del Mar, one of the finest hotels in the world, also has private standalone villas so you can stay on the grounds of the hotel but feel like you have your own house. If want to stay a short walk from where superstar athletes like Lebron James and San Diego native Reggie Bush got married make sure you can afford the $23,000 per week price tag. 
This Five Acre Private Estate in Rancho Sante Fe boasts your own private tennis court and pool with waterslide for about $25,000 per week. Stroll the grounds day and night for sunset views over the lush acreage in one of the most relaxing hidden estates in all of Southern California. 
Getting close to the action in Pacific Beach while living enjoying the high life won't come cheap. Check out the Windsor Dream Pacific Beach Air BNB this summer for about $15,000 per week. This mansion Airbnb offers multiple levels with expansive ocean views and a pool. 
Sea Glass in La Jolla costs about $18,000 per week and includes your own fire-lit outdoor tv room and panoramic ocean views from your cliffside patio. La Jolla Air BNB's this nice don't come available often thanks to the views and access to downtown La Jolla in just a few minutes drive.  
With sensational views of the Pacific Ocean, a private jacuzzi and heated oceanfront pool this palatial estate is truly about living the dream life by the ocean. Oceanfront Escape features 10 bedrooms, 7 baths and a floorplan that is pristine in every detail. Renting for around $30,000 per week, this is truly luxury by the sea while you're looking for an Air BNB in San Diego.
FAQs About Getting an Airbnb in San Diego
Typically, How Much is an Airbnb in San Diego?
According to one popular website, the average cost of an Airbnb in San Diego back in 2021 was nearly $300 a night! Of course that's the average. If you rent a mansion Airbnb in San Diego, you're looking at quite a bit more. An Airbnb in La Jolla might be more expensive than an Airbnb further from the coast.

But what is the most expensive Airbnb in San Diego? That's hard to say, but glancing at the website right now it looks like there are some that are close to $3,000 a night. There are some really nice beachfront condos for rent (complete with ocean view) for just over $1K a night. It seems that the most expensive Airbnbs in San Diego are close to the coast.
Is Airbnb Legal in San Diego?
Up until now, it may have felt like the "wild west" in terms of property owners turning their condos, townhomes, and single family homes into an Airbnb in San Diego. Many locals have lamented this fact. Some whole communities are so full of short-term rentals that the sense of neighborhood has gone, they say.

And so the city of San Diego revised the Airbnb laws in San Diego in 2022. At the time of this writing, we're still waiting for more details, but so far we know that the San Diego Short Term Rental Ordinance will reduce the number of allowed Airbnbs. There will be a lottery for property owners.

There's a lot of buzz about this right now, but it's worth noting that these rules will only apply to the city of San Diego, and not independent cities in San Diego County such as Encinitas.
What Is the Difference Between an Airbnb and an Apartment?
An Airbnb is a short-term rental, typically used by people on vacations in place of a hotel or motel room. Although it's actually a brand name, Airbnb has become commonly used to describe any type of short term rental, including Vrbo, another really popular platform. People might rent something on Vrbo and still refer to it as an Airbnb, much like some people call all sodas "Coke" or all bandages "Band-Aids."

An apartment is something you rent to actually live in. Usually there's a minimum lease of 6 months or a year when you rent an apartment, although some landlords provide a month-to-month option. If you want to leave any sooner, you might have to break a lease. (Here's an article about how to break a lease.) You would probably only rent an apartment instead of an Airbnb if you were planning on staying at least a month, and probably longer than that.
Can I Rent an Airbnb in La Jolla?
Yes! You can also find an Airbnb in La Jolla, as well as nearby Birdrock and North Pacific Beach, if you want to stay nearby.
Where Can You Find the Best Airbnb in San Diego?
The best Airbnb in San Diego varies from person to person, but as a rule of thumb, you're looking for the most comfortable place in a location you love with a noise level you're comfortable with at a price you can afford. The beds are comfortable, the plumbing works, the shower pressure is great, the amenities are awesome, and there's not a lot of noise from traffic or partiers (unless that's what you're looking for).
Banner and slider images used in this article are courtesy of Airbnb.com, Vrbo.com, Vacasa.com, and Uniqhotels.com