San Diego Short Term Vacation Rental Ordinance: What You Need to Know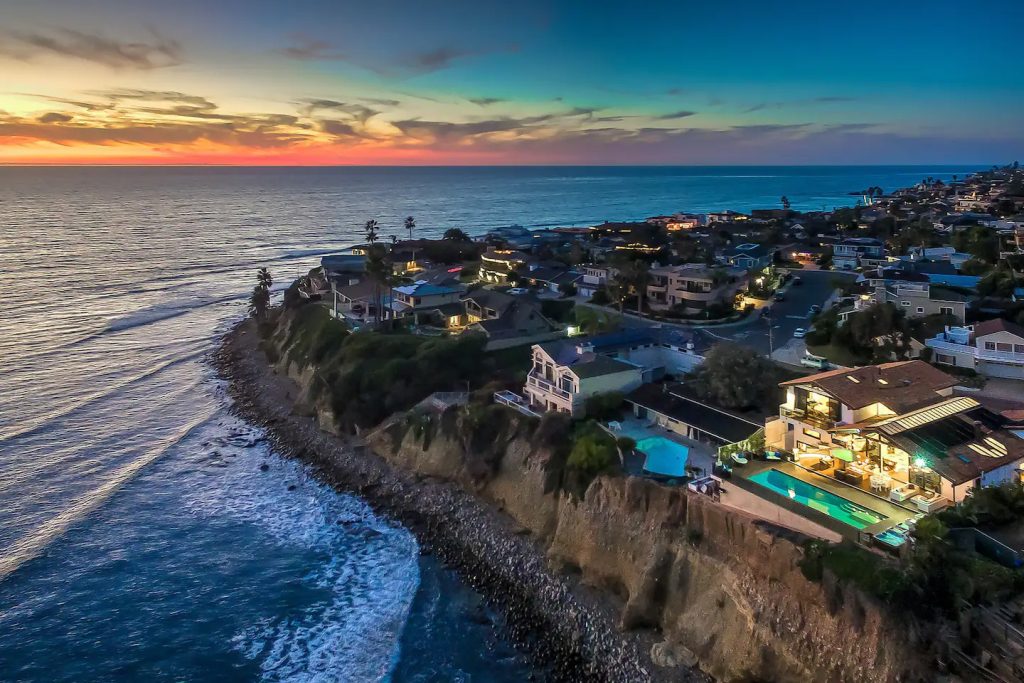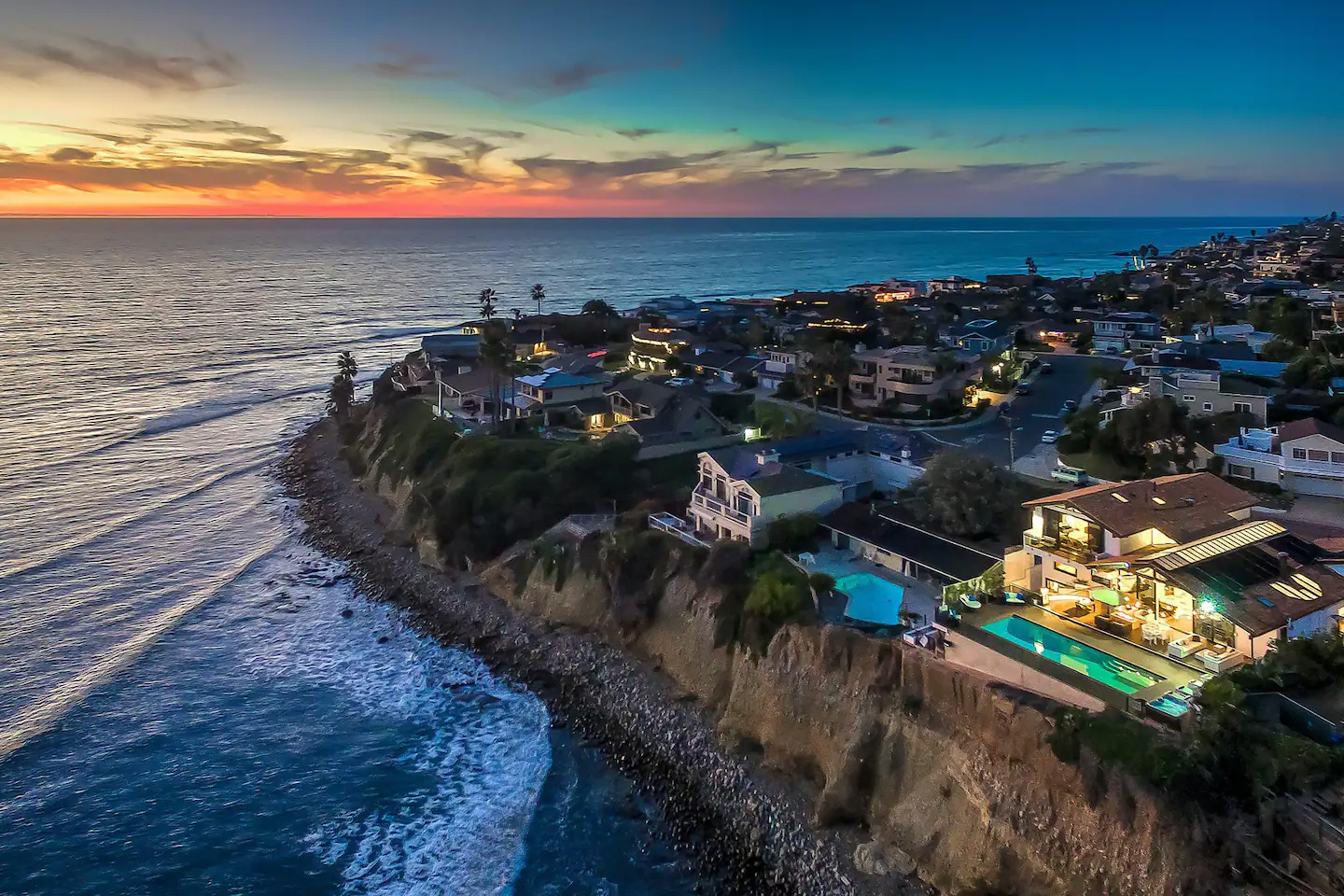 With its beautiful beaches and perfect year-round weather, San Diego is a popular destination for people across the globe. That's why short-term rentals are common in the city.
As an in-demand tourist destination, San Diego has many different kinds of vacation rentals, from beachfront homes in Mission Beach to Airbnbs in La Jolla that will blow your mind. The city is a good place to be a vacation renter or property owner renting out their homes.
However, as you might expect, there are rules for vacation rentals in San Diego that hold true for luxury rentals and regular vacation rentals alike — including some new ones that were recently approved. Here's what you need to know about San Diego vacation rental laws.
San Diego Vacation Rental Laws, Rules & Regulations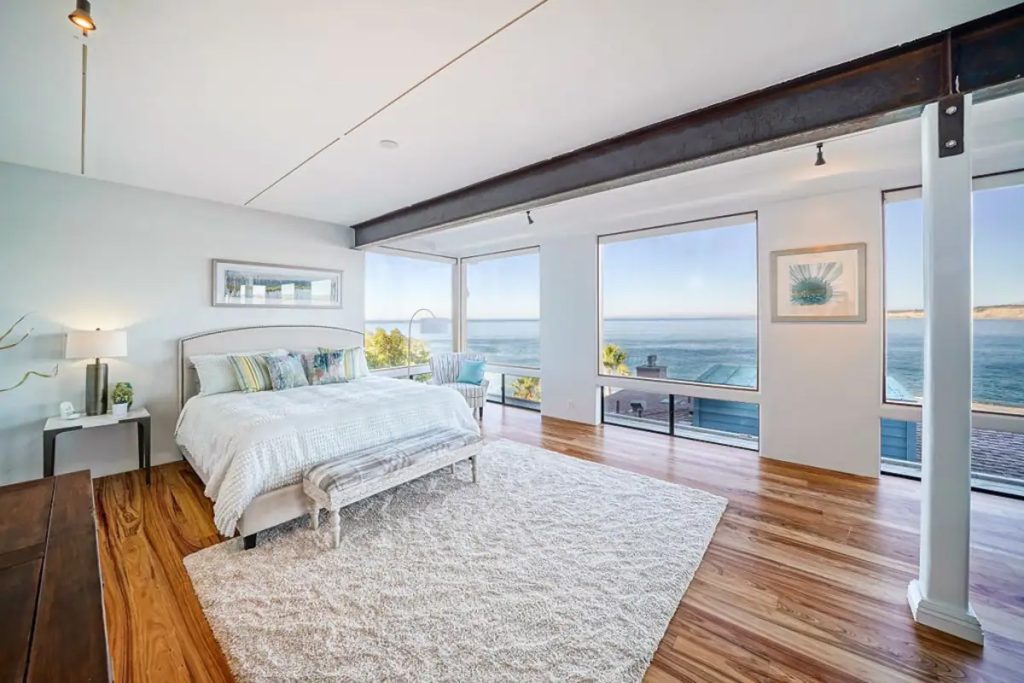 Whether you're looking to rent a property for a vacation or you're a property owner wanting to make some money from your home, it helps to know San Diego Airbnb laws before you get started.
This is particularly true because, in 2022 , San Diego changed the rules. You may be here because you saw a news story with a headline reading "San Diego places cap on whole home short term rentals." Since the laws have changed , it's a good idea to familiarize yourself with them before you operate or host an Airbnb or vacation rental.
Here are the San Diego short term rental regulations you should know.
What Is Defined as a Short-Term Rental?
In a nutshell, the City of San Diego defines short term rentals as those lasting less than a month in most cases. There are exceptions, but whole-home rentals are short term if a renter only occupies the property for less than 30 days.
When it comes to single-room rentals, the San Diego short term rental regulations can get more complicated. But, for most property owners renting out their homes as something like an Airbnb, 30 days is a good rule of thumb.
Are Short Term Rentals Allowed In San Diego County?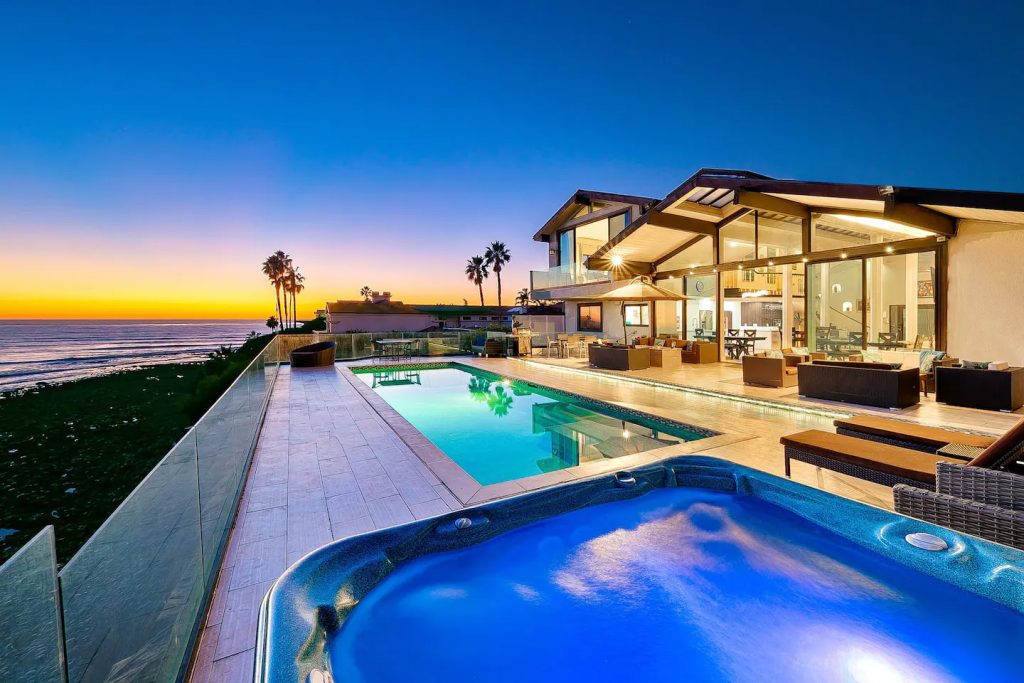 Yes, short-term rentals are allowed in San Diego. There are, of course, rules and regulations governed by the San Diego Short Term Rental Ordinance. But, generally, short-term rentals are allowed.
It's also worth noting that many of these regulations only apply in the city of San Diego. You might find different rules in other independent cities throughout the county, such as Oceanside or Encinitas.
Do You Need a Permit to Airbnb In San Diego?
Technically, yes. Before you can become an Airbnb host or rent out your property to guests, you will need to obtain a license. We'll get to more of the specifics later on in this piece, but the short answer is that you'll need to follow the San Diego short term rental ordinance.
The license itself is relatively affordable, but it requires that you pay a short-term rental tax to the city, as well as business taxes on the income you make from your rentals.
What Are the Rules on Shorter Vacation Rentals In San Diego?
The rules on short-term rentals depends on the type of rental, but here's what you need to know about San Diego short term rental laws across the various categories available.
Short Term Residential Occupancy Licenses
Anyone in the city who rents their property or a portion of their property to a guest is subject to the city of San Diego Short Term Rental Ordinance. That means following Municipal Code requirements and obtaining a Transient Occupancy Registration Certificate.
The Transient Occupancy Registration Certificate requires a $25 application fee and a $100 license fee.
There are also four types of licenses that are issued depending on the exact circumstances.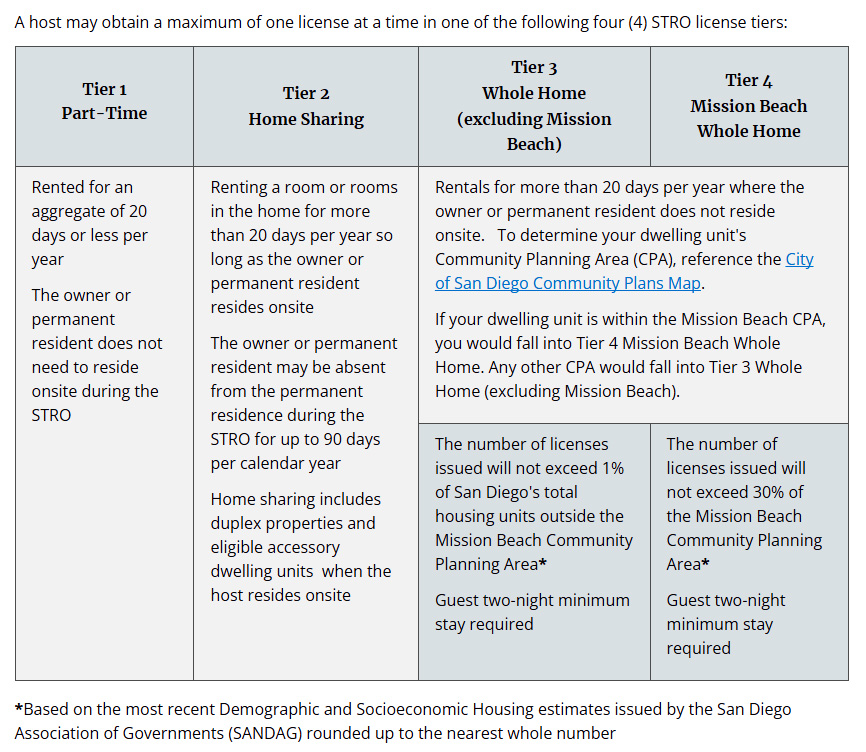 Part-time licenses are for those people renting out a home for less than 20 days a year.
Home-sharing licenses are for those who rent out a room or multiple rooms in a home for more than 20 days a year.
Whole-home rental licenses are for property owners who rent out an entire home for more than 20 days a year.
It's worth noting that there is a cap on licenses across San Diego. In Mission Beach, the cap is 30%. In the rest of the city, it's 1%.
Transient Occupancy Tax
In addition to obtaining a Transient Occupancy Registration Certificate, property owners who rent out their homes as vacation rentals will also be subject to taxes per the San Diego short term rental ordinance.
Currently, the tax rate is set at 10.50% of earnings. The taxes must be remitted monthly and are due no later than the last day of the following month.
Rental Unit Business Tax
This isn't specifically related to San Diego County short term rental laws, but it applies to those renting out their property. Basically, any business that operates in San Diego must pay business taxes to the city.
You'll need to apply for a business permit before operating a vacation rental in San Diego. The tax itself will be set depending on how much revenue you make.
Why Do These San Diego Vacation Rental Laws Exist?
Many counties across the country require licenses or permits for short-term rentals. The ordinances and regulations in San Diego can be seen as a reaction to the lack of affordable housing in the city, as well as complaints from current residents.
San Diego is a tourist hotspot, meaning many local property owners rent out their housing. This drives up the cost of long-term housing in the city, particularly during peak tourism months. Residents also complain about lack of parking, tourists throwing parties, and other issues.
So there are regulations surrounding Airbnbs in San Diego, rules on whole-home rentals, and more, to address these issues. These rules apply to all areas of the city, from the luxury Airbnbs of San Diego to more modest accommodations in Ocean Beach.
How Many Short Term Rentals Are There In San Diego?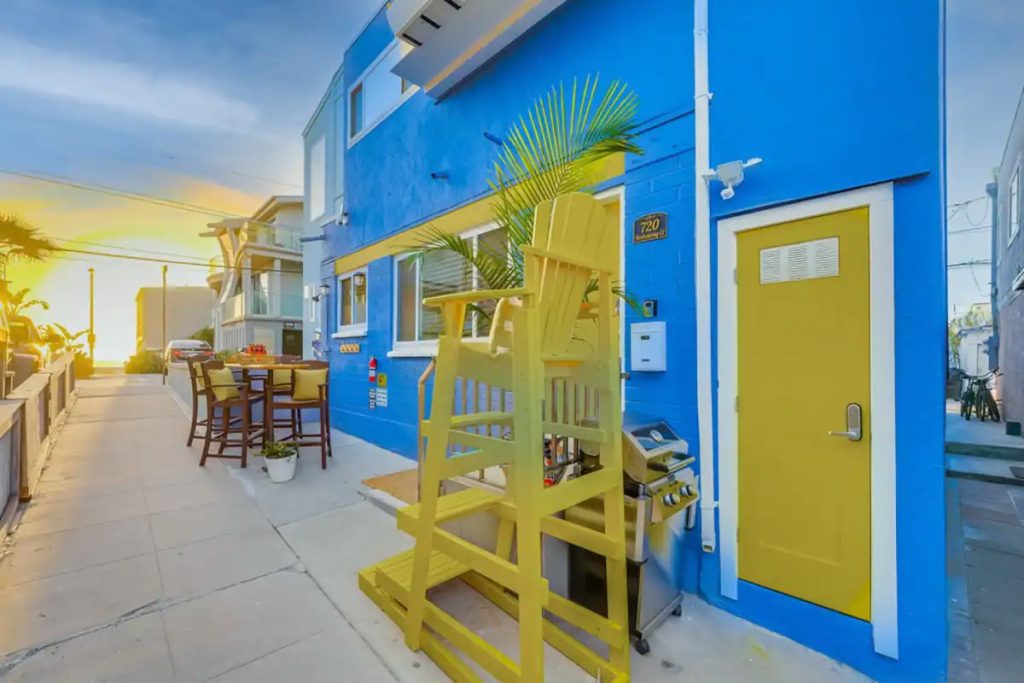 It isn't clear how many short-term rentals there are in San Diego as of writing, but an estimate from March 2022 indicates that, at the time, it was around 12,300.
That has changed with the San Diego city ordinance capping short-term rentals. Under the new regulations, whole-home short-term rentals will be capped at 1% of the city's total housing stock. That's 5,400 short-term rentals.
There are a few exceptions to this. Mission Beach — a popular tourist destination and vacation rental spot — is capped at about 30% of the housing stock. That's about 1,100 short-term rentals in the neighborhood alone.
Altogether, there will be 6,500 licenses available for short-term rentals throughout the city of San Diego. That's a competitive number and far below the 2022 estimate of 12,300. For fairness, the city distributes licenses according to a lottery system.
Another exception is the category of hosted rentals, or a person living in a home renting out a room. There aren't currently any caps on those types of rentals.
How to Apply for a STRO License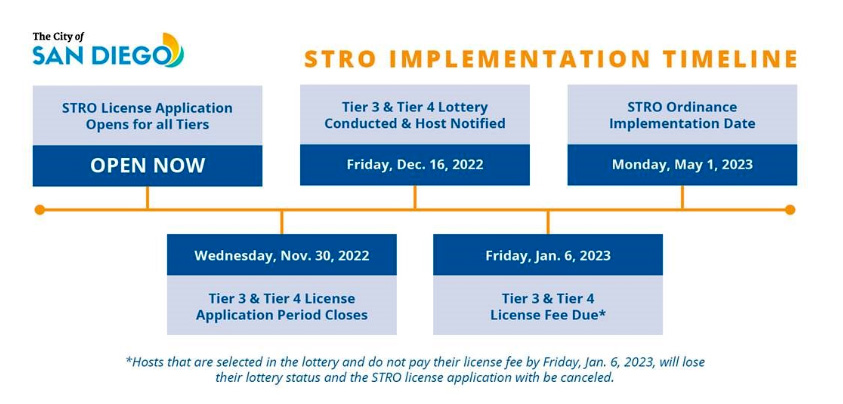 As of October 2022, property owners who want to get an STRO license can apply for one. For hosts of whole-home rentals in Mission Beach and San Diego, you have until Nov. 30, 2022 to submit an application. The winners of STRO licenses for whole-home rentals – chosen via lottery – will be announced by Dec. 16, 2022. There's no deadline for part-time rentals or room-sharing because there isn't a cap on those types of properties. The requirement that property owners have a short term rental license officially starts in May 2023, so you'll want to make sure that you have your applications and fees in order before then.
For more information on the licenses available and how to apply, you can head to this website: https://www.sandiego.gov/treasurer/short-term-residential-occupancy
San Diego Is Still a Great Spot for Vacation Rentals
Despite the short term rental ordinance, San Diego remains a great place to rent out your home or get a vacation rental for the summer. After all, San Diego boasts some of the best weather, scenery, and people in the country!
The vacation rental market in San Diego is more competitive than it used to be because of the short term vacation rental ordinance. However, there is undoubtedly still a thriving vacation rental market in the city.
And better yet, because of the rules, people who want to relocate to San Diego permanently might be able to find more affordable housing than they otherwise could.
About the author: Mike Peterson is a freelance journalist and writer based in North San Diego County. He's written and worked for a number of local media outlets, including the San Diego Union-Tribune, the North Coast Current, and the Oceanside Blade. Additional reporting by LaJolla.com staff.
The banner photo & images for this article are courtesy of Airbnb.com.
STRO License Tier Chart & STRO Implementation Timeline are courtesy of SanDiego.gov