What Do You Know About San Diego Baseball?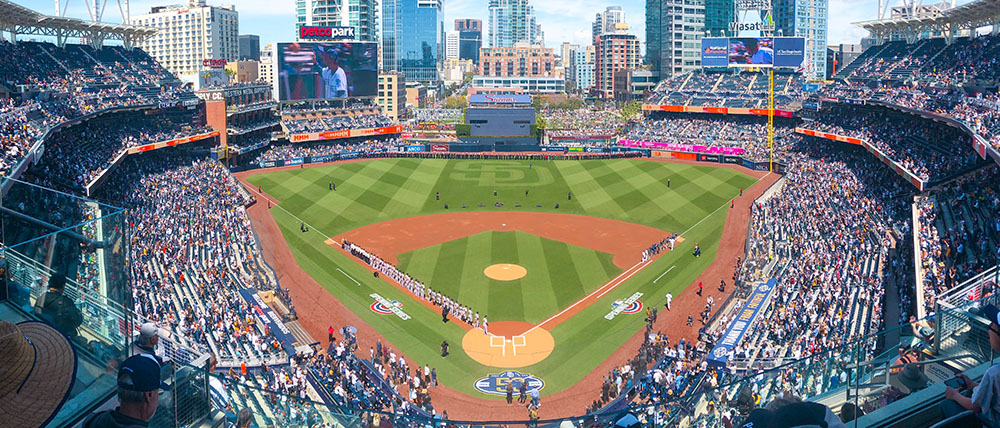 Baseball is a national staple in America, and in San Diego, the baseball following is no different. If you are a baseball fan, you likely follow the Padres avidly, but there is much more to San Diego baseball than the Padres. Baseball has been around since before the Civil War, is as American as apple pie, and is learned by millions when they are children and treasured throughout their lives.
Learn Interesting Facts About San Diego Baseball
From a sport originally known as 'rounders' played in backyards, to the huge organization it is today, baseball has grown to enormous sizes in the hearts and minds of many children and adults. Learn all about San Diego baseball including history, the Padres, and even where to play in the local area.
History of Baseball in San Diego
Photos as far back as 1873 showmen in top hats, ties, and button-up shirts posing with baseball bats in a large group. Baseball originally spread quickly on the east coast, with many cities forming minor leagues in the late 19th century. In the early years of the 20th century, professional baseball was born, and the sport grew like wildfire over the next few decades.
Minor league teams were numerous in San Diego throughout these years, including the San Diego Padres before they became professional. Johnny Ritchie became one of the first African American men to play in the Pacific League, as a player for the minor league San Diego Padres in 1947.
Padres
When you think of baseball in California, you might first think of the Giants at Oracle Park in San Francisco. But, in 1969, the San Diego Padres became a true-blue professional baseball team. While their early seasons were not the best, a new owner in 1974 cemented the Padres in San Diego and pushed them towards some notable seasons. They have since won two National League pennants, and have had 15 winning seasons in the history of the team. 
The San Diego Padres baseball franchise's biggest rival team is the Dodgers, although many other small rivalries exist for the team. Even without a great winning record, the team has a number of die-hard fans who pack the PetCo Stadium in San Diego for year-round beautiful weather for games.
College Baseball in San Diego
There are several college baseball teams in San Diego, including the San Diego State baseball team, the Aztecs. Another notable San Diego baseball team includes the University of San Diego Toreros and the UC San Diego Tritons. All of these teams are in the NCAA Division I, which is the highest level of intercollegiate athletics recognized by the National Collegiate Athletic Association.
Being Division I schools, these colleges offer more budgeting for sports programs, more opportunity for recruitment, more athletic scholarships, and more elaborate facilities. This may explain why California is one of the biggest producers of major league baseball players, with over 2,000 players being born in the state.
Where to Play Baseball in San Diego
Baseball isn't only for seasoned players. Anyone can have fun playing this sport, and many people play backyard baseball as children. Are you looking for things to do in southern California? Try one of these baseball leagues.

San Diego Adult Baseball League
The San Diego Adult Baseball League has been in operation for more than 30 years. There is year-round play and tournaments, and focuses on a passion for the sport and allowing anyone the chance to play, no matter how old or how skilled. Leagues are available for both weekdays and weekends, guaranteeing you can find a game no matter your schedule.

Padres Baseball Camps
Children can check out the baseball camps hosted by the Padres, with San Diego baseball camps for boys and girls and softball camps for girls yearly. The Padres also donate uniforms and equipment to many local youth baseball teams.

San Diego Parks and Recreation
Children can also get into baseball at an early age through the San Diego Parks and Recreation department, with Pee Wee Sports. These sports classes teach the fundamentals of common sports, including baseball, in a fun way.
Where to Buy Baseball Gear in San Diego
Baseball gear in San Diego is plentiful, including gear for playing games, necessary equipment, and even memorabilia. Whether you are a seasoned player, a newbie to the sport, or just an avid card collector, there is a store in the San Diego area for you. The type of equipment you need will depend on the position you are playing, but the basics include a bat, ball, glove, batting glove, and a good pair of baseball cleats.

Play It Again Sports
Play It Again Sports is an excellent place to buy baseball gear for children or if you are working with a budget. This store focuses on used equipment that is still good, and has a huge selection of cleats, bats, gloves, and other baseball gear.

Address: 1401 Garnet Ave., San Diego, CA 92109
Phone: (858) 490-0222
Hours: Mon – Sat 10 a.m. – 7 p.m.
Sun: 11 a.m. – 5 p.m.

Dick's Sporting Goods
Dicks is an all-around good sporting goods store for new baseball gear, including the newest and highest tech cleats, gloves, and bats. You can also order online from Dick's and even get your gear delivered directly to your home.

Address: 3265 Sports Arena Blvd., San Diego, CA 92109
Phone: (619) 523-0975
Hours: Mon – Sat 9 a.m. – 9 p.m.
Sun: 10 a.m. – 7 p.m.

PJ's Sports Cards
For memorabilia and card collecting, the local spot is PJ's Sports Cards. With over 4 million sports and non-sports cards available through their shops and website, PJ's is going to help you build your collection.
You can order as little as a single card at a time, and their website makes it easy to search their inventory as well as see new products. PJ's physical location in Chula Vista is closed, but they are still going strong on their website, if you want to place an order.
Conclusion
Whether you are a resident and seasoned player or someone looking for tips for planning a family trip to San Diego and want to include swinging the bat or collecting some cards, you will be able to find something of interest for every baseball fan in the San Diego area. This national pastime will never get old and keeps generations coming back for fun and entertainment.
About the author: When not hiding behind a laptop, Cara Becker can be found asleep or exploring the wide world of interesting things, like how to bake the perfect cheesecake and where to find the best waterfalls. If you're interested in exploring a food you've never tried or learning a word you don't know, please share your wisdom with her on her LinkedIn profile.