Best San Diego Casino Hotels in December 2023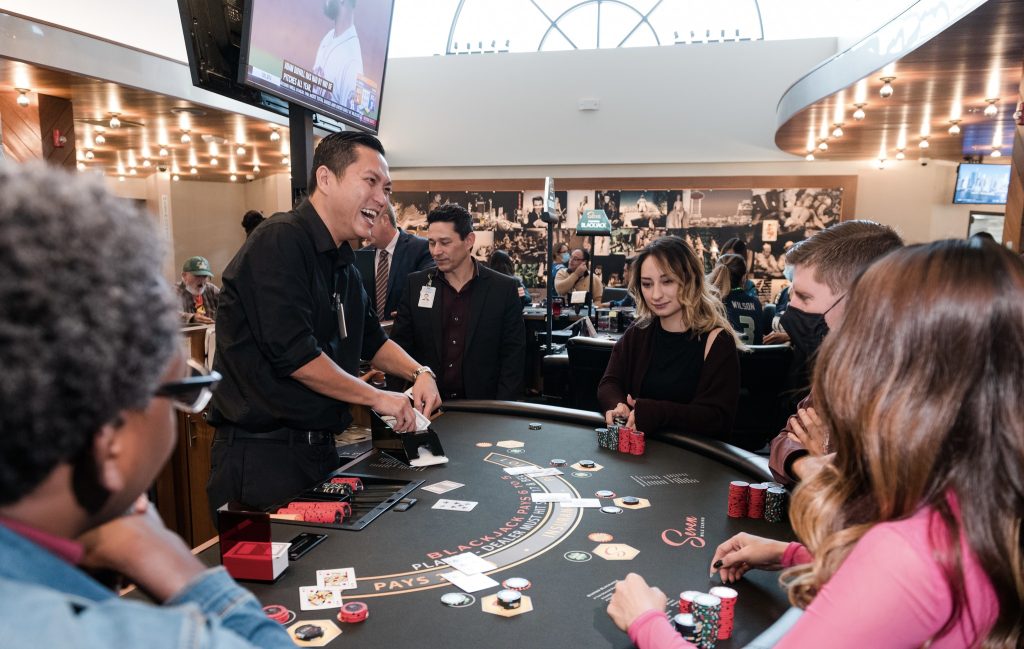 When you think of luck, what comes to mind? Is it four-leaf clovers? Horseshoes? What about rabbit's feet? (Perhaps it's not quite so lucky for the rabbit that once possessed it, though!) Well, for us, having the privilege of calling San Diego our home is arguably the pinnacle of what we'd call good luck. From the incredible weather that we get to experience all year 'round, to the genuinely friendly locals that make up our population, very few places compare to our fine city.
However, luck can take on a number of faces, and some people seem to have all of it. That's why folks from around the world love to flock to our San Diego casino hotels to try their hands at roulette, baccarat, and blackjack. With just a few dollars in their pocket and hope in their hearts, they start their winning streaks… and somehow manage to walk away from the table richer than when they started. And, of course, they also have the good fortune to know how to quit while they're ahead.
Understanding the Unique Features of Casino Hotels in San Diego
Casino hotels in San Diego offer a unique blend of excitement, luxury, and local charm, setting them apart from Las Vegas or other gambling hotspots. While Las Vegas is renowned for its grandeur and over-the-top entertainment, the best casinos in San Diego excel in offering a more relaxed and intimate experience. Key features that make SD casino hotels stand out include:
Diverse Gaming Options: From classic table games like blackjack and roulette to a wide variety of slot machines and unique regional games, these casinos cater to both seasoned gamblers and novices.
Entertainment Beyond Gambling: Unlike the neon-lit extravagance of Vegas, San Diego casino resorts often focus on a more balanced entertainment experience. This includes live music, local events, and cultural showcases that reflect the vibrant spirit of Southern California.
Access to Local Attractions: Proximity to stunning beaches, famous landmarks like La Jolla Cove, and natural parks offers visitors a chance to explore beyond the casino floors. This blend of gaming and sightseeing is something Las Vegas can't replicate.
Quality Accommodations and Amenities: Casino resorts in San Diego are known for their high-quality service, luxurious rooms, and amenities like spas, golf courses, and gourmet dining, providing a more rounded and comfortable stay.
The Best Casino in San Diego: Seven Mile Casino
The good news is that there are plenty of different types of casinos in the San Diego area to suite every appetite. The even better news is Seven Mile Casino. Located just 10 minutes from the Gaslamp Quarter and featuring games, a jackpot, and dining, Seven Mile answers the question: Why drive all the way out the desert to enjoy the casino experience?
Seven Mile Casino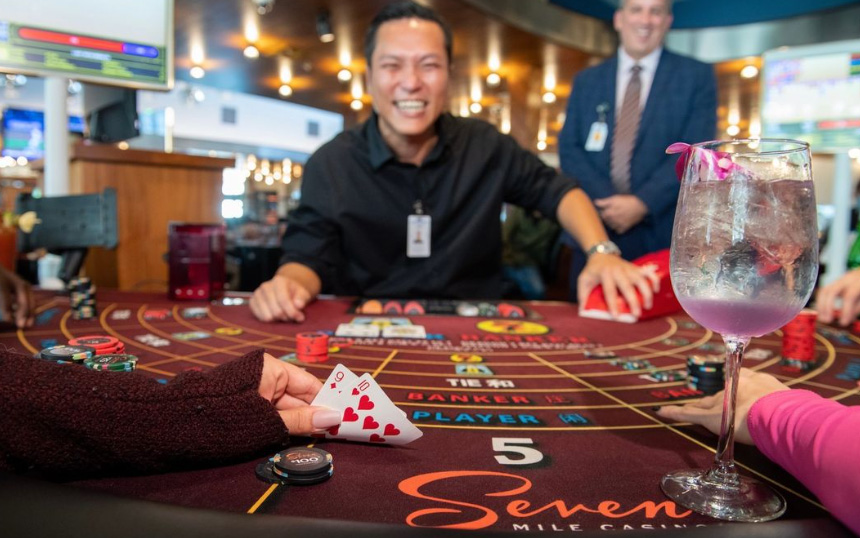 Seven Mile Casino is truly a gem in the heart of America's Finest City. And though it does not have a hotel, numerous high-quality accommodations are available nearby, offering the perfect balance of luxury and convenience. Visitors can enjoy a vibrant gaming atmosphere and then retreat to nearby hotels for a restful night. What about food? Serving a variety of crowd-pleasing entrees, local beers, and hand-crafted cocktails, Sammy's Restaurant & Bar is open 24/7, just like the casino.
The location is ideal, too: about 15 minutes from the airport, 7 minutes from downtown San Diego, and around half an hour from La Jolla Cove. Whether you're here to play, explore, or simply relax, Seven Mile Casino and its surroundings offer an unmatched experience.
Address: 285 Bay Blvd, Chula Vista, CA 91910
Phone: (619) 425-3333
Hours: Open 24/7
Other Top Picks for Casino Hotels in San Diego
While we're not going to go as far as to say that everyone's going to hit the jackpot while gambling in our San Diego casino hotels, we will say that if you've decided to make our city your vacation destination, then you're already a winner. Nevertheless, gambling is a game of chance, and you do need to play in order to be able to win. If you're wanting to start your very own flirtation with Lady Luck herself — and you're currently wondering, "What are the best casinos in San Diego?" — then why not check out these seven amazing casino hotels, found right here on our very own California coast?
Barona Resort and Casino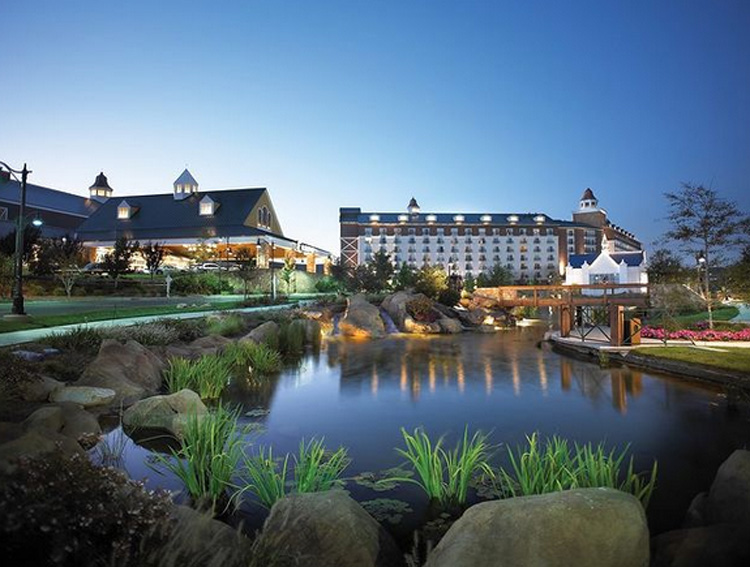 At San Diego's only non-smoking casino, the Barona Resort & Casino is a welcome breath of fresh air. With its impressive hospitality and award-winning service, you'll love the numerous amenities that can be found here at one of the finest San Diego casino hotels. Charging no resort fees whatsoever, Barona doesn't skimp on the opportunities for relaxation and enjoyment. It's one of the few properties to have an on-site golf course, the Barona Creek Golf Club. The deluxe rooms include a Keurig coffee maker, quality linens on the beds, and free Wi-Fi.
Once you make your way down the casino, you'll immediately see why so many people love coming here. Voted as having the best blackjack in the entire country, you won't want to hesitate to sign up for the VIP membership so you can start playing. Be sure to slip away to the hotel's pool, where the sparkling waters will rejuvenate you after a long day of winning. If you work up an appetite, grab a bite to eat at the award-winning (noticing a theme here?) on-site restaurants. Award yourself tonight with a stay by calling the hotel directly to book your reservation.
Address: 1932 Wildcat Canyon Rd, Lakeside, CA 92040
Phone: (619) 443-2300
Hours: Open 24/7
Harrah's Resort Southern California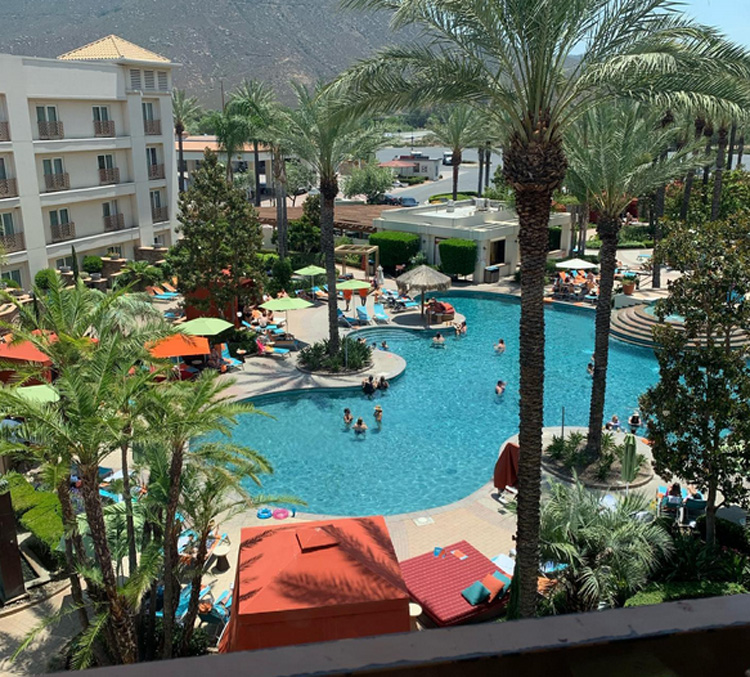 What is it about our San Diego casino hotels that make them so incredible? Is it the idea of winning big while at one of the many tables found there? Or perhaps it's the anticipation of fine dining at one of the on-site restaurants? Maybe it's the promise of unmatched entertainment, without having to leave the property? At Harrah's Resort Southern California, the answer is "all of the above"! As one of the top San Diego concert venues, you'll find big names headlining at Harrah's Event Center, including talents like Alice Cooper and The Killers. You can also fill your stomach at Fiore steakhouse, where you can pair bold vintages with filet mignon.
And yes, you'll love the gaming options at Harrah's! Rincon Craps, Blackjack, Ultimate Texas Hold'em, and Mystery Card Roulette are all available to you. If you need a break from the tables, head on over to the Spa at Harrah's, where you can treat yourself to what's been billed as "the best massage ever." We might even go as far as to say it's the best casino hotel in San Diego! How far is Harrah's Casino from San Diego? Just a quick, 50-minute drive, and rates start at a refreshingly affordable $209 per night.
Address: 777 S Resort Dr, Valley Center, CA 92082
Phone: (760) 751-3100
Hours: Open 24/7
Pala Casino Spa Resort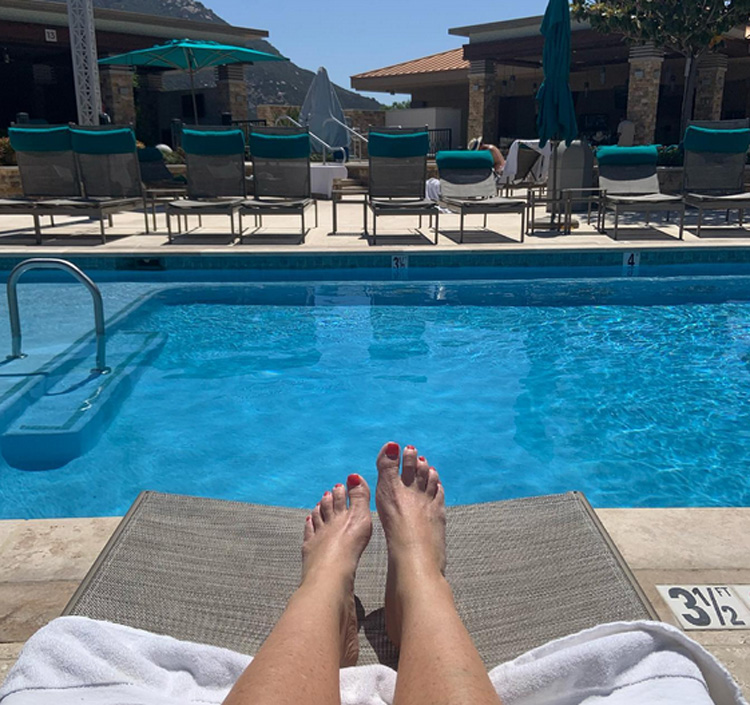 With its breathtaking views of the Palomar Mountains and private spas in each room, the Pala Casino Spa Resort is the place to go if you're wanting to combine luxury with entertainment. The suites in this AAA Four-Diamond resort hotel feature amenities like a separate wet bar, a 42" flat-screen television, a free daily newspaper, and an oversized bathroom (complete with two sinks!), making it one of the best casino hotels in San Diego, CA. In-room coffee and tea are complimentary here, meaning that you won't have to leave your room to get your caffeine fix. If you're looking for five star hotels in San Diego, you'll absolutely feel like you found one here at Pala Casino Spa Resort.
Of course, you'll want to head down to the casino before too long, as table games like Pala Roulette and Pai Gow Poker await you. You can also enjoy live music and entertainment, penny slots, and delicious drinks from the hotel's bar. Be sure to check out the Pala Spa to unwind with a facial or hot stone massage after an exciting day of winning. Or if you prefer, burn off some energy at the fitness center, or take a dip in your choice of five heated pools. A night here starts at just $200, making this a totally affordable indulgence!
Address: 11154 CA-76, Pala, CA 92059
Phone: (877) 946-7252
Hours: Open 24/7
Pechanga Resort Casino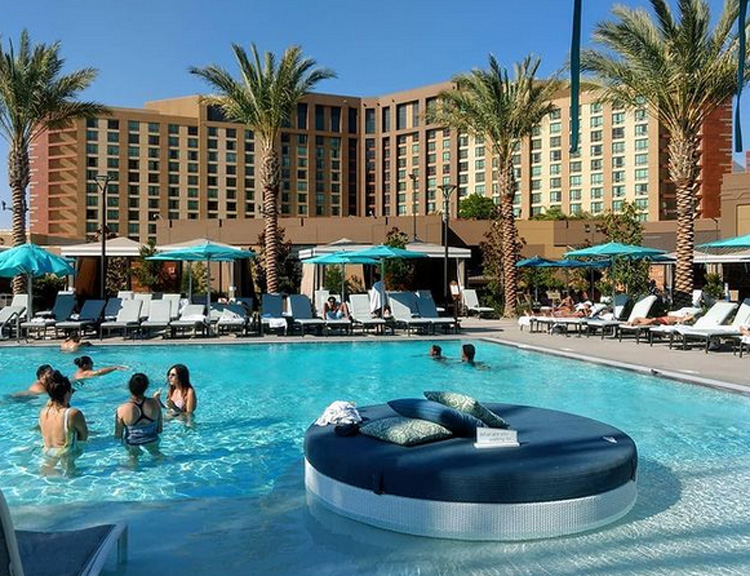 Rated as the #1 casino not only in all of California, but also in the entire country, Pechanga Resort Casino just may very well be the best casino in San Diego. Sprawling out an impressive 188,000 square feet, it's also the largest casino floor in the entire state. With over 158 table games and over 5,000 slot machines, this resort has no shortage of impressive amenities and offerings to delight and entertain you. To add to the excitement, more than 20 people win greater than $1,200 here — every single hour!
Furthermore, this hotel casino is also the home to some of the biggest names in music, inviting award-winning talent from around the globe to perform for its guests. Over a dozen restaurants provide a flavorful array of culinary fare for your tastebuds, and the drinks are both strong and delicious. Each room has been carefully decorated to maximize comfort and style, allowing you to bask in the wonder of the Temecula Valley while surrounded by locally made art and quartz countertops. Even better, rates start at just $289 per night.
Address: 45000 Pechanga Pkwy, Temecula, CA 92592
Phone: (877) 711-2946
Hours: Open 24/7
Sycuan Casino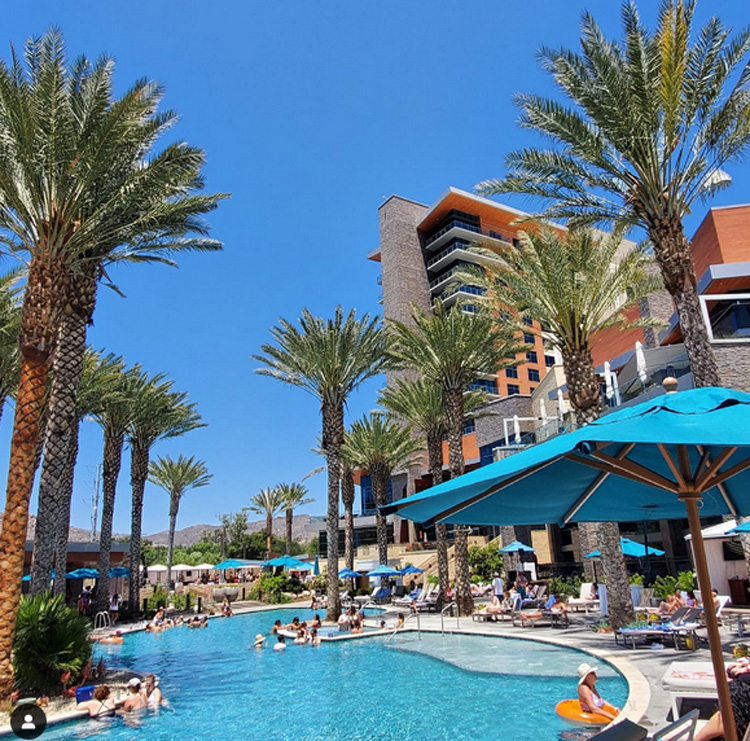 If you're looking to treat yourself to a luxurious retreat in the Dehesa Valley, why not get away from it all at the Sycuan Casino resort and casino? As one of the best casinos in San Diego County, you won't have to drive too far to find it. How far is Sycuan from San Diego? You'll be delighted to know it's just a quick half-hour drive away, conveniently located close to the action of downtown San Diego to explore the city, but far enough away that you can truly feel like you're getting away from it all.
With live local music, on-site fine dining establishments, and a plethora of games to choose from, you'll never once feel bored while here. When you're done winning at bingo and slots, be sure to check out the Retreat Pool and Cabanas, complete with oversized daybeds, cabanas, and signature cocktails. At night, you'll be surrounded by modern and handsome decor as you rest your head on plush linens. And if you're wondering, how much is a room at Sycuan? You're in luck — a night here starts at just $89.
Address: 5469 Casino Way, El Cajon, CA 92019
Phone: (619) 445-6002
Hours: Open 24/7
Valley View Casino and Hotel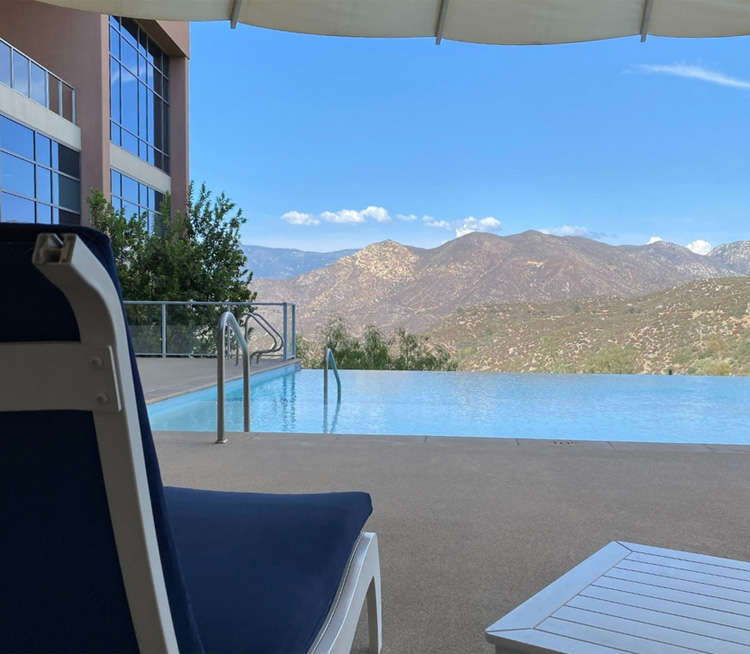 As one of the premier San Diego casino hotels in the city, Valley View Casino & Hotel is what many of its competitors aspire to be. Featuring well-appointed suites with floor-to-ceiling windows, marble and granite bathrooms, free VIP breakfasts, and breathtaking views of the Palomar Mountains, class and luxury all but exude from this high-end casino hotel. Of all the hotels near Valley View Casino Center San Diego, this one is our absolute favorite. The dining here, at your choice of on-site restaurants (including an all-you-can-eat buffet!), is also equally unmatched, taking your experience to new heights.
However, you can't spend your entire stay in your room, as this casino hotel is brimming with exhilarating San Diego activities for adults. With that in mind, do be sure to venture down to the casino and take in your choice of games. With high-limit slots and your favorite card games, you'll be raking in the chips before you know it. Once you pocket your winnings, you'll want to head on over to the Main Stage Bar, where live entertainment and ice-cold brews are on tap every night until 2 a.m. Or feel free to cool off in their infinity pool, which boasts incredible views of the mountain range. To book a night here, you'll want to contact the hotel directly.
Address: 16300 Nyemii Pass Rd, Valley Center, CA 92082
Phone: (760) 291-5500
Hours: Open 24/7
Viejas Casino and Resort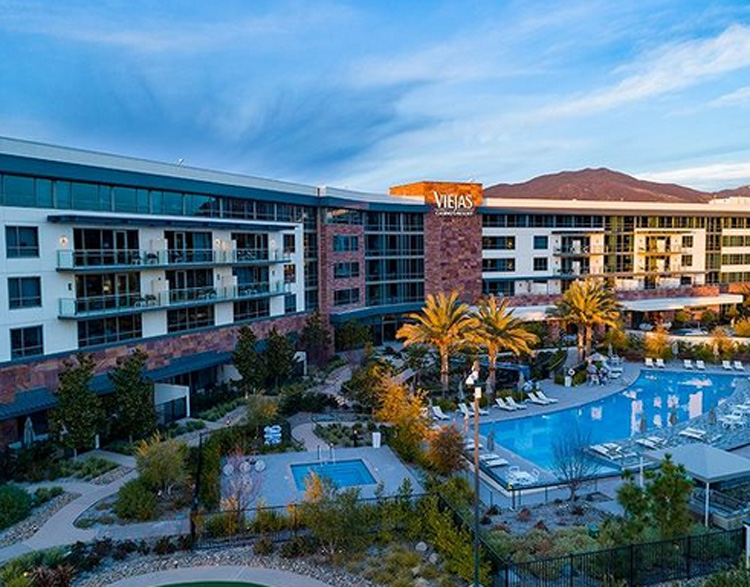 Between the exquisite dining which can be found at its award-winning on-site restaurants, the endless entertainment options found here, and the completely indulgent suites and rooms, you'll feel right at home at Viejas Casino & Resort from the moment you arrive. This adult-only resort doesn't shy away from treating its guests like royalty, and you'll find rooms with two-way fireplaces, terraces overlooking the stunning hotel grounds, plush down pillows on king-sized beds, and a wet bar.
While here, feel free to choose from a wide assortment of wines when savoring a steak at Grove Steakhouse, one of the many restaurants featured at this San Diego casino hotel. Entertainment options include live music and concerts, as well as the hotel's very own private casino. Bet on live horse races, try your hand at Vegas-inspired Craps, or see if you know when to hold 'em at three-or-six card poker. Be sure to prepare yourself for a day of bliss and pampering at the Willows Spa, where you can treat yourself to a mani-pedi, a haircut and style, and even a customized massage. You can have it all, with rates starting at just $149 per night.
Address: 5000 Willows Rd, Alpine, CA 91901
Phone: (619) 445-5400
Hours: Open 24/7
Are Casino Hotels Cheaper Than Regular Hotels?
The best casino hotel in San Diego should offer competitive pricing without scrimping on accommodations. In many instances, a luxury stay at a casino can be cheaper because of the amenities included in your stay.
Complimentary Services: Many casino hotels in San Diego offer freebies like shuttle services, Wi-Fi, and access to fitness centers or pools.
Entertainment and Dining Options: With in-house entertainment and dining, guests might find more value in staying at a casino hotel in San Diego, especially if they plan to indulge in gaming or shows.
Package Deals: Special deals combining room rates with casino credits, meal vouchers, or entertainment tickets can make casino hotels more cost-effective.
Loyalty Rewards: Regular visitors can benefit from loyalty programs, offering discounts and perks that regular hotels might not provide.
Are You Ready to Try Your Luck?
Sure, Las Vegas may seem to have all the glitz and the glitter, but if you want our humble opinion? The casinos in San Diego California area are vastly superior, full-stop. From our warm and sincere hospitality, to all the incredible amenities that can be found here, there's no shortage of fun within our city limits. While gambling is always a calculated risk, having the vacation of your dreams doesn't have to be. If you're looking for nonstop thrills and winning big at a top hotel casino, San Diego is absolutely the place to go. So go ahead: blow on the dice, grab your favorite lucky charm, and start planning your next getaway to these San Diego casino hotels today!
About the author: When Karyl Trejo isn't writing articles about health and fitness, you can find her hanging out with her husband and two cats on the beautiful Central Coast of California, chipping away at her next science fiction novel. If you want to hit her up for her favorite chocolate chip cookie recipe or swap running tips with her, you can find her LinkedIn here.
Additional reporting by LaJolla.com staff.
Media Credit: The banner photo for this article is courtesy of Seven Mile Casino in Chula Vista.