San Diego Golf Courses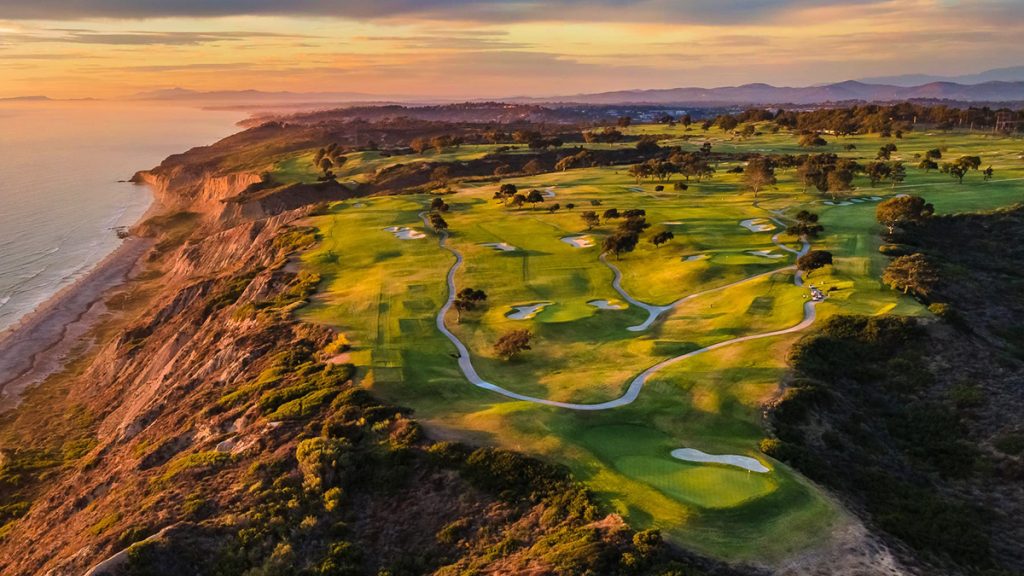 San Diego has over 72 golf courses for players of all abilities and ages, from the deserts to the mountains, from inland to the sea.
A combination of breathtaking scenic backgrounds and temperate climate is one of the reasons Golf Digest named San Diego Golf Courses as one of the top 50 golf destinations in the world. As a result, San Diego has become one of the world's premier golf markets.
Where to Find the Best San Diego Golf Courses
You can find some of the best golf courses in San Diego and San Diego County within a short stone's throw. If you're new to San Diego and are planning on staying for a day or two, find a hotel close to one of the many golf courses around the county. You can find exclusive deals, get better tee times, and more.
La Jolla Golf Courses
Whenever La Jolla Golf Courses comes into the conversation, it starts and ends with the world-famous Torrey Pines.
Torrey Pines Golf Course
The world-famous Torrey Pines Golf Course was the home of the 2008 and 2021 US Open. Play the links where Tiger Woods won the 2008 US Open with a broken leg, and enjoy the backdrop along the cliffs of Torrey Pines as you strike the fairway with the Pacific Ocean in the background. For out-of-town visitors, stay at the luxurious Hilton Torrey Pines to round out your golf outing, and play a few rounds. 
Address: 11480 N Torrey Pines Rd, La Jolla, CA 92037
Phone:(858) 581-7171 
Hours: Monday-Friday 8 am – 4:30 pm 
North County Coastal Golf Courses in San Diego
Some of the most picturesque landing spots to play golf are along the North County Coastal section. From Encinitas to Lomas Santa Fe and Aviara, the soft rolling hills and views of the Pacific Ocean in the distance make these some of the best golf courses to be found.
Encinitas Ranch Golf Course
Winner of the 2021 California Golf Owners Association as Golf Course of the Year, Encinitas Ranch is as breathtaking to see as it is to play. Play 18-hole, championship course. This is one among San Diego public golf courses open to the public, Encinitas residents, or JC options. Early tee times can be challenging, with afternoon availability being an option. 
Address: 1275 Quail Gardens Dr, Encinitas, CA 92024
Phone: (760) 944-1936
Hours: Monday-Thursday 6:30 am-8:30 pm
Friday 6 am-8:30 pm
Saturday/Sunday/Holidays 6 am – 9 pm
Lomas Santa Fe Country Club
The all-inclusive private Lomas Santa Fe Country Club offers members 72-par, 18-holes of golf, a driving range, and separate chipping and putting areas. In addition, the Country Club includes 14 tennis courts, four basketball courts, swimming pools, a hot tub, spa center, fitness center, and a state-of-the-art clubhouse. When people think of exclusivity, this course is the most famous golf course in San Diego for privacy and a unique, personalized experience.
Address: 1505 Lomas Santa Fe Dr, Solana Beach, CA 92075
Phone: (858) 755-6768 
Hours: Monday-Saturday 9 am – 5 pm
Closed Sunday
Aviara Golf Club
Designed by none other than Arnold Palmer, the Aviara has been ranked the #1 travel golf destination in Southern California by Conde Nast Traveler. In addition, Aviara has been recognized as one of the top golf courses in the world by both Golf Digest and Golf Magazine. Over 7,000 yards of water and bunkers await you on the 72-par championship-style course at Aviara.
Address: 7447 Batiquitos Dr, Carlsbad, CA 92011
Phone: (760) 603-6900
Hours: Monday-Sunday 6:30 am – 7 pm
North County Inland Golf Courses in San Diego
For people living in North County, Temecula, or even into the Inland Empire, just a short drive is all it takes to get to some of Southern California's top golf courses located in San Diego's inland North County.
The Welk
Nestled into the hills of Escondido is a scenic masterpiece known as The Welk. With two 18-hole courses, one designed for players of all skill levels and the more challenging Fountains Course, there's a course for everyone to enjoy.
Address: 8860 Lawrence Welk Dr, Escondido, CA 92026
Phone: (858) 675-8470
Hours: Monday-Sunday 6 am – 7 pm
The Vineyard at Escondido
Bookended by Lake Hodges to the South and bordering along the Orfila Vineyard and Winery in the San Pasqual Valley is The Vineyard at Escondido. Average tee times range from $57-$62 for 18 holes to $44 during twilight play.
Address: 925 San Pasqual Rd, Escondido, CA 92025
Phone: (760) 735-9545
Hours: Monday-Sunday 5:20 am – 7:30 pm
Mt. Woodson Golf Club
Settled in Ramona, the 6,000-yard, 70-par is for players of all skill levels. Whether you're a beginner or scratch golfer, Mt. Woodson was crafted by World-renowned designers Brian Curley and Lee Schmidt.
Address: 16422 N Woodson Dr, Ramona, CA 92065
Phone: (760) 788-3555
Hours: Monday-Sunday 6 am – 6 pm
Central San Diego Golf Courses
Located in the heart of San Diego with short drives to the San Diego Zoo, museums, historic Old Town, and scenic Coronado are the Central San Diego Golf Courses providing hours of golf for players of all abilities.
Admiral Baker Golf Course
Developed for use by active and retired military personnel, the Admiral Baker Golf Course provides a 20-tee driving range and 36-holes of varying degrees of difficulty to play. In addition, a course staff of PGA professionals manages an additional 18-hole public course.
Address: 2400 Admiral Baker Rd #3604, San Diego, CA 92124
Phone: (619) 487-0090
Hours: Monday-Sunday 6 am – 6 pm
Balboa Park Golf Course
Scenic views and rolling hills that overlook Downtown San Diego, the Balboa Park Golf Course is a short 5-minute drive to Little Italy, the historic Gaslamp District, and provides a challenging par 72 with the course record held by Sam Snead. Green fees offer a sharp discount for San Diego residents, and carts aren't mandatory but are recommended due to the sloping terrain.
Address: 2600 Golf Course Dr, San Diego, CA 92102
Phone: (619) 235-1184
Hours: Monday-Sunday 7 am – 4:30 pm (start of twilight) 
Tecolote Canyon Golf Course
Tecolote Canyon is the only golf course designed by Robert Trent Jones Sr. and Sam Snead. Hazards on almost every hole of the 3,161-yard course provide an excellent tee-to-green experience. As a result, Southland Golf named Tecolote Canyon Golf Course on its hot list of best executive courses in California.
Address: 2755 Snead Ave, San Diego, CA 92111
Phone: (858) 279-1600
Hours: Monday-Sunday 9 am – 7:30 pm 
East County Golf Courses in San Diego
Playing in East County offers a different vibe than playing at any other San Diego Golf Courses. Plenty of warm, dry weather year-round and scenic backdrops are perfect conditions for a day on the links.
Singing Hills Golf Resort at Sycuan
Meet the challenge of the 36-hole championship course at Singing Hills at Sycuan. Nestled in the foothills of Dehesa Valley, the Sycuan band owns and operates the Singing Hills Golf Resort, offering a unique Professional Academy to accelerate your ability. Stay the night in the luxurious Sycuan Resort, play a few holes, and enjoy the casino for an unforgettable experience.
Address: 3007 Dehesa Rd, El Cajon, CA 92019
Phone: (800) 457-5568
Hours: Tuesday-Sunday 6 am – 6 pm
Monday 6 am – 3 pm 
Steele Canyon Golf Club
The 27-hole championship golf course at Steele Canyon offers an experience like no other course in San Diego. Designed by Gary Player, the course provides hazards, various slopes, and other challenges for players of all levels. Since its opening, the Steele Canyon Golf Club has been awarded the prestigious 4 ½ Star Award by Golf Digest.
Address: 3199 Stonefield Dr, Jamul, CA 91935
Phone: (619) 441-6900
Hours: Monday-Sunday 6:30 am – 6 pm
Willowbrook Golf Course
Since 1955, the serene Willowbrook Golf Course has been located at the foothills of the Cuyamaca Mountains and was redesigned in 1981 by ASGCA-certified Jack L. Daray Sr.
Perched between the mountains on one side and the San Diego River running through, Willowbrook Golf Course is ideal for players looking to relax and enjoy their day away from crowded courses in other parts of San Diego. Playing is reserved for those with tee times only. No walk-ins are allowed.
Address: 11905 Riverside Dr, Lakeside, CA 92040
Phone: (619) 561-1061
Hours: Monday-Sunday 6 am – 6 pm
South Bay Golf Courses in San Diego
There are a few top San Diego Golf Courses to consider for golf fans looking to play a short drive south of downtown in the South Bay. You can quickly play 9, 18, or more holes in a single day.
Bonita Golf Course
Legendary architect William F. Bell lent his creative genius to designing this 71 par, 18-hole course. The relatively flat, walkable course is described as a great community course that combines tradition with a culture all its own. Consistently voted top-5 in the People's Choice Awards of the best golf courses in the San Diego area to play.
Address: 5540 Sweetwater Rd, Bonita, CA 91902
Phone: (619) 267-1103
Hours: Monday-Thursday 5 am – 7 pm
Friday 5 am – 9 pm
Saturday 5 am – 7 pm
Sunday 5 am – 6 pm
Enagic Golf Club at Eastlake
Play where the pros qualify at the Enagic Golf Club at Eastlake. Built around the Eastlake community's manufactured lake, Enagic boasts four sets of trees, 72 sand traps, six lakes, and three waterfalls for your enjoyment. 2022 U.S. Senior Open Qualifying, Farmers Insurance Open Qualifying, and SPGA Enagic San Diego County Open all call Enagic home.
Address: 2375 Clubhouse Dr, Chula Vista, CA 91915
Phone: (619) 482-5757
Hours: Monday-Sunday 7 am – 7 pm
Chula Vista Golf Course
Bonita boasts not one but two fantastic golf courses in the nearby community. The Chula Vista golf course provides plenty of water hazards and sand traps for players of all abilities to work on their game. 
Address: 4475 Bonita Rd, Bonita, CA 91902
Phone: (619) 479-4141
Hours: Monday-Sunday 5:30 am – 5 pm
Golf Course FAQs
How Many Golf Courses Are in San Diego?
San Diego boasts 72 public and private golf courses making it no wonder Golf Digest named San Diego Golf Courses top-50 destinations in the world to play. There are courses designed to play in one day and others with resorts built around them for more immersive, multiple-day play options.
How Many Acres Is a Golf Course Typically?
An average 18-hole course requires 150 acres, of which 100 acres are reserved for turfgrass. The fairways consist of 30+ acres, with the rough comprising 51+ acres.  The hazards, sand traps, and trees will take up the rest of the acreage. 
What Should You Wear to a Golf Course?
Most courses have a dress code to play, but players should wear light, breathable material with layers for comfort. Golfers should also wear weather protection, including sunscreen. You can purchase sunscreen, clothing, and hats at the clubhouse or buy travel size mineral sunscreen ahead of time.
The Last Word on San Diego Golf Courses
Whether you are a golf pro or an amateur, you are certain to find incredible golfing experiences in San Diego. Moreover, our sweeping views, sunny weather and sensational beaches are bound to inspire you to explore everything San Diego offers. So, if you're visiting you simply must stay as long as possible to really submerge yourself in the SD life. While you're here golfing, surfing, or just soaking up the sunshine, don't miss some of our 5-star hotels. Check out our recommendations and discounts on hotels for your golfing trip to San Diego so you can make your time both luxurious and affordable.  
The banner image of Torrey Pines Golf Course is courtesy of BommaritoArt.com