San Diego Super Bowl: Past & Present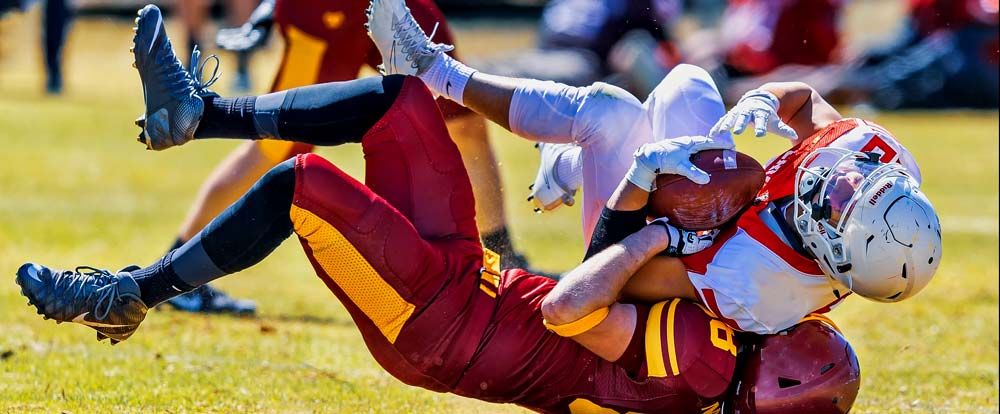 As the preeminent sporting event in the United States, the Super Bowl is a cultural phenomenon unlike any other. And in San Diego, the annual game is more than a spotlight on the NFL. It borders on a local and national holiday with families and friends sharing in the game and the festivities.
In fact, the day after the Super Bowl has one of the largest absentee rates of any significant event in the United States.
Even though San Diego no longer has a home NFL team, there are plenty of opportunities to catch all the action and enjoy the celebrations.
San Diego Super Bowl: Its History & Where to Watch this Year
San Diego has a mixed history with the Super Bowl, from hosting the iconic event multiple times to having one lone San Diego Chargers Super Bowl appearance as a participant in Super Bowl XXIX (29).
History of the San Diego Super Bowl
San Diego has hosted the Super Bowl on three separate occasions, in 1988, 1998, and the final one in 2003, with games being played at the now-demolished San Diego Jack Murphy (Qualcomm) Stadium.
What Super Bowls Were Played in San Diego?
There were three San Diego Super Bowls, Super Bowl XXII, XXXII, and XXXVII.
1988: Super Bowl XXII
The 1988 Super Bowl was played between the Washington Redskins and Denver Broncos in the strike-shortened season and saw the first African-American ever to start, and win, a Super Bowl with Washington's Doug Williams. This was John Elway's second Super Bowl appearance in as many years. Little known tidbit of this game, during the rainfall of the halftime show, on the field as a performer was future NFL Hall-of-Fame Offensive Tackle Lincoln Kennedy.
1998: Super Bowl XXXII
On January 25th, 1998, a hobbled John Elway led the Denver Broncos to a Super Bowl victory over the Green Bay Packers, reigning champions. Despite completing only 11 of 22 passes, John Elway and the Broncos won their first Super Bowl 31-24. The Broncos were powered by the rushing of native San Diegan Super Bowl MVP Terrell Davis, who rushed for 157 yards and three rushing touchdowns, despite suffering a migraine that sidelined him for the entire 2nd quarter.
2003: Super Bowl XXXVII
In a rarely seen event, the Oakland Raiders traded coach Jon Gruden to the Tampa Bay Buccaneers before the start of the 2002 season, making the 2003 Super Bowl between the two teams known as the "Gruden Bowl.' In the game, the number 1 offense of the Oakland Raiders was stymied by the number 1 defense of the Tampa Bay Buccaneers, 48-21 on an unseasonably warm day.
Does San Diego Have an NFL Team?
San Diego was home to the San Diego Chargers, who, after 55 years in San Diego, picked up and left for Los Angeles after the 2016 season. To say it was an embittered move by team ownership underscores the animosity locals have toward the Spanos family. Currently, the Chargers play at SOFI Stadium in Los Angeles as the Los Angeles Chargers.
When Was the Super Bowl in San Diego?
The San Diego Super Bowl was hosted on three occasions.
The first was in 1988 and was played between the Washington Redskins (now known as the Washington Football Team) and the Denver Broncos. Washington won the game 42-10 beyond the historical performance of Doug Williams being the first African-American to start and win a Super Bowl at Quarterback.
The second time San Diego hosted the Super Bowl, the reigning champions Green Bay Packers lost to the John Elway led Denver Broncos 31-24.
The final Super Bowl hosted by San Diego was in 2003 and saw Tampa Bay beat the Oakland Raiders 48-21 in Head Coach Jon Gruden's inaugural year in Tampa, having been traded by the Oakland Raiders before the season.
Has San Diego Ever Won a Super Bowl?
San Diego, as an NFL franchise, played in one Super Bowl in its history and lost. So, no, the San Diego Chargers Super Bowl wins are precisely zero.
In 1994, led by Junior Seau, one of the most famous athletes from San Diego, the upstart San Diego Chargers made the playoffs and earned a first-round bye. In the divisional round, the Chargers beat the Miami Dolphins 22-21 and traveled to Pittsburgh to face the top-ranked Steelers.
The Chargers' defense made an incredible defensive goal-line stand to beat the Steelers 17-13 to head to their first, and only, Super Bowl. However, in Super Bowl (29) XXIX, the San Diego Chargers ran up against the offensive juggernaut of the San Francisco Niners led by Hall of Famers Steve Young and Jerry Rice, losing to SF 49-26.
Where to Watch the Super Bowl in San Diego
There are some fantastic places to kick back and catch the Super Bowl. In addition, you can use your time watching the Super Bowl at any of these venues to scout your next fantasy football draft party in San Diego.
The Brewer's Tap Room in Encinitas
Located in sleepy Encinitas, The Brewer's Tap Room is a perfect venue to watch the game and sip on some tasty brews. With over 21 different beers on tap, bring a pizza, sit and watch the Super Bowl with all your friends. The Brewer's Tap Room is also dog-friendly!
Address: 1456 Encinitas Blvd, Encinitas, CA 92024
Phone: (760) 314-3773
Hours: Sun-Wed 12 pm – 9 pm
Thur-Sat 12 pm – 10 pm Thur
Pitchers Sports Bar in Rancho Penasquitos
Over 25 local brews are on tap at Pitchers to make your Super Bowl party a perfect time. So pair the perfect beer with a burger, pizza, or wings and catch all the action. With nine flat-screen TVs, three pool tables, and dartboards, Pitchers Sports Bar is a perfect place to chill, whether you're looking for where to watch UFC in San Diego or the next Super Bowl.
Address: 9920 Carmel Mountain Rd, San Diego, CA 92129
Phone: (858) 484-3777
Hours: Sun-Tues 1130 am – 12 am
Wed-Sat 1130 am – 2 am
Draft Republic in La Jolla UTC
The ample, open space with 38 beers and an innovative American Gastro Pub menu put the Draft Republic squarely as one of the top spots on our list of where to watch the Super Bowl in San Diego. There are plenty of foosball tables, community seating, and TVs to make Draft Republic an incredible venue to catch the "Big Game."
Address: 4282 Esplanade Ct, San Diego, CA 92122
Phone: (858) 450-1400
Hours: Tue-Fri 3 pm – 10 pm
Sat 11 am – 10 pm
Sun 930 am – 5 pm
Closed Mondays
Maverick's Beach Club in Pacific Beach
If you are wondering where to catch the Super Bowl in a fun, indoor/outdoor venue? Look no further than Maverick's Beach Club in PB. A fully stocked bar and over 20 drafts to choose from will make your Super Bowl party a special one. Choose between tacos, appetizers, and burgers to load up while you enjoy the game.
Address: 860 Garnet Ave, San Diego, CA 92109
Phone: (858) 999-0348
Hours: Tues-Fri 12 pm – 2 am
Sat 10 am – 2 am
Sun 9 am – 2 am
Mon 4 pm – 2 am
The Rabbit Hole in Normal Heights
The open setting built around a centerpiece bar has plenty of viewing angles for every game, especially the Super Bowl. So come early, grab brunch, hang out for the game, and munch on some delicious upscale pub fare with flair. A little heads up, this spot is a great Philadelphia Eagles bar, so wear your green and "fly, Eagles, fly."
Address: 3377 Adams Ave, San Diego, CA 92116
Phone: : (619) 255-4653
Hours: Mon-Thur 12 pm – 10 pm
Fri 12 pm – 12 am
Sat 9 am – 12 pm
Sun 9 am – 10 pm
Press Box Sports Lounge in El Cajon
The Press Box Sports Lounge is family-owned and operated in a little corner of El Cajon. Known for outstanding pub food with a Mediterranean twist, Press Box has 21 TVs, a full bar, and 32 rotating brews on tap for you to enjoy as you kick back and watch the Super Bowl or any game for that matter.
Address: 2990 Jamacha Road #120, El Cajon, CA 92019
Phone: (619) 713-6990
Hours: Mon-Thur 11 am – 10 pm
Fri – Sat 11 am – 11 pm
Sun 10 am – 10 pm
The Scoreboard in Imperial Beach
With 12 TVs, shuffleboard, and pool tables, The Scoreboard has showcased all the top games, including the Super Bowl. Having opened its doors in 1986, The Scoreboard was a packed house for fans rooting for the San Diego Chargers vs. San Francisco 49ers Super Bowl way back in 1994. This local landmark is sure to be a hit for every sports fan.
Address: 951 Palm Ave, Imperial Beach, CA 91932
Phone: (619) 424-9909
Hours: Mon – Thur 11 am – 12 am
Fri 11 am – 130 am
Sat 9 am – 130 am
Sun 9 am – 12 am
Catch the San Diego Super Bowl Fever
The Super Bowl is more than just a game. It's a national event celebrated with friends and families as much as it is by the players on the field. So catching the game and knowing about San Diego's rich history with the Super Bowl should only enhance your experience.
About the author: David Throop is our San Diego-based expert for all things related to football – including fantasy football. When he is not being bitten on the ankles by precocious puppies and children he likes to spend his time outdoors.