Hosting a San Diego Thanksgiving Dinner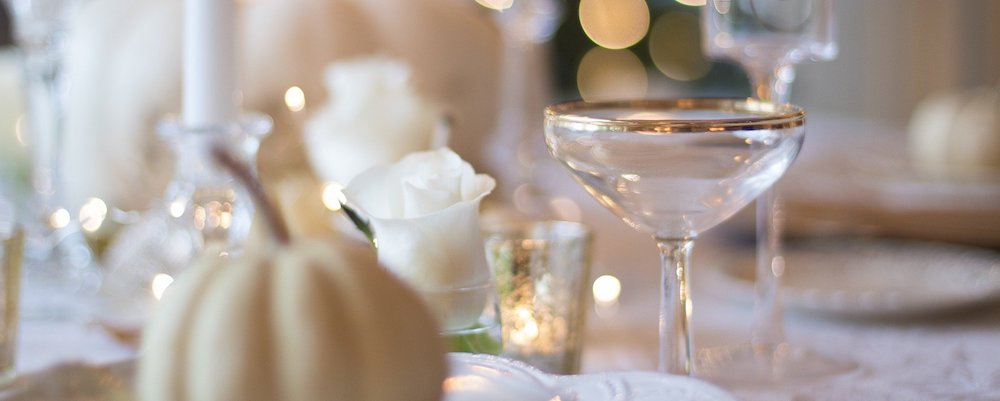 Thanksgiving is an American tradition that has come to mean more about family and traditions than anything else. A wonderfully gluttonous holiday, Thanksgiving dinner in San Diego means one thing above all other things: food.
If you are thinking of hosting a San Diego Thanksgiving dinner, you may be stressing about the amount of food you need to prepare, or getting everything just right. Does this sound like you? Maybe it's time to allow the focus of Thanksgiving to be on sharing good times and making memories together instead of preparing the perfect turkey.
Planning a Memorable San Diego Thanksgiving Dinner
Creating a wonderful experience with lasting memories doesn't mean you have to do everything yourself. For this year's Thanksgiving holiday, why not try focusing more on the time you will spend with the people you care about instead of laying out that perfect spread on that perfect dinner table? There are tons of places to get a prepared San Diego Thanksgiving dinner that will be nearly as good as homemade without the dishes to clean up.
What's Open for San Diego Thanksgiving Dinner?
If you are looking to create a memorable Thanksgiving dinner in La Jolla or the surrounding area, there are plenty of choices. For traditional Thanksgiving dinner reservations in San Diego try one of these great restaurants, but make sure you make reservations early!
Fogo de Chao – San Diego
Located in the Downtown/Gaslamp area, Fogo de Chao is a Brazilian steakhouse that has been operating since 1979. For Thanksgiving, Fogo de Chao is offering up a spread of traditionally oriented Thanksgiving dishes, including roasted turkey, sweet potatoes, and sausage and apple stuffing. Other meats and dishes are available at standard dinner pricing.
Address: 668 6th Ave., San Diego, CA 92101
Phone: (619) 338-0500
Hours: Lunch Mon -Fri 11:30 a.m. – 2:30 p.m.
Brunch Sat – Sun 11:30 a.m. – 2 p.m.
Dinner Mon – Fri 5 p.m. – 10 p.m., Sat 2 p.m. – 10 p.m., Sun 2 p.m. – 9 p.m.
Et Voila! Bistro
A beautifully inviting French restaurant in the North Park neighborhood, Et Voila! serves a three-course meal for under $50 on Thanksgiving. The Thanksgiving menu includes a choice from three of one appetizer, one entree, and one dessert. Previous years' menus have always been sumptuous.
Address: 3015 Adams Ave., Suite A, San Diego, CA 92116
Phone: (619) 209-7759
Hours: Fri – Sat 4:30 p.m. – 9:30 p.m.
Sun 9:30 a.m – 1:45 p.m.
Sun 4:30 p.m. – 8 p.m.
Dinner Tue – Thu 4:30 p.m. – 9 p.m.
Fleming's
Fleming's is a well-known steakhouse that offers traditional favorites in an elegant and family-friendly setting. Fleming's La Jolla features a three-course Thanksgiving dinner, promising to be a feast of epic proportions. A children's menu is also available, so you can save all of the savory herb-roasted turkey and mashed potatoes for yourself.
Address: 8970 University Center Ln., San Diego, CA 92122
Phone: (858) 535-0078
Hours: Mon – Sat 4 p.m. – 10 p.m.
Sunday 4 p.m. – 9 p.m.
Popular Places To Eat in San Diego for Thanksgiving Dinner
San Diego has a surprising amount of restaurants open for Thanksgiving dinner, with so many good choices that it can be terribly difficult to decide which one you may want to go to. If this becomes your dilemma, why not check out what the most popular places are for a ready made San Diego Thanksgiving dinner?
Chandler's Restaurant & Lounge
Located in Carlsbad, this gorgeous seaside restaurant is at the top of the list for popularity on Thanksgiving. In the past, the Thanksgiving menu has included such delectables and fig cinnamon goat cheese and pepper-crusted beef tenderloin.
Address: 1 Ponto Rd., Carlsbad, CA 92011
Phone: (760) 683-5500
Hours: Fri – Sat 7 a.m. – 10 p.m.
Mon – Tuesday 7 a.m. – 7 p.m.
Sun, Wed & Thurs 7 a.m. – 9 p.m.
AVANT Restaurant
Just minutes from the Oaks North Golf Course, AVANT features beautifully reimagined old-world wine country dining with classic American dishes. AVANT's menus showcase seasonal garden-to-table dishes with exciting flavors. Their Thanksgiving dinner will feature a choice of seasonal and traditionally focused appetizers, entrees, and desserts.
Address: 17550 Bernardo Oaks Dr., San Diego, CA 92128
Phone: (888) 281-7938
Hours: Wed – Sat 4 p.m. – 10 p.m.
Morada
With a restaurant that is touted as modern and chic, you can't go wrong with Thanksgiving reservations at Morada. Past Thanksgivings at Morada have included a Thanksgiving buffet with a large assortment of meats and seafood, small bites, sides, and desserts. House in a building built in 1923, this beautifully spread restaurant serves up wonderfully seasonal coastal cuisine.
Address: 5951 Linea Del Cielo, Rancho Santa Fe, CA 92067
Phone: (858) 381-8289
Everyday Hours: 7 a.m. – 9 p.m.
Where to Eat Non-Traditional San Diego Thanksgiving Dinner
Are you part of the family that orders fried rice for Christmas dinner? Then perhaps a more non-traditional Thanksgiving dinner will make a more memorable holiday for you. Maybe you want a dish that no one would ever think of having for Thanksgiving. Maybe you are even considering a Thanksgiving dinner cruise in San Diego.
Louisiana Purchase
Whether you were born in the south or just love the southern style of cooking, Louisiana Purchase is a wonderful choice for a non-traditional meal on Thanksgiving in University Heights. Past Thanksgiving dinner options have included fried chicken, gumbo, and shrimp sliders.
Address: 2305 University Ave., San Diego, CA 92104
Phone: (619) 255-8278
Hours: Wed – Fri 3 p.m. – 9 p.m.
Sat 2 p.m. – 9 p.m.
Sun 12 p.m. – 8 p.m.
The Marine Room
For a beautiful Thanksgiving dinner in La Jolla, The Marine Room offers an a la carte menu on Thanksgiving that features a wide variety of seaside dining. Past choices for Thanksgiving include walnut-crusted blue crab cakes and heirloom carrot ginger risotto. A 75-year-old restaurant, you know The Marine Room will deliver.
Address: 2000 Spindrift Dr., La Jolla, CA 92037
Phone: (858) 459-7222
Hours: Wed – Thurs 5:30 p.m. – 10 p.m.
Fri – Sunday 5 p.m. – 10 p.m.
Cesarina
Within minutes of the beautiful views on the Point Loma peninsula, Cesarina offers up both a traditional and non-traditional Thanksgiving dinner menu. If you love Italian food and all things pasta, Cesarina is for you for Thanksgiving as well. Past specialties have included lasagna and ravioli as part of their Thanksgiving menu.
Address: 4161 Voltaire St., San Diego, CA 92107
Phone: (619) 226-6222
Hours: Sat – Sun 10 a.m. – 9:30 p.m.
Mon – Fri Lunch 12 p.m. – 3 p.m., Dinner 4 p.m. – 9:30 p.m.
San Diego Thanksgiving Dinner Takeout Options
If you haven't been able to make a reservation at your choice for Thanksgiving dinner, or if you just prefer to do Thanksgiving in the comfort of your home (perhaps with your own homemade cocktails), a Thanksgiving dinner to go in San Diego may be just the thing. A pre order Thanksgiving dinner in San Diego can provide just as many choices and as much delectability as a homemade meal.
Ranch 45
Located in Solana Beach, Ranch 45 Local Provisions offers an extensive to-go menu for Thanksgiving dinner. Their focus on rustic, farm, and sea-to-table food even down to the coffee will keep you coming back for dinners on more than just holidays. Thanksgiving options in the past have included French onion soup and Cornish game hens.
Address: 512 Via De La Valle, Suite 102, Solana Beach, CA 92075
Phone: (858) 461-0092
Hours: Sun – Thurs 8 a.m. – 4 p.m.,
Fri – Sat 8 a.m. – 8:30 p.m.
Jeune et Jolie
If you are looking to feed a large family at your own home for Thanksgiving dinner but don't want the pain of cooking, Jeune et Jolie has you covered in the most delicious way. Serving meals that feed up to six people, this Best New Restaurant of 2019 located in Carlsbad has included choices such as smoke-roasted bone-in beef short rib with huckleberry aigre-doux.
Address: 2659 State St., Carlsbad, CA 92008
Phone: (760) 637-5266
Hours: Wed – Sun 5 p.m. – 10 p.m.
7 Mile Kitchen
Another Carlsbad staple, 7 Mile Kitchen overlooks miles of beachside views while serving up traditional American fare with a fresh, delectable twist. For Thanksgiving, a multiple course, multiple-choice menu is offered for takeout, with traditional classics such as green bean amandine and pumpkin pie.
Address: 5420 Grand Pacific Dr., Carlsbad, CA 92008
Phone: (760) 827-2514
Hours: Mon – Fri 7 a.m. – 10:30a.m.
Brunch Sat – Sun 7 a.m. – 1 p.m.
Lunch Mon – Fri 11:30a.m. – 4:30 p.m.
Dinner: Mon – Sun 4:30 p.m. – 10 p.m.
Things To Do For Thanksgiving in San Diego
If you are one of the growing numbers of people who prefer to focus on experiences over food, even for the holidays, one of these fabulous choices for Thanksgiving Day activities may be for you. Spend your day doing something fun or something charitable, such as helping with the San Diego Rescue Mission Thanksgiving dinner, and pass your thanks along to someone else.
Mother Goose Parade
The Mother Goose Parade in El Cajon will satisfy your holiday cravings of parades with oversized cartoon floats and showy fanfare. Featuring everything you would expect in a parade like this including floats, clowns, brass bands, and an endless number of horses, this parade is known as a San Diego institution.
Address: Along the streets of El Cajon
Phone: (619) 333-6203
Dates: Sunday before Thanksgiving
Father Joe's Villages Thanksgiving Day 5K Race
Want to get in some exercise after your hearty Thanksgiving meal? This celebrated Thanksgiving Day race is hosted by an organization that focuses on ending homelessness in the area and has invested more than 50 years in doing just that. The race features an end of live music, food, and a beer garden to celebrate your victory and the holiday.
Address: Balboa Park, 1549 El Prado, San Diego, CA 92101
Phone: (619) 446-2133
Dates: Check their website at my.neighbor.org.
San Diego Zoo
The zoo may not pop into your head as the first place to find something to do on Thanksgiving Day, but this holiday is a great time to visit one of the area's top attractions. With the likelihood that crowds will be low because of the holiday, spending Thanksgiving day at the zoo may give you the opportunity to view the habitats in ways you never have.
Address: 2920 Zoo Dr., San Diego, CA 92101
Phone: (619) 231-1515
Hours: 9 a.m. – 9 p.m. Thanksgiving Day
Conclusion
No matter what strikes your fancy for the holiday in San Diego, there are plenty of brilliant choices. Dine out, take out, run off, or watch some floats and create a memorable holiday that your whole family will enjoy whether the food coma happens or not!