San Diego Weather in June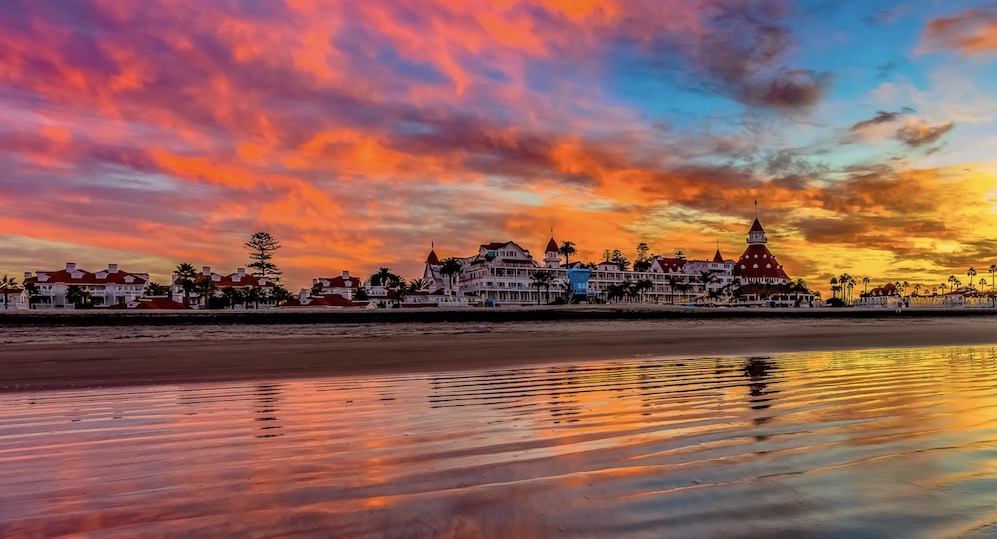 There are no shortage of questions to answer when planning a trip to San Diego. However, before you get too far ahead of yourself, there's one important word to consider: weather. Chances are, if you're coming to San Diego, you want to take advantage of everything San Diego has to offer, including its many outdoor activities. We typically have somewhere around 150 sunny days a year, and you probably want to be here for some of them. But what if the weather doesn't cooperate?
What is the Weather Like in San Diego in June?
The weather is just one of the many reasons why June is one of the most popular tourism months in San Diego. During June, you can expect comfortable temperatures (between the high 50s and low 70s, typically) and dry weather, both of which lend nicely to spending as much time as possible outdoors.
We will say that June is the most humid month of the year, but there's not usually much rainfall in San Diego during this month.
Is June a Good Time to Visit San Diego?
In simple terms, yes, June is a good time to visit San Diego. However, there's something you need to know: there's no bad time to visit America's Finest City.
No matter when you visit San Diego, there are plenty of things to do both indoors and outdoors.
What Is June Gloom in San Diego?
You might have heard that San Diego gets more than its fair share of May Gray and June Gloom. Should you be worried?
June Gloom is used to describe the weather in many parts of California during the late spring and early summer months. It's characterized by cloudy and overcast skies accompanied by cooler temperatures.
But on the plus side, even when it's gloomy, temperatures are comfortable and rain is at a minimum.
What is There to do in San Diego in June?
It doesn't matter if you're seeking fun things to do in North County or taking that special someone out for a date in the city, there's no shortage of things to do–especially during the month of June!
Here are just a few of the many things to do and places to visit in and around San Diego:
San Diego Zoo
Balboa Park
Midway Aircraft Carrier Museum
San Diego beaches
Old Town State Historic Park
Of course, there are hundreds upon hundreds of other ideas, so keep an open mind.
Temperature in June
While you never know what Mother Nature will bring, San Diego averages a daily maximum temperature for June between 69 and 73 degrees Fahrenheit. On the low end, the minimum temperature is generally in the 60 to 64 degrees Fahrenheit range.
Unlike the earlier months of the year, temperatures warm much more quickly in June. This allows you to start your days earlier, without as many concerns of chilly weather.
Note: the average temperature at the end of June is typically four degrees Fahrenheit warmer than at the beginning.
The question of "How hot is San Diego in June?" doesn't have an exact answer, but planning for daytime temperatures of 70 degrees Fahrenheit should put you on the right track. You'll often see locals wearing a hooded sweatshirt with shorts until July because the morning and evening hours still carry a little bit of a chill.
Humidity in June
When reviewing the weather forecast for San Diego in June, you must also take into consideration the humidity. The temperature is important, but the humidity will affect how you spend your days outdoors.
The relative humidity in June ranges between 65 and 81 percent, with an average of 73 percent. Generally, the humidity begins to fall during the middle of the day, before once again picking up during the late evening hours.
As the most humid month of the year, plan on ways to stay cool if you're spending time outdoors in June. Even though the temperature is low, the humidity can make it feel much warmer.
Sunshine in June
There's no better feeling than enjoying the outdoors on a sunny day, especially in a beautiful place like San Diego.
In June, there's an average of 14.3 daylight hours, which gives you plenty of time to enjoy the outdoors.
Of these 14.3 hours, the average sunshine is 11.8 hours per day.
While there's not as much sunshine in June as there is in July, it's not far behind.
Wind in June
June is the windiest month of the year in San Diego, with an average speed of 7.8 miles per hour.
While that may be the highest average of the year, it can make you more comfortable when the humidity level is at its highest.
Tip: when the wind picks up, head for the beach with a kite in hand!
Rainfall in June
Does it rain in June in San Diego? There's nothing more disappointing on vacation than rain. Fortunately, when you visit San Diego in June, you're in luck. June is the month with the least rainfall, with this occurring on an average of 2.7 days. And even when it does rain, it's not a lot. The average monthly accumulation is only 0.12″.
Clouds in June
June gloom is very real, and you'll soon realize that if you visit San Diego in June.
On average, you can expect the sky to be clear on nine days of the month, with no more than 30 percent cloud cover.
On the other days, cloud cover is much heavier, often blocking out the sunlight entirely.
Ocean Temperature in June
There's a lot to do in San Diego, but spending time at the local beaches is one of the most popular activities.
San Diego beach weather in June lags slightly behind other summer months, as temperatures are generally cooler (and there are more clouds in the air).
The average ocean temperature during June is 64.6 degrees Fahrenheit. To maximize the amount of time you can spend in the water, it's best to visit the beach during the warmest parts of the day.
But the question everybody wants to know is: Can you swim in San Diego in June? The answer depends on your tolerance for cold water. Yes, 64.6 degrees is cold, but depending on how you dress and your chosen activity, you may be able to swim in the ocean.
Daylight in June
As noted above, there's an average of 14.3 daylight hours per day, which lends nicely to spending a good portion of your days outdoors.
For example, you could take a walk on the beach in the morning, have lunch at Balboa Park, visit San Diego Zoo in the afternoon, and still have time to watch the sunset while you eat dinner in La Jolla.
Final Thoughts
The typical weather in San Diego in June is appealing to those who are seeking comfortable temperatures, little rain, and above average cloud cover.
Now that you know the average weather in San Diego in June, there's only one question left to answer: Is this the right time for you to visit?
There's a good chance the answer is yes!
About the author: Chris Bibey is a professional writer who loves creating travel, finance, and entertainment-related content. Connect with him on LinkedIn.