Discover The Beauty of California on a San Francisco to San Diego Road Trip
October 29, 2021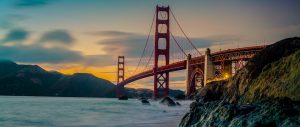 Taking a trip up the California coast can be exciting in itself. But with so many destination cities to choose from, it can be difficult to choose where to visit and where to stop. The opportunities for exploration are endless, and the sights and attractions between any of California's major cities are plentiful.
A San Diego road trip can mean exploring the city itself. Or, if you prefer, you can go all out and head for another destination city — while also exploring everything in between — by taking a San Francisco to San Diego road trip.
The Best Stops on a San Francisco to San Diego Road Trip
If you are a person who loves road-tripping, exploring new places and destinations, and the beauty of the scenery around you, taking a Pacific Coast Highway road trip is perfect for you. Perhaps you have taken a San Diego to Las Vegas road trip, but only had your destination in mind and did not get to make the stops you would have enjoyed along the way.
It's time to plan a road trip that is more about the trip than the ending. No matter what your interests are, you will find something that makes you smile in the miles between these cities.
Best Time of the Year to Travel From San Francisco to San Diego
California's beautiful weather lends itself well to days of driving that are sunny and warm, and being next to the ocean means you will always have the smell of the salty air as you visit the most interesting places on your San Francisco road trip.
There is never a bad time of year to take a road trip in sunny CA, so feel free to plan your trip around an event you want to experience, or a certain time of year you want to travel, or any time you wish!
Distance from San Francisco to San Diego
Traveling a straight shot from San Francisco to San Diego may take the better part of a day, depending on the traffic and the accidents you may encounter. However, if you are planning a road trip between the two cities, driving up the Pacific Coast highway will provide a much more leisurely and enjoyable trip.
Taking Route 1 all the way between the two cities can run up to twelve hours, but the sights, rarities, and even just the scenery are all enough to make it worth turning this twelve-hour trip into a multiple-day trip.
Santa Cruz
Santa Cruz is a beautiful city located on the north side of Monterey Bay in Santa Cruz County, about 75 miles from San Francisco. Known for its beautiful ocean views, temperate weather, and a plethora of natural spaces, a stop in Santa Cruz is a must on a Pacific Coast Highway road trip. The Santa Cruz Boardwalk is an iconic place to wander.
What to Do
Big Basin Redwoods State Park
Big Basin Redwoods State Park is California's oldest state park. Originally created in 1902, this park is a gorgeous place to see redwood forests, waterfalls, and spectacular views of the Pacific Ocean. 80 miles of trails promise all of the nature you could want.
Address: 21600 Big Basin Way, Boulder Creek, CA 95006
Phone: (831) 338-8861
Hours: Mon – Sun 6 a.m. – Sunset
Where to Eat
Jack O'Neill Restaurant and Lounge
The founder of the Jack O'Neill Restaurant and Lounge favored northern California for the beaches, and you have beautiful views of those beaches while you are dining on some of the area's best seafood or a huge variety of other fare.
Address: 175 W. Cliff Dr., Santa Cruz, CA 95060
Phone: (831) 740-8138
Hours: Mon – Sun
Breakfast 7 a.m. – 11 a.m.
Lunch 11:30 a.m. – 2 p.m.
Dinner 5:30 p.m. – 9:30 p.m.
The Crow's Nest
This restaurant has been around since 1969 and is loved by locals and tourists alike. Stunning views of the Pacific combined with an expansive menu make this an easy pick. There is also live music and comedy on certain nights.
Address: 2218 Cliff Dr., Santa Cruz, CA 95062
Phone: (831) 476-4560
Hours: Mon – Fri 9 a.m. – 8:30 p.m.
Sat & Sun 8 a.m. – 8:30 p.m.
Monterey
Located on California's central coast about 115 miles from San Francisco, Monterey is home to an abundance of artists and history. Many of California's firsts were in Monterey, including the first public library, newspaper, and theater. This densely populated city now hosts some great attractions, including the Monterey Bay Aquarium and the Monterey Jazz Festival.
What to Do
Monterey Bay Aquarium
This must-see in Monterey is a non-profit public institution that has done wonders towards the advancement of sustainable seafood and conservation, education, and encouraging new growth for the regions' sea dwellers. Check out the living kelp forest, and pay attention to the building architecture, as the aquarium was created in what was originally a sardine cannery.
Address: 886 Cannery Row, Monterey, CA 93940
Phone: (831) 648-4800
Hours: Mon – Sun 10:30 a.m. – 5 p.m.
Cannery Row
Literary fans likely know the book of the same name by the legendary John Steinbeck. Cannery Row was officially named after his book in 1958, and now the street is the cultural and entertainment hub of the city of Monterey. Many of the original buildings and equipment are still present for viewing, and the street is otherwise rich with restaurants, shops, and history.
Where to Eat
Lalla Grill
Lalla Grill makes everything from scratch and uses only locally sourced, organic ingredients. The views of the bay can't be beat, and reviews talk about the freshness of the food and the high level of service.
Address: 654 Cannery Row, Monterey, CA 93940
Phone: (831) 324-4632
Hours: Mon – Thurs 11 a.m. – 9 p.m.
Fri – Sun 11 a.m. – 10 p.m.
Old Fisherman's Grotto
This local staple has been in business since the 1950s and is famous for its harbor views and clam chowder, which is a secret family recipe and has won many awards. Locals recommend getting the takeout clam chowder and eating it underneath the Steinbeck statue while you soak in the feel of Monterey.
Address: 39 Fisherman's Wharf, Monterey, CA 93940
Phone: (831) 375-4604
Hours: Mon – Sun 11 a.m. – 10 p.m.
Big Sur
Big Sur is hugely scenic and will not disappoint for the views, no matter the time of year or the weather you happen to encounter. Located 146 miles from San Francisco where the Santa Lucia Mountains rise out of the Pacific Ocean, Big Sur is mostly undeveloped.
Today, it remains one of the most highly protected areas in the state for the preservation of natural habitat. There are a few local homes and businesses and some farming, but the majority of the area is beautiful natural spaces to be explored.
What to Do
Bixby Creek Bridge
Perhaps the most photographed bridge in CA, Bixby Creek Bridge has been featured in television shows, songs, and movies. It can be difficult to find parking at popular times, but there are pull-offs on either side of the bridge for photographic opportunities and scenic views.
San Simeon
San Simeon is one of the lesser-known beauties on the California coast, about 230 miles from San Francisco. The tiny village is a great place to view elephant seals, with one of the largest elephant seal rookeries being located there. Wineries and a number of gorgeous outdoor spots are available for a leisurely, quiet stop on your San Francisco road trip.
What to Do
Hearst Castle
William Randolph Hearst founded a media conglomerate and came from old money. Hearst Castle was a residence and frequented by many very famous people in the 20's and 30's, including Cary Grant and president Calvin Coolidge. Hearst Castle has since been donated to the state and is now a museum, housing many of Hearst's collections, and conducts tours and viewings for the public.
Address: 750 Hearst Castle Rd., San Simeon, CA 93452
Phone: (800) 444-4445
Cayucos
Cayucos is a very small coastal town along State Route 1 that packs a lot of punch for its size. About 227 miles south of San Francisco, this beautiful stop along your Pacific Coast road trip from San Francisco will fool you with the number of activities available. From surfing to dining to breweries and parks, Cayucos is a must-stop.
What to Do
Whale Rock Reservoir
Whale Rock Reservoir is a beautiful inland park that showcases the stunning natural views of California. The area is prime for seeing local wildlife, and features hiking and biking trails and areas prime for hang gliding.
Cayucos Collective
With an area known for surfboard craftsmen and surf shops, of course the local art gallery would showcase art that is created by long-time local surfers, skaters, and other artists who share a passion for the California beach life and culture.
Address: 123 N. Ocean Ave., Cayucos, CA 93430
Phone: (805) 900-5247
Hours: Mon – Sun 11 a.m. – 5 p.m.
Where to Eat
Cafe Della Via
You may not expect to find amazing Italian food along the West Coast, but Cafe Della Via delivers that in a tiny restaurant and wine bar. Using locally sourced ingredients with dishes at reasonable prices, this spot is a must.
Address: 155 N. Ocean Ave., Cayucos, CA 93430
Phone: (805) 995-1610
Hours: Wed – Sat 5 p.m. – 8 p.m.
Bill & Carol's Sea Shanty
Around since 1983, Bill & Carol's Sea Shanty is a local favorite serving breakfast, lunch, and dinner. This restaurant has won a traveler's choice award on TripAdvisor and is known for its desserts.
Address: 296 S. Ocean Ave., Cayucos, CA 93430
Phone: (805) 995-3272
Hours: Mon – Sun 8 a.m. – 9 p.m.
San Luis Obispo
About 231 miles from San Francisco, San Luis Obispo is a small city on the coast known for its rich historic architecture and wineries. It is also the home of California Polytechnic State University, and definitely harbors some college town vibes.
What to Do
Mission San Luis Obispo de Tolosa
Known as one of the most beautiful missions in California, this mission was founded in 1772 and is home to beautiful decoration and architecture, a museum dedicated to local history, and a gift shop with many handmade items. Mass happens daily and several times on Sundays.
Address: 751 Palm St., San Luis Obispo, CA 93401
Phone: (805) 781-8220
Historic Downtown
Centered around the mission, San Luis Obispo's downtown is full of history. Traditional Spanish-style buildings feature a number of restaurants and shops, with the popular historic center restaurants often having patios that view San Luis Obispo Creek.
Where to Eat
High Street Market and Deli
This funky little sandwich shop has been in operation since the 1920s and is a local favorite for a great, fresh, filling, unique sandwich. Choices range from the Highzenburger meatloaf sandwich to a piled-high veggie sando and everything in between, with reviews also noting a great wine and beer selection.
Address: 350 High St., San Luis Obispo, CA 93401
Phone: (805) 541-4738
Hours: Mon – Sun 10 a.m. – 5:30 p.m.
Ciopinot Seafood Restaurant
This second-generation family restaurant features daily specials with the freshest seafood available, and has won awards for best seafood locally. Their food and drinks focus on the pinot family of wines that pairs so well with seafood, but their selection is extensive.
Address: 1049 Nipomo St., San Luis Obispo, CA 93401
Phone: (805) 547-1111
Hours: Wed – Sat 5 p.m. – 9 p.m.
Santa Maria
Santa Maria is about 264 miles from San Francisco and is known for its wineries and a local dish called Santa Maria BBQ. The city is highly agricultural and is home to the valleys of the Santa Barbara County wine country. Sunset Magazine once called Santa Maria the World's Best BBQ Town.
What to Do
Pacific Conservatory Theater
This theater has been providing quality shows and training individuals for careers in theater for over 50 years. This is the Central Coast's only resident professional theater company, and tickets go on sale in the fall for a variety of plays.
Address: 800 S. College Dr., Santa Maria, CA 93454
Phone: (805) 922-8313
Santa Maria Fairpark
There is always something going on at the Santa Maria Fairpark, from swap meets to car shows to farmers and flea markets. There are also campsites available, and many fun community charity events happen here.
Address: 937 S. Thornburg St., Santa Maria, CA 93458
Phone: (805) 925-8824
Where to Eat
The Pantry on Park
The Pantry serves diner-style American food in a laid-back atmosphere. Reviews talk about amazing brunch dishes, quick seating, and just overall great food.
Address: 726 S. Broadway, Santa Maria, CA 93454
Phone: (805) 739-8895
Hours: Mon – Sun 6 a.m. – 9 p.m.
Cool Hand Luke's
This is an American-style steakhouse and saloon that features great happy hours and all you could want in a good steak dinner. Specials and seasonal items are always happening.
Address: 1231 S. Nicholson Ave., Santa Maria, CA 93454
Phone: (805) 928-6196
Hours: Sun – Thurs 11 a.m. – 9 p.m.
Fri & Sat 11 a.m. – 9:30 p.m.
Santa Barbara
Santa Barbara has a Mediterranean climate and a diverse economy, with a large service sector. It is also the home to four colleges and is a stop on the coastal Amtrak line.
About 326 miles from San Francisco, this city is nestled between the Pacific Ocean and the Santa Ynez mountains. Attractions include a number of resorts and wineries as well as all of the outdoor activities you could ask for.
What to Do
Santa Barbara Zoo
The Santa Barbara Zoo is a wonderful smaller zoo that is located on what used to be a posh private estate. Now home to monkeys, meerkats, giraffes, and over 150 other species, it is a beautiful place to spend an afternoon.
Address: 500 Ninos Dr., Santa Barbara, CA 93103
Phone: (805) 962-5339
Hours: Mon – Sun 9:30 a.m. – 5 p.m.
Old Mission Santa Barbara
This beautiful historic Franciscan mission features two bell towers and gorgeous grounds with sunken gardens. Originally built in 1786, the mission is home to a group of Franciscan friars and houses a museum and gift shop.
Address: 2201 Laguna St., Santa Barbara, CA 93105
Phone: (805) 682-4149
Hours: Mon – Sun 9:30 a.m. – 5 p.m.
Where to Eat
Cold Spring Tavern
The Cold Spring Tavern originally began operating as a stagecoach stop on the San Marcos Pass in 1868. The original structures and woodwork are available to see aside from being in the tavern itself, and wagon ruts from the original Pass can still be seen.
Address: 5995 Stagecoach Rd., Santa Barbara, CA 93105
Phone: (805) 967-0066
Hours: Thurs 11:30 a.m. – 3:30 p.m.
Fri & Sat 11:30 a.m. – 8 p.m.
Sun 11:30 a.m. – 5 p.m.
Los Angeles
We do not need to tell you how interesting Los Angeles is and the plethora of things there are to do there. However, we will just go ahead and list a few of our favorites in this city that is around 383 miles from San Francisco.
The city of angels is the largest city in California and the second-largest in the United States. Its rich diversity, gorgeous climate, and widespread metropolitan area make it a draw for anyone wishing to visit.
What to Do
Griffith Observatory and Griffith Park
This beautiful area sits on the south side of Mount Hollywood and overlooks Los Angeles with amazing views. Entry to the park is free, and there is also a planetarium, many exhibitions, and miles of trails.
Address: 4730 Crystal Springs Dr., Los Angeles, CA 92007
Phone: (323) 913-4688
Hours: Mon – Sun 9:30 a.m. – 5 p.m.
Santa Monica Pier and Beach
Santa Monica Pier is home to one of the most legendary beach scenes in the United States and has been mentioned widely in popular culture in books, movies, music, and more. It has an amusement park, an original carousel from the 1920s, and a huge number of other interesting things to see and do.
Address: 200 Santa Monica Pier, Santa Monica, CA 90401
Phone: (10) 458-8900
Hours: Mon – Sun 6 a.m. – 10 p.m.
Where to Eat
Broad Street Oyster Company
Head to Malibu for a laid back seafood restaurant that even offers drive through service, with food the quality of a 4 star establishment. The freshest oysters, lobster, tasty fried fish, and even caviar service are available for pickup.
Address: 23359 Pacific Coast Hwy., Malibu, CA 90265
Phone: (323) 913-4688
Hours: Mon – Sun 9:30 a.m. – 5 p.m.
Pasjoli
If you are looking for a more upscale option, try Pasjoli in Santa Monica. Calling itself an 'elevated French bistro', this beautiful location has an award-winning chef and focuses on local produce in French cuisine.
Address: 2732 Main St., Santa Monica, CA 90405
Phone: (424) 330-0020
Hours: Sun – Thurs 5:15 p.m. – 9:30 p.m.
Fri & Sat – 5:15 p.m. – 10:30 p.m.
Laguna Beach
As the last stop on your San Diego to San Francisco road trip, Laguna Beach is a seaside resort city in Orange County about 437 miles from San Francisco. It houses a prevalent artists community, scenic coves, and has a community that focuses on environmental preservation. Many festivals and artist events happen here throughout the year.
What to Do
Laguna Art Museum
This museum was founded in 1918 and is the only museum in the state that collects and houses only art that is created by California artists. Artworks span all media, styles, and periods, so there is something for everyone to see and enjoy that originated in California.
Address: 307 Cliff Dr., Laguna Beach, CA 92651
Phone: (949) 494-8971
Hours: Thurs – Tues 11 a.m. – 5 p.m.
Closed Wednesday
Pacific Marine Mammal Center
A must for all animal lovers, the Pacific Marine Mammal Center rescues, cares for, and re-releases local wildlife that is in danger. In operation since 1917, this organization was the first of its kind in California and is a great place to see seals and other local wildlife.
Address: 20612 Laguna Canyon Rd., Laguna Beach, CA 92651
Phone: (949) 494-3050
Hours: Mon – Sun 10 a.m. – 4 p.m.
Where to Eat
Nirvana Grille
A homey, rustic spot in the heart of Laguna Beach, Nirvana Grille is woman-owned and focuses on sustainable, environmentally friendly practices and fresh local ingredients. There is also an attached co-op grocery market with a variety of products.
Address: 303 Broadway St. #101, Laguna Beach, CA 92651
Phone: (949) 497-0027
Hours: Tues – Sat 5 p.m. – 10 p.m.
Closed Sun & Mon
230 Forest Avenue Restaurant and Bar
Voted the Best Of in many categories locally, 230 Forest Avenue was previously an open-air market that is now owned and run by chef Marc Cohen. The menu focuses on seafood with a wide variety of dishes.
Address: 230 Forest Ave., Laguna Beach, CA 92651
Phone: (949) 497-0027
Hours: Sun – Thurs 11 a.m. – 9 p.m.
Fri & Sat 11 a.m. – 10 p.m.
San Diego
You have made it to your destination from your San Francisco to San Diego road trip and seen a huge number of sights in between, and now you are looking for places to stay in San Diego, things to do, and places to eat. You can never pack all of San Diego into one day or even one week, but here are a few top suggestions from the locals.
Where to Stay:
Pantai Inn
One of La Jolla's beautiful ocean view hotels, the Pantai Inn is set up more like a community with many beach cottages and villas that offer fully equipped kitchens and more.
Address: 1003 Coast Blvd., La Jolla, CA 92037
Phone: (858) 224-7600
Fairmont Grand Del Mar
If you are looking for a luxury hotel in San Diego, the Fairmont name has been high on the list of luxury since 1907. This hotel is more of an oasis, with the property spanning 400 acres and a variety of spa, restaurant, and entertainment options.
Address: 5300 Grand Del Mar Ct., San Diego, CA 92130
Phone: (858) 314-2000
La Valencia Hotel
When you want to wind down your road trip with a hotel stay that features an amazing pool, look towards the La Valencia Hotel. This gorgeous and large resort will have you feeling like you are in an exotic cabana, while you swim and gaze at the ocean.
Address: 1132 Prospect St., La Jolla, CA 92037
Phone: (855) 476-6870
What to Do
USS Midway Museum
You do not have to be a war or history buff to find this museum fascinating. The USS Midway is a retired naval aircraft carrier, and was the largest ship in the world for ten years after the end of World War II. The museum is interactive and great for any age.
Address: 910 N. Harbor Dr., San Diego, CA 92101
Phone: (619) 544-9600
Hours: Mon – Sun 10 a.m. – 5 p.m.
La Jolla Cove
La Jolla Cove is San Diego's most beautiful and therefore most desirable spot for snorkeling, swimming, and diving. With ecological protection and calm waters, this spot is perfect for seeing local wildlife in its natural habitat while enjoying a beautiful day in the water.
Where to Eat
Ambrogio15
Voted the best pizza in San Diego, Ambrogio15 is an amazing local spot to get signature Italian dishes. Reviews specifically mention the tuna tartare multiple times, and the large selection of craft and local brews.
Address: 926 Turquoise St. H, San Diego, CA 92109
Phone: (858) 291-8650
Hours: Sun – Thurs 12 p.m. – 9 p.m.
Fri & Sat 12 p.m. – 10 p.m.
Hodad's Ocean Beach
Guy Fieri loved Hodad's, and there's a good chance you will, too! Hodad's is a local burger spot that has been creating amazing burgers at their Ocean Beach location for over 50 years. There are a number of choices on the menu, but the staple is simple, perfectly made burgers with all the fixins'. They also brew their own beers.
Address: 945 Broadway, San Diego, CA 92101
Phone: (619) 234-6323
Hours: Mon – Sun 11 a.m. – 9 p.m.
Conclusion
A San Francisco to San Diego road trip is a beautiful way to spend a couple of days trekking the Pacific Coast highway. No matter what you are interested in or even if you just want to soak up the scenery, using highway 1 to travel between these two cities is always going to be more interesting and relaxing than just traveling the highway. With the ideas above in your pocket, you can plan the road trip of a lifetime today.
About the author: When not hiding behind a laptop, Cara Becker can be found asleep or exploring the wide world of interesting things, like how to bake the perfect cheesecake and where to find the best waterfalls. If you're interested in exploring a food you've never tried or learning a word you don't know, please share your wisdom with her on her LinkedIn profile.