San Diego to San Francisco Road Trip: Best Stops Along the Way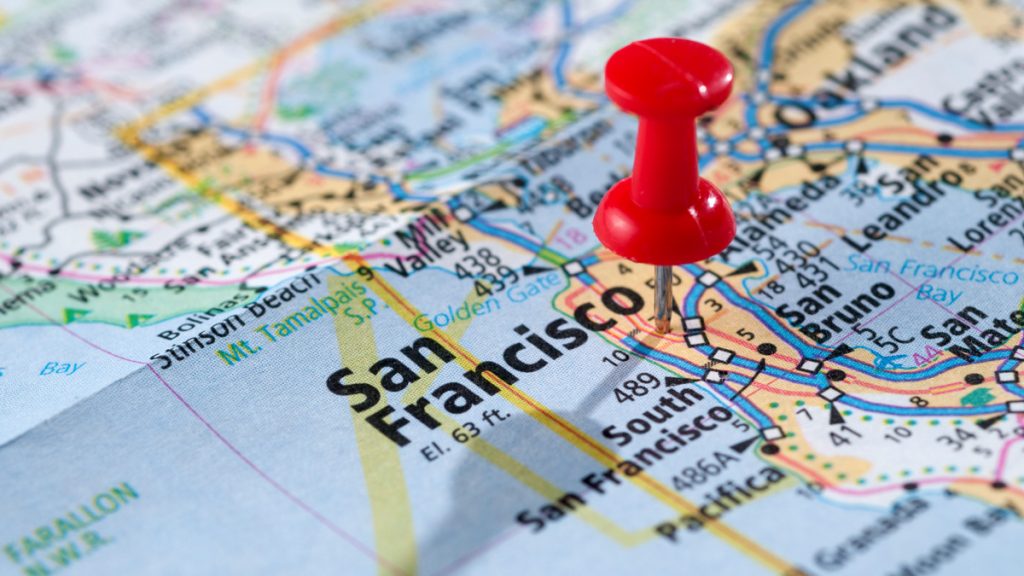 This post is part of our Best Dispensaries Around the Bay Area series, sponsored by Project Cannabis.
So you're going up North and want to make it count? Fortunately, there are so many eventful things to experience and see on the drive from SoCal to the Bay Area that even this extensive list doesn't scratch the surface. Let's be honest, any drive up the California coast isn't complete without stopping through a beach town or two along the way for some wine, fresh air, seafood, and an immersion into the surrounding culture. That's exactly why we created a list of our favorite scenic cities with ample options for detours to help break up the long haul into a few pockets of joy.

Are you ready to learn more about the best places to see on your road trip from San Diego to San Francisco? Follow along as we give you the inside scoop on the greatest places to eat, surf, golf, shop, bask, relax, and indulge. You'll be grateful that you split your ride.
How Far is San Diego From San Francisco?
By personal vehicle, the drive from San Diego to San Francisco is approximately 8 hours and 15 minutes, or around 500-560 miles, depending on where you plan to land in SF. Below is an overview of the distance of your future journey.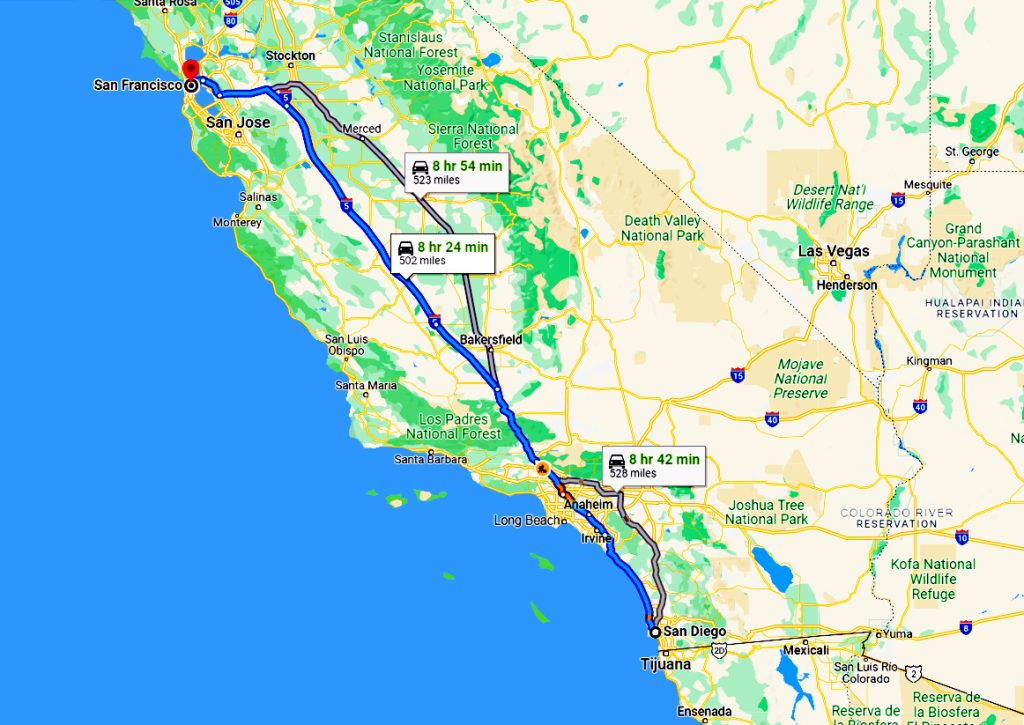 Where to stop on a Road Trip from San Diego to San Francisco?
Who wants to do an 8-hour drive in one straight shot? Where is the fun in that? If you really want to soak up all that California has to offer, you'd be foolish not to stop at several popular cities and scenic points throughout your San Diego to San Francisco road trip. Let this hot list be your guide to making your San Diego to San Francisco drive the most memorable experience possible.
Laguna Beach
Aside from picturesque cliffs, manicured white sand beaches, and lush green rolling golf courses, Laguna Beach is widely known as an art colony. Public art can be viewed throughout the pretty city, or you can mosey on over to one of the several art galleries or collectives in the area. Another major turn-on for tourists is Laguna's abundance of shopping, featuring Bohemian chic boutiques and local handmade clothing you won't find elsewhere. Inarguably, the most impressive part of this beachside paradise is the seven-mile stretch of unparalleled coves and beaches filled with crystal-clear tide pools, rocky bluffs, and ample space on the sand to lay out and tan.
Huntington Beach
Surf enthusiasts, this pit stop is especially for you. The captivating coastline in this region boasts fine dining by the seaside as well as casual eateries where you can grab and go and munch with your toes dipped in the sand. Catch the sunset at Huntington Beach Pier, hop on a boat cruise, explore marine life indoors at the Aquarium of the Pacific or outside at the ecological reserve, or hit the surf museum to see the world's largest surfboard weighing in at a whopping 1,300 pounds! For family-friendly fun, you can rent bikes, whale watch, hit up the local trampoline gym called Get Air, or venture to nearby Disneyland for a jam packed day of themed rides, food, and an up close and personal look at your favorite Disney characters.
The Hollywood Sign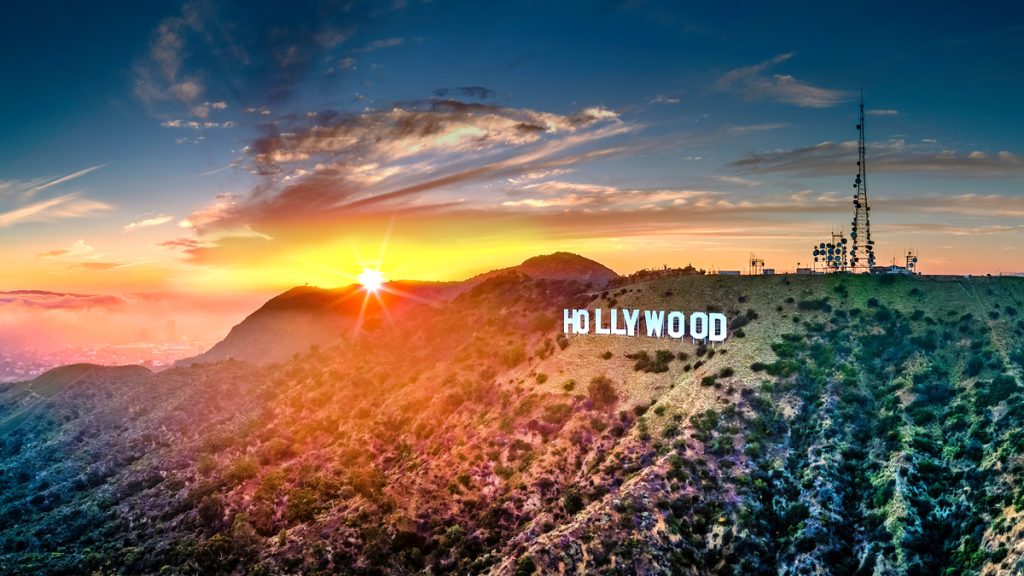 Without question, the most distinctive man-made signage in the U.S. is the Hollywood Sign, which sits proudly perched above the smoggy city on Mount Lee. This iconic sign, which is noticeable from countless other parts of town, made its first appearance in 1923, thanks to a real estate company that was eager to promote their business, HollywoodLand. After 25 years, the sign underwent reconstruction to remove "LAND" and became a permanent staple of Los Angeles.
A road trip from San Diego to San Francisco without getting a snapshot or at least a good look of this LA staple means you're due for a trip back to the city of Angels ASAP. Direct access to the sign is strictly off limits and actually illegal, so don't be surprised if you see a cop or two in close vicinity, there to protect the sign from vandalism as well as keep pedestrians from getting injured. That said, you can still get pretty close to the sign by way of the Beachwood Canyon neighborhood, where there is a mini entry through residential properties, offering the perfect place to snap some LA-esque photos. Another point in the city where there is high visibility of the sign is at the Griffith Observatory, where there are several trails that get you closer to the sign, a fairly easy route that will take you just under two hours leisurely. Why not grab a sandwich or snack from a nearby town and post up by Griffith as you take in the breathtaking beauty of the city and The Hollywood Sign–soon to be etched into your memory for a lifetime.
Los Angeles
How does one characterize the massive city of Los Angeles in a short summary? Well, if eclectic food from every culture, stunning rooftop bars, swanky speakeasies, and energetic nightlife are what you're looking for, you can't miss hitting up Los Angeles for a day or two. Feeling in the mood for a concert venue? Check to see who's playing at the outdoor Hollywood Pavilion or Greek Theatre, or an indoor venue like The Shrine. Looking for a relaxing day at the spa or an intense workout? LA has tons of boutique health and wellness studios tailored for everyone's specific needs.
Waltz through Abbot Kinney for some delicious eats or West Hollywood for a cocktail and a little dancing. Oh, and if you want a dose of entertainment, peep North Hollywood to see a cast of characters sporting costumes from your favorite flicks as you step over the star plaques, rocking the names of famous actors, musicians, and many more celebs who've made history.
Santa Barbara
Santa Barbara earns the title of one of the most delightful cities in Southern California. In a single day, you can grab phenomenal paella at Loquito, a cocktail at Pearl Social or the Pickle Room, a fresh drip on State Street and still have time to set sail for a few hours to breathe in the city's beauty from the water. Montecito is a must-see if one of your favorite pastimes is admiring enormous estates, surrounded by perfectly manicured gardens and gates–envisioning what it's like to live a fairy tale life. The climate of Santa Barbara also makes it the perfect place to grow wine, so wine not get a little boozy and sip on some decadent vino at one of the luxury wineries in the region?
Solvang
Transport to Denmark in this old, charming European town titled "The Danish Capital of America," a mere 45-minute drive from Santa Barbara. This lovely little slice of Denmark gives you a glimpse into the style of the Danes–through the lens of Danish bakeries, clothing boutiques, and wine. In fact, Solvang is known for their massive list of wineries–over 120 to be exact. You can hop on the trolley and explore in style, to appreciate the quaint village's quirky windmills and Danish-style architecture.
An hour or two here will surely inject some hygge into your road trip, especially after indulging in some salty licorice–a Danish delicacy. If you fancy some exercise, cycling in the valleys around the wineries is an excellent way to get some fresh air and move the body, keeping the muscles warm and active for the long drive ahead. Solvang also has a town theater if you'd like a dose of entertainment and some comic relief.
Pismo Beach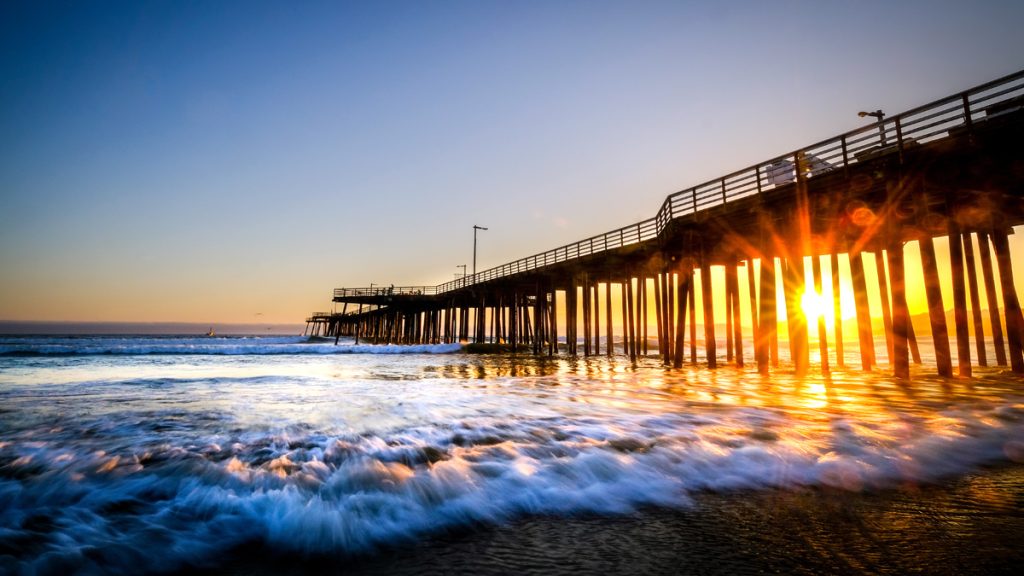 As with most other coastal cities on this list, the seafood in Pismo is to die for. Aside from superb para-surfing and a myriad of scenic viewpoints, Pismo offers a beautiful butterfly sanctuary called Monarch Grove, where you can observe tons of monarch butterflies in their natural state. Other fun activities you can engage in at Pismo include ATVing, horseback riding, kayaking, swimming, biking, golfing, and hiking. Pismo Beach is undoubtedly the perfect halfway point between LA and SF.
Morro Bay
This beachfront paradise has a jaw dropping landmark that distinguishes it from other seaside California towns. A wee bit off the shore you'll see a giant, ancient volcanic rock–deemed Morro Rock–that soars 576 feet above the ocean. Back in the day, mariners used this "Morro," or shaped hill, to help navigate them to the right seaports. This area also offers awesome camping grounds, sailing, and hop on hop off wine tasting tours, among other cutesy low-key activities.
Big Sur Coast of California
If you're a photographer, a stop in Big Sur is an absolute must! Big Sur has several beautiful vistas, scenic venues, and amazing places to camp and hike, and soak in the breathtaking landscapes like McWay Falls. The beauty of Big Sur is that it is ever-changing–you can never foresee what views you're going to get. It could be clear as day, bluebird, without a cloud in the sky, or the entire sky could be blanketed in a thick, mysterious fog. If you're into a more upscale glamping experience, places like Treebones resort offer a chance to be one with nature and luxury simultaneously.
Big Sur is a mystical place where you'll feel above the clouds and connected with Mother Nature–along the drive you'll feel like you've been transported into a folk tale. For the brave souls who don't have a fear of heights or unprecedented surf conditions, there are opportunities to hike miles down to some of the coolest, most isolated beaches and surf spots in California. The waves are rough and the descent and ascent aren't for the faint of heart, but it might be the surfing opportunity of a lifetime.
Carmel-by-the-Sea
A San Diego to San Francisco road trip is not complete without a stop-over at Carmel-by-the-Sea. The village offers restaurants with fresh seafood and oyster bars, and a large amount of dog-friendly options for all the tourists who have furry friends accompanying them. Peep the Cottage Restaurant for a show stopping brunch, grab sushi at Toro or Carmel's Bistro Giovanni for local seafood dishes. Other exciting activities include wine tasting at one of Carmel's 18 diverse tasting rooms or the Carmel by the sea wine walk, a bicycle ride along the scenic road, an ice cold scuba dive, kayak excursion, or golf.
17 Mile Drive/ Pebble Beach
For a small fee of $11.25, you'll get to experience the mesmerizing beauty of Northern California's coastal cliffs, bluish beaches, enchanting forests, and golf courses you've only dreamt about. This 17-mile stretch is not only one of the most picturesque drives in the world but is also home to an iconic Cypress tree–The Lone Cypress–that gleefully earns the title of one of the most photographed trees in the world. This tree rests atop rocky granite out on the water, giving each passerby an easy reason to do a double-take. The 18th hole at Pebble Beach is the ideal location to grab a cocktail open air with a table-side fire pit, an ideal situation as the sun begins to set. The Spanish Bay lies along this coastal drive, which offers a fabulous place to surf, bike, or gawk the lounging sea lions at Seal Rock.
Monterey
There are countless things to do in Monterey, including exploring the plethora of wild and marine life, or filling the belly with delicious and nutritious foods at a hip brunch, lunch, or dinner spot. Marine life enthusiasts–you must check out the famous aquarium or explore the diverse tide pools. If you're into swinging some balls, you can experience golf at one of the scenic, seaside greens. Hiking trails in Monterey include Garrapata State Park, Pinnacles National Park, Monterey Bay Coastal Recreation Trail, and more. On your way out, don't forget to get roadside fruits and veggies sourced from local farms.
Bixby Creek Bridge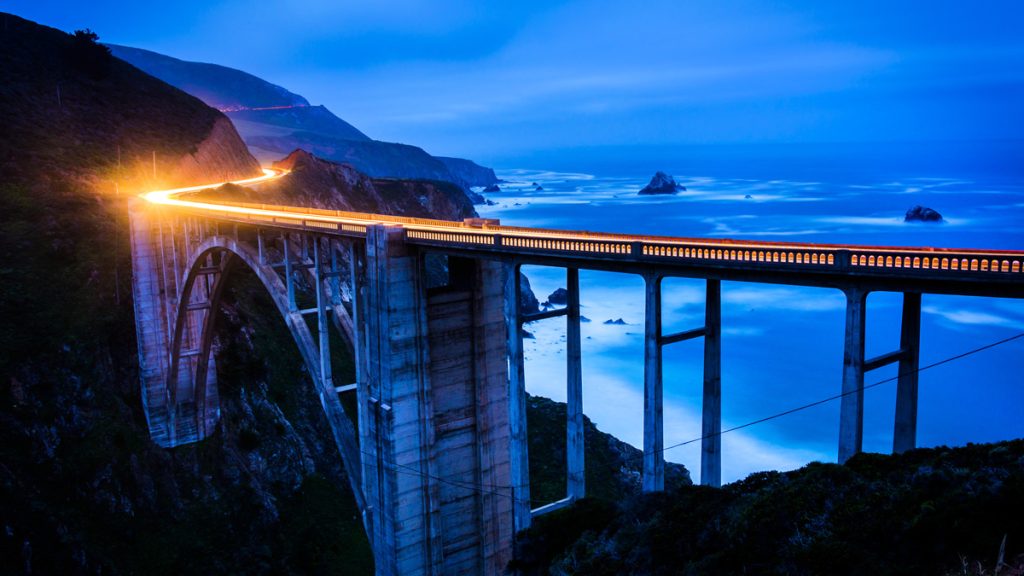 Bixby Creek Bridge is among the top-photographed bridges due to its location and architectural enticement. It is aesthetic, eloquent, and the thin framed arches allow you to soak in the natural beauty of the surrounding landscapes without disruption. The infrastructure can seem scary when there are high winds, but don't panic, it is an extremely sturdy bridge. This iconic bridge serves as the bridge that connects Big Sur to Northern California, and remains one of the tallest single-span arch bridges in the world, stretching to 360ft in length.
Half Moon Bay State Beach
Half Moon Bay consists of multiple sandy white beaches spanning over 4 miles: Francis Beach, Venice Beach, Dunes Beach, and Roosevelt Beach. Native Northern Californian's are all too familiar with the dense fog that rolls through from time to time, which can make the scenery that much more enthralling. Some days in Half Moon Bay are greeted by wind, making it a fantastic place to try some wind sports. This pit stop is the ideal place to grab some sandwiches or burritos from a local eatery, set up a picnic, appreciate the scenery, go camping, fishing, and let the misty fog envelop you with a sense of calm.
Pigeon Point Light Station State Historic Park
Pigeon Point Light Station presents a breathtaking natural surroundings and a 115-ft lighthouse–one of the tallest in the U.S. Dense fog may obstruct visibility of the ocean, but if you're lucky, you might get the chance to see seals, gray whales, and other marine life. The historic downtown features cute bed-and-breasts, cafés for coffee sipping, local retailers, and weekly farmers markets and produce stands, providing an inviting and cute setting if you want to give your driving legs some movement.
Best Time To Go On the San Diego to San Francisco Trip
If you are embarking on a San Diego to San Francisco road trip, the best time of day is at the crack of dawn. If you want to get in a full day of fun, leaving before the sunrise is recommended–especially if you want to dodge LA rush hour traffic for the early morning commuters. The time of year truly depends on what your preferred activities are–if you're aiming for sunshine-filled skies and warm weather, so you can take a tolerable ocean dip, late Spring or throughout the Summer into mid-October are excellent times to visit.
Places to Visit in San Francisco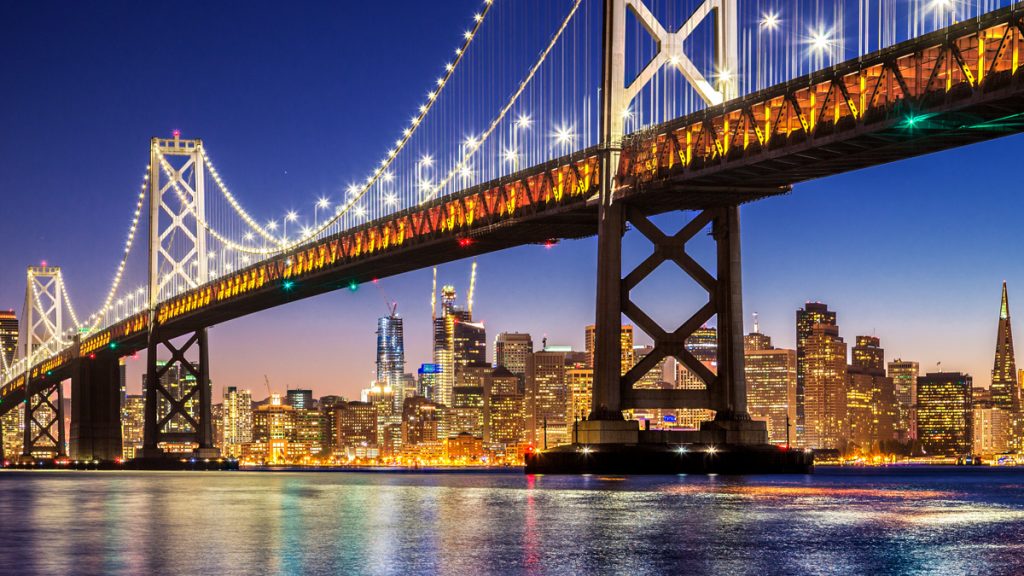 I mean, where do we even begin? First things first, it's essential to secure the bag and make your way to Project Cannabist in San Francisco. They have a phenomenal selection of prerolls, fresh flowers, extracts, and vape cartridges so you can get a little buzz going before soaking up the city's attractions.
Sip on craft beer at one of the 30 breweries in SF, picnic at one of the beautiful parks like Fort Mason with views of the Golden Gate Bridge, or absorb the unparalleled views of the Bay Bridge from Dolores Park. If you're into oysters, check out Fisherman's Wharf by the Embarcadero, and if you're into chocolate, Ghirardelli square's hot cocoa is calling your name. Truly anywhere you wind up in San Francisco, you'll be greeted by great food and even better city views.
Final Thoughts on Road Tripping From San Diego to San Francisco
When making the trek from San Diego to San Francisco, we highly advise you to soak in all the beauty of the coast and take your time with it! No need to rush up to the Bay–unless you're in a time crunch. After pit stopping at a few places on this list, you'll understand why doing the San Diego to San Francisco road trip is a bucket list item everyone should experience.
Don't forget to hit the dispensary Project Cannabist in San Francisco to conclude your California coast scenic drive!