Surf Lessons in Pacific Beach: Discover Best Surf Spots, Surf Schools & More
Welcome to Pacific Beach, the ultimate destination for surf enthusiasts. With its stunning coastline and perfect waves, this Southern California gem offers an ideal setting for surf lessons. From surf lessons in Pacific Beach, the best surf spots, and exploring the legendary Crystal Pier to Tourmaline Surf Park, – there is no end to the excitement you'll discover on your surfing adventures in Pacific Beach. With this in mind, check out this guide for reputable surf schools, surf camps, and surf lessons in Pacific Beach so you can embark on your outrageously high-voltage journey into the world of surfing. Get ready to ride the waves in Pacific Beach!
Why Surf At Pacific Beach
Surfing at Pacific Beach, California, offers an exhilarating and captivating experience for both seasoned surfers and beginners alike. Renowned for its consistent waves and scenic coastline, Pacific Beach provides an ideal setting for riders of all skill levels. This coastal gem creates a unique surfing atmosphere with its vibrant surf culture, warm waters, and breathtaking sunsets. So, whether you are seeking San Diego surfing for beginners or you're a veteran wanting to amp up your thrill of riding the waves, the joy of connecting with nature, or the camaraderie of the local surf community, Pacific Beach delivers. Immerse yourself in the beauty of the ocean, catch unforgettable waves, and create cherished memories while experiencing the invigorating and soulful sport of surfing. But first, let's take a look at what you can expect in the world of surf lessons in Pacific Beach.
The Best Surf Spots in Pacific Beach
Tourmaline Surfing Park
Known for its mellow waves and sandy beach, Tourmaline is a popular spot for surfers of all skill levels. It offers a relaxed atmosphere and is great for beginners and longboarders. For these reasons, Tourmaline is often voted as the best place to learn to surf in San Diego by tourists and locals alike.
Pacific Beach Pier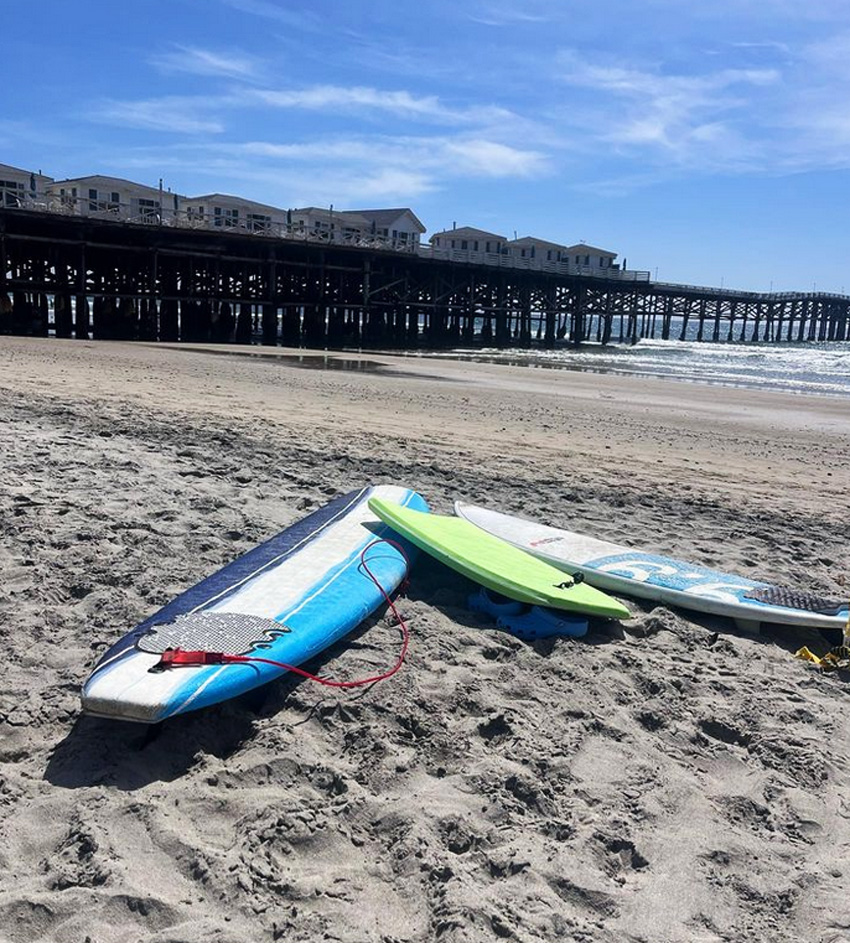 Located near the iconic Crystal Pier, this surf spot provides consistent waves and is frequented by locals. It offers both left and right breaks, making it suitable for intermediate and advanced surfers.
Law Street Beach
Law Street Beach is a favorite among locals, with a sandy bottom and consistent surf. It offers left and right breaks, providing various options for surfers.
South Mission Beach
Situated near Belmont Park, this beach features consistent and powerful waves that are ideal for experienced surfers. The beach break and occasional reef break make for thrilling rides.
Mission Beach Jetty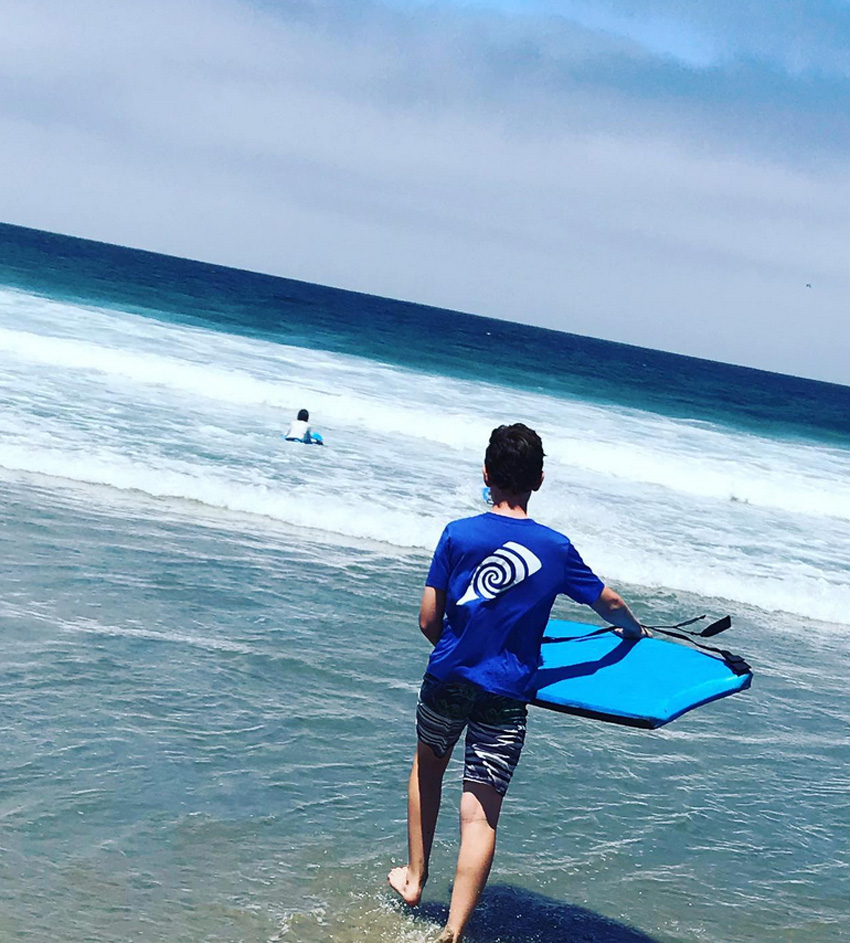 Located at the mouth of Mission Bay, this spot offers quality waves and various peaks. It is popular among both short boarders and longboarders and can provide fun surf sessions.
North Pacific Beach
This area is known for its reef break, which can produce powerful waves on the right swell. It is recommended for experienced surfers due to the challenging conditions.
Pacific Beach Point
This spot is situated near the Crystal Pier and offers a classic right-hand point break. It requires larger swells and is best suited for experienced surfers looking for longer rides.
These surf spots in Pacific Beach provide a range of options for surfers of different skill levels, ensuring a memorable and enjoyable surfing experience. That said, you'll want to be sure to pick up a couple of Pacific Beach surf school classes so you can surf like a master at any of these aforementioned hot hang-ten spots.
Where to Find Surfing Lessons in Pacific Beach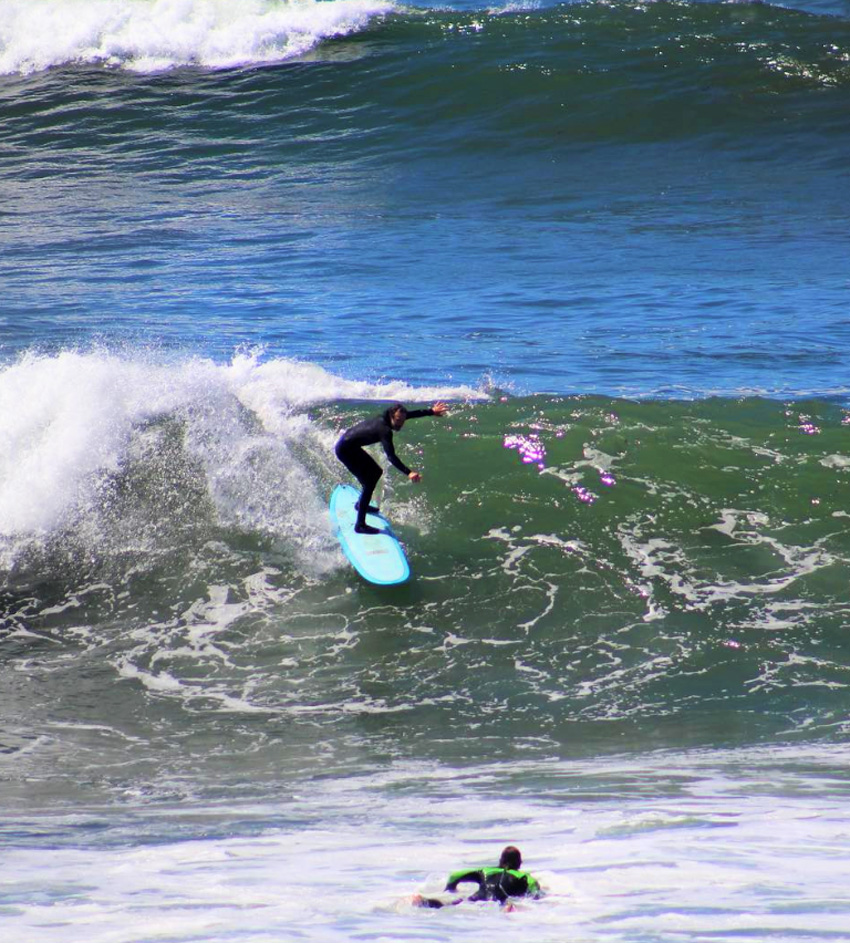 If you're looking to take Pacific Beach surfing lessons, several reputable surf school instructors are available. When it comes to finding surf lessons, San Diego is a great place to start. Additionally, you should consider your level of skill, the beach location that's most ideal for you, and other details that will make your search for the perfect surfing lesson complete.  
Pacific Beach Surfing FAQs
Yes, Pacific Beach is great for surfing, with consistent waves and a vibrant surf culture that attracts surfers of all levels. In fact, it's such an ideal location for catching killer waves that it also boasts some of the most stellar Pacific Beach surf camp experiences.
Yes, Pacific Beach is suitable for beginner surfers due to its mellow waves and sandy bottom, offering a safe and friendly environment to learn and improve their skills.
The size of the waves at Pacific Beach varies depending on swell conditions, but they typically range from small to moderate, making it accessible for surfers of different skill levels.
Early mornings and evenings tend to offer less wind and potentially cleaner conditions, making them favorable times to surf at Pacific Beach. However, checking local surf reports for the most accurate information is always good.
Conclusion
In conclusion, Pacific Beach is a surfer's paradise with its picturesque coastline and excellent surf conditions. Whether you're a beginner or looking to sharpen your skills, the variety of surf spots and reputable surf schools make it the perfect place to learn and enjoy the thrilling experience of riding the waves.