Best Surf Spots in San Diego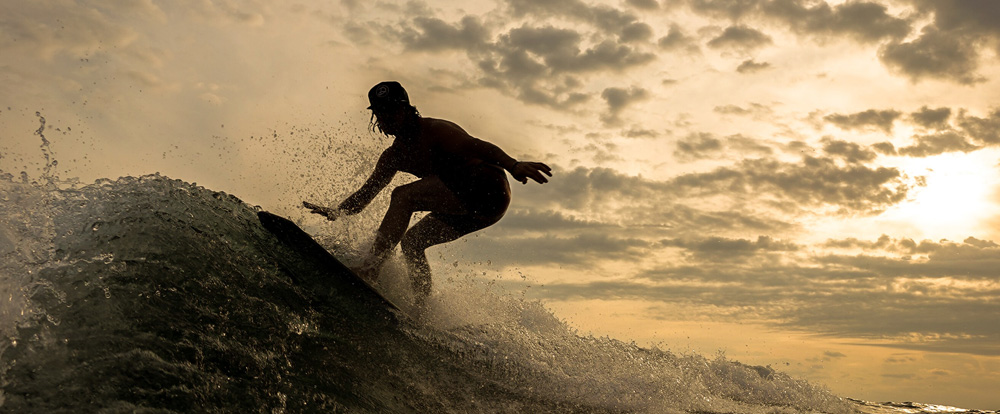 Many ocean lovers flock from all over the globe to get a taste of the beautiful beaches that line the coast of San Diego. The moon has an amazing impact on the levels of the sea, which makes the best surf spots in San Diego an alternating list as each day brings different currents, tides, and weather conditions. That being said, some of the best surf breaks in San Diego are so diverse that you can shred year-round, so long as you pay attention to variables that impact conditions.
A common misconception leads others to believe that the waters here are warm all year round, but you'll likely want to cop a thick neoprene hoodie and booties if you plan to polar plunge in the colder months. There are dozens of surf shops along the coast in the case you need to rent or purchase a thicker wetsuit for your day ventures in Big Blue.
Best San Diego Surf Spots You Can't Miss
Whether you're venturing to San Diego for a surf trip or you've lived here quite a bit and want to check out what the ocean has to offer, San Diego's surf spots range greatly. As with any ocean you venture into, San Diego surf breaks can be sketchy at times and close outs can be super dangerous, but that shouldn't shy you away from getting out there and getting your feet wet if you're new to the surf game. Pushing yourself into that zone of unconformability is often where major breakthroughs happen; it can be both exhilarating and life changing to face your fears. As long as you pay attention to where you're going, make sure you're not in anyone's way, and smile throughout the process, surfing can be a hoot! And if you're rusty or a newbie, check out these best surfing lessons in San Diego.
While we recommend you scope the surf forecast before gearing up in your wetsuit and paddling out, there is no harm in seeing what your options are. Peep the list below to learn more about the best surf spots in San Diego and where might be a good fit for your skill level. Oh, and if you're not from around here, no worries. San Diego offers loads of great deals on shopping, restaurants and superior hotels. So stay awhile at one of our amazing accommodations so you can surf, suntan, stargaze, sleep, and explore all that San Diego has to offer.
North County Coastal Surf Spots in San Diego
While Swamis and other Encinitas Beach spots have plenty of places to take a dip and catch a wave, North County Coastal has some of the best San Diego surf breaks which make it prime for surfing.
Tamarack Surf Beach
Also known as Carlsbad State Beach, Tamarack Beach is situated just south of Tamarack Avenue all the way to Frazee Beach. This beach is ideal for families, and features a 4-mile paved walking path along the coast so you can soak up the ocean from a distance. Because the surf spots here lie at the mouth of a small river and sandbars that are created by the shifting sand, the surf is decency and can cause peaked waves with a good right-hand wave. Hit by some of the south swells
Address: Carlsbad Blvd & Tamarack Ave, Carlsbad, CA 92008
Phone: (800) 444-7275
Hours: Everyday, 5:00 a.m. – 10:00 p.m.
Seaside Reef – Cardiff State Beach
If you dig diverse waves that are unpredictable at times, Seaside Reef can become your new playground. Winter is allegedly the prime time to surf here, so you'll likely want to wear booties and be extra cautious as there are sharp rocks as you make your way out to the deeper ocean. The most ideal time to surf here is mid-tide, when west swell combines with offshore wind direction from the east. This sandy beach is located between Solana Beach and Cardiff-by-the-sea. Powerful and hollow waves. Best for experienced surfers.
Address: 2504 S Coast Highway 101, Solana Beach, CA 92075
Phone: (760) 753-5091
Hours: Every day, dawn to sunset
Central Surf Spots in San Diego
In Central San Diego, waves are cranking when the wind is good it isn't overcrowded. Whether you're a novice or a well-versed surfer, beaches that lie central are a fantastic option.
Black's Beach
Aside from being infamous for allowing anyone and everyone to walk in the nude, Black's Beach in San Diego is also known for it's amazing surf. With long, clean breaks, that allow surfers to ride waves practically to shore and views of paragliders pursuing off the nearby cliffs, you can't pass up the opportunity to surf here. The only downside is the brutal walk required to get there and the ample paddling you'll need to exert in order to catch some solid waves.
Address: 2800 Torrey Pines Scenic Dr., La Jolla, CA 92037
Phone: (858) 452-9858
Hours: Every day, 6:00 a.m. – 8:00 p.m.
Windansea Beach
Because the positioning of Windansea Beach, atmospheric conditions and even atmospheric rivers make Windansea in La Jolla a place of plentiful reef breaks. While it can get crowded, offshore Windansea has some of the best breaks for intermediate to advanced surfers. Be sure to check the surf forecast as full and new moons can dictate the changing tides – making it difficult to get into or out of the water as the sea levels drastically rise and fall in a matter of hours, and sometimes minutes.
Address: Neptune Place and Nautilus Street, La Jolla, CA 92037
Phone: (619) 221-8874
Hours: Every day, dawn to sunset
Tourmaline Surf Park
One of the best beginner surf spots in San Diego is at Tourmaline. On a sunny day, you'll see hundreds of heads bobbing in the water trying to catch their first wave.
Beginners and pros alike go here because it is beautiful and on certain days provides fun waves for surfers to ride. Most of the waves you'll ride here are chest high,
Address: La Jolla Blvd and Tourmaline St, La Jolla, CA 92109
Phone: (619) 525-8213
Hours: Every day, dawn to sunset
South Bay Surf Spots in San Diego
South Bay has some badass shorebreaks that are extremely fun to ride during hurricane season, but equally enjoyable to play on year-round.
Coronado Beach
Coronado is hands down among the best surf spots in San Diego. If you like chasing the swell in the Summer months, Coronado is a great place with a unique, ambiguous atmosphere
Address: Shorebreak by the North Island Naval Air Base. Ocean Blvd and Isabella Ave, Coronado, CA 92118.
Phone: (619) 522-7342
Hours: Every day from 6:00 a.m. to sunset
Imperial Beach City Beach
Pleasant waves however just off the mouth of the Tijuana there are not surfable offshore sand bars you don't want to get caught up in.
Address: Seacoast Drive and Evergreen Avenue, Imperial Beach, CA 91932
Phone: (619) 522-7342
Hours: Every day, dawn to sunset
Needless to say, the best surf spots in San Diego aren't hard to find when you've got 70 miles of ocean coastline that screams "ride me!" Between sessions, you can soak up the California sun on the golden sand or pop into one of the countless surf shops for a reup on wax or new fins. While most places don't have hours listed, it should be common knowledge that most beaches close once the sun goes down. If you do decide to venture into the deep, dark depths before sunrise or after sunset, beware that you are swimming at your own risk. 
If you're an out-of-towner and need some inspiration on where to stay during your surf trip, we've got you. We crafted a refined list where you can incredible deals on accommodations and hotels right next to the beach no matter what time of year! Now go out there, catch some waves, and hang ten!
About the Author: Courtney Pester is a San Diego-based San Francisco bred millennial with a passion for design and self-expression. She prides herself in her charcuterie board making skills and has a weakness for morning ocean dips. When she's not pumping out articles, you can catch her playing tennis, and enjoying the diversity of events and restaurants San Diego has to offer.