Top Fitness Studios in San Diego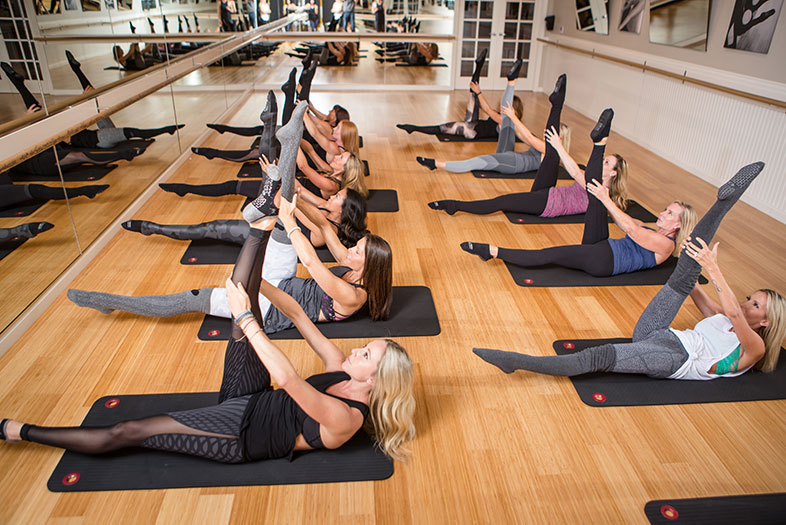 It's no secret that America's Finest City is a pretty healthy community; the locals are fond of taking just about any opportunity to exercise, whether it's hiking in San Diego, doing yoga in a park overlooking the ocean, surfing the waves, or even getting in a home workout from one of many sites like BeachSweat.com! We've rounded up some of the best fitness studios in the County – and what classes they're known for – so you don't have to. Here are the best fitness studios in San Diego!
Spark Cycle (Cycling)
Take a seat on a stationary bike, diligently listen to directional advice from your upbeat instructor, and pedal as fast as you can for this indoor cycling, or "spin" class. After taking a class at SparkCycle in La Jolla, it is estimated that riders lose up to 600-900 calories even though the class is only 45 minutes long. SparkCycle offers top-of-the-line Schwinn bikes, QSC audio system, LED lighting, stadium risers for a perfect view, showers for after your workout, free validated garage parking, and passionate instructors. If you don't want to commit to the all included membership, you can try your first class out for $10.
Core Power (Yoga)
At Core Power, members believe that this workout class not only transforms your body, but also transforms your everyday life mindset. Inside the studio, yogis are pushed outside of their comfort zone and consequently, leave the yoga studio more secure in themselves than when they walked in.
Core Power offers a free week at the multiple locations scattered around San Diego if you're interested in testing out the waters before buying a membership. Note, there are many types of classes — Core Power 1, Core Power 2, and Sculpt are a few — that differ in levels. If you haven't tried out yoga before, it is recommended you try C1 before a C2 or Sculpt class. Core Power 1 is a class for beginner yogis and Core Power 2 is a more advanced challenge. Sculpt, on the other hand, is a high-intensity weight training workout where muscle meets yoga and metabolism boosts.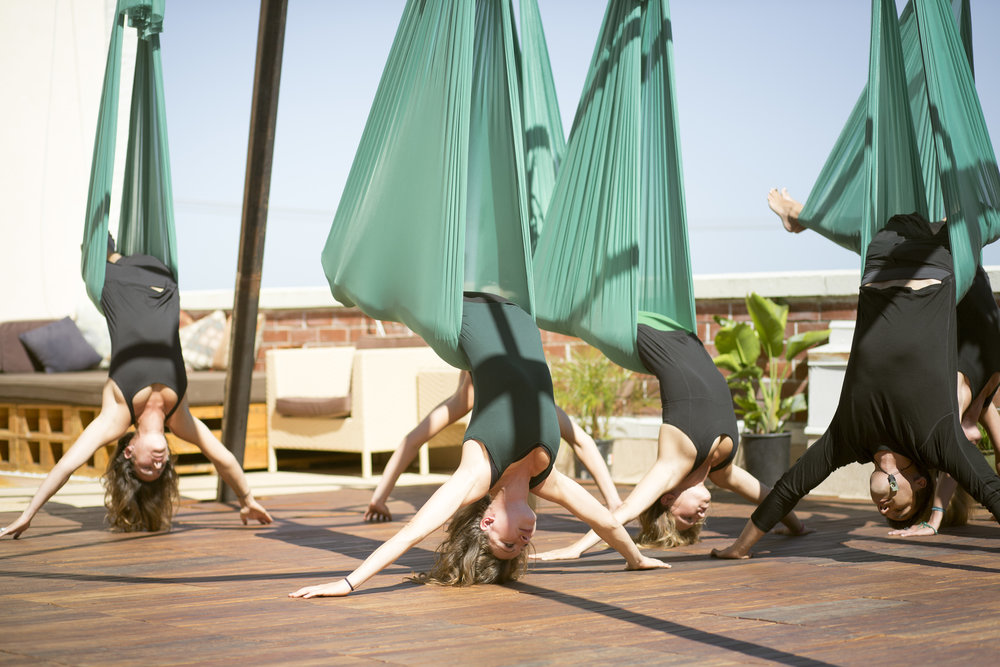 Trilogy Sanctuary (Yoga)
Trilogy Sanctuary holds up to its name – it's a triple-threat of aerial yoga, an infrared-heated indoor studio space, and an organic, vegan cafe. The stunning La Jolla location boasts a rooftop space with daily aerial yoga classes overlooking the ocean as well as plenty of comfy nooks to enjoy your raw, organic, vegan snacks (that's a mouthful, literally). And on the rare rainy San Diego day, you can take your indoors, where the temp is cranked up to almost 100 degrees!
Studio Barre (Barre)
Located in Bird Rock, Carmel Valley, Mission Hills, and Encinitas, Studio Barre is all over San Diego and gains popularity each day due to its killer workout and positive effects. Barre is an experience focused on building core strength, improving posture and developing long and lean muscles. Former professional dancer, barre enthusiast, and fitness expert Shannon Higgins founded Studio Barre in 2012. At Studio Barre, there is a new client special which includes one month of unlimited classes for $99.00.
Club Pilates (Pilates)
Club Pilates' mantra commends pilates is the path to a fuller, richer, healthier and more satisfying life. Focusing on the functionality of flexibility and strength, Club Pilates classes prepare members to transcend motivation in class out into everyday life. Classes entail "Cardio Sculpt," "Barre/Reformer Fusion," "Bootcamp," and "Stretch." Moreover, there is a class called, "CP Teen," which is specifically directed at athletic teenagers seeking to enhance their skills in their competitive sport. Schedule your first free intro class today at one of the many locations, such as Mission Valley, and feel your body transformation first hand.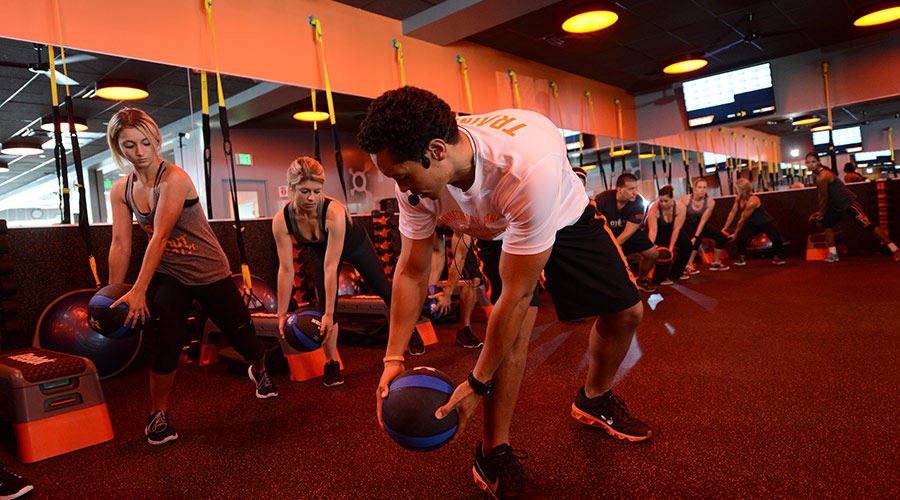 Orangetheory Fitness (Cardio)
Orangetheory Fitness (OTF) is not a traditional workout center. The vibrantly colored gym offers class-based workouts with varying class sizes — anywhere from 10 to 20 people — and each class incorporates cardio, indoor rowers, weight training blocks, and floor exercises designed to give you fast results. What makes OTF unique is the motivating technology they use to optimize your workout. Each participant wears a heart rate monitor that glows a different color depending on his or her heart rate. Cardiac output is measured with green, orange, and red. Green is the "easy zone", with orange being ideal, and red nearing danger.

"Work for 1 hour. Burn for 36" is the Orange Theory Fitness slogan. They believe measured success is important. It explains their heart-based interval training workout. They claim that their heart rate training stimulates metabolism and increases energy. According to OTF, their members burn an average of 500 to 1000 calories per 1-hour workout!
F45 Training (Circuit Training)
Every day at F45 is different. From Athletica to Hollywood, the team here has developed 27 different high-intensity circuit workouts that'll keep you moving and sweating. With two to three trainers per class and exercise demos on TV screens around the studio, it's easy to follow along. With eight locations in San Diego and La Jolla – and more to come – there are plenty of opportunities to fit in a 45-minute class. What should you expect at your first group fitness workout? A big hug and a "hello mate" from your newest Aussie friends (the company is based in Australia!).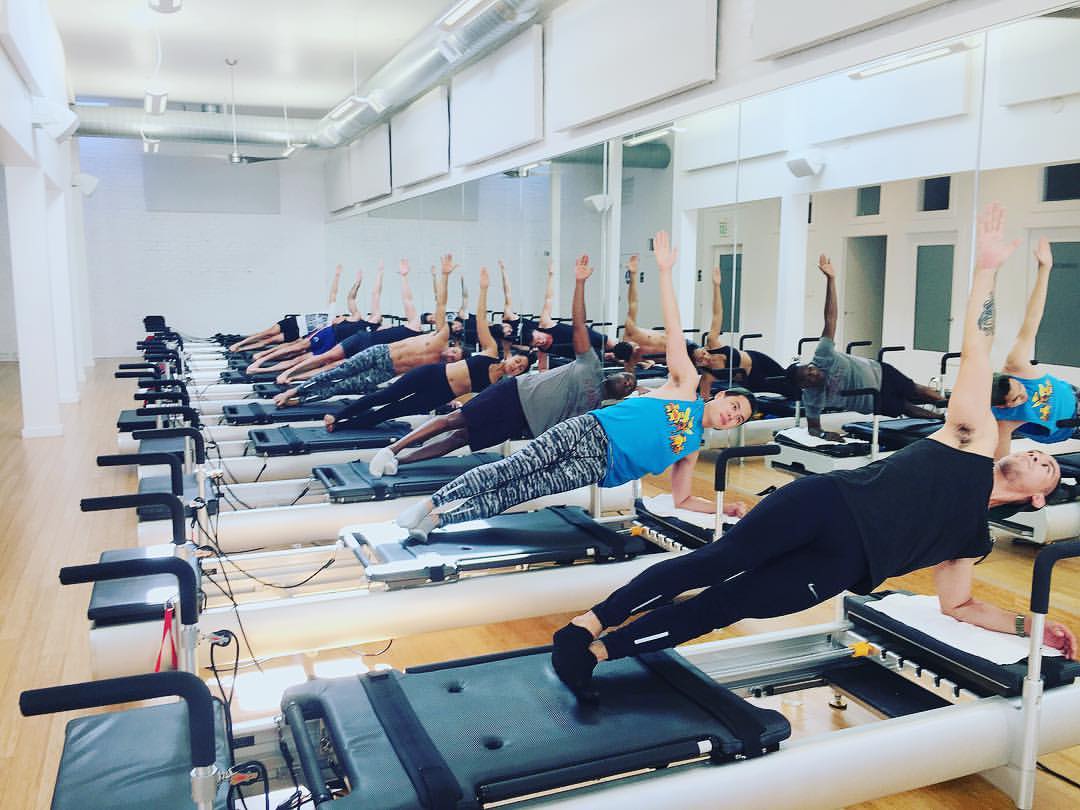 Bodyrok (Pilates)
Bodyrok isn't your traditional Pilates class, but trust us, you won't mind! Inspired by the Reformer, the Bodyrok's signature machine is a remodeled and redesigned version of the original Pilates equipment, so you can get the most out of your workout in the least amount of time. And get ready to pour sweat – Bodyrok's 40-minute strength-training classes in Del Mar and Encinitas are challenging and will work your whole body as you squeeze, pike, and jump your way to the end.
Barry's Bootcamp (Bootcamp)
Dubbed "the best workout in the world," Barry's Bootcamp classes are a one-hour sweat-fest complete with strength training and cardio intervals. With hill climbs, sprints, and dynamic mode (self-propelled treadmill), running on a treadmill has never been so tough. The floor work focuses on a different muscle group each day, allowing you to develop a well-rounded physique – or at least, avoid leg day (Tuesday). This is a fun one to try if you're looking for a more regular, intensive workout than yoga or pilates; rest assured, the alternating cardio and bursts of intense anaerobic exercise will keep your heart rate elevated and the sweat coming!
For more San Diego guides, tips, and workout ideas, visit our other blogs or our San Diego guides section!