Average Water Temperature in La Jolla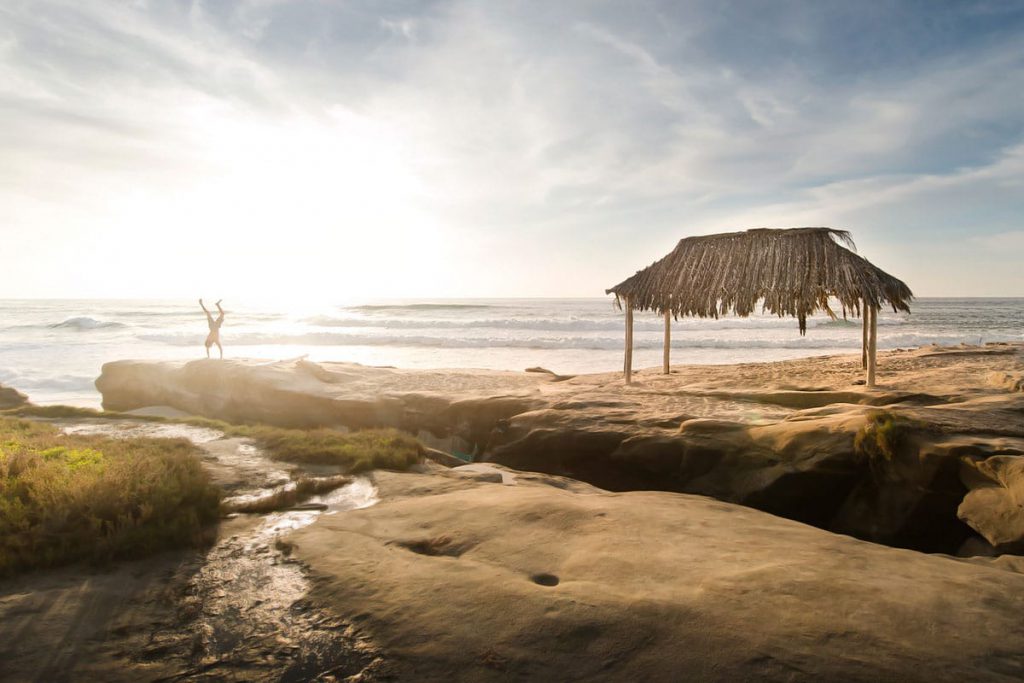 La Jolla, Southern California boasts some of the best year-round weather in the world. In La Jolla, the summers are short, warm, arid, and clear and the winters are cool and partly cloudy.
Over the course of the year, the temperature typically varies from 50 degrees F to 77 degrees F, and is rarely below 46 degrees F or above 90 degrees F.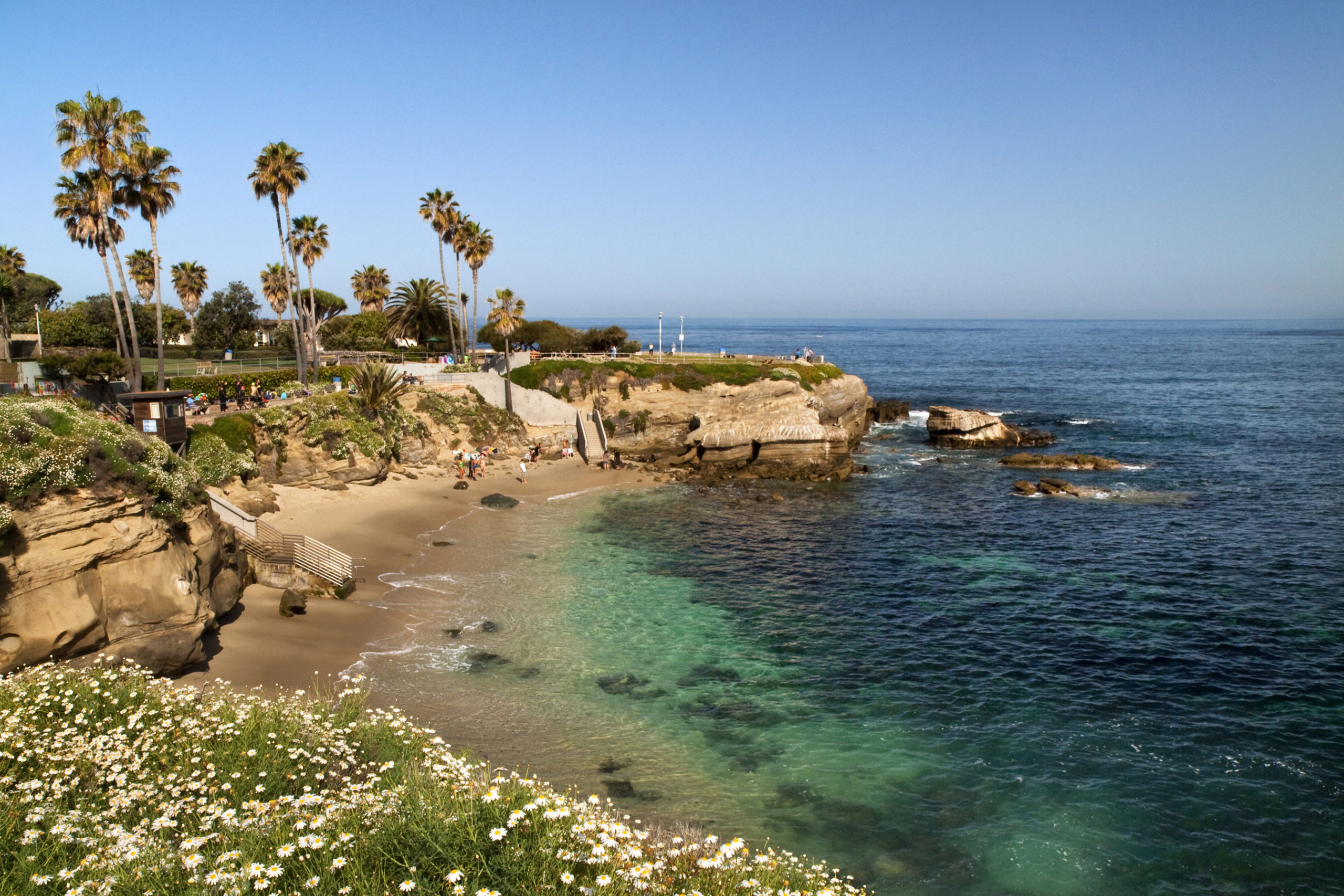 The key to all of this great weather is La Jolla's mild Mediterranean climate; it keeps average temperatures even and generally provides warm weather throughout the year, creating the perfect environment for locals to swim and surf.
The average high temperature stays between the mid-60's and high 70's, with occasional spikes during some months. August and September are usually the warmest, and December and January the coldest (and also when we see the most rain).
Morning fog and coastal clouds are typical, especially during May and June — the area has a healthy dose of "May Gray" and "June Gloom" nearly every year, although full-on storms are rare. Clouds almost always burn off by mid-afternoon, allowing plenty of time for outdoor outdoor activities and enjoying the sunshine!
The summer months are usually very dry and arid, with little to no rainfall.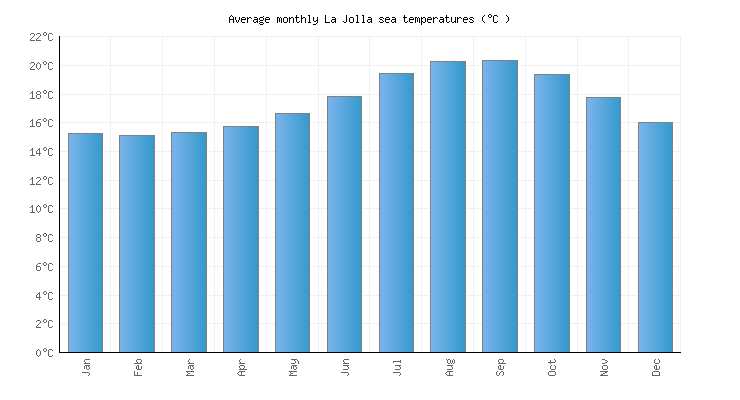 Water Temperature in La Jolla
The water temperature in La Jolla isn't known for being mild – even during the summer!
While the cool water temps help to provide some of the mildest air temperatures along the coast throughout the seasons, the water is, indeed, quite chilly most of the year.
That's why (out of necessity), water sport companies began the modern day wet suit designs that allow visitors, locals, and surfers to enjoy the waves anytime.
La Jolla Cove water temperatures peak in the range 66 to 72 degrees Fahrenheit in September, and are at their lowest in February — in the range of 55 to 61 degrees Fahrenheit.
Actual ocean temperatures close to shore at La Jolla Cove can vary by several degrees compared with these open water averages.
This is especially true after heavy rain, close to river mouths, or after long periods of strong offshore winds.
Offshore winds cause colder deep water to replace surface water that has been warmed by the sun. Air temperature, wind-chill and sunshine should also be considered before deciding on the kind of wetsuit needed to stay warm when surfing at La Jolla Cove.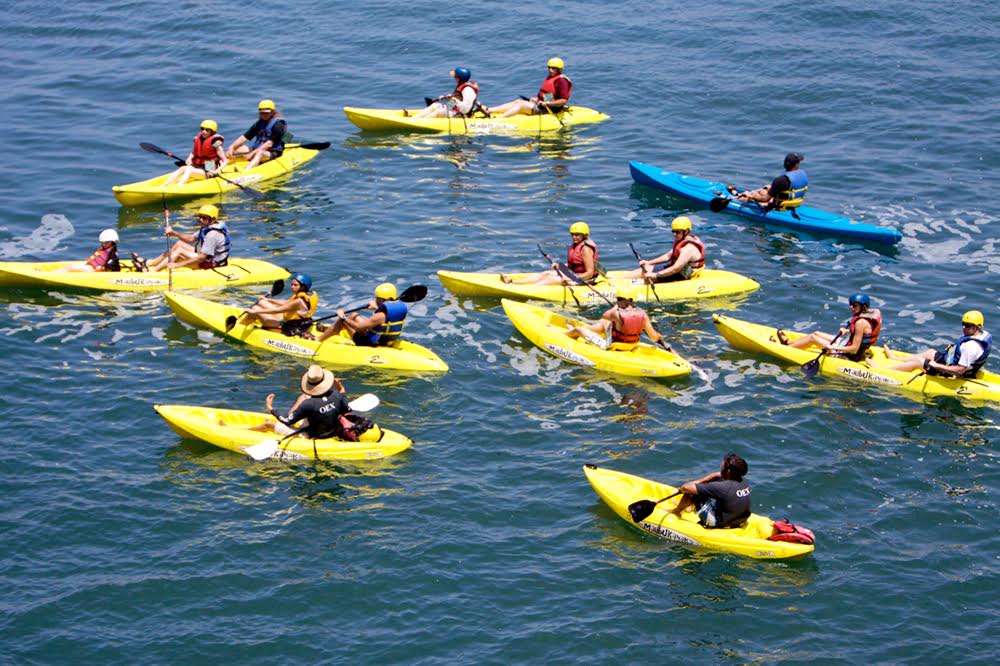 Best Time To Visit La Jolla
Average temperatures of around 57 Fahrenheit in January rise to 77 degrees in August. The best time of year to visit La Jolla for general outdoor tourist activities is from early June to mid October, with a peak score in the third week of August.
The semi-arid climate during these months is pleasant and warm, though the beach can be covered by a marine layer in the morning (particularly in early summer).
Surfing and swimming are popular, as well as other outdoor activities such as paddle boarding, windsurfing, snorkeling, and kayaking.
During this August, the water temperature reaches its warmest point of the year, it averages around 68 degrees Fahrenheit. Usually during these warmer summer months, swimmers and surfers can comfortably be in the water without a wetsuit.
La Jolla Shores Water Temperature
La Jolla Shores is a stunning crescent shaped, sandy beach that is backed by dramatic, picturesque cliffs. The beach is a popular spot for swimmers, families, scuba divers, and kayakers; and even at night, when the glow of bonfire pits can be seen for miles.
The Scripps Institute of Oceanography Pier is a terrific photo op, and children can play in the sand or enjoy a wide variety of marine life on show at the Birch Aquarium at Scripps.
Interestingly, on August 2nd, 2018, researchers at Scripps Institution of Oceanography at the University of California San Diego logged the warmest sea surface temperatures at Scripps Pier since records began in August 1916. The record high of 78.6 degrees Fahrenheit followed a string of days during which individual daily records of sea surface and seafloor temperatures had been set at the pier.
It surpassed the previous record of 78.4 degrees set on July 30, 1931 during an unusually warm period that year. The warm water experienced during these summer months attracts marine life such as sea lions and leopard sharks who gather in breeding grounds off of the coast of the La Jolla shores.
Scripps researchers have taken ocean temperature and salinity readings at the pier since 1916. In 1925, they began taking seafloor water temperature measurements as well; one of the first research institutes to do so in the United States.
Fun Facts About La Jolla Water Temperature & Weather
The highest recorded temperature in La Jolla was a whopping 107 degrees in October of 1961.
It has actually snowed in La Jolla! The date was December 13, 1967, and it was the last time that snow stuck to the ground.
The coldest day in La Jolla (and in all of San Diego, in fact) has been recorded at just 25 degrees in January of 1913.
Though temperatures and water temperatures do vary, there is really never a bad time to visit La Jolla!