Where to Go Whale Watching in San Diego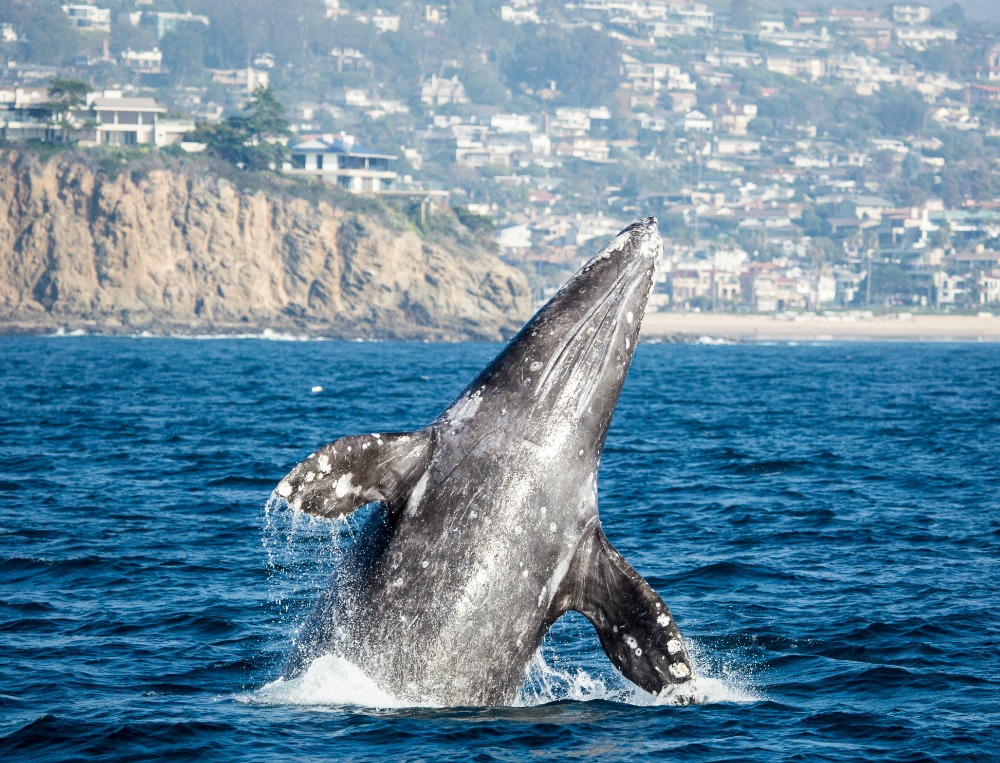 We are in the throes of the perfect time to go whale watching in San Diego! Every winter, more than 20,000 Pacific gray whales travel 10,000 miles round-trip (the longest migration of any mammal on earth) from Alaska to the lagoons of Baja California. That makes San Diego, with its 78 miles of coastline directly in the migration path, the perfect place to watch.
The best time to watch for gray whales is from December through mid- to late April, depending on the year. To see a blue whale, wait until the spring and summer seasons. That's when several hundred Blue whales migrate into southern California waters to feed on huge quantities of krill. Dolphins, Finback whales, Humpback whale, Minke whales, and other whales may also be viewed then.
There are plenty of boat tours that will take you out on the water for a close-up glimpse, but if you're looking to stay dry and just take it easy, here are some great ways to go whale watching in San Diego and in and around La Jolla.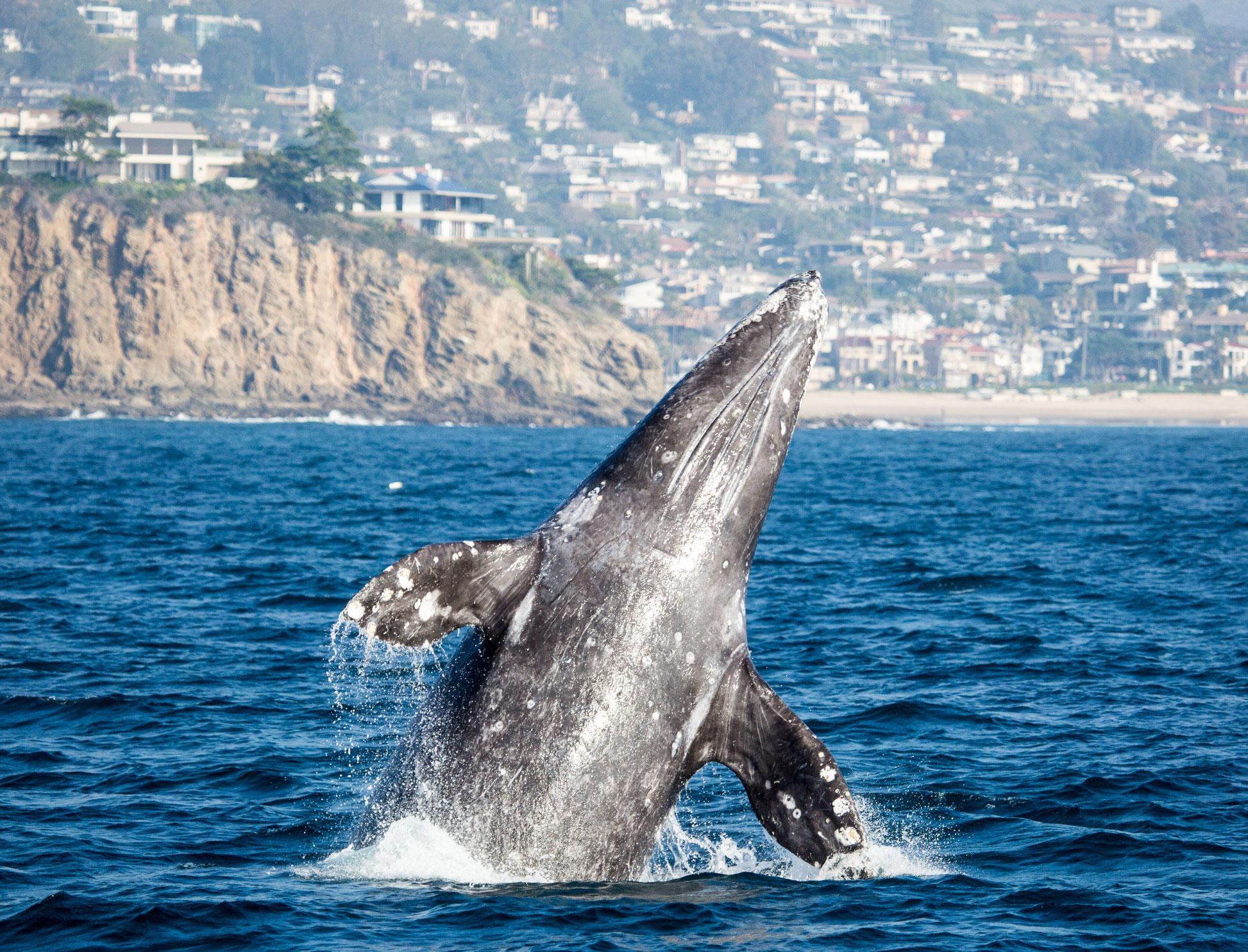 Western Overlooks at Cabrillo National Monument
The gray whales have been known to pass right by the western overlooks of Cabrillo National Monument — the heights and incredible panoramas from the park's Whale Overlook and Old Point Loma Lighthouse offer the best viewing of the San Diego coastline. Bring binoculars if you have them: they can make things much easier! If you don't have any, a limited number of binoculars are available at the Visitor Center during whale season. Just ask for them at the information desk.
Luckily, it's possible to see the whales anytime during daylight hours — they swim 24 hours a day.
Where to Look
Look west from the park overlooks, toward the ocean and San Diego Bay. The whales are migrating south towards mainland Mexico, so they will be moving from the north (right) to the south (left) as you look from the park. Expect them to be moving at a steady clip of about five miles per hour, and although some whales swim close to shore, most swim in an area that extends from the kelp beds (about three-quarters of a mile out) to the horizon.
Later in the spring, the gray whales will migrate north again, but they are generally too far out in the ocean to see from the park.
Torrey Pines State Reserve
Located on the cliffs above Torrey Pines State Beach, the State Reserve is comprised of 1,750 miles of hiking trails, Torrey Pine trees, and indigenous wildlife. Its beautiful coastal wilderness coupled with easy, family-friendly paths and hiking trails, makes for a perfect place to whale or dolphin watch in La Jolla.
The Beach Trail (3/4 of a mile) or the Razor Point Trail (1.4 miles) are probably your best bet for some action. Much of the Beach Trail, as the name implies, does indeed hug the beach. Razor Point is a longer loop and gives you more time on the trail, and never strays far from views of the water. Much of the path also overlooks the beautiful, jagged cliffs the area is known for.
Take a Kayak Tour
This is a popular one — many people have reported whale sightings during their La Jolla kayak tours. This is a great opportunity to get up close and personal with the whales, and it's safe to say there's no better way to experience the migration.
There are several companies at La Jolla Shores that offer specific Whale Watching kayak tours on a daily basis (weather permitting). Depending on the tour, you may also get to explore the seven sea caves along the shoreline.
According to the Birch Aquarium at Scripps, gray whales generally travel alone or in pods of two or three but more may be seen traveling together during peak migration season (Mid-January), so keep an eye out for large pods. Fun fact: adult gray whales can be up to 45 feet long and weigh up to 33 tons!
Book a Boat Excursion
If you want to get up close and personal with these beautiful creatures, a whale watching San Diego tour around San Diego harbor is your best bet. Book a tour through any number of whale watching companies in the area; most are located near Point Loma or San Diego Bay.
Book a discounted tour with the Go San Diego Card here:
San Diego Whale Watch is one of the more popular ones, but any one of them will get you out on the water. Don't forget to keep an eye out for dolphins (particularly the common dolphin, the most prevalent) — they have been seen during blue whale and gray whale season, as well as sea lions! Additionally, Hornblower Cruises offer San Diego Whale & Dolphin Watching Tours starting December 9.
The tours are 3.5 hours and each ride features informational narrative by an onboard naturalist about the marine life you'll see. Each yacht has plenty of indoor and outdoor seating, plus a snack bar featuring food and a full bar. Cruise-goers often spot whales, sea lions, dolphins and other types of marine life!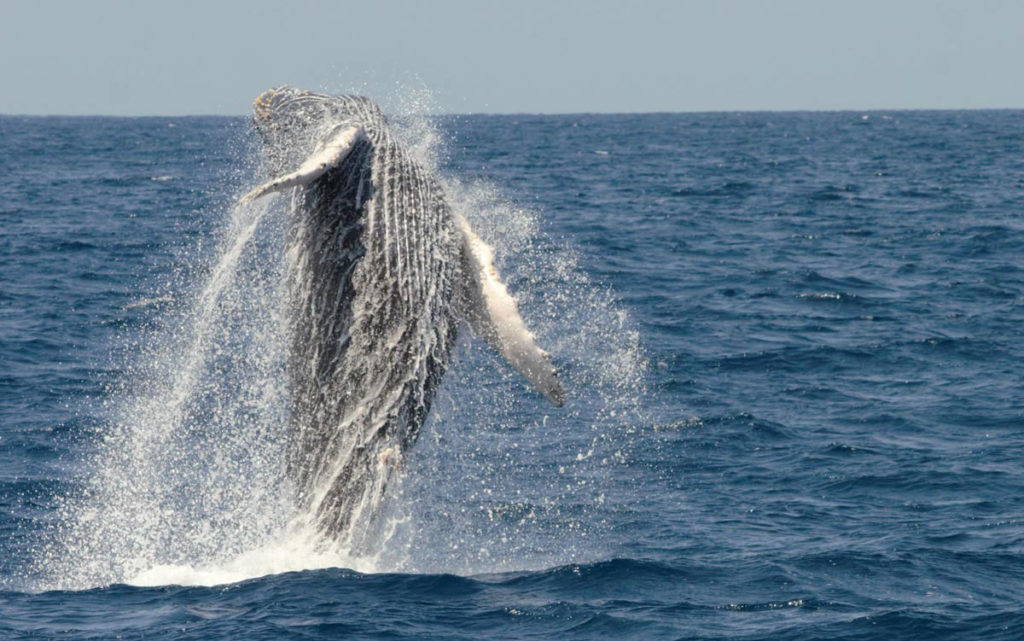 What to Look For…
The Birch Aquarium has some great guidelines for what to expect to see when you're grey whale watching:
The Blow or Spout
When warm, moist air exhaled from the whales' lungs meets the cool air at the ocean surface, it creates what we call a blow or spout. A gray whale's blow can spray up to 15 feet high, and each blow is visible for about five seconds. Anticipate that the whale will dive for three to six minutes, then surface for three to five blows in row, 30 to 50 seconds apart, before diving deep for three to six minutes again.
The Flukes (Tail)
Before making a deep dive, a gray whale often displays its 12-foot wide fan-shaped flukes or tail. The weight of the tail above the whale's body helps it to dive deep, so you'll see it surface just before they go under. Fun fact: a whale's fluke has no bones; it only connects to the body and tail muscles by banks of tendons.
Knuckled Back and Footprint
If the lighting is right, and if the whale is close enough, it's possible to see the back of a gray whale during and after the blow. It's generally shiny and black or gray, with a knuckled ridge along the spine. After the whale submerges you may note an elongated, smooth oval of calm water, known as a footprint, where the whale has been.
Breach and Splash
Gray whales occasionally hurl themselves out of the water and plunge back in with a tremendous splash. This is called breaching. Scientists don't know exactly why they do this, but it's incredible to watch. Sometimes other whales in the area will copy the behavior, so keep your eyes open!
If You Do Spot a Whale…
Remember that they are migrating south — so once you've spotted a whale, you can expect that it will surface again to the south. After watching an individual gray whale for a while, you will be able to anticipate its unique rhythm of breaths and dives and where it will surface next.