La Jolla Weddings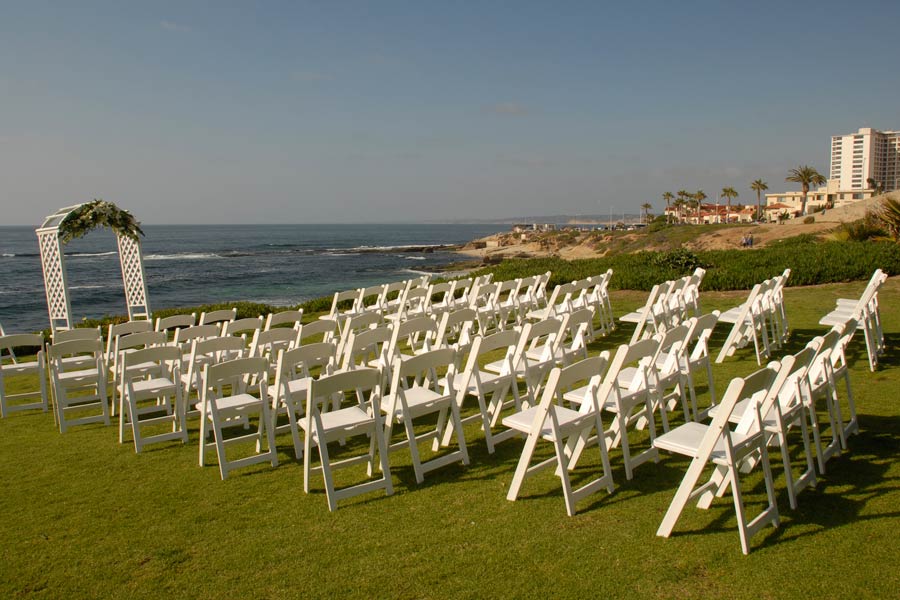 La Jolla Weddings: The Ultimate Guide to La Jolla Wedding Venues
Laid back beach. Breathtaking ballroom. Magical garden. Your wedding venue should be as unique as you both are: Magnificent, fresh, and special. That's why we're presenting you with the very best La Jolla wedding venues – so you can get the resources you need to pull off the wedding of your dreams.  From finding a venue that offers a customizable wedding website so you can have real-time coverage (plus lasting memories you can share for years to come) – to the most breathtaking natural landscapes for your knot-tying adventure – here are the perfect La Jolla wedding venues that should fulfill every need for your nuptials. Simply browse our sections:
THE BEST LA JOLLA HOTEL WEDDING VENUES
La Jolla hotels are highly experienced in hosting weddings. With the venue, catering and accommodations typically all in one place, receive an all-inclusive experience with a team of highly trained wedding professionals. They take care of all the little details, so you can focus on having the perfect day.
Each La Jolla hotel has its own vibe, style and offerings. Learn more about each of them below to see what may be a good fit for your wedding venue.
La Jolla Shores Hotel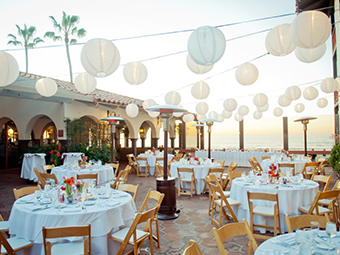 This is a dream wedding venue in San Diego for beach lovers, as it is one of the only San Diego hotels that can host weddings right on the beach. For those that want gorgeous and dramatic beach photography (especially at sunset) it's an ideal spot. Other wedding sites available include the Garden Patio and indoor rooms. This La Jolla hotel on the beach offers customized wedding packages. For the couple that wants to take care of all needs in one spot, this wedding venue can do an all-inclusive package of:
Wedding ceremony
Wedding reception
Rehearsal dinner
Bridal shower
Family brunch
The wedding staff are known for seamless planning, hospitality and cuisine. We highly recommend the restaurant for a rehearsal dinner, especially if having wedding here. That is because the first floor is The Shores Restaurant. The long windows open up to to breathtaking ocean views. It's a rare restaurant in La Jolla that is right on the sand – perfect for a dinner at sunset. Learn more or fill out a proposal request here.
La Jolla Beach & Tennis Club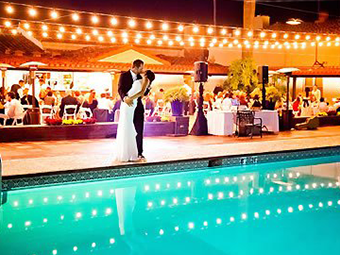 This exclusive beach wedding venue in San Diego is nestled on La Jolla Shores Beach. It is alongside The La Jolla Shores Hotel and also has direct access to the beach. La Jolla Beach & Tennis Club offers a wide array of activities, such as bocce ball and tennis courts. This makes it perfect for families traveling to the wedding. Kids will have plenty to do here!
Perk: This venue has 90 guest rooms appointed for accommodating you and guests. This is very helpful if many of the wedding guests are coming from out of town.
Good to Know: To host an event at La Jolla Beach & Tennis Club does typically require having a Club membership, a member's sponsorship or (depending on the number of guests) guest room sponsorship. However, hotel guests may – based on approval – indeed reserve events. Call the Catering Department at 1-866-792-3224 to discuss further.
Estancia La Jolla Hotel & Spa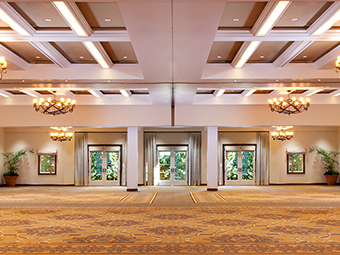 This high end La Jolla spa and resort offers old world Spanish-style architecture, award-winning gardens and modern luxury. These factors, and more, make Estancia La Jolla a beautiful wedding venue in San Diego. Tucked away in the Torrey Pines area, near Torrey Pines State Reserve, it gives the ambience of a secluded, destination wedding – even if you live right here in San Diego.
You can select from both indoor and outdoor options like:
La Jolla Ballroom (up to 420 guests)
Grande Room (up to 130 guests)
Pairs with the Olive Lawn (up to 130 guests)
Garden Courtyard (up to 420 guests)
Adobe El Restaurante (Up to 60 guests)
Perfect for the intimate wedding
See each of these venues, get more in-depth details and, if ready to learn more, contact one of the Estancia Spa & Resort's wedding experts
here.
Honeymoon alert: As an all-inclusive getaway, Estancia La Jolla is also a great spot for a destination wedding or honeymoon.
La Valencia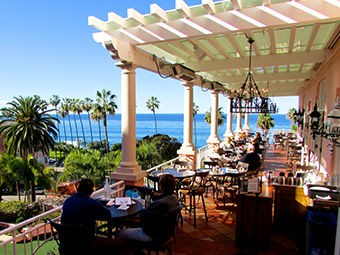 This elegant La Jolla hotel, also known as the Pinky Lady, is a glamorous and enchanting wedding venue that is nestled by the Pacific Ocean. With award-winning food and an atmosphere that is elegant yet playful, it's a highly popular wedding venue in San Diego.
Find both indoor and outdoor options, as well as three different room options for your reception. A wedding here can host up to 175 guests.
Good to think about: Hosting an outdoor wedding ceremony here is a great way to have the backdrop of the ocean, without the drama of walking and dragging a bridal dress through sand.
Interested in booking? To learn more, speak with one of the La Valencia wedding specialists or fill out a wedding proposal at their wedding page.
One thing La Valencia is especially known for: Professional, great service. Any issues with guests – such as late check ins or accidental add ons – are promptly taken care of or offered something to make up for any "incidents".
The Lodge at Torrey Pines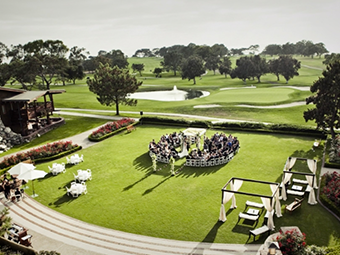 This luxurious, Northern-European inspired resort overlooks the breathtaking Torrey Pines Golf Course. With its historical craftsman interiors and the backdrop of the Pacific Ocean, it offers great scenery for a La Jolla wedding. The cuisine is inspired by Chef Jeff Jackson, who is classically French-trained and changes menus often to match the what produce is best seasonally. This food is included in the resort's La Jolla wedding packages.
Select from:
Ceremony
Reception (4 hour hosted premium bar, 5 butler passed hors d'oeuvres)
Dinner (includes a 3 course dinner, cake cutting + valet parking)
A Palisade Room that overlooks the Arroyo Terrace and the 18th green of the resort's gorgeous golf course (2 nights)
Must have at least 70 guests
Cost: $195 per person
Reserve Wedding Package
Same as Signature Wedding Package, but with extra add ons:
2 glasses of house wise poured table side
Additional butler-passed hors d'oeuvres
Cost: $215 per person
Palisade Wedding Package
In addition to the Reserve Wedding Package, enjoy:
The couple's preferred signature cocktail
An extra hour for the hosted super premium bar
Additional hors d'oeuvres
An extra course at dinner
Children + vendor meals
Sweet or savory late night sacks
Espresso bar
Power drop for entertainment
Cost: $295 per person
Explore photos of real Lodge of Torrey Pines wedding photos to get a better feel for the venue and ambience.
Hilton La Jolla Torrey Pines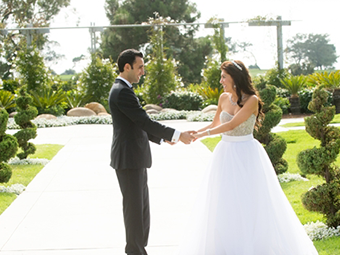 This elegant La Jolla hotel offers a variety of wedding venue options, from intimate ceremonies to grand-scale luxury weddings. Known for its diverse event space, find the type and capacity that works best for the wedding you envision.
Wedding packages include:
Parterre Garden (tropical ceremony setting)
Fairway Garden (tropical ceremony setting)
Grande Ballroom (reception + dinner)
Scripps Ballroom (reception + dinner)
Fairway Ballroom (reception + dinner)
The Hilton La Jolla specializes in offering wedding packages that handle many of your wedding needs. For example, you'll receive:
Menu tasting (Complimentary menu tasting for up to 4 people. Many caterers often only offer 2)
Be set up with a wedding coordinator, who will offer a tour, act as your primary contact and arrange the step-by-step details.
The day of:
The ceremony (including changing rooms and a sound system)
Ceremony rental fees:
3000 for a Saturday
$2,000 for a Sunday
$3,000 for any other day
Reception:
1 hour open bar
3 course meal (Pricing for most of reception is based on the main entree selected)
Wedding cake (a perk that this is included!)
Necessary linens, china, etc.
Coffee service
Complimentary suite for bride & groom
Take note: Self-parking on the day of the event is $10 per vehicle and Valet for $20 per vehicle. This is not included.
Pantai Inn
Pantai Inn is the dream La Jolla wedding venue for destination wedding that is relaxing and Bali-inspired. Nestled on the cliffs above the Pacific Ocean, host an intimate wedding or elopement here.
The honeymoon package is an ideal add on which, for example, includes:
• An interfaith officiant
• Wedding photography
• A champagne toast
• Wedding cake
• Other honeymoon perks – like in room massages
Learn more here.
The Grande Colonial Hotel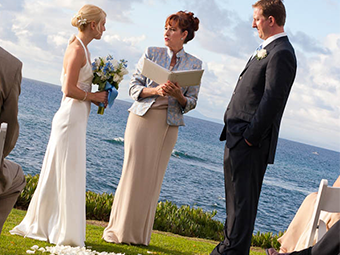 For a truly classic wedding, we recommend exploring the oldest hotel in La Jolla – The Grande Colonial. It features Nine-Ten, an award-winning, gourmet restaurant that is ideal for delicious wedding cuisine at the reception. It is also near some of the most popular beaches for wedding ceremonies, such as Ellen Browning Scripps Park and the Wedding Bowl. (Please read on to learn more about these locations in our section – Parks & Beaches to Get Married in La Jolla.)
Since 1913, this La Jolla hotel has offered sophisticated wedding services, from outdoor and indoor venue options to its high end dining. See examples of the decadent wedding catering menus here.
Ceremony locations include:
The Loft
Grand Terrace
Garden Courtyard
Cost ranges from $700 – $1500, Guest capacity from 25 to 120
Reception Rooms include:
Parlor Room
La Jolla Room
Sun Room
Cost ranges from $350 to $1000, Guest capacity from 16 to 120
At Grande Colonial, the services and amenities are mostly add on as needed. For example, you can add on a wedding cake and wedding favors or have another vendor take care of those.
Get full wedding package details here.
Important to Know: The Grande Colonial requires every wedding held here to have hired a private wedding coordinator.
San Diego Marriott La Jolla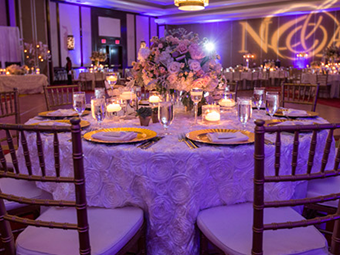 If it's likely you will be having a grand-scale wedding, we definitely recommend checking out San Diego Marriott La Jolla. Their stunning La Jolla Ballroom can accommodate up to 750 guests alone, great for those looking for venues with a large capacity. However, with their variety of event space, Marriott La Jolla can host much more intimate weddings, as well.
The wedding package includes much of what you'll need, including:
Butler passed hors d'oeuvres or one display station
A 3 course meal or buffet dinner
Wedding cake, custom designed by Edelweiss Bakery
Complete event set up + tear down
Good to know: If interested in a morning/afternoon wedding, there is afternoon pricing available at $10 less per person – as long as wedding is done by 4 pm.
Perk: The highly trained Marriott Certified Wedding Planners are complementary, a nice element to be included in your wedding package.
For an outdoor wedding option: Have your ceremony at the outdoor ceremony site, Fountain Court or another nearby location, such as:
Cuvier Park
Windansea Beach
Scripps Seaside Forum Lawn
Get the full details, including the wedding catering options, at this Marriott La Jolla wedding guide.
Hyatt Regency La Jolla at Aventine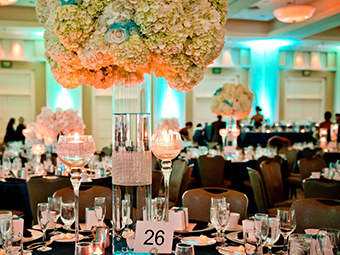 Find unique event space options, both indoor and outdoor, at the beautiful Hyatt Regency La Jolla. Whether wanting to get married poolside or enjoy time in a 25 foot high foyer with beautiful columns, there are several rooms and sites here.
There great accommodation perks for booking at the Hyatt Regency La Jolla. For example:
Bride & groom receive complimentary overnight accommodations.
If you have a lot of friends & family from out of town, there are special group discounts for accommodations.
For the venue itself, find beautiful options like:
Poolside
Asteria Terrace
Vicino or Aventine Ballroom
Grand Foyer (majestic columns make it perfect for cocktail hour)
Barcino (an open floor plan that is customizable)
The wedding package includes many of the most important details, such as:
One hour open bar
Complimentary cake cutting
China, linens, dance floor and other detail you don't have to worry about setting up
Professional banquet captain
Make sure to check this out: When you hold your wedding at Hyatt Regency La Jolla, there are often special wedding bonuses and discounts. For example, there have been deals in which couples receive up to 5 complimentary nights at Hyatt resorts throughout the US, Mexico and Aruba. Learn more and see what deals are current here.
The Hyatt's La Jolla wedding brochure offers more details, such as catering menu options.
Sheraton La Jolla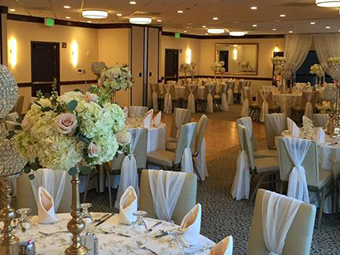 With up to a 150 guest capacity, this tropical-esque wedding venue in La Jolla offers lush gardens, koi ponds and waterfalls. A wedding here feels like a destination experience. With a lot of decoration and styling included in the package, it's ideal for those looking to have the wedding decor taken care of.
In addition, look forward to:
An already decorated cake table, guest book table and gift table
Choice of 2 centerpieces
Customized & children's menus
Complimentary menu tasting
Catering by Humphrey's La Jolla Grill
And more – See other package details here.
Prices for the meal vary based on the package selected and if it is a lunch or dinner. Cost ranges from $35 to $75 per person.
Unique perk: This wedding package includes a custom wedding website. So for those more unfamiliar and not wishing to deal with that tech aspect, this is a valuable option.
La Jolla Cove Suites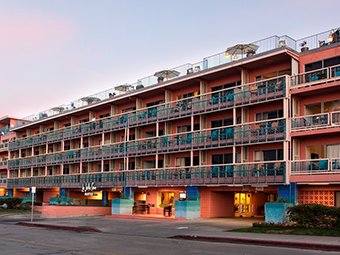 Have a wedding with a view at this oceanside wedding venue in La Jolla, which can host up to 225 guests. (Good to know: It is the only rooftop venue at the famous La Jolla Cove!) With plenty of nearby activities and amenities, it's an excellent option for those with a lot of guests coming from out of town – making your wedding a little vacation. (It's also an excellent hotel for families with kids.)
Unique perk: This wedding venue offers a ceremony and reception space in one. Enjoy your ceremony overlooking the beach. Then, as the sun goes down, mingle during cocktail hour before the reception begins.
Due to its open floor plan, there are are a variety of table arrangement options.
Cuisine is catered by The Abbey Catering Company (a caterer we recommend in our catering section – see further down.)
PARKS AND BEACHES TO GET MARRIED IN LA JOLLA
For those that love the outdoors, think about having your wedding at a beautiful local park; most directly overlook the Pacific Ocean. To get married at a park in La Jolla, your wedding party will need a permit. These are issued year round by the County. We recommend applying early because each park is only allowed to have 1 per day (so there cannot be multiple weddings at the same time). Time wise, it allows for 4 hours including setup and teardown.
To obtain permits for any of these locations, please call the Permit Center at 1-619-235-1169
Ellen Browning Scripps Park
This seaside park overlooks La Jolla Cove and the surrounding Pacific Ocean. It's perfect for the nature lovers who also adore the beach. (Because of its view of the ocean – Ellen Browning Scripps Park is also on our list of The 4 Best Beach Wedding Venues in La Jolla.)
• 80 guests allowed from September through May
• 50 guests permitted from June through August
Calumet Park
This small park is nestled in the residential Bird Rock neighborhood of La Jolla. It has a beautiful ocean view and, due to its size and lesser known location, it's a true hidden gem. This makes it ideal for a smaller, more intimate wedding.
• 80 people allowed max
Kellogg Park
This is the large grassy park at La Jolla Shores. Running parallel to the beach, your wedding party will have expansive views of the Pacific Ocean. With a great deal of space and even a nearby playground, it's also great for a wedding for families with children attending.
• 80 people allowed max
Cuvier Park – The Wedding Bowl
This breathtaking space is the most popular place for weddings along the La Jolla coast. It is near the heart of La Jolla, found at Coast Boulevard and Cuvier Street. However, it is still has an intimate vibe because it is lower than street level, allowing for privacy from the main street.
Good to know: 40 people allowed max
Call to get more information or start booking process (or be entered into a lottery. This particular park is so popular that if multiple people are competing for the same date, there may be a lottery).
UNIQUE LOCAL LANDMARKS, HISTORIC SITES AND CLUBS FOR WEDDINGS IN LA JOLLA
It is exciting to see the variety of unique wedding event space in La Jolla. From historic homes and museums to architecturally-breathtaking venues, here are some of the excellent options at your fingertips.
La Jolla Woman's Club
For a lovely, pastoral-style wedding, we recommend the charming gardens at this La Jolla event space. The La Jolla Woman's Club is a relaxing, elegant setting for a La Jolla wedding because of its well-kept greenery and surroundings. Have your ceremony in one of the two gardens, then enjoy the main ballroom for your reception!
Darlington House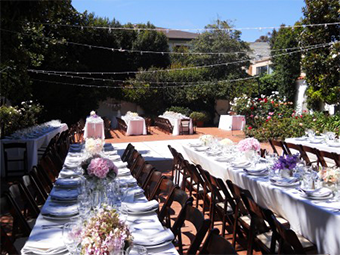 Darlington House is a historic venue that offers an elegant and gracious ambience.
This warm, European-inspired house leads out to the:
Egyptian patio (Seats up to 125)
Andalusian Patio (Seats up to 80), which is in a Southern Spanish style
These each open to the breathtaking Rose Garden (Seats up to 200).
If you prefer a cozy indoor option:
The Library seats up 50
The Living Room up to 32 guests
Learn more about this historic site and get a quote here.
Scripps Seaside Forum
This remarkable La Jolla wedding venue features award-winning architecture and impressive audio and visual equipment. It is located by the ocean (offering great views!), features an impressive balcony and offers an outdoor garden plaza. A forum for science, society and the environment, it's perfect for science and technology lovers.
Museum of Contemporary Art San Diego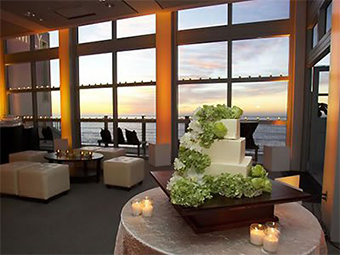 Nestled across from La Jolla Cove, this La Jolla art museum offers a variety of wedding venue options.
For example, you can:
Have your wedding ceremony and reception here.
Choose to only host your wedding ceremony here.
Have your wedding ceremony at a location nearby, such as a beach site like The Wedding Bowl, and then host your wedding reception here. Options include:
Coast Room & Miles Terrace (Both indoor and outdoor spaces that offer views of the Pacific and the splendid Sculpture Garden)
Pacific Union Pocket Park (Ideal for intimate weddings; overlooks the ocean directly)
Axline Court (A remarkable exhibition space with highly stylized design)
Ida & Cecil Green Faculty Club (at UCSD)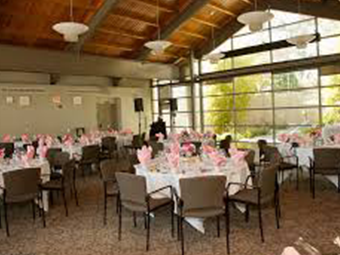 Find charming, secluded event space at the Ida & Green Faculty Club. Tucked away in a Eucalyptus grove, have your reception in the beautiful interior courtyard or lounge lawn. After, your wedding party will proceed to the grand dining room for your reception.
This venue can accommodate up to 400 guests, so it's ideal for larger scale weddings. (Cost ranges from $900 to $2,000 for the facility. For food and beverage, options range from $69 – $109).
Major perks here:
The facility rental includes much of what you'll need, such as the setup and breakdown of the event, dance floor and more.
For the ceremony, the add on for the ceremony package is just $500. It is for up to 150 guests and includes the private bridal suite, groom's room, infused water station and 30 minute rehearsal.
Get full details at the venue's wedding PDF here.
Martin Johnson House
This charming oceanfront venue is a true hidden gem. The Martin Johnson House offers a historic, seaside ambience and relaxed atmosphere. Surrounded by tall cypress trees and featuring teak decks, it is a unique setting. Learn more about the venue, which is $2,500 a day, here.
Major perk: The 180 degree views set the scene and invite little need for a lot of outside decoration.
Tip: Plan ahead for parking here, as it can get a little tricky.
Cuvier Club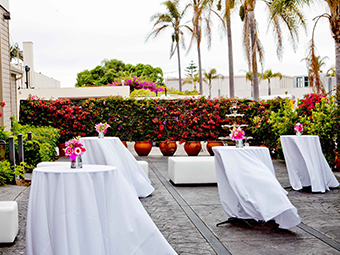 This highly rated event space, which can accommodate up to 600 guests, is situated just above Cuvier Park, which overlooks the best of La Jolla's coastline. It's popular to have the ceremony at Cuvier Park (also known as the Wedding Bowl – please see our Parks and Beaches section above) and then host the reception at the Cuvier Club.
Partnership Alert: Cuvier Club often works with The Abbey Catering & Event Design Co. They are an award-winning caterer that already knows the venue inside and out. (Read on; our catering section later in this guide offers more details here.)
Soledad Club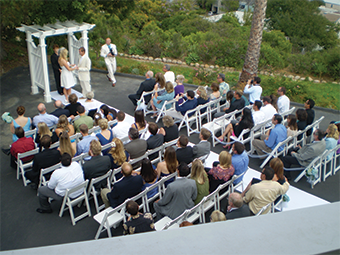 This unique wedding venue on Mt. Soledad in La Jolla has magnificent views of Mission Bay and the Pacific Ocean. It can host up to 175 guests and offers excellent features, such as an outside patio and elevated stage.
If young children are attending the wedding, this is an interesting perk: For an extra fee, you can have a lower level lounge available for childcare with adult supervision.
A Soledad Club event specialist is also included with the renting of this La Jolla wedding venue. Check out more information on this La Jolla event space.
HIGH-END RESTAURANTS FOR LA JOLLA WEDDING RECEPTIONS
Rather than bringing food to you via a wedding caterer, bring your guests to the cuisine with a wedding at a luxurious La Jolla dining venue.
Marine Room
The Marine Room is an elegant restaurant that is beloved for its ocean view. Located almost directly on the water, the waves even splash up on the glass at high tide.
There are multiple options at this highly in-demand location:
Restaurant Buyout (The entire restaurant for up to 230 guests)
Terrace (Semi-private area up to 46 guests. View of Pacific Ocean, Torrey Pines cliffs and La Jolla Cove)
Northend (Panoramic views, Up to 108 seats)
Seahorse Room (Fully private area, Up to 56 guests)
Spindrift Room (Semi-private up to 70 guests)
Southend (Private event space, up to 120 guests)
Find full description of each of these spaces and submit a request for a proposal at this Marine Room wedding venue page.
In addition to hosting a wedding here, this is an ideal venue to have a rehearsal dinner or day-after wedding brunch with close family and friends.
Eddie V's La Jolla
This decadent restaurant is a luxurious, food-centric venue for a wedding reception. Found in the heart of La Jolla village, it is known for its world-class cocktails, cuisine (especially seafood) and top notch service. Also, it's rooftop deck is available for rent.
Recommendation: Have the ceremony at one of the nearby beaches or parks – such as Cuvier of Scripps Park (please see Wedding Venue Parks Section). Then, enjoy a magnificent wedding reception at this La Jolla restaurant.
Contact the La Jolla Eddie V's here.
George's at the Cove
This La Jolla wedding reception venue is great for those hosting ceremonies at nearby locations, such as the Museum of Contemporary Art, Cuvier Park or La Jolla Presbyterian Church. George's at the Cove is an award-winning restaurant, famous for both food and service, specializes in planning private events.
Here are some things to expect:
Find 3 levels of private event space, with both indoor and outdoor options. (Being on the cliffs above the Pacific Ocean, your guests will have an amazing view.)
Add on extra special touches as desired, such as valet parking or a specialty cocktail created for your event.
Learn more or inquire about booking a wedding reception in La Jolla here.
CHURCHES TO GET MARRIED AT IN LA JOLLA
There are many beautiful churches in La Jolla for a picturesque wedding venue; celebrate in faith at a venue with wedding coordinators that are experienced in hosting weddings and making your day special. Head to each link to learn more about the beautiful church and its offerings.
EASY WAYS TO HAVE A LA JOLLA BEACH WEDDING
For those who dream of having a San Diego beach wedding in the North Coastal town of La Jolla – it's easy with one of these planning companies.
Each of these venues and companies can help create the perfect beach wedding:
La Jolla Shores Hotel
(Please jump up to La Jolla Hotel Wedding venue section for more information.)
La Jolla Beach & Tennis Club
(Please jump up to La Jolla Hotel Wedding venue section for more information.)
Seaside Beach Weddings
This wedding company is perfect for hosting simple wedding and elopements in San Diego. They take care of all the planning, such as providing the officiant, photographer, flowers, permits and more. It's ideal for a simple, all-inclusive package. Simply, swiftly and on a budget!
HOW TO ELOPE IN SAN DIEGO
If you're looking for the seamless, easy way to elope to San Diego, there are discrete wedding services in La Jolla to make it happen.
Pantai Inn
This Balinese inspired hotel, which overlooks La Jolla Cove and the surrounding Pacific Ocean, provides a complete elopement package. The officiant. The cake. The champagne. (Plus, you can arrange the honeymoon here, as well.)
Elope to La Jolla
This company, as the name suggests, specializes in hosting couples eloping to La Jolla for their wedding. They host each elopement at Cuvier Park at La Jolla Cliffs. (Please see Cuvier Park in the Parks & Beaches section for more details.)
A well-established and award winning business, this service includes:
Hosting by a wedding chaplain (religious or non-religious)
Filing of marriage license
Welcome for any friends, family, etc. to join
Military discount: FREE via Military Mondays. Learn more at this Military Mondays website.
Seaside Beach Wedding San Diego
This company serves both elopements and classic weddings. They take care of all the planning, such as providing the officiant, photographer, flowers, permits and more. It's ideal for a simple, all-inclusive package.
FREQUENTLY ASKED QUESTIONS ABOUT LA JOLLA WEDDINGS
What's the best season for a La Jolla wedding?
La Jolla has a pleasant climate year-round. However, many choose spring through fall for outdoor weddings to avoid the cooler temperatures and potential rain in winter.
How early should I book a venue in La Jolla for my wedding?
Given La Jolla's popularity, it's advisable to book your wedding venues in La Jolla at least a year in advance, especially if you have specific dates in mind.
How much does it cost to get married in La Jolla?
The cost of a La Jolla wedding varies significantly based on venue, number of guests, and vendor choices. However, given its upscale nature, La Jolla weddings can be on the pricier side.
Is parking easy to find for guests in La Jolla?
Parking can be challenging in La Jolla, especially during peak seasons. It's advisable to choose a venue with ample parking or arrange for transportation for your guests.
What backup options are there in case of bad weather?
Many La Jolla wedding venues offer both outdoor and indoor spaces. If you're planning an outdoor event, ensure that there's an indoor alternative or that you have arrangements for tents or canopies.